"This certainly was a 'Much Better Adventure'," Stewart tells us. "An expedition of epic proportions. We all arrived as strangers, by the end of Day One we were friends, and that has continued long after the expedition ended. This is truly an adventure that beats all other adventures I have been on."
Even though we were tired, chilly and the weather was starting to turn, the enthusiasm and love for adventure that bound our group together really shone through!
Hiking and kayaking 100km across the icy wilderness of Greenland is no mean feat, and so it attracts a certain kind of adventurer – those who understand the joy of type two fun. Stewart and the other travellers in his group found this to be the case when they arrived in Greenland. "When I booked, I knew this would be the trip of a lifetime," says Helen Flint. "This was confirmed as soon as I set foot in Narsarsuaq Airport: the views, the awesome guides and most importantly the amazing eight co-travellers."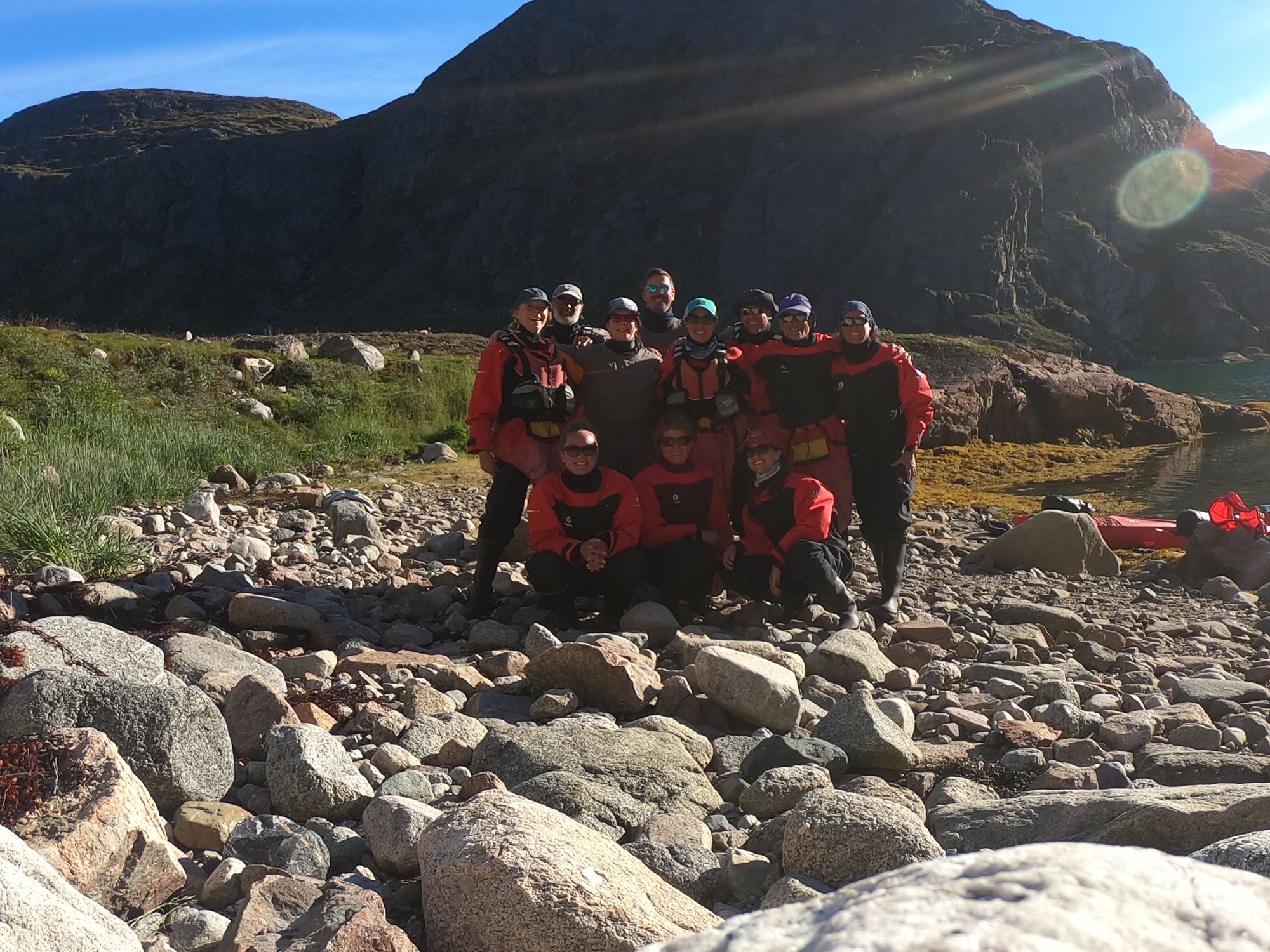 If you visit at the right time of year, southern Greenland is an excellent place to catch the northern lights, and Stewart found that his fellow adventurers were just as keen to see the phenomenon as he was. "On our first night of camping we certainly didn't want to miss the opportunity of seeing the northern lights – so much so, that we set up a watch schedule. Each of us had a 30-minute slot, with the responsibility to keep watch. These are just a couple of the many pictures taken that night."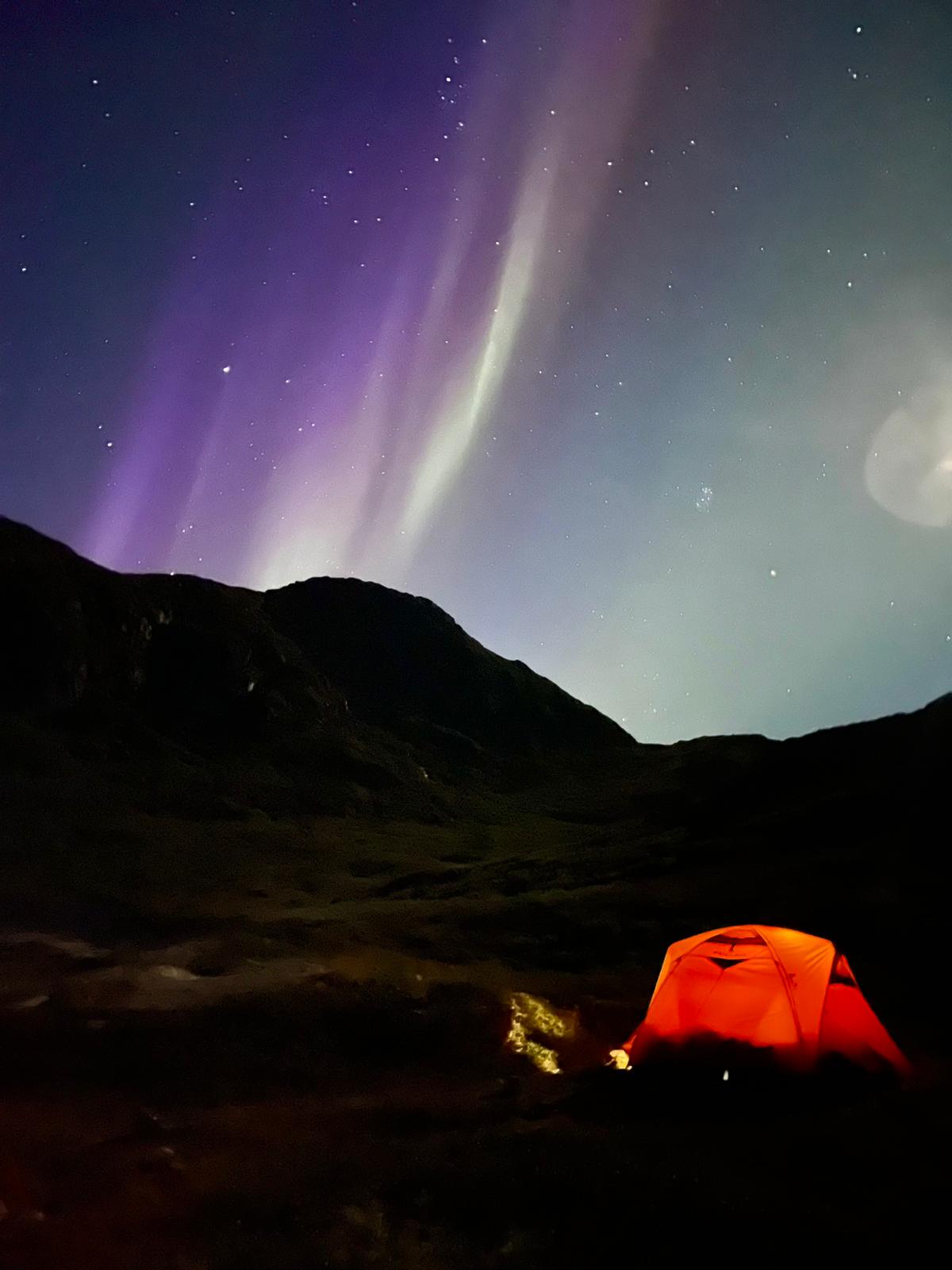 The group needn't have worried, however – they were lucky enough to witness them throughout the trip. "For most adventurous souls, seeing the aurora borealis is a bucket list moment, so seeing them four out of five nights camping was one of many highlights of our trip," Tori Widdowson tells us. "In the darkness of night and the silence of the wilderness, there never was such a glorious sound as hearing someone shout 'northern lights!'
"We pointed our eyes and cameras to the sky to watch colours dance, change, flicker and glow. It was a privilege to see them and I now understand why the Inuits of Greenland believed the lights were the spirits of the dead playing celestial games."
As the adventure continued, Stewart and the gang got used to the challenges of kayaking amongst an Arctic landscape, such as paddling into the wind, or navigating through a field of mini icebergs. They found that even when the going got tough, it was all part of the adventure.
Kate Kedenburg snapped this photo after a tough couple of hours kayaking into a headwind: "We were navigating through an ice field so we could set up camp next to the polar ice cap (words I never thought I would say), and even though we were tired, chilly and the weather was starting to turn, the enthusiasm and love for adventure that bound our group together really shone through!"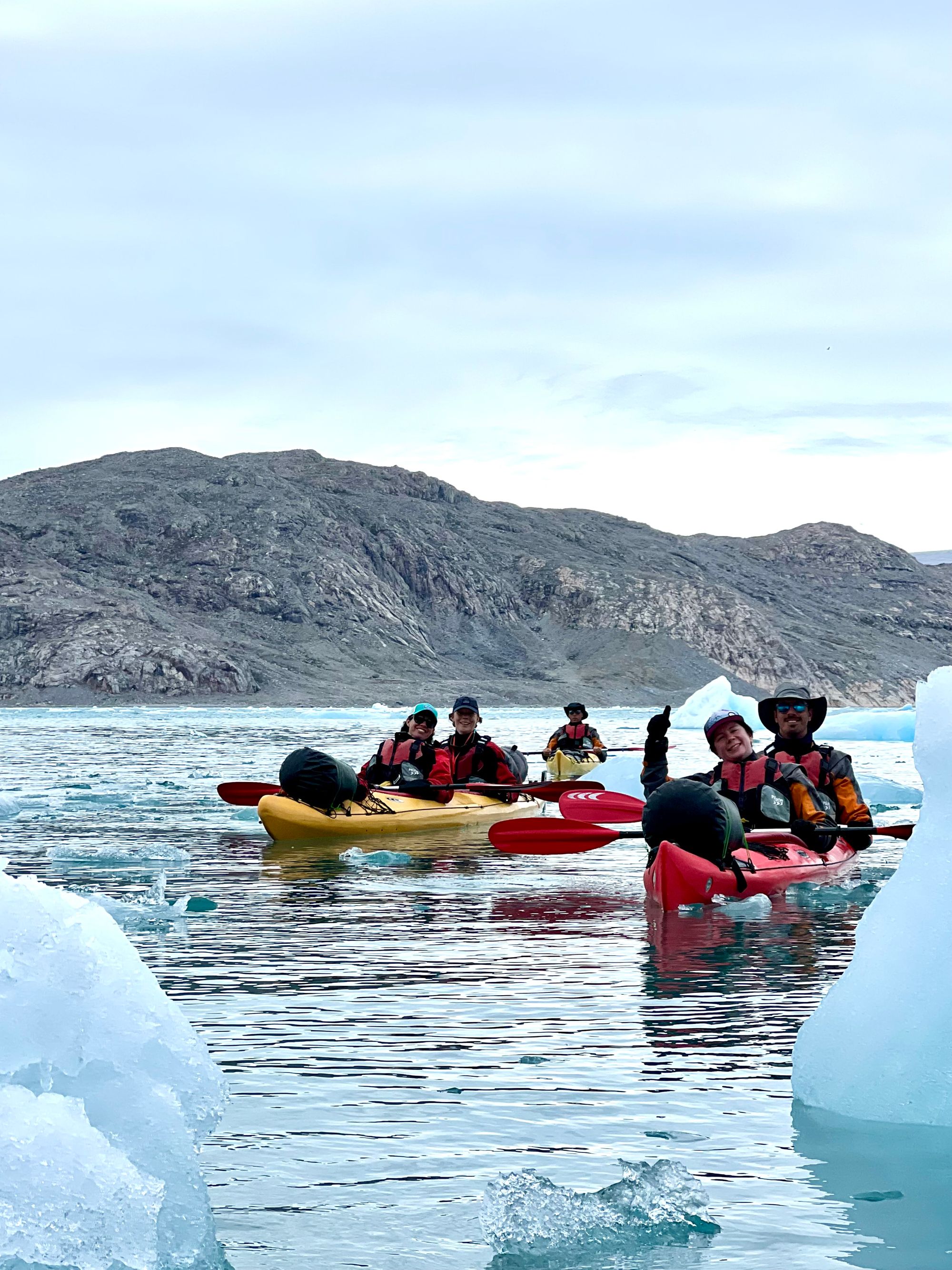 Jonathan Lenchner agrees. "When our leader, Alvaro, proposed this landing point for the night – completely littered with icy debris from the nearby glacier – I thought to myself, 'No way we are getting in there!' But we did!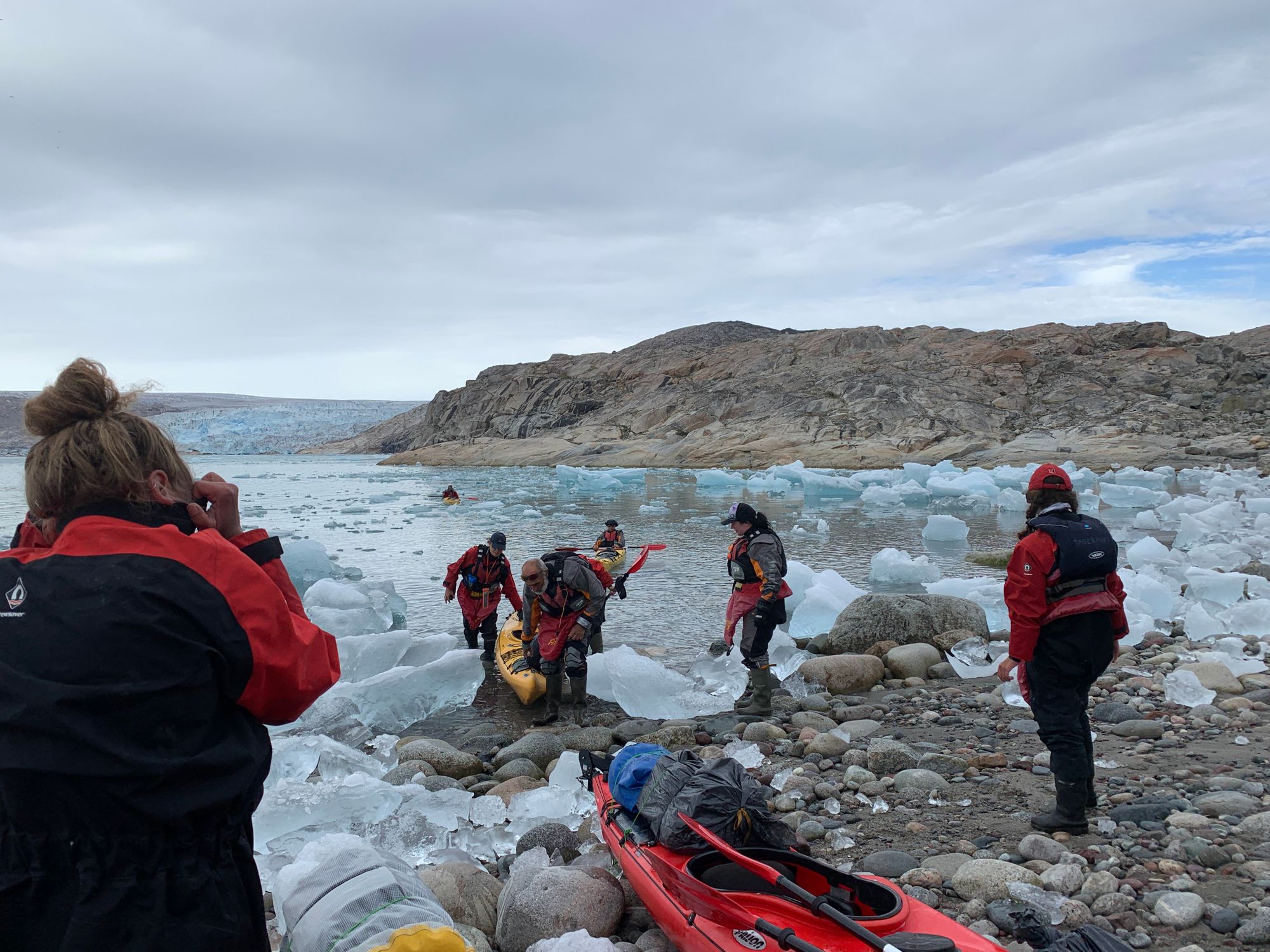 "For my daughter Tova and I, it turned out to be a highlight. The trip was an incredible father-daughter bonding experience, coming two and a half years after the passing of Tova's mother (and my wife) Denise."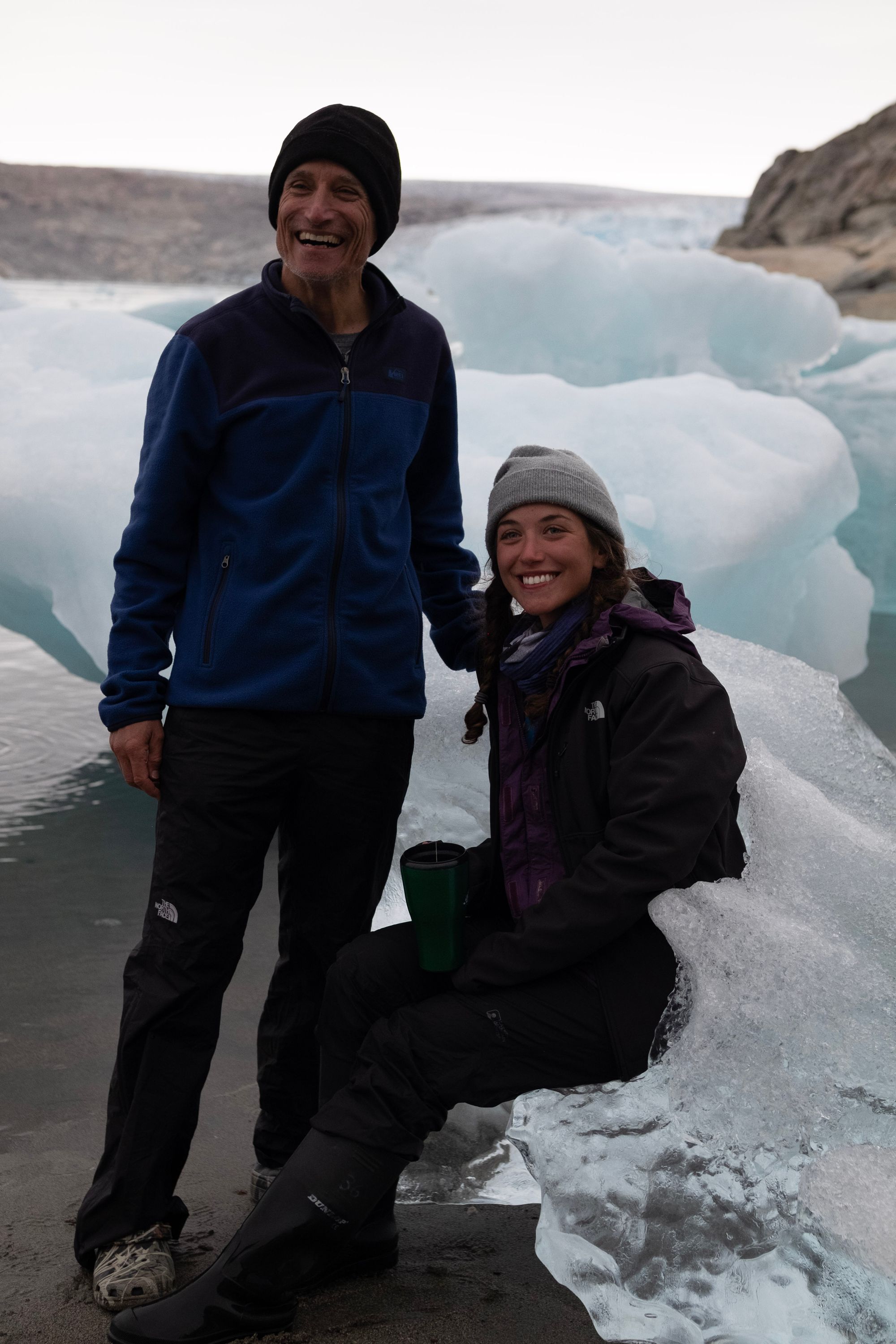 After successfully paddling through the floating ice, several of the group decided to brave the elements and go for a dip in the ice cold water. "We must be crazy, I thought," says Stewart, "but what a wonderfully refreshing experience it turned out to be. We continued to do these icy dips at other campsites on our journey."
Stewart explains that even when they weren't paddling or hiking through the Greenlandic landscapes, simply getting to experience true wilderness was pretty inspirational in itself.
"Many was the time when we were doing something mundane like eating, and someone reminded us to peek outside. When you step out of a tent doorway into ever-changing vistas like that, it pulls you fully into the moment. Those extra moments, generated by this great group of people, were often the best because they fed off the environment we were in."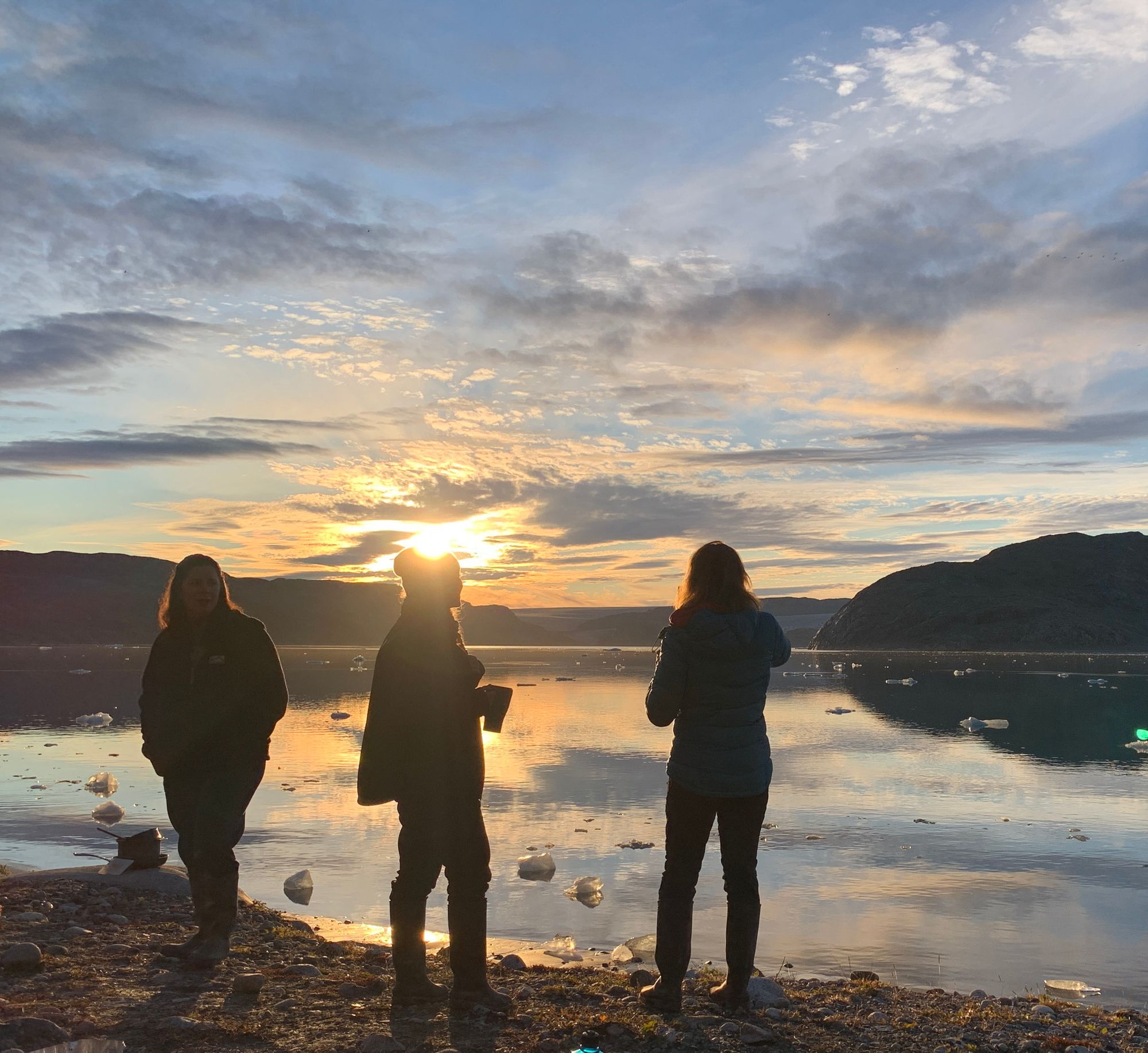 "One of the best aspects of this trip was drinking refreshing water directly from waterfalls, exploring the flora unique to Greenland, watching icebergs fall from glaciers and make their way to the ocean, and even walking around on a glacier," confirms Ashley Littlefield.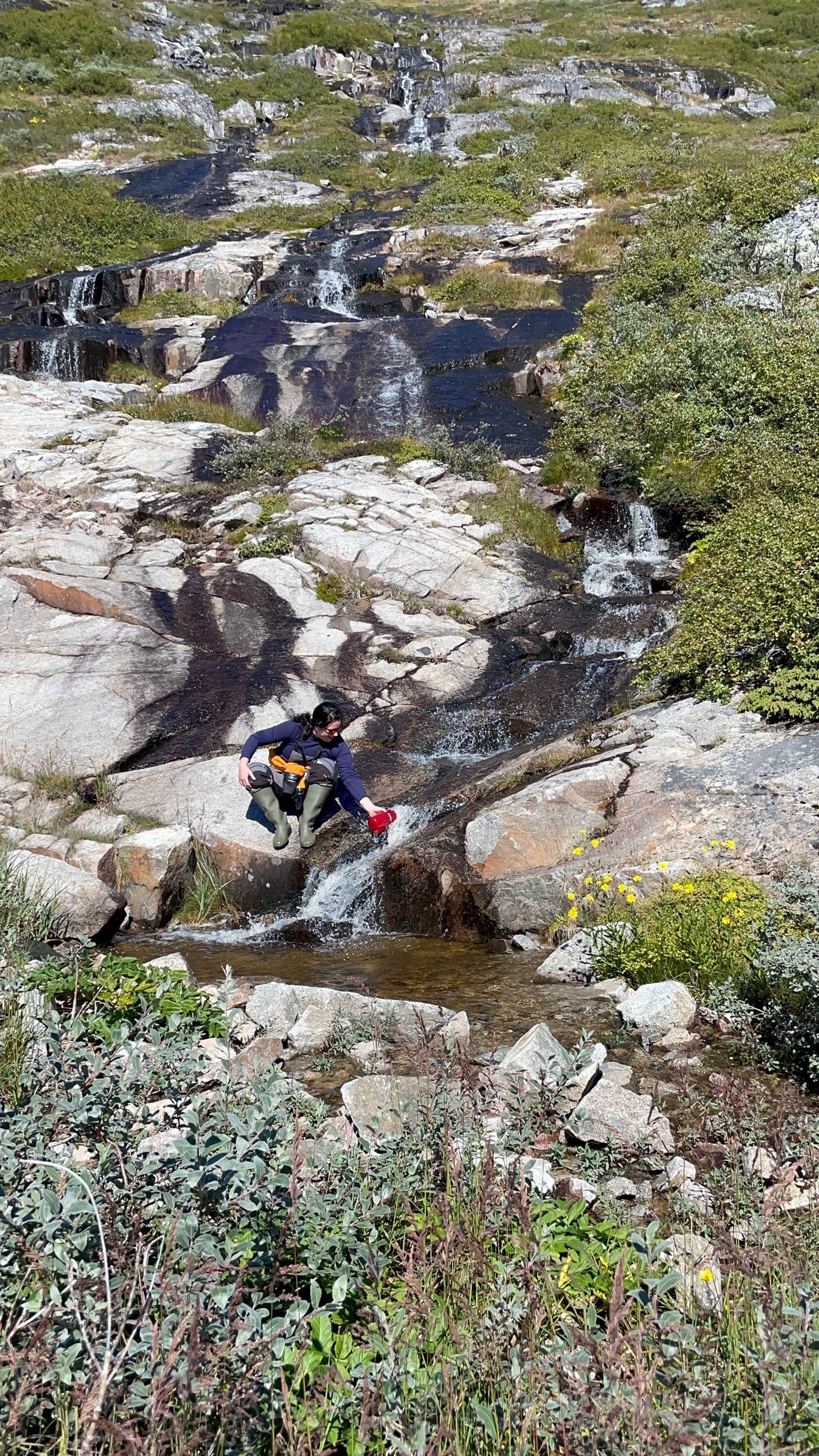 Wilderness or not, this didn't stop the group from wrangling in a birthday celebration – after all, what's a birthday without cake?
"We soon became aware that it was Helen's birthday and yet, here we were, in the south of Greenland with not one store in sight," explains Stewart. "However, we had heard that the RIB boat would be dropping off supplies the next day, so we persuaded our guide to ask that they bring a birthday cake for Helen. We surprised her after dinner that night."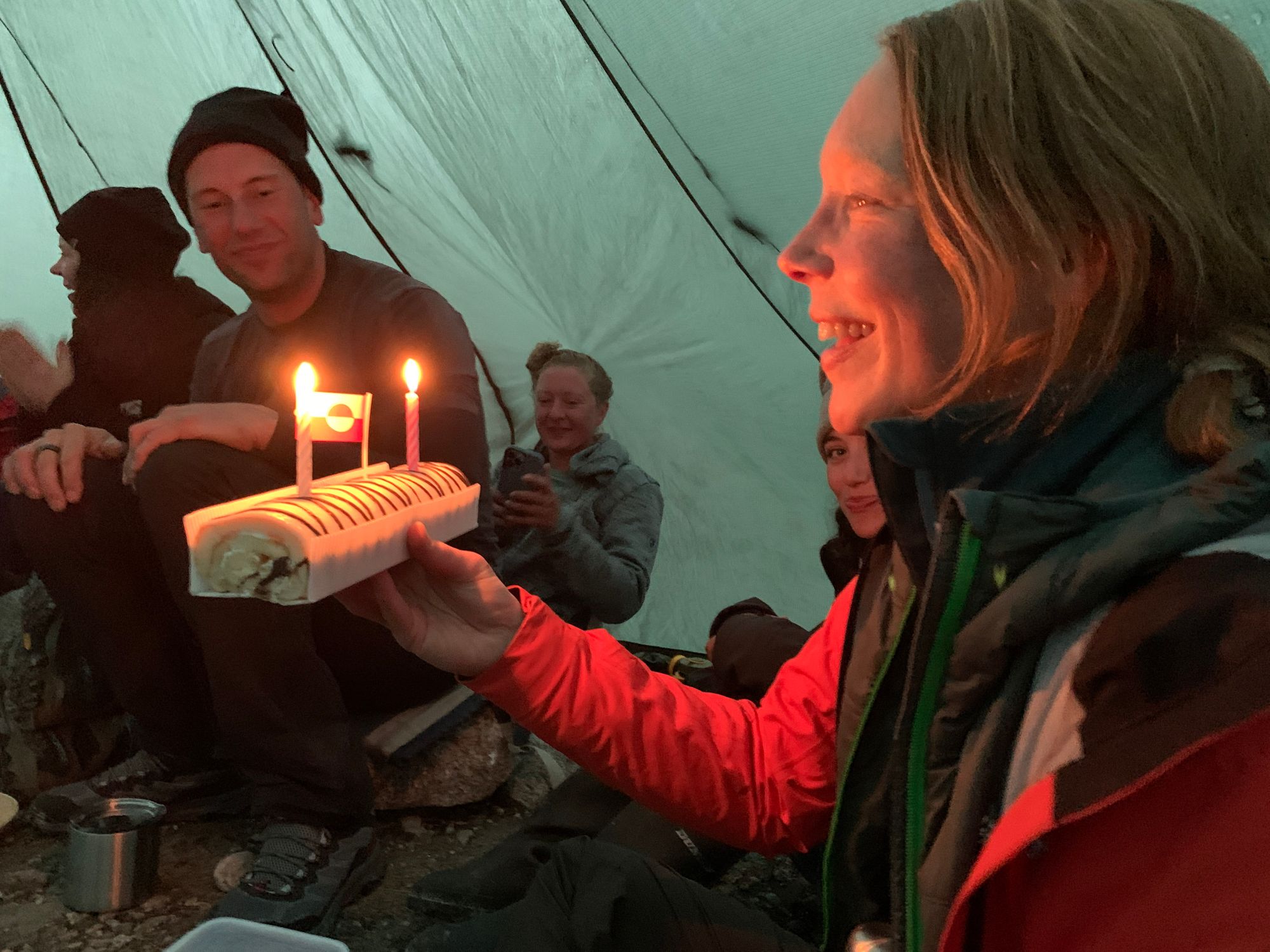 After 100km of kayaking and wild camping, the group's expedition was over, and they returned to base. After de-kitting, they decided to celebrate their journey by taking their guides, Alvaro and Rosa, to dinner. "There are just two nice restaurants in Narsaq to choose from," says Stewart, "So we chose the nicest one! It was a great evening, which ended at Narsaq's only bar."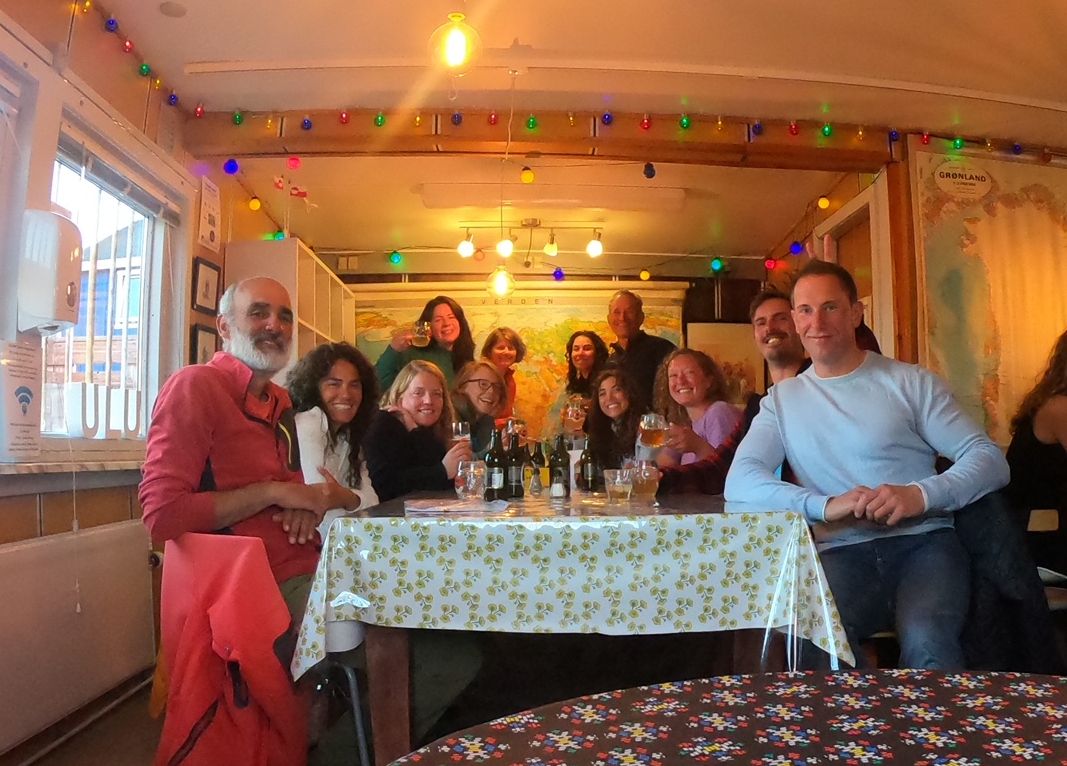 "This trip was, hands down, one of the best weeks of my life so far," reflects Kate. "From Day One, when I landed on an Arctic island with a group of strangers, I had all my expectations blown away. The landscape was stunning, the kayaking unbeatable, and those strangers immediately became friends."
Inspired? Explore our Expeditions collection, or take a look at our 100km Hiking and Kayaking Expedition in Greenland!