Nordic skiing is a wonderful way to explore our wintery world when it's covered in a blanket of snow. It allows the intrepid individual involved to slide between snow-laden trees and sneak up (and ski down) rolling hills, discovering a wonderful world of tranquil environments along the way.
The discipline of Nordic skiing has its roots in - you guessed it - Scandinavia. It's the oldest style of skiing, being initially developed for the practical reason that it made it possible to easily travel over the snow. Think Sir Ernest Shackleton, dragging a pack behind him, making his way slowly over the vast white terrain.
Nordic skiing requires a special set of skis, where the toe of your ski boot is clipped into the binding of the ski, but the heel is left free. Stick a pair of grippy 'skins' on the bottom of your skis, and you'll find yourself with a combo that allows you to comfortably walk through both enchanting snowy forests and ascend gentle hills and slopes without getting bogged down in the snow, or sliding back down the hill in hilarious, slapstick-comedy style (as joyous as that might be for others in your adventuring party to watch).
You don't need any experience to try out Nordic skiing, but you do need a good guide or instructor, the right gear and, of course, a can-do attitude.
How is Nordic skiing different from alpine skiing, cross-country skiing or ski touring?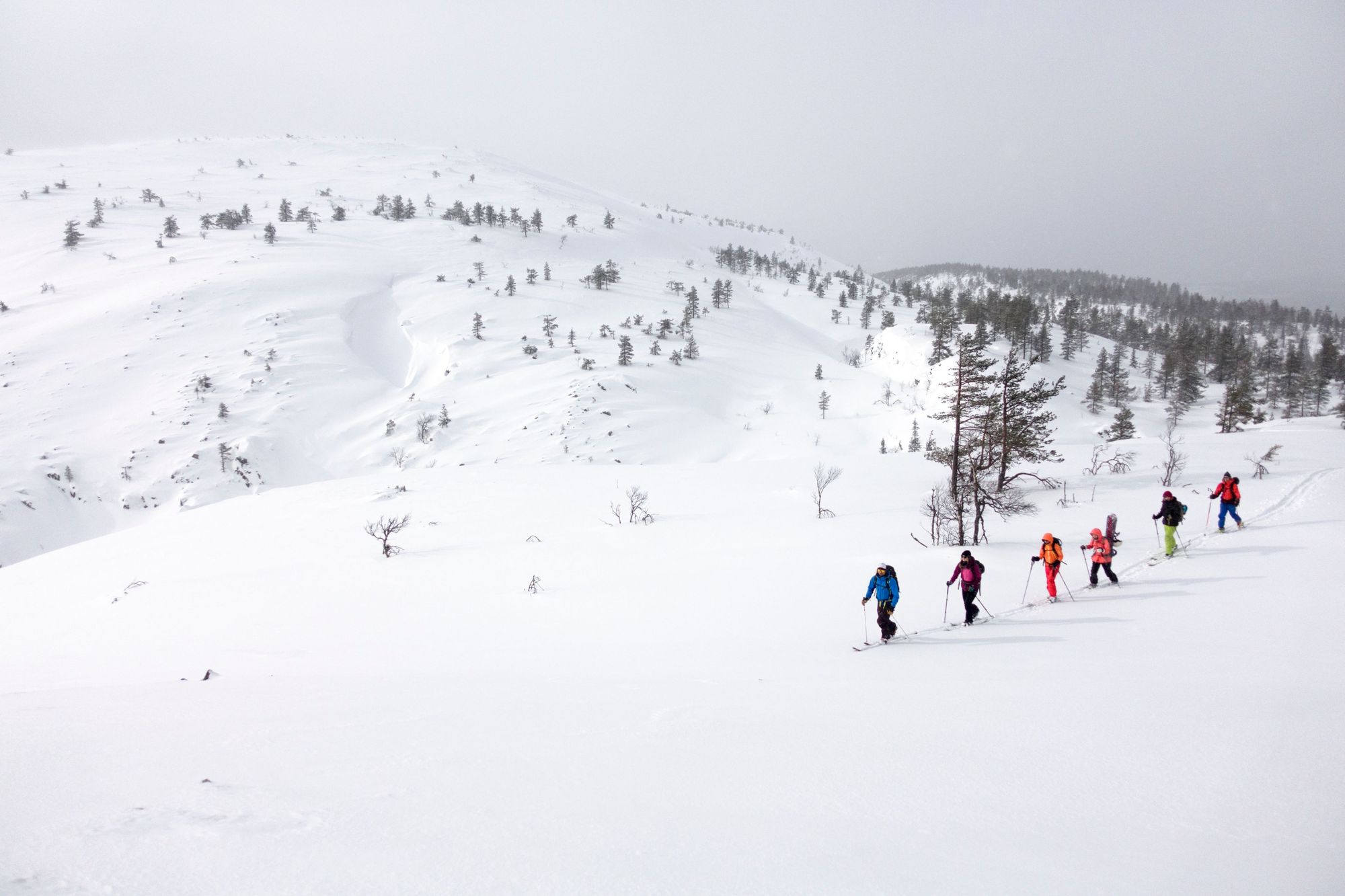 Nordic skiing differs from other disciplines of skiing in terms of both the terrain that you'll find yourself covering and the gear that you'll use to do it.
Nordic skiing vs. alpine skiing: Alpine skiing is the discipline of skiing most people are familiar with; lift-assisted resort skiing. It involves being carried up the mountain, skiing back down it and repeating that process until you're either too tired, too full of melted cheese and gluhwein, or until the lifts have shut.
Alpine skis come in various shapes and sizes, but you'll always clip into a binding which secures both your heel and toe to the ski, which is not the case in Nordic skiing. So, in short, the main differences here are the ski binding, the lifts, the exclusively downhill terrain - oh, and the crowds. You won't come across any 30-strong trains of little children going 130mph when you're Nordic skiing.
Alpine skiing is focused on fast downhill turns. Nordic skiing is more concerned with accessing quiet, remote environments out in the great outdoors.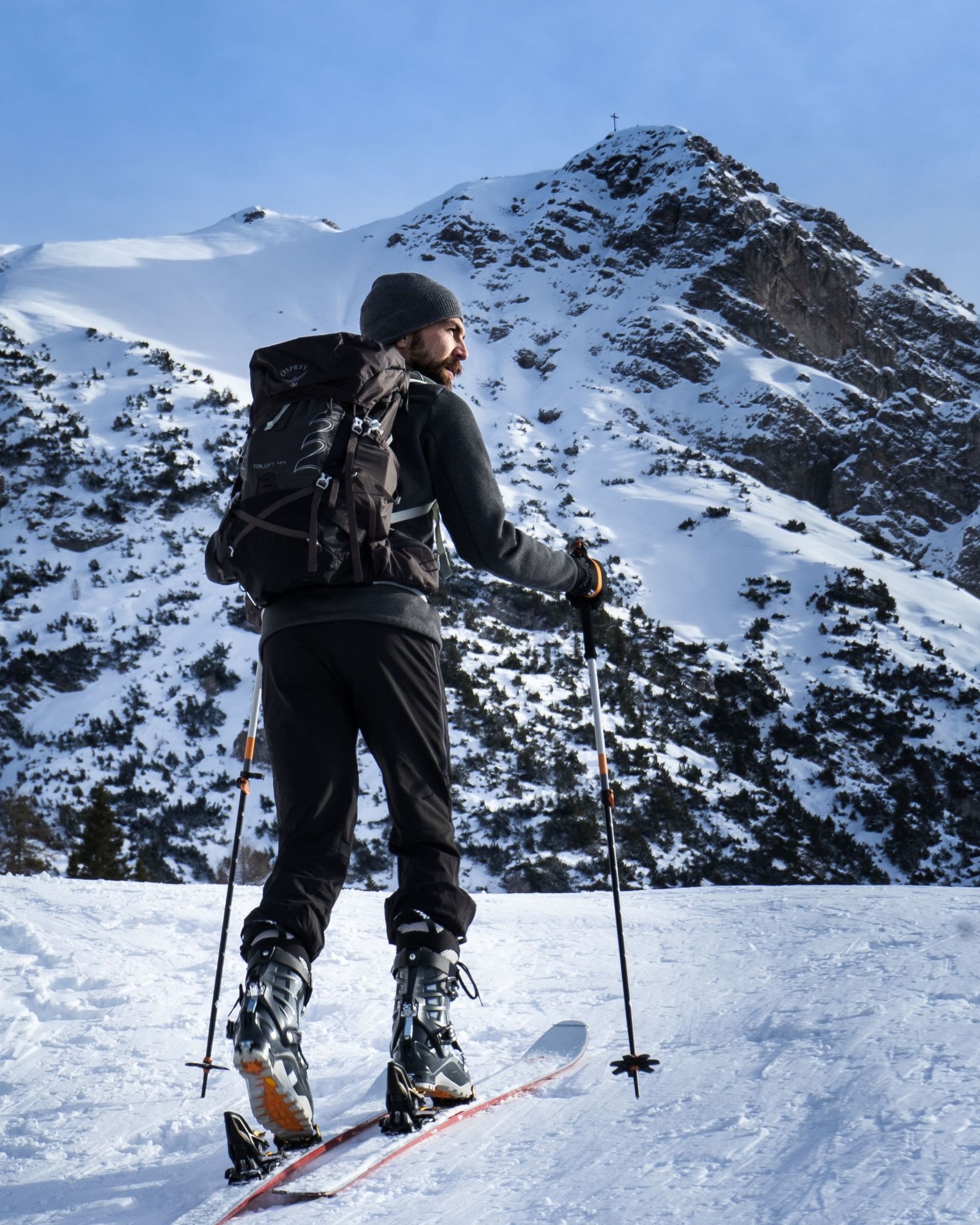 Nordic skiing vs. cross-country skiing vs. ski touring: This is where things become a bit blurrier, as both 'cross country' and 'ski touring' are terms often used interchangeably with Nordic skiing. The difference depends on who you ask, when you ask them, and what side of the bed they got out that morning.
The understanding in the US and UK is that when people talk about cross-country skiing, they're talking about exploring pre-marked cross-country routes, which are mostly flat, or have small, rolling hills. They're also usually groomed. This style of cross-country skiing makes use of particularly narrow skis.
Nordic skiing can be exploring similarly flat or rolling terrain, but it uses skis that are fatter than cross-country, with steel edges, and it's fully off-piste.
Especially when you're pulling a sled, it's more like you're walking on skis, so as not to sink through. It's like a walking experience.
When people talk about ski touring, they tend to mean taking fatter, wider skis and exploring more remote areas of the backcountry. This often means going out to climb a remote mountain or slope - well outside the piste map - and then changing the binding so that it secures your heel, and skiing back down. It appeals to more advanced skiers, who love powder. It's all about "earning your turns" and accessing untracked powder and isolated, snowy views.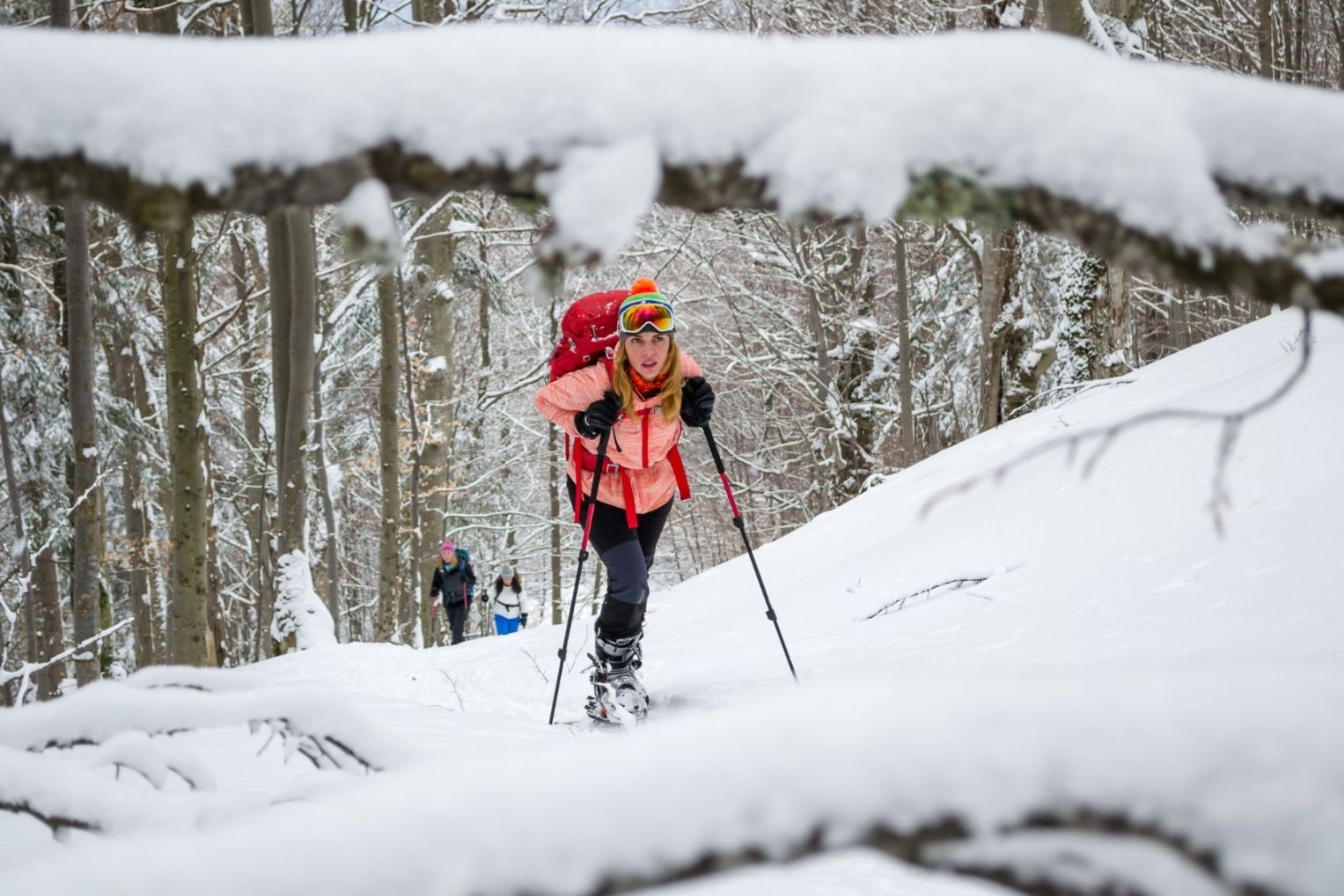 While ski touring and Nordic skiing can mean the same thing, Nordic skiing usually involves less ferocious climbs and descents, and journeys through largely flat landscapes or rolling hills. It's both a great introduction to the wider concept of ski touring, and a great day out in itself.
8 Tips for Going Nordic Skiing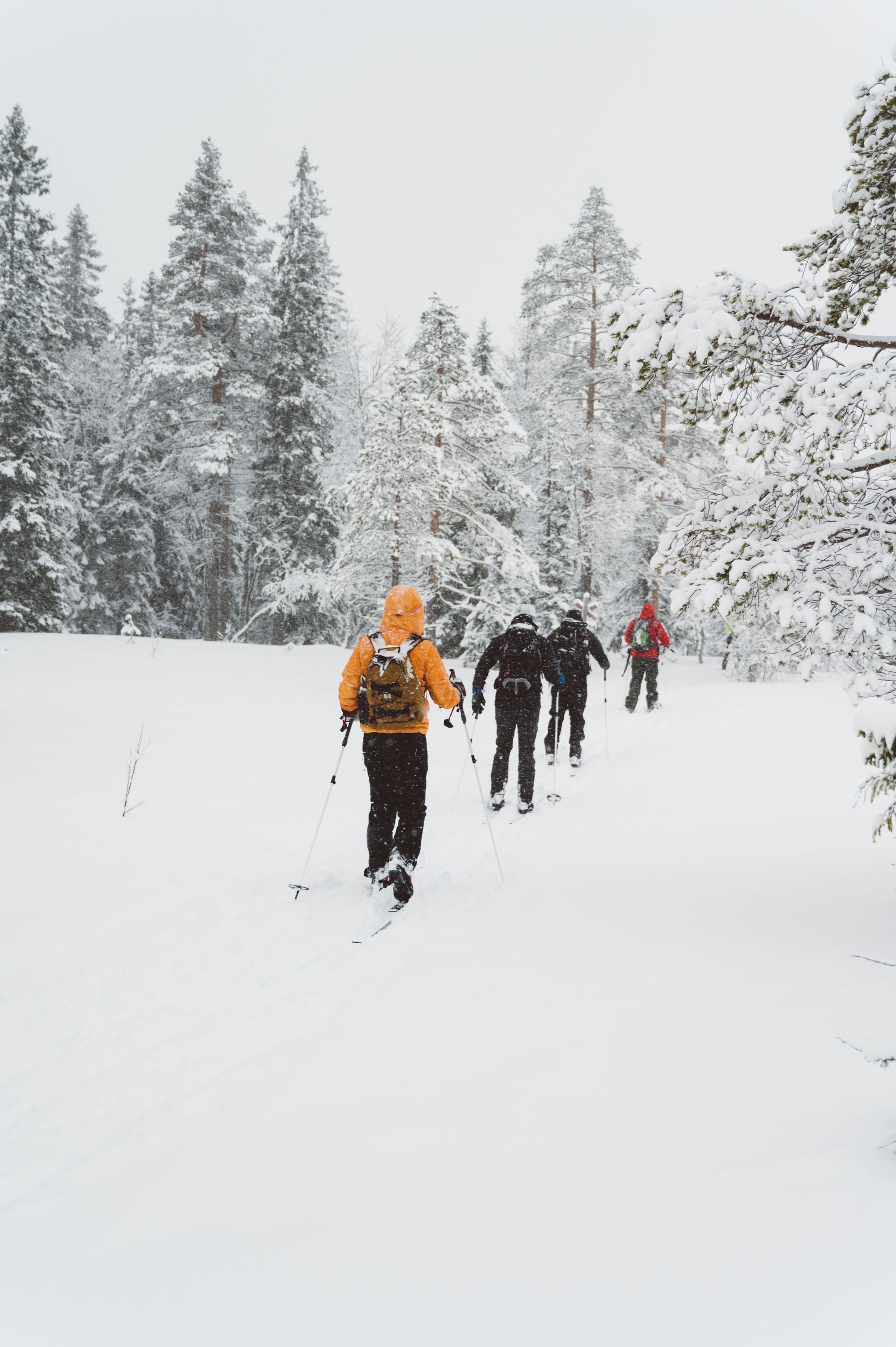 1. Get a guide with expert local knowledge
There are numerous reasons why having a guide or instructor is essential when it comes to Nordic skiing or ski touring, but namely, it's all about safety. Winter landscapes shouldn't be underestimated. There's a variety of potential hazards when skiing, from avalanches to tree wells to the cold itself - all of which can be easily mitigated with the expert local knowledge of a guide.
A good guide knows where is safe and where is not on any given day. They know where the sun will be and where the snow will be good. Plus, they can give you tips on technique and tell you about the history and culture of the local area.
2. Think walking, not skiing
There are various techniques in Nordic skiing, including the 'skating' technique you might be familiar with from seeing cross-country skiing on the TV at the Olympics. If you're a beginner, don't overthink it. You're best to really just focus on finding your balance, and once you've got that, moving safely.
The best way to do that is to walk rather than step the skis, without lifting them off the ground as you go.
"This style of ski is made for walking on, so you don't glide as much," says outdoor expert Thomas Ohlander, who guides skiing trips in snowy Sweden. "Especially when you're pulling a sled."
This can catch out more experienced skiers, who try and bring their alpine style to the Nordic ski. But fear not. When you're on the ski, you'll quickly find your favoured motion - and you'll learn that it's a lot easier to walk the ski than lift it.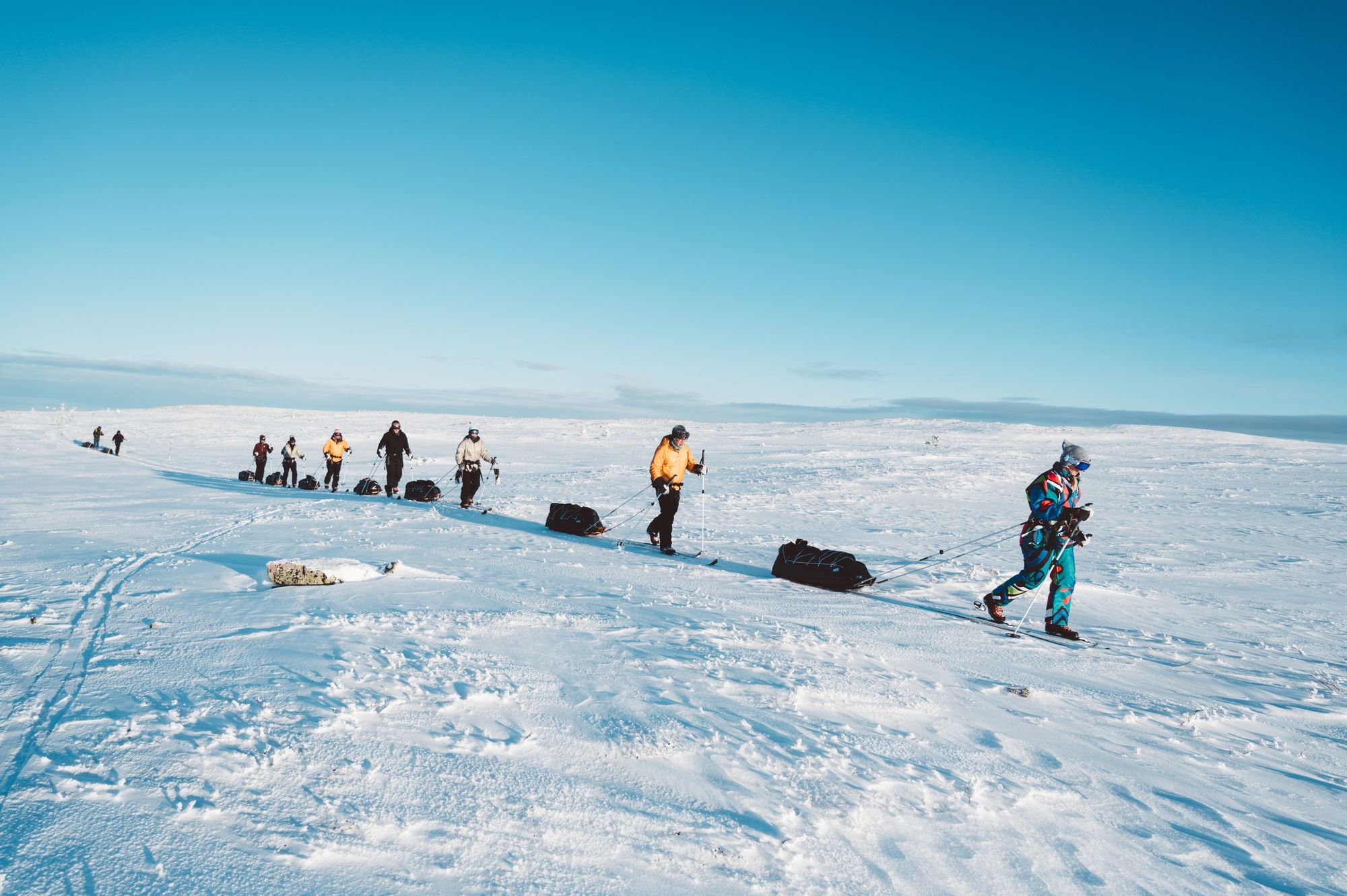 3. Three points of contact
Balancing on two planks is tricky if you're new to skiing, but just like when you're scrambling up a mountain, the more points of contact the better. When you're skiing, remember you'll have a couple of poles. They'll help you balance.
"It's about working your arms in time with the opposite ski," says Thomas. "If you put your left ski and right arm in, then you can push yourself forward [with a ski pole]. It's just like walking with hiking poles, you use the opposite leg [to the pole], so you have three points that are connected to the ground the whole time."
4. Don't fear the silence
Nordic skiing is incredibly meditative when you find your flow. So while it's great to be social and chat away, you also shouldn't be scared to find your pace and perfect your movement, then spend a while just letting your mind drift while you travel through a beautiful environment. As your eyes wonder, you'll see frozen rivers and waterfalls, the footprints or fur of animals - and trees piled under so much snow they take on new forms.
"When you're skiing through a deep forest, with big pine and spruce trees covered by snow, they can look like figures - like humans frozen in a huge lump of snow," Thomas says. There's a tranquil, dreamy quality to this type of skiing.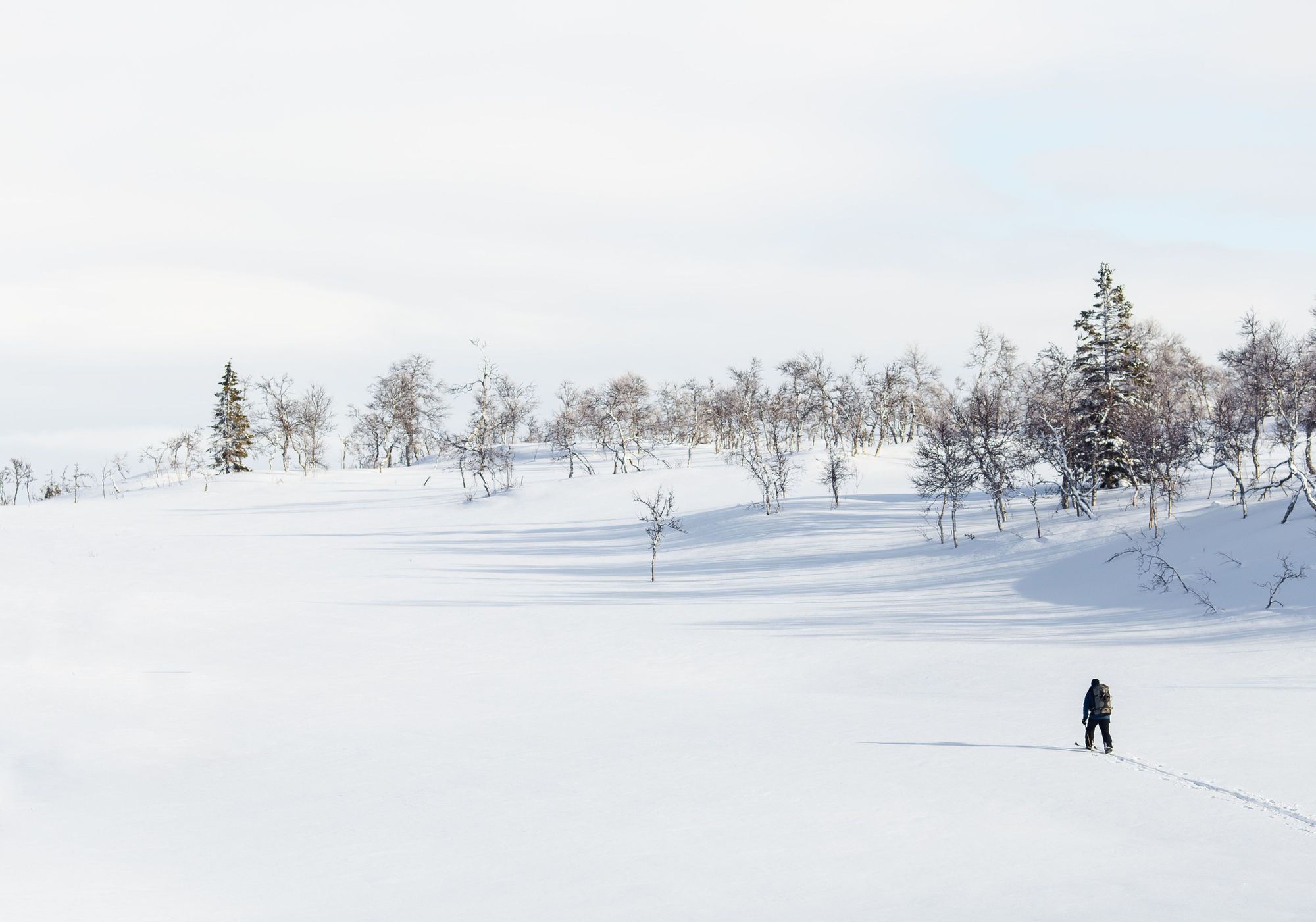 5. Wear layers
The key to staying warm when you're on a ski expedition isn't buying a super-expensive new coat or expensive ski gear, it's much more simple - wear layers, and add or remove a layer as and when it's needed.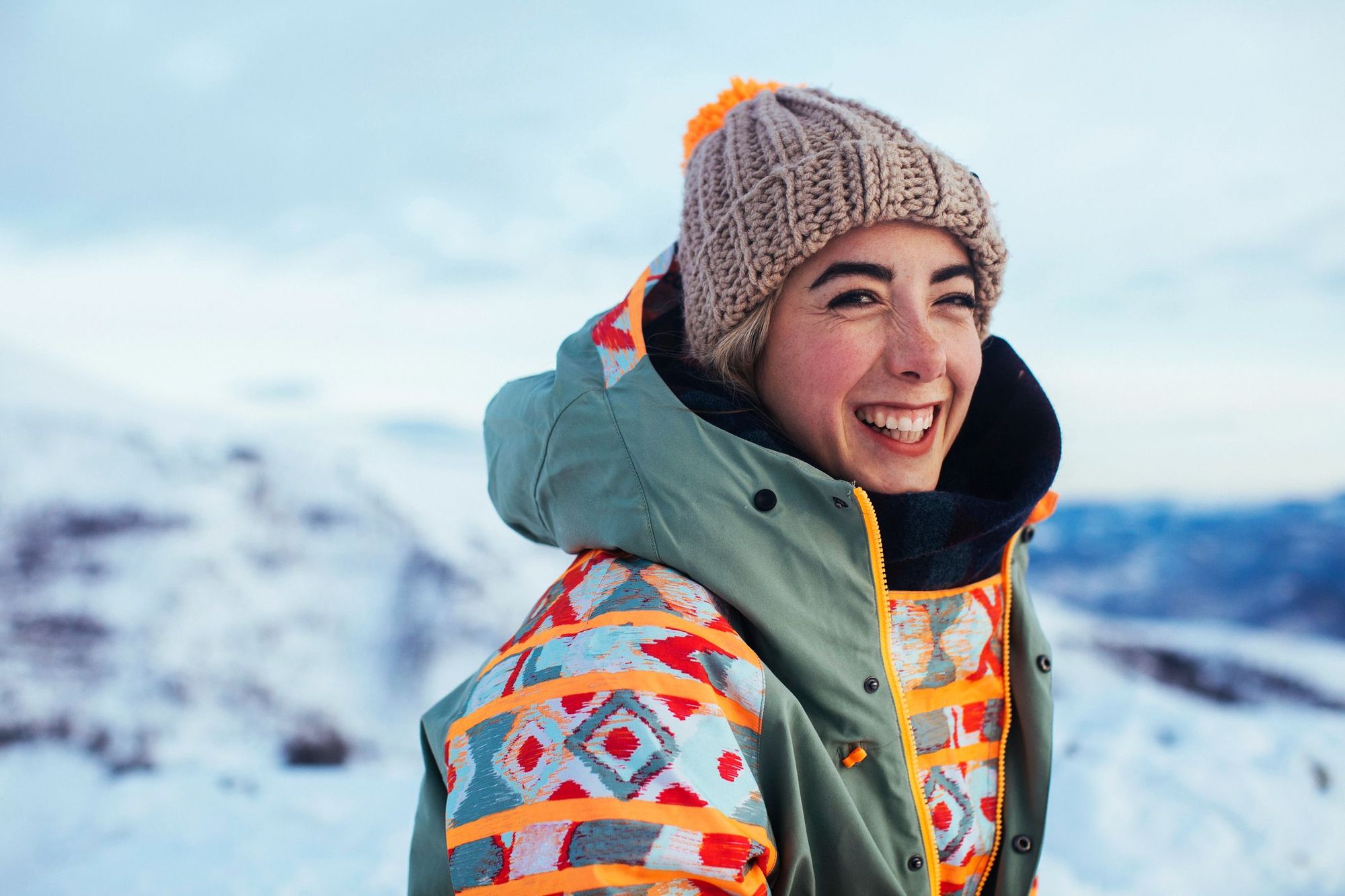 "The layering principle is that you have just enough clothes on for what you need," says Thomas. "Not more or less. So if you're cold, then you put on an extra layer, rather than starting with a lot of layers. If you look at the Inuits up on Greenland, for example, you never see them run. Ever. Because they know it's so printed into their genes that if we run we sweat, and if we sweat, we get cold."
Even layering your hands can be a great idea. Having a pair of glove liners under a pair of bigger gloves - or to stay particularly warm, a good pair of mittens. If you're in any doubt over what to wear on your trip, contact your guide before you go and they'll steer you in the right direction.
6. Trust your gear!
If the equipment that you're using has any special, additional functions, then it's probably worth learning how to use them.
A couple of examples? Your skis may have heel risers - little blocks which mean that, if you're going uphill, your heel won't have as far to go back down to the ski after every step you take. They sound a bit odd but trust us, on a long uphill climb you wouldn't trade these things for gold. Likewise, if your ski poles are adjustable, it's worth adjusting them to your terrain. These are simple measures that sound small, but which can save you a huge amount of energy.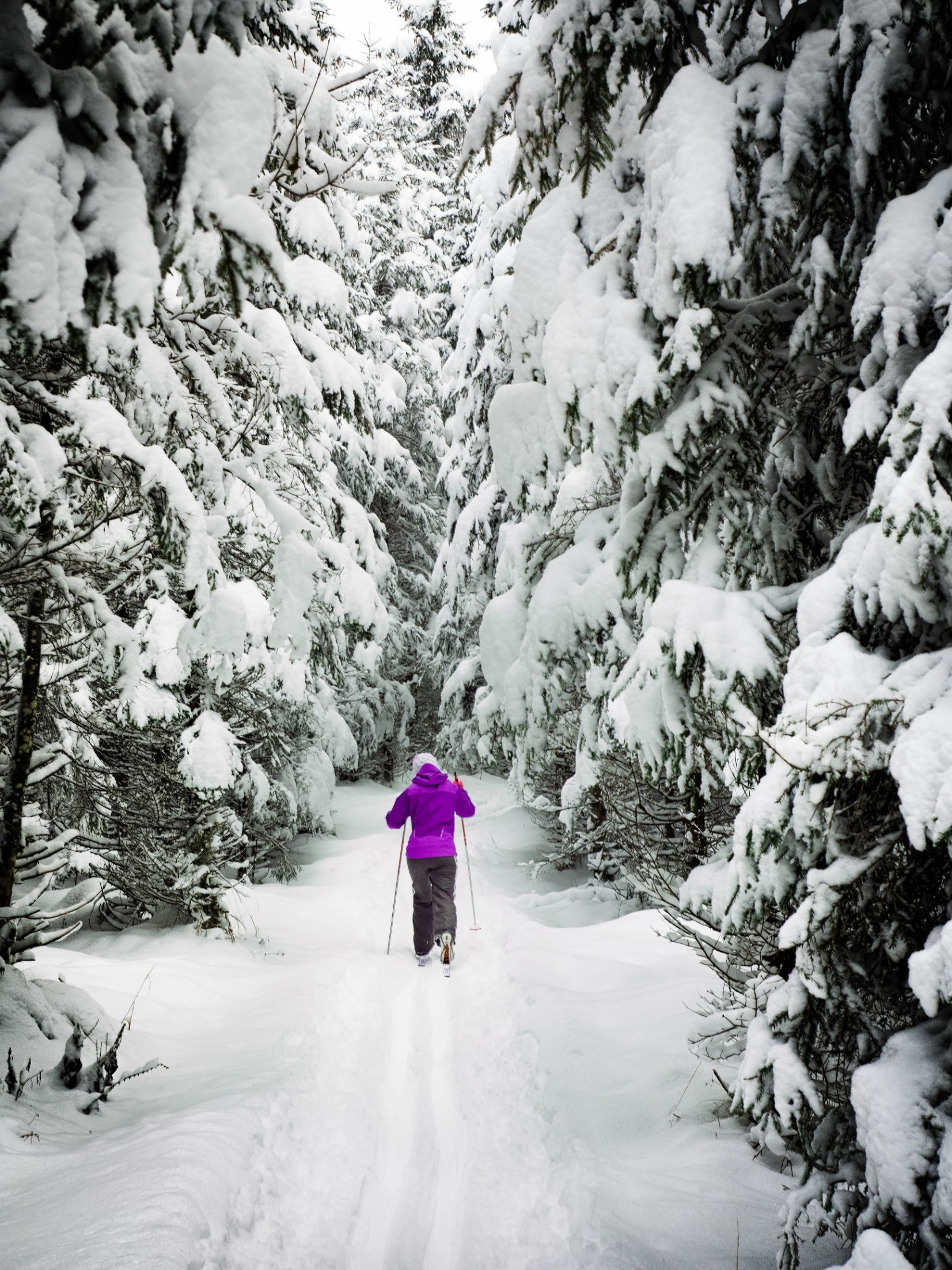 7. Don't get disheartened if you fall
If it's your first time skiing, there's a good chance you're going to fall over once or twice. Don't worry. Just try to land in some soft snow when you do.
"Some people just get it straight away, and then other people might have a few different struggles," says Thomas. "There are some random things that just happen. Some people ski and then just tip over! There's a lot of that. Some people have their skis quite far out, and that causes them to lose balance, but you see a real evolution in our guests as the trip goes on."
8. Wear sunscreen
Our final tip? Sunscreen. Yes, it's cold. Yes, there's lots of snow around… and yes, you still, definitely, need sunscreen. It's also a good idea to bring chapstick for your lips, and to drink plenty of water on the way, so you stay hydrated. These three are good tips for the sun, the snow... and for a happy life in general.
Inspired? Try out Nordic skiing on our adventure in the Swedish backcountry, weaving through enchanting snowy forests, and up to stunning plateaus!