The Picos de Europa is Spain's best-kept hiking secret. Tucked away in northern Spain, the Picos de Europa National Park straddles the three provinces of Asturias, León and Cantabria. The dominant feature of the landscape is its dramatic limestone peaks, which are part of the Cantabrian Mountains. Over many years, deep rivers and glacial ice have sculpted the limestone massifs of the area into barren mountains with steep valleys and gorges, creating a remote paradise for walkers.
There are three main massifs in the Picos de Europa. The central massif (known as the Urrieles) is home to the highest peaks in the park, including the jagged Torre de Cerrado (2,650m). The eastern massif, the Andara, has a gentler profile; as does the westernmost, Picos de Cornión, where gentle meadows and green foothills lead up to the limestone peaks. Among these mountains are literally hundreds of hiking trails, suitable for all ages and abilities. The most popular is in the Cares Gorge trail, which hugs the sides of sheer limestone cliffs as it traces the path of the crystalline River Cares.
While the Picos might not be as high as other European summits, they offer up ample opportunities for scrambling and via ferrata. Adventurous souls can tackle the Ring of Picos challenge, a gruelling circuit around the western massif that takes in rocky summits and plunging gorges. Another epic - but less technical hike - involves a steep ascent to Horcados Rojos (2,506m). From this rocky promontory you can see all the way across the sparse mountains to the sea. And then you can save your knees by catching the cable car back down.
We're sure that by now, your curiosity must be aroused. Maybe you're thinking about checking out the Picos for yourself. Before you do, we've got five top tips to help you plan the ultimate hiking trip to the Picos de Europa.
1. Choose A Route Through the Contrasting Landscapes the Park Has To Offer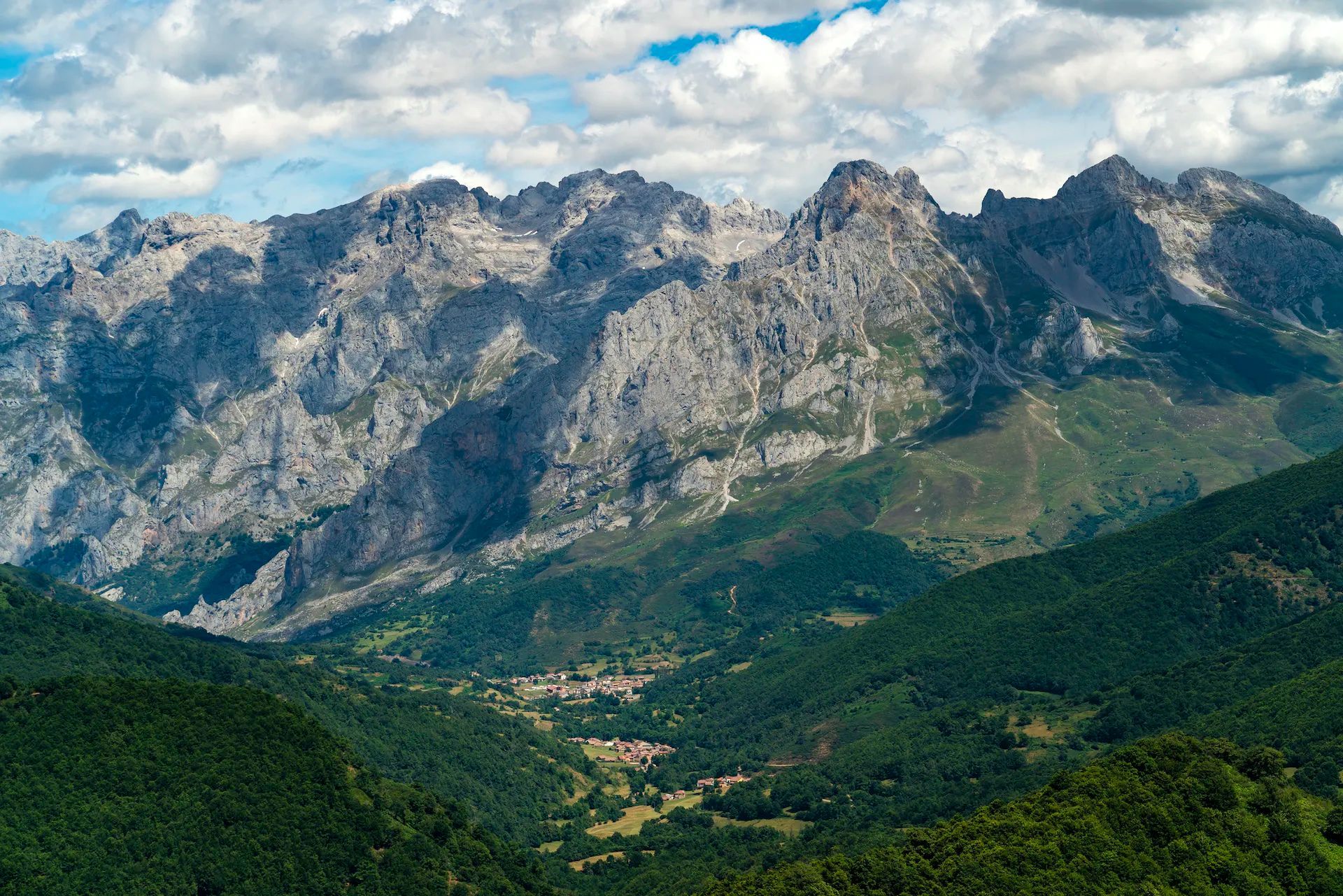 The Picos de Europa is known for its sparse, lunar-like landscapes. But there is also a gentler side to them. On the southern side of the mountains - around the Potes to Fuente Dé area - you'll find the terrain to be much lusher, with rolling green pastures and large forests.
When you're planning a Picos de Europa hiking trip, make sure you plan a route through the different habitats that the national park has to offer. We recommend hiking the trail from Collado Jermoso to Fuente Dé. This four-to-five-hour trek is a steady downhill route from high in the mountains, through oak and beech forest to pretty alpine grasslands. It's one of the most biodiverse areas in the Picos, and is home to Cantabrian bears, wolves and wild boar.
2. Research the Refugios Before Going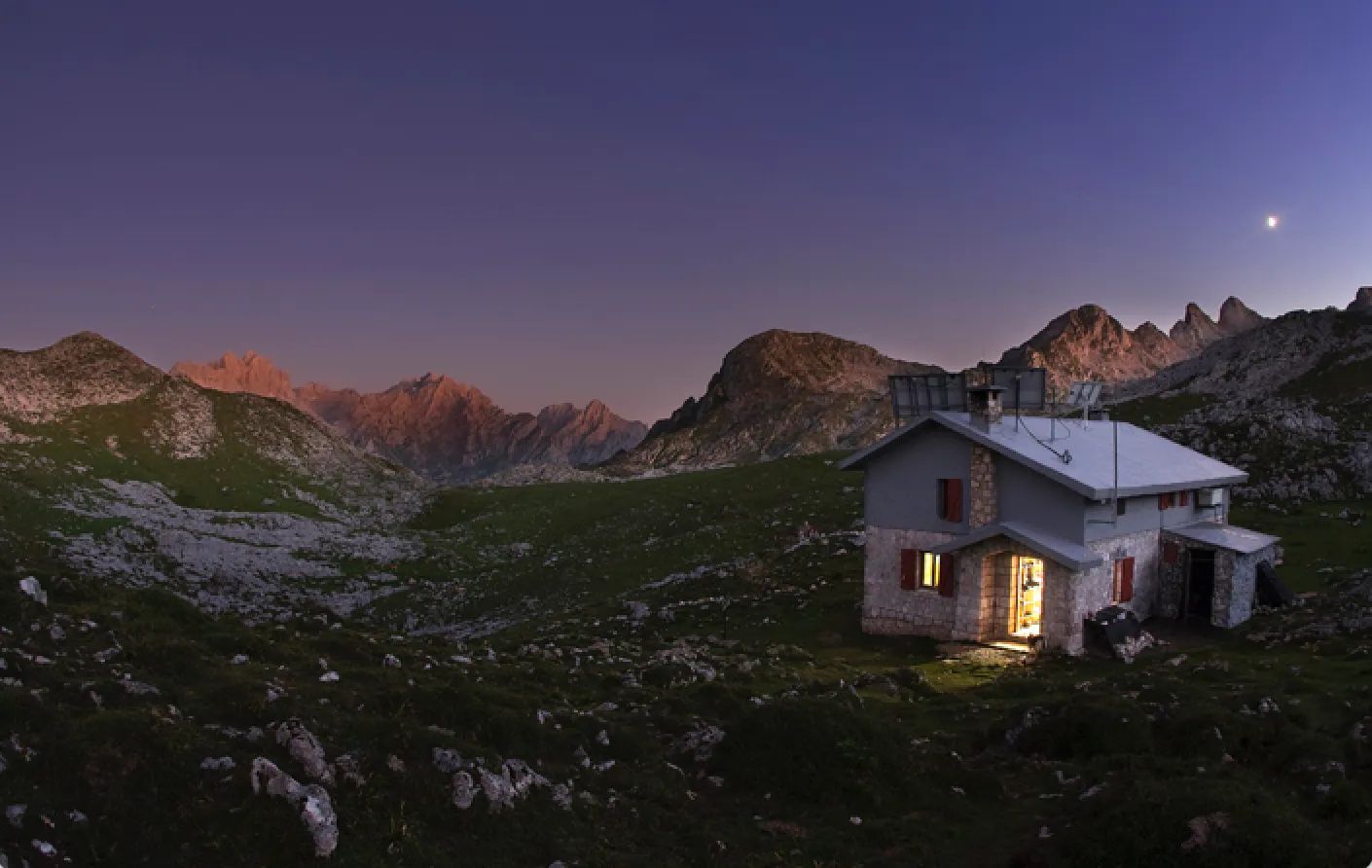 There are nine mountain huts, known as refugios, in the national park (alongside other accommodation, such as hotels and campsites). If you're planning on hut to hut trekking in the Picos de Europa, we suggest booking in advance, as spaces are limited.
Check what facilities are available, as each hut is very different. While some are little more than a roof and four walls, others are warm, comfortable hangout spaces. Some of them are lacking showers or cooking facilities, while others have both. All but a couple of the mountain huts require you to make reservations via telephone, rather than online. It's worth remembering that none of the huts have card payment facilities - you'll need to bring cash with you for food and snacks.
3. Bring Walking Poles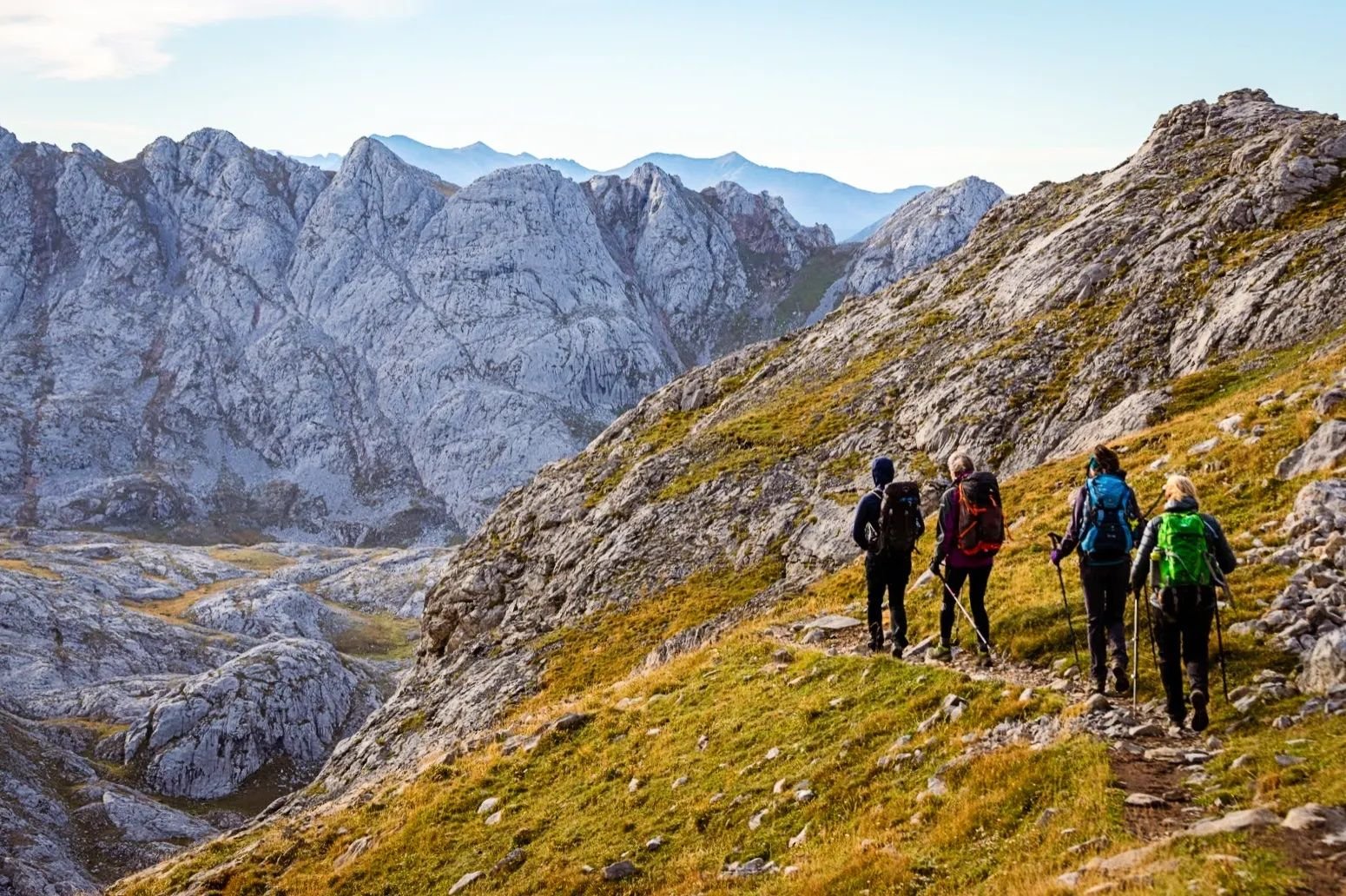 If there's one piece of kit we think you should bring, it's a pair of walking poles - they'll prevent your knees getting buggered. Even if you've never needed to use them before. Even if you think, deep down, that they're just for older people trust us on this one. You'll thank us later (and your knees will too!). The terrain on the trails is mainly limestone, with a lot of loose rocks and shale. And on the more well-trodden parts of the route, the limestone becomes very smooth and slippery.
4. Try the Delicious Regional Cuisine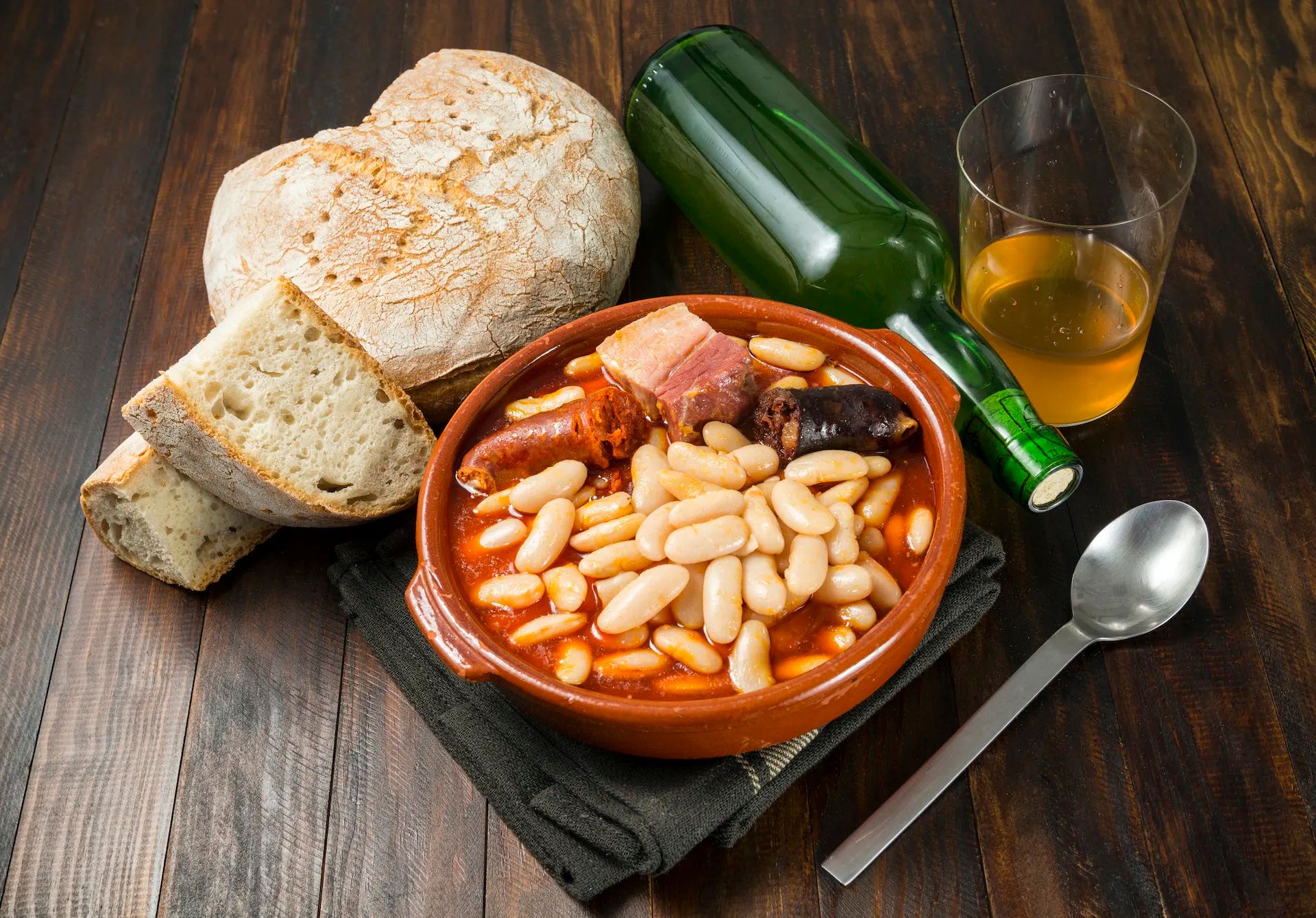 There is some delicious regional cuisine to be found in the Picos de Europa. Fabada is a hearty local stew of beans, chorizo and morcilla sausage, flavoured with paprika. Cachopo is a large veal schnitzel stuffed with ham and cheese. The region is also known for its artisanal cheeses, in particular el Cabrales, a punchy blue cheese, but there are plenty others to sample. And you'll also get to try pinchos, northern Spain's version of tapas, ranging from marinated anchovies to wild mushrooms.
This hearty fare hits the spot after a long day of hiking, especially with a glass of Asturian cider. You may have noticed that it's a diet very rich in meat and dairy, though. Vegetarians and vegans will be well catered for too, especially in the larger hotels, and dinner in the mountain refugios consist of soup, pasta and chickpea dishes suitable for all diets. However, we'd always recommend bringing a few extra hiking snacks if you're on a restrictive diet; options include dried fruit, protein bars and nuts.
5. Prepare for All Weathers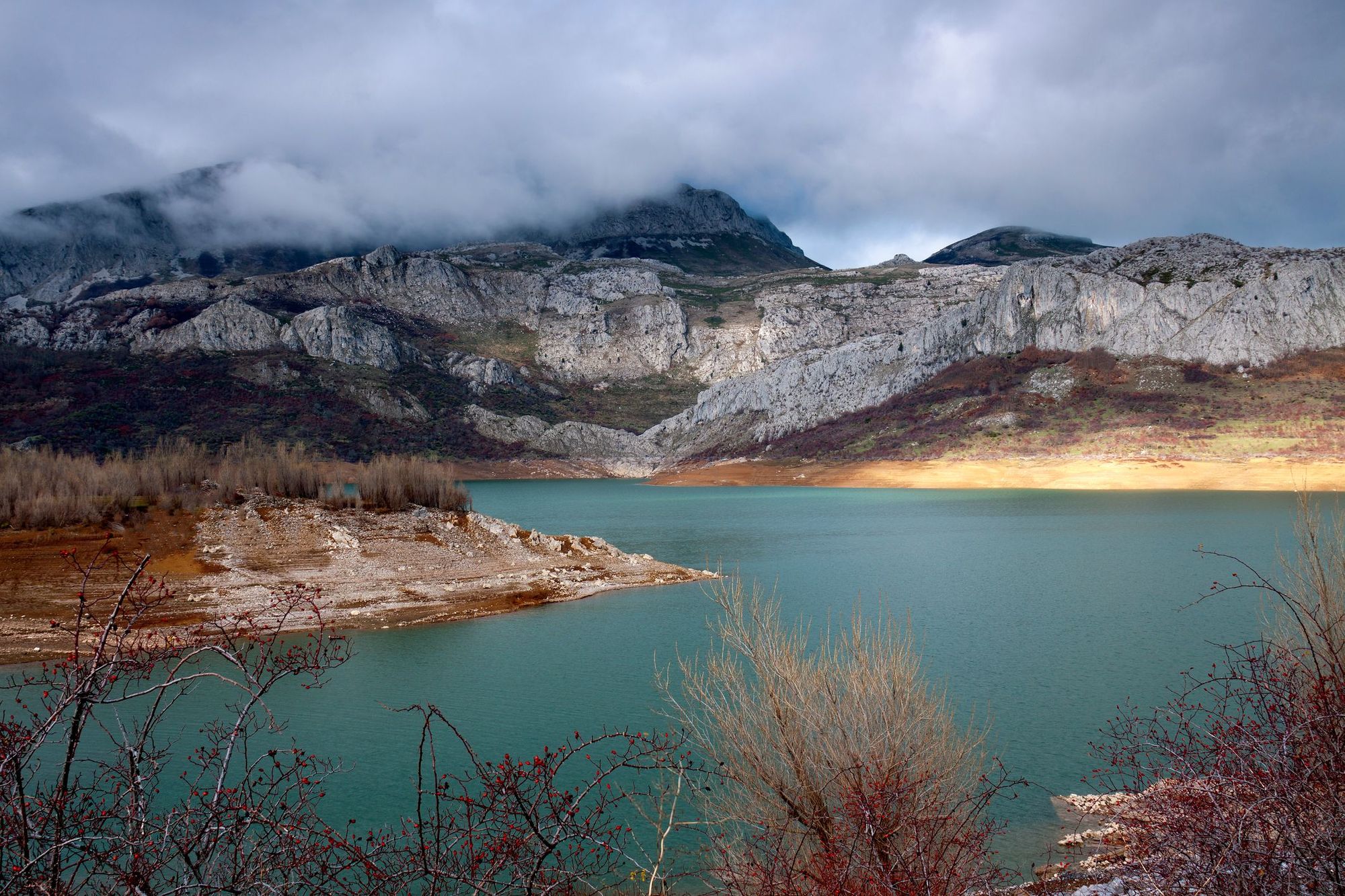 A walking holiday in Spain conjures up images of shorts-wearing weather, of stopping to cool off with an outdoor swim in the ocean or a lake. And you will experience warm summer days in the Picos. However, it's worth remembering that the weather in northern Spain is very different from the south coast (which is where sun-seeking tourists flock to). Asturias and Cantabria have a maritime climate, which is characterised by warm summers, mild winters, with cloudy days and fairly frequent rainfall.
You need to come prepared for trekking in all weather conditions, even during the summer months. Up in the mountains, temperatures plummet once the sun goes down; you'll want a warm jacket. Pack waterproofs in case of rain and sun cream in case of heat - you'll be glad you did.
When to visit Picos de Europa
Hiking season in the Picos de Europa is during the months of May to October. It is only during the summer months that the high mountain passes and trails are accessible. During the spring and autumn months hiking is still possible, albeit along trails at lower elevations. In the winter months the mountains are carpeted in snow - it's an ideal time for snowshoe treks and ski touring.
How to Get to Picos de Europa
If you're taking a flight to reach the Picos de Europa, the two closest airports are located in Asturias and Santander. They're roughly equidistant from the national park, so your choice is likely to be dictated by flight times and prices, and whether or not you're meeting a group. If you're travelling independently around the park, we'd recommend hiring a car. The park is served by public transport, but buses are infrequent and don't cover the entire park.
It's possible to reach Picos de Europa without flying. One option for UK travellers is to travel by ferry, from Portsmouth to Santander. It's also possible to travel by train to Picos de Europa. One of the closest large stations is Bilbao. From there you'll need to take a regional train to the town of Arriondas. It's just a 10-minute bus ride from Arriondas to Cangas de Onis, the starting point of several day- and multi-day hikes into Picos de Europa National Park.
Inspired? Why not check out our hiking adventure in the Picos de Europa, or the more-demanding Ring of Picos Challenge.