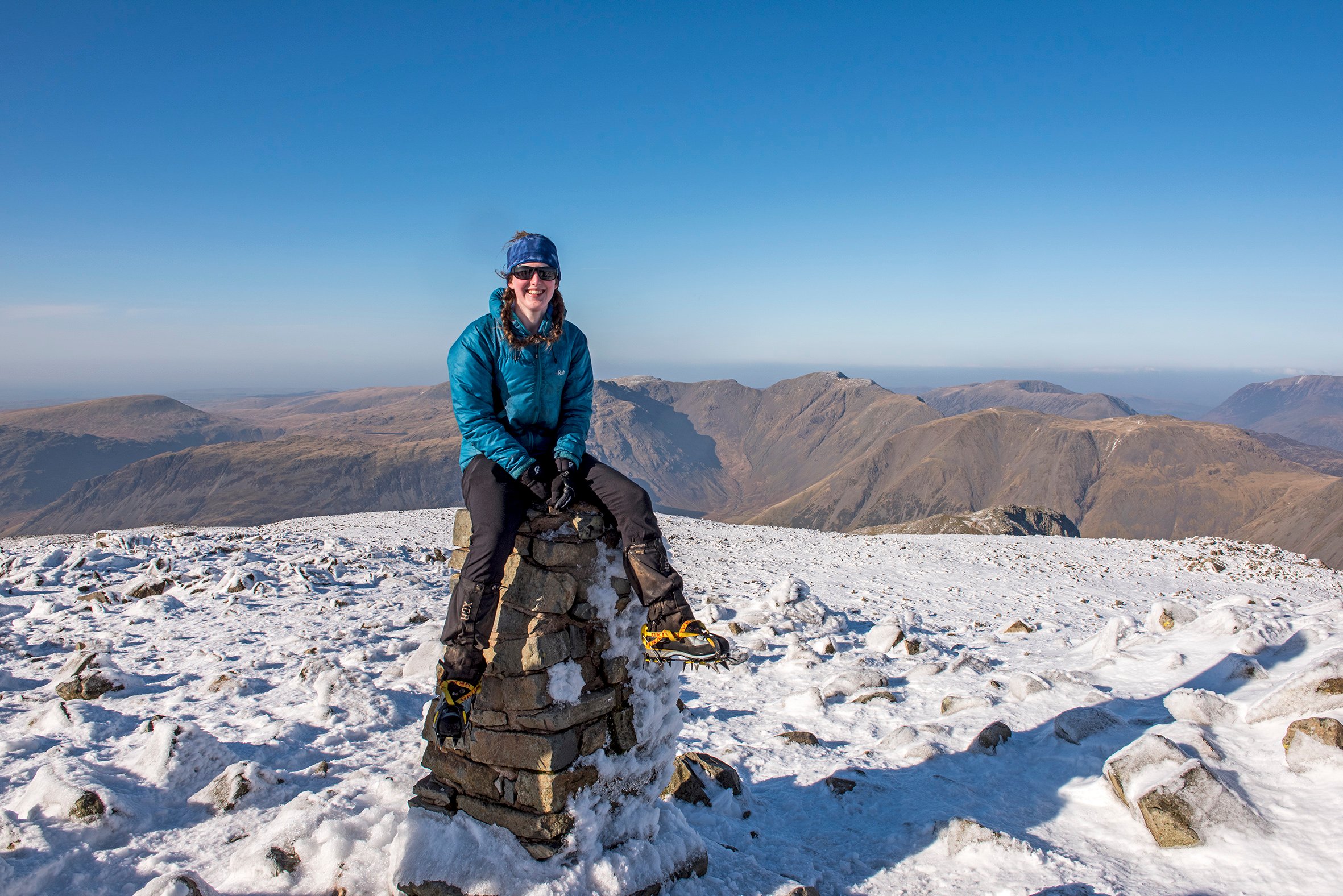 The tallest mountain in England is Scafell Pike in the Lake District, Cumbria. For most people, that's probably enough to make you want to climb it. We do like a bit of standing on a summit knowing you're higher than everyone else in the country. The question is: how do you summit it? Well, here is the answer. You have basically three choices of route: from Wasdale, Borrowdale or Langdale. They're all great. That's why Scafell Pike even features in our list of the best hikes in the UK.
Now, as with all of our route guides, these are just that: guides. Do not rely on them as your sole form of navigation in the mountains. We're your starting point, but from here it's up to you to get the fine detail of the route and get yourself there and back safely. The maps we've embedded are only a rough outline too. We've assumed summer (aka not snow!) weather conditions.
The top of Scafell Pike (978m) has a trig point and a large square stone shelter. It's up a few steps, as if they're trying to make absolutely sure that it's taller than nearby Sca Fell (964m). Those extra couple of metres really help… The inside of the shelter is filled with stone, so it's actually not great for sheltering in. But it is pretty good for standing on and looking down on the entire of England. That's why you're up there after all.
1. Climb the Tallest Mountain in England from Wasdale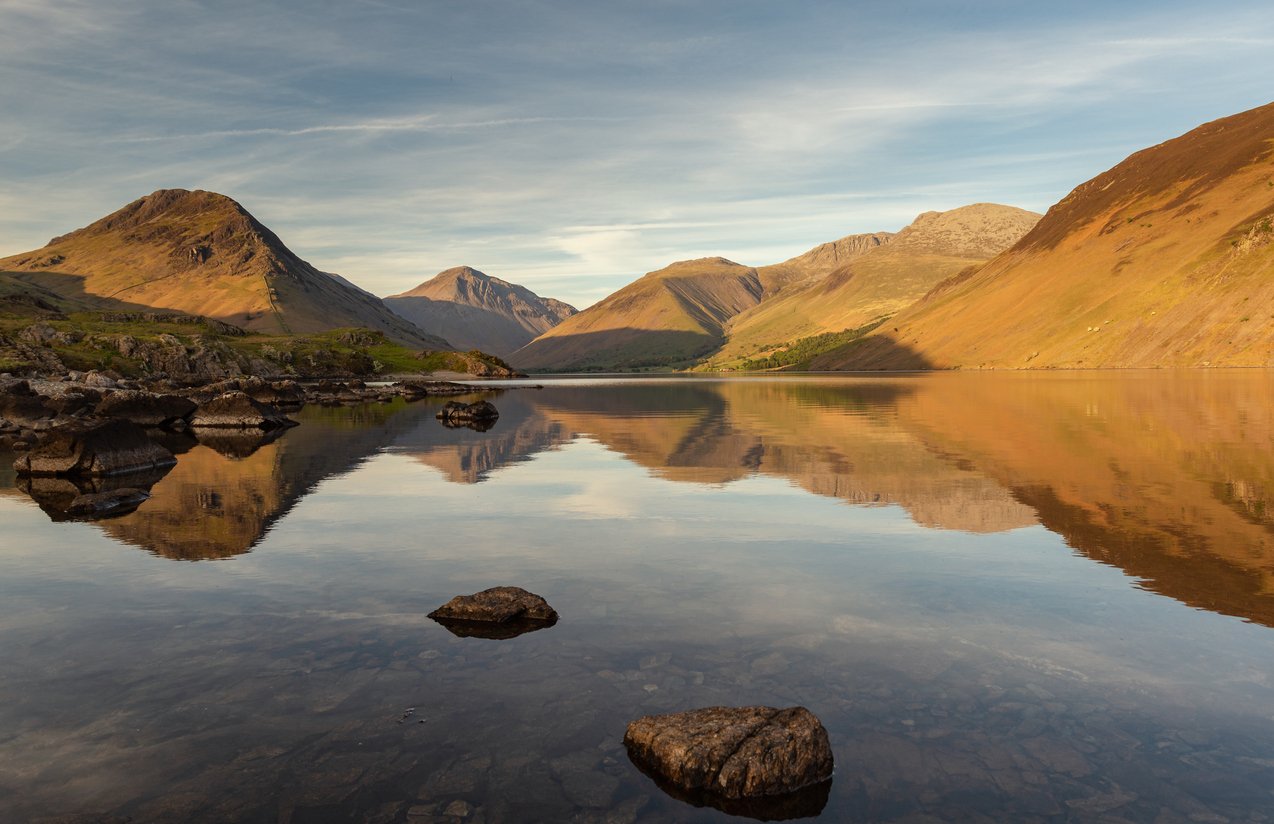 Distance: 3 miles (one way)
Total ascent: 2900ft
Rough Time: 3 hrs (one way)
Wainwright bagging potential: Low
This is probably the shortest and most direct route up Scafell Pike. Although, as you can see from the route profile, you're basically starting at sea-level and walking uphill the entire way. Well you did want to climb the highest mountain in England!
Route Description
Start your hike at the top end of Wastwater. There are a few carparks, the biggest of which is by the Wasdale Head Inn. From wherever you park, find a footpath that takes you across the north end of Wastwater and on to Lingmell Gill. There are several. Once you've reached the gill, there is a good path alongside the river that just keeps going up! The path crosses one branch of the river near the top.
Continue along the same path, roughly eastwards, along Brown Tongue and across Hollow Stones. Do not turn right off the path too early, or you will find yourself in a difficult, scramble-y muddle. If this happens, beat a speedy retreat back to the path before you end up in rock climbing territory. Stick to your path and if you can still go uphill and eastwards-ish, do it.
When the ground flattens out, that's when you should turn right (aka south) on the winding path up Scafell Pike. It may not be obvious, depending on weather conditions, and it winds between crags and steep drops. As always, we recommend taking a map and compass to help you find the path. It is very well marked on the map, but less well marked on the ground. You'll be going up the "nose" of the mountain, not one of the gullies either side.
Take the correct path and you'll be relieved to see the plateau top of Scafell Pike and the summit shelter and trig point. That was a lot of uphill!
2. Climb the Tallest Mountain in England from Borrowdale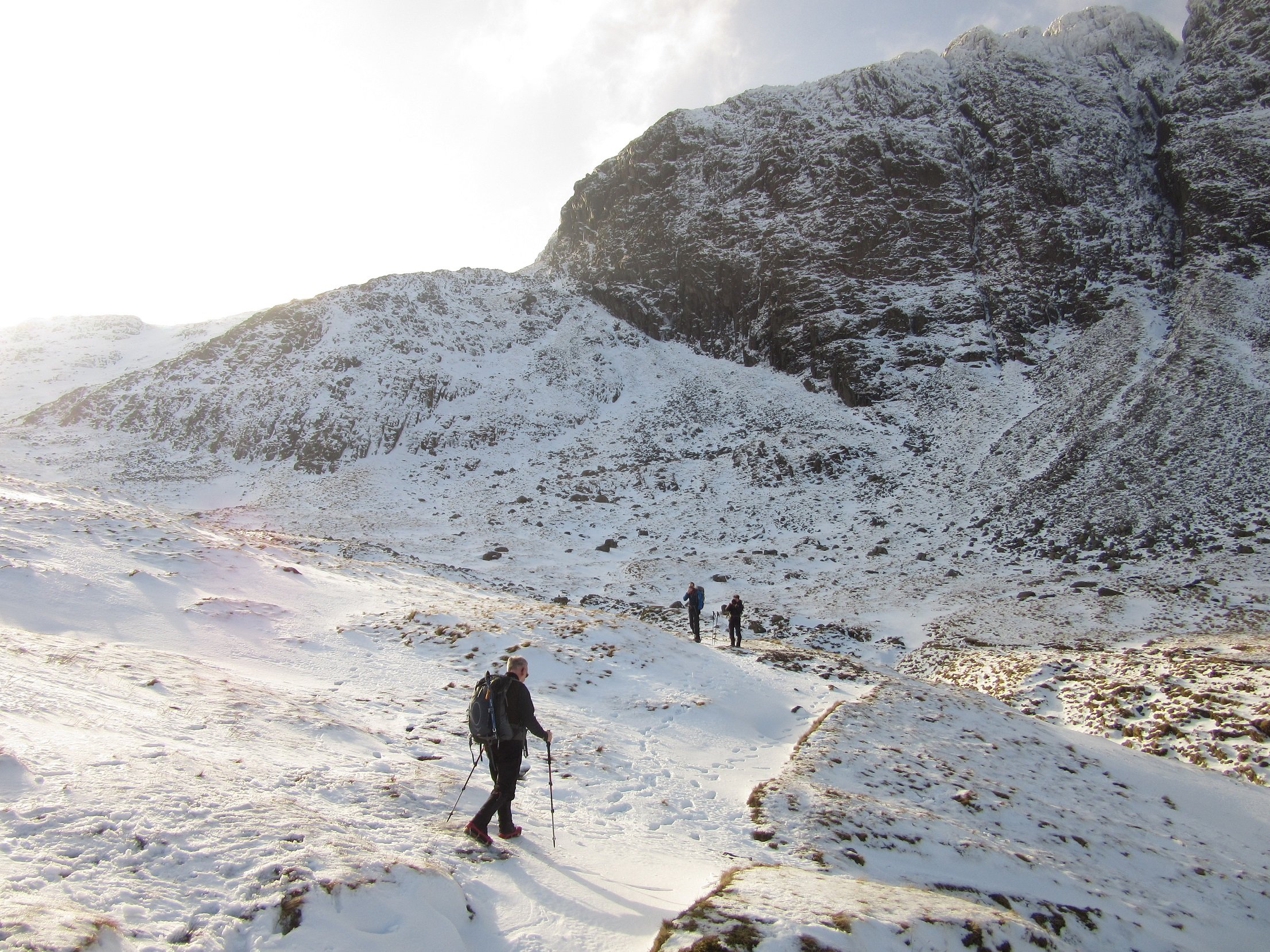 Distance: 5 miles (one way)
Total ascent: 2725ft
Rough Time: 3 hours (one way)
Wainwright bagging potential:
If you'd like to make more of a walk of your climb up Scafell Pike, then you might choose the approach from Borrowdale. There is a longer walk in and, although you are still pretty much just walking uphill all day, it is not quite so relentless. There are also two well known tarns and a big waterfall along the way.
Route Description
There is not much parking on this route. You should start from Seathwaite, a tiny village that is basically just a farm at the end of the tarmac-ed road. There is a very small amount of lay-by parking just as the road ends, but this fills up quickly. In the summer, the farmer sometimes opens up his field for paid parking, but try to check beforehand – there's not much room to turn around in! The closest you can get by bus is Seatoller on the 555. There is a footpath, some distance from and parallel to the road from Seatoller to Seathwaite. It's only a couple of kilometres.
From Seathwaite, choose a side of the river! The path on the right (west) side is steep in places and rocky, but takes you alongside a powerful waterfall. (So yeah, the rock might be wet.) The left (east) side is a well made track that crosses Stockley Bridge, then heads back towards the river, taking a shallower path up the hill. The two paths rejoin above the waterfall – you can cross back from left to right at a small bridge.
Whichever path you choose, you'll end up on the west side of Styhead Tarn, with Great Gable above you. In morning or late evening, if the weather's right, the tarn forms a perfect reflection of the mountains that surround it. Take the path around the south end of Styhead Tarn (don't cut the corner, you'll get wet!) and head south-east to Sprinkling Tarn. Continue to the col (dip) Esk Hause, past the imposing crags of Great End on your right.
Now for your ascent up Scafell Pike. From the shelter at Esk Hause, take the west-ish path that curves around the back of Great End and up, between Ill Crag and Broad Crag. The path is not a highway to the top (e.g. unlike the well-made paths up Snowdon). It is a dirt path in the grass that is marked in places by cairns, but not straightforward in poor weather. Take a 1:25000 map for detail and a compass – and know how to use them! There are a lot of steep drops to fall off, if you drift in the wrong direction.
Beyond the crags, there is a steep and narrow col to the final ascent of Scafell Pike. With steep scree slopes down a gullies on either side, it almost feels like a bridge. Watch out for the wind on this section. Then you've almost there – follow the final cairns up to the summit.
If you're on your own, you're probably in the wrong place! Even in bitter winter conditions, there always seems to be someone else arriving at the same time, or already tucking into their lunch as you crest the hill. Snap your compulsory photo in the shelter (or on top of the trig point) and it's back the way you came. If you're heading back to Borrowdale, you could take the Corridor Route back for a slightly shorter but more difficult route. This involves going down off the north side of Scafell Pike and the descent is not always obvious – again, there's a lot you can fall off! In fact, there's an aptly named Dropping Crag, which makes you wonder…
3. Climb the Tallest Mountain in England from Langdale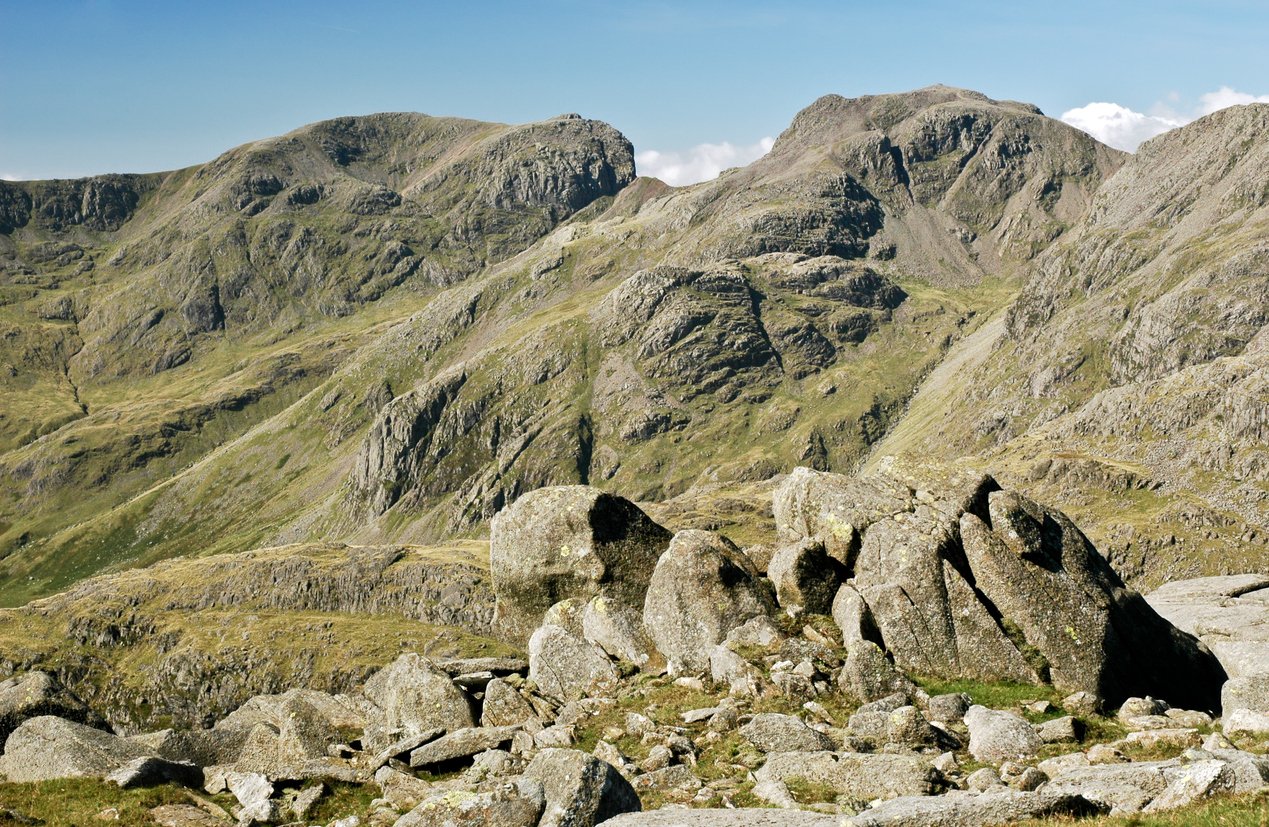 Distance: 6.5 miles (one way)
Total ascent: 2900ft
Rough Time: 4 hours (one way)
Wainwright bagging potential: Moderate
This route is similar to the Borrowdale route and shares the section from Esk Hause. To get to Esk Hause, it feels like a shorter route, although measuring shows it to be longer! Both are great routes.
Special mention to our "bonkers route" up Scafell Pike from Langdale in our 5 Most Adventurous Hikes in the Lake District list. We didn't include it here because, well, it's a very bonkers way to go climb the tallest mountain in England. Maybe one for after you've been up a few times and are looking to spice things up a little!
Route Description
From Langdale, the easiest route up the tallest mountain in England is to head along the Cumbria Way and join the Borrowdale route at Esk Hause. There is a large National Trust carpark at New Dungeon Ghyll, below the Langdale Pikes (and a lovely cafe!). Buses are available, but not always frequent. Some times of year, you might actually be better off walking all the way down Langdale valley from Ambleside. Make sure you leave enough time to do this – it's a surprisingly long walk. It might even be worth spending the night in Langdale valley before setting off up Scafell Pike.
From New Dungeon Ghyll carpark, walk north between the buildings, following the signs for the Cumbria Way. The footpath should take you through a gate in the stone wall that marks the bottom boundary of the fells. Now you're in Open Access Land. Turn left and walk along the Cumbria Way, with the imposing Langdale Pikes above you and Mickleden river below. At the head of the valley, take the path off left (not the Cumbria Way) up towards Angle Tarn.
You might have heard of Angle Tarn. It's become a famous place to go wild camping and swimming in the Lake District. Unfortunately, people camp very close to the tarn and the water now contains Giardia – a waterborne parasite that's caused by human toilet and food waste being left too close to the tarn. Lovely. If you do take a drink, or a dip, you might be needing this article about diarrhoea!
From Angle Tarn, continue on the wide stony track to Esk Hause. It is a col (dip) between two mountains and has a stone shelter. At this point, head south-west and then up towards Scafell Pike, using the Borrowdale route description above.
Got the mountain climbing bug? You can attempt to climb the highest peak in countries like Slovenia, Bulgaria, Montenegro and Ethiopia on our adventure holidays. Or take a look at our UK adventures for more mountain fun, closer to home.