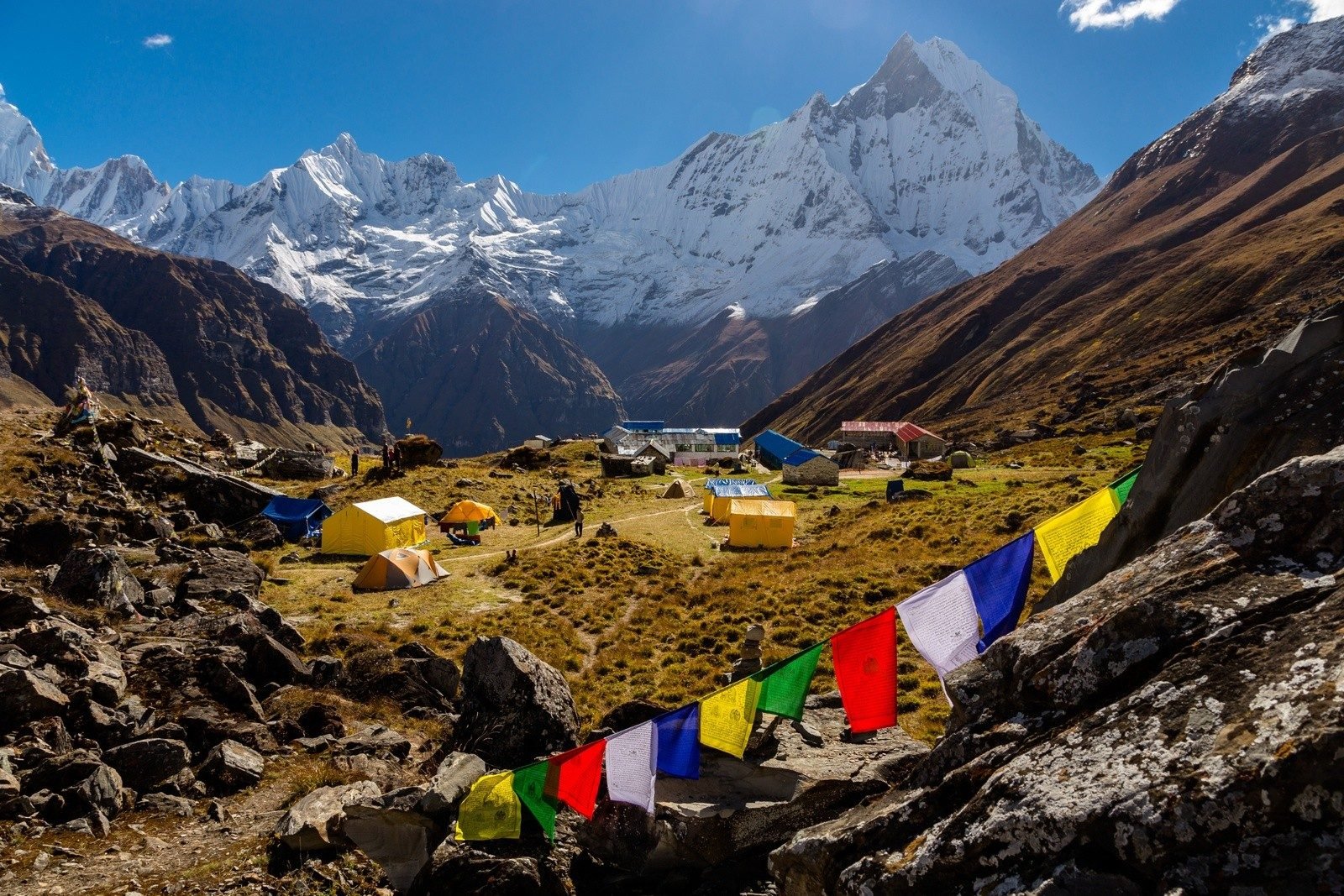 Trekking Annapurna is one of the most immersive ways to experience the mountains in Nepal. If you're planning a trip to the region for just that, then this is where you should start…
From the Annapurna Circuit to Annapurna Base Camp, the region of Annapurna is simply a trekking paradise. Those who can tear themselves away from the world of Wi-Fi long enough to commit to a long-distance trek are rewarded with remarkable routes packed with teahouses, Tibetan temples, subtropical lowlands and big, spiky mountain highs.
The legendary Annapurna Circuit is the best known route in the area. It circles the entirety of the Annapurna Massif and is often considered in 10 best treks on the planet lists. The route is akin to hiking through a Himalayan highlights reel.
The Annapurna Circuit is a long-distance trekking route that circles the Annapurna massif.
The elevation gain along the 190km Annapurna circuit is huge. It starts in a little town called Besisahar at 760m (about two and a half Eiffel Towers high). At it's peaks on Thorong La Pass it's a full 5,416m up (roughly 18 finely-balanced Eiffel Towers above sea level).
The first thing we imagine you're thinking is that at those heights, altitude is going to have an effect while you're hiking. You'd be right. That's probably why, amongst various other reasons, nobody has ever stuck 18 Eiffel Towers on top of one another and opened it up to the public. But more to the point, it's that same elevation gain that gives the Annapurna Circuit, and all trekking in Annapurna, its calling card. That huge array of views and climates which brings tropic warmths one day and snow the next.
There are plenty other treks in the Annapurna Conservation Area too, of course. In Nepal, you're never too far from a trail which is truly off the beaten path. We'll delve into a few of those a little later, but first, let's cover the basics.
Please note: On the 1st April 2023, the Nepal Tourist Board (NTB) made changes to the trekking laws for all foreign trekkers, cyclists, and mountain climbers visiting Nepal's mountain regions and national parks. All trekkers (solo or in a group) must now be accompanied by a licensed guide. To learn more about what this means for you, read our update on the Nepal trekking requirements.
What is Annapurna?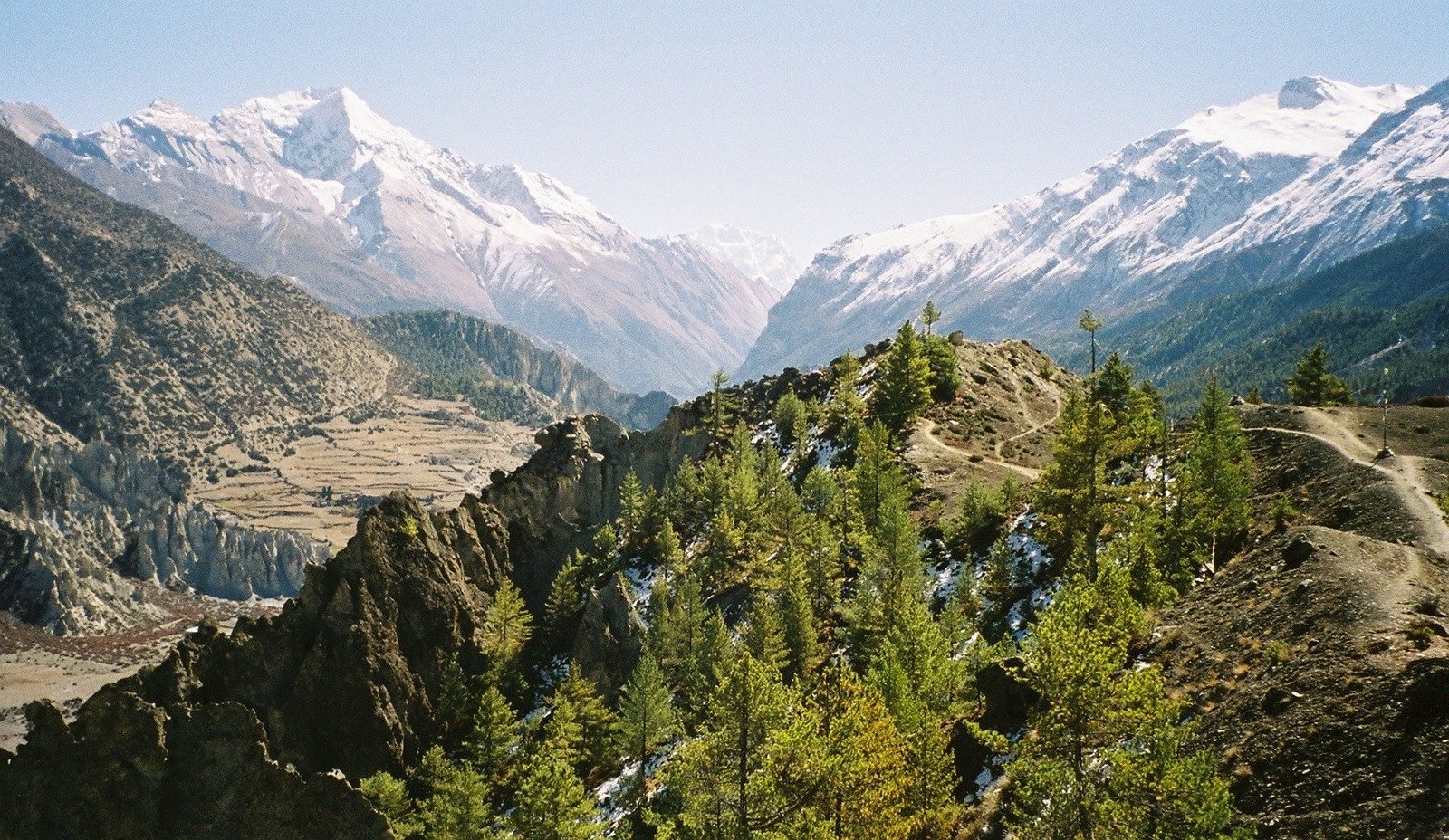 The Annapurna Massif is named after Annapurna, the goddess of food and nourishment. It was said that Annapurna was the daughter of Himavat, king of the mountains. Hence why she ended up lending her name to the mountains.
The fact that 'Annapurna' is one word here is pretty crucial. Annapurna, one word, is a Hindu goddess and a remarkable massif in Nepal. Anna Purna, two words, is probably the manager of a financial firm, or your mate's cousin who runs ultra marathons on her lunch break. So Annapurna. One word.
The Annapurna Massif has one peak over 8,000m – the 8,091m, inventively-named Annapurna I. It also boasts 13 peaks over 7,000m and 16 more over 6,000m. As you'll have worked out if you have a calculator to hand, that's a lot of very tall mountains.
The massif is 55km long and met by the Kali Gandaki Gorge, the deepest gorge in the world, on the west. That gorge separates the Annapurna from the Dhaulagiri, the seventh highest mountain in the world. The Marshyangdi River then meets the Annapurna Massif on the north and east, with the Pokhara Valley to the south.
Why is Annapurna So Dangerous?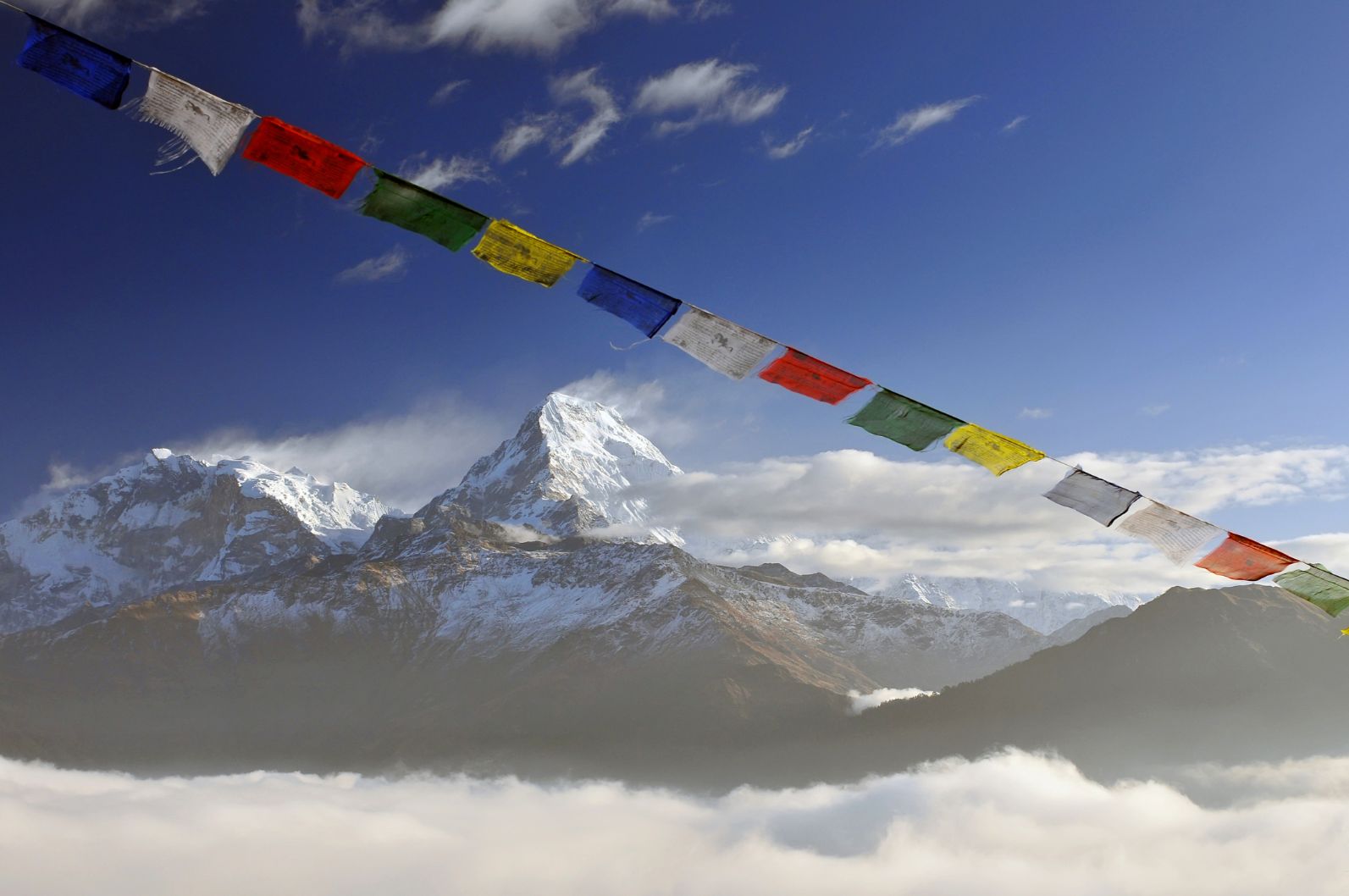 Annapurna I is actually the tenth highest mountain in the world. It's in the history books as the first mountain ever summited over 8000m, thanks to French mountaineer Maurice Herzog and his team in 1950. On a grimmer note, Annapurna I also has the greatest fatality rate of all 14 eight-thousander mountains. There's a jaw-dropping ratio of 34 deaths per 100 safe returns. Hence why most people go around it, rather than up it.
The Annapurna Circuit is the most popular way to trek Annapurna. The other hiking routes are also pretty sensational, though. The shorter Jomson route (which is also part of the Annapurna Circuit) is popular in its own right. The Annapurna Sanctuary route, which leads to a high glacial basin and acts as Annapurna Base Camp (ABC) for those heading to the massif's peaks is a great option too. The ABC is offered as a side-trek for those taking on the main circuit and looking to maximise time in the mountains. Normally though, it's taken on as the main focus of a challenging multi-day trek.
The crowds on the Annapurna Circuit increase each year, and at peak times, can get quite busy. Approximately two-thirds of all people who come to trek in Nepal visit the Annapurna massif. Lukla Airport is the other particularly popular hub for hiking in Nepal, being the gateway to the famous Everest region.
So what exactly is the Annapurna Circuit?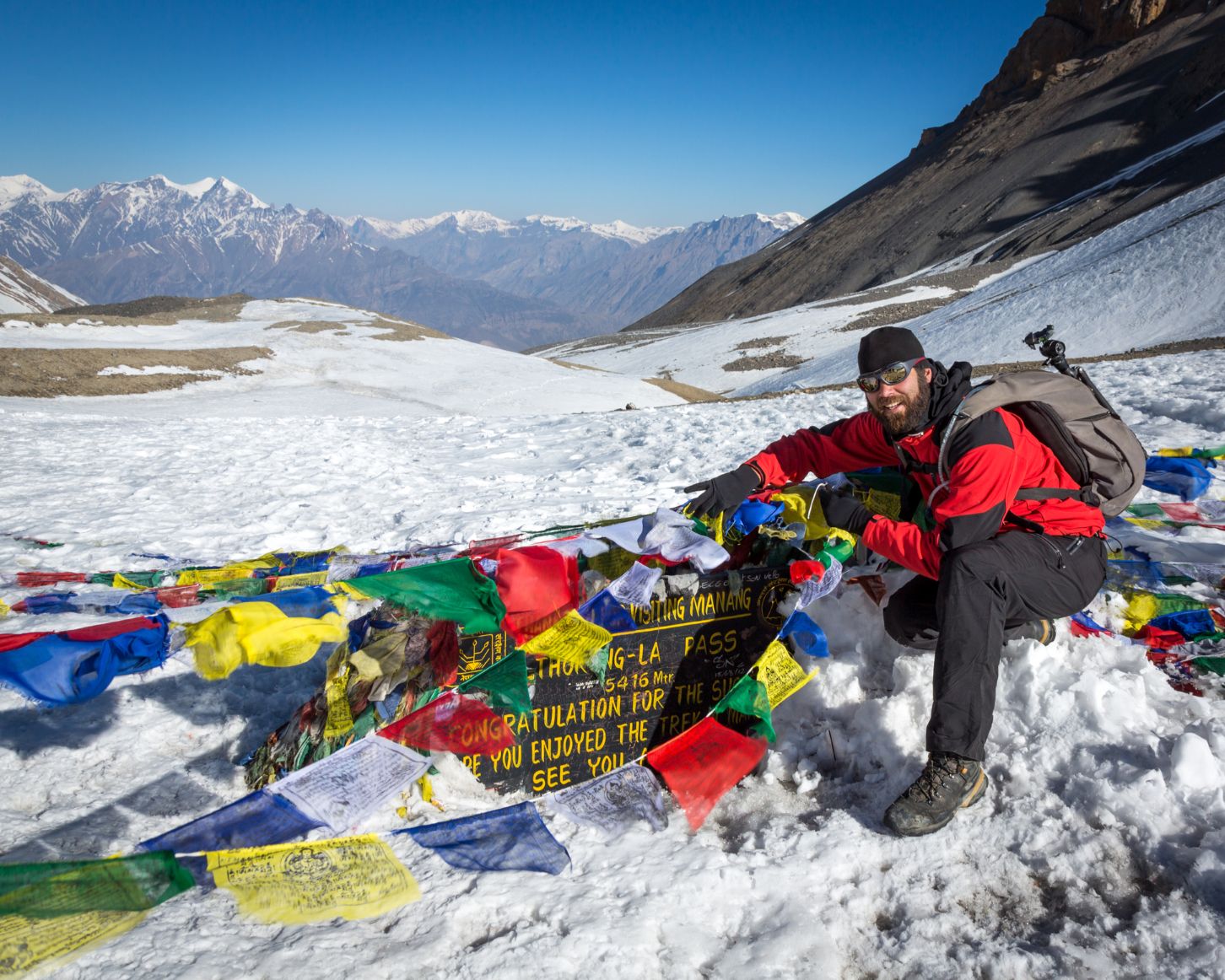 The Annapurna Circuit is a long-distance trekking route that circles the Annapurna mountains. Depending on what route you choose, it can take anywhere from 12-22 days, and span from 160km-230km.
For example, you can detour to the Annapurna Sanctuary then rejoin the circuit, but it'll add days to your journey. You can also go quicker by sticking to dirt roads the government have installed somewhat controversially. This means you miss out on the scenic high mountain passes, though. For many, though, this defies the point of the trek. The high trails boast the best views.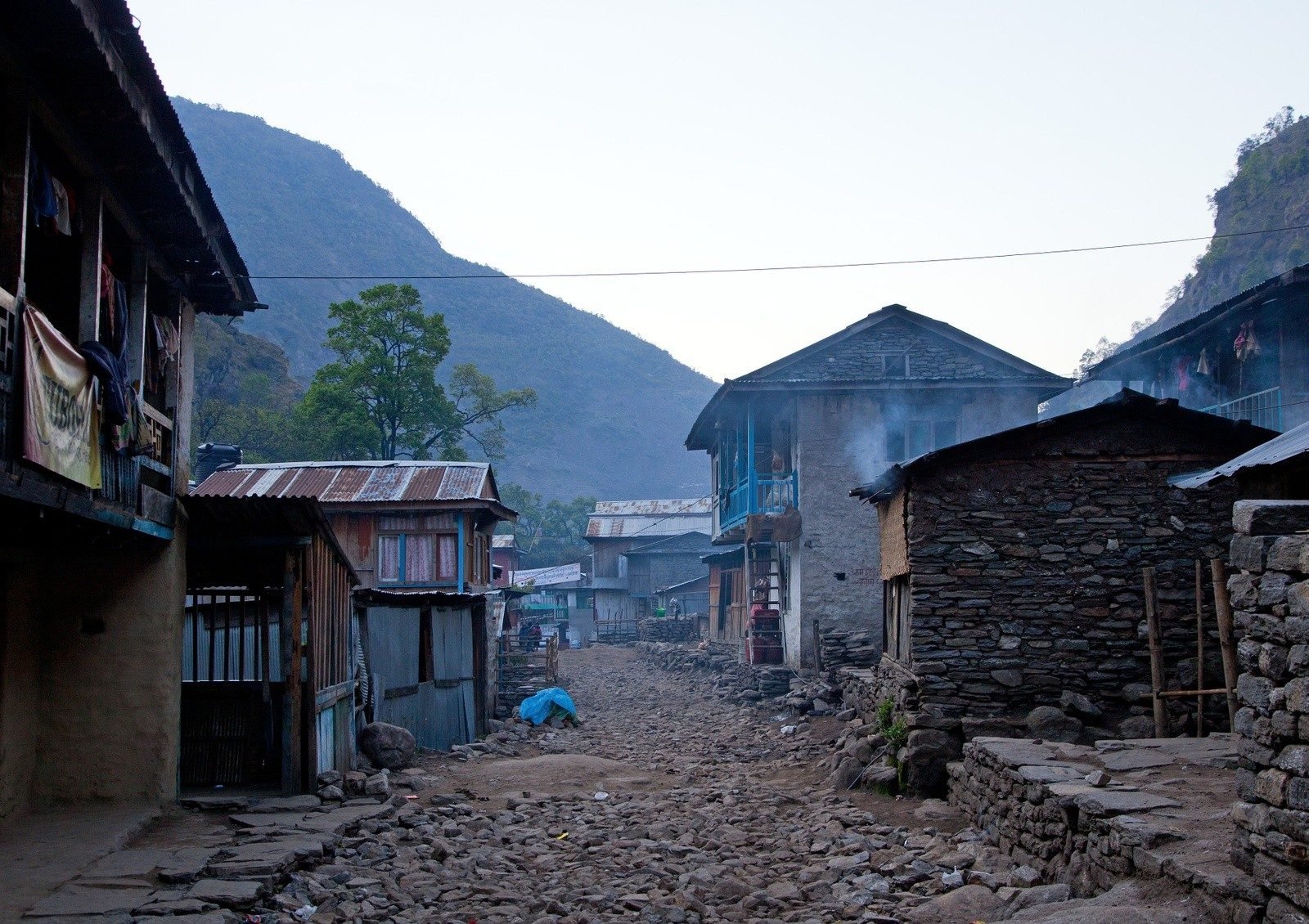 The scenery on the circuit includes stunning views of each of the Annapurna mountains – predictably named Annapurna I, Annapurna II, Annapurna III and Annapurna 75 (joking, it's Annapurna IV) – as well as views of the 8,167m Dhaulagiri, the Machhapuchhre and many other peaks over 6000m.
Along the way, there's all sorts of scenery. Lowland villages, ferocious mountains, subtropical forests and paddy fields are just some of what you'll see. You'll sleep in local tea houses at night. Rooms at the tea houses are normally twin-share rooms, with decent space and a common area with a fire. These are where you'll meet plenty other trekkers. They're the perfect place to eat, chat, play cards and pine over the dog/cat/significant other you left at home. The food is delicious too. Dal Bhat, a traditional dish consisting of rice and lentils, is often offered on an all you can eat basis.
How Long to Walk the Annapurna Circuit?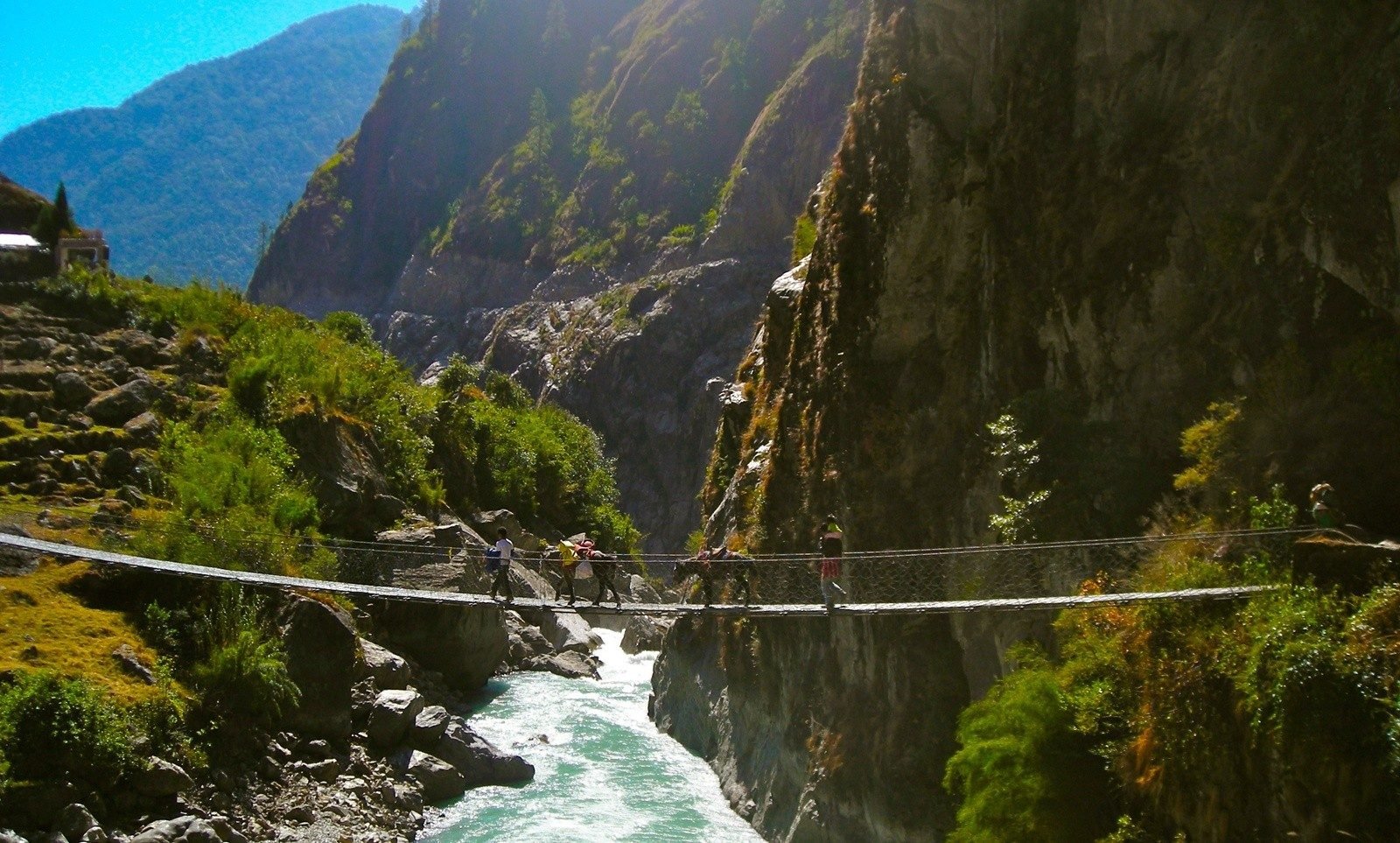 What's particularly awesome about the Annapurna Circuit trail is that, since it's a loop (we all know how those work, right?), you won't be seeing the same views twice.
The trek typically starts in the sub-tropical municipality of Besisahar and finishes up in Pokhara. The Annapurna Circuit is almost always hiked anticlockwise. This means that the altitude gain day by day is a lot slower. For this reason, and others, crossing Thorong La Pass is a lot safer this way.
As mentioned, many trips on the Annapurna Circuit will be different to one another. Some take detours or shortcuts. Some people take longer to acclimatise. Others take a day out to rest and recover. So every journey is different, but here's a breakdown of a traditional 19-day route plan for the Annapurna Circuit. From day one to day 19:
Kathmandu to Besisahar (drive).
Besisahar to Bulbule.
Bulbule to Jagat.
Jagat to Dharapani.
Dharapani to Chame.
Chame to Pisang.
Pisang to Manang.
Acclimatisation and Exploration at Manang.
Manang to Yak Kharka.
Yak Kharka to Thorung Phedi Base Camp.
Throng Phedi Base Camp to Muktinath via Throng-la Pass (5416m).
Muktinath to Kagbeni.
Kagbeni to Marpha.
Marpha to Larjung.
Larjung to Ghasa.
Ghasa to Tatopani.
Tatopani to Ghorepani.
Ghorepani to Tikhedhunga.
Tikhedhunga to Nayapul and drive to Pokhara.
How do you get to the Annapurna Circuit?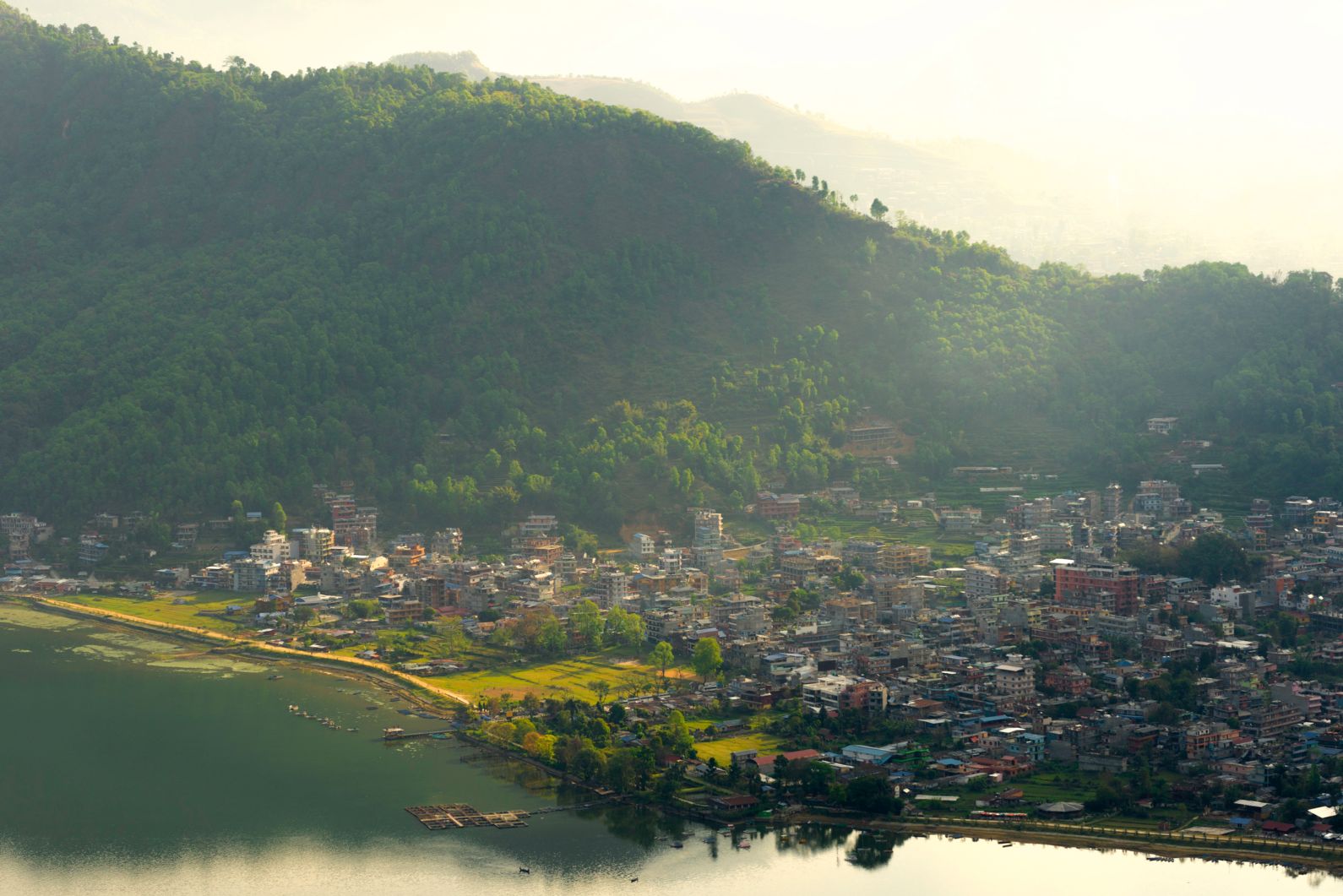 From Kathmandu, the capital of Nepal, most people's next step is making the 200km journey to Pokhara. Pokhara is a beautiful little city on Phewa Lake in Central Nepal and the gateway to the Annapurnas. If you were looking to head to trek to Everest Base Camp from Kathmandu, you'd fly to Lukla from here, at the other end of the country.
It only takes 25 minutes to fly to Pokhara from Kathmandu, so don't get too comfy in your plane seat. Try to sit on the left, too. That way you'll get great views of the Annapurna, Manaslu, Ganesh and Langtang Himals.
If you're feeling a bit more environmentally friendly, or looking to save your cash, you can grab a bus from Kathmandu to Pokhara. This takes seven hours (without delays). The winding bus route is beautiful. It passes through small bazaars, rural Nepalese landscapes and follows the Trishuli River. That said, the roads can get bumpy.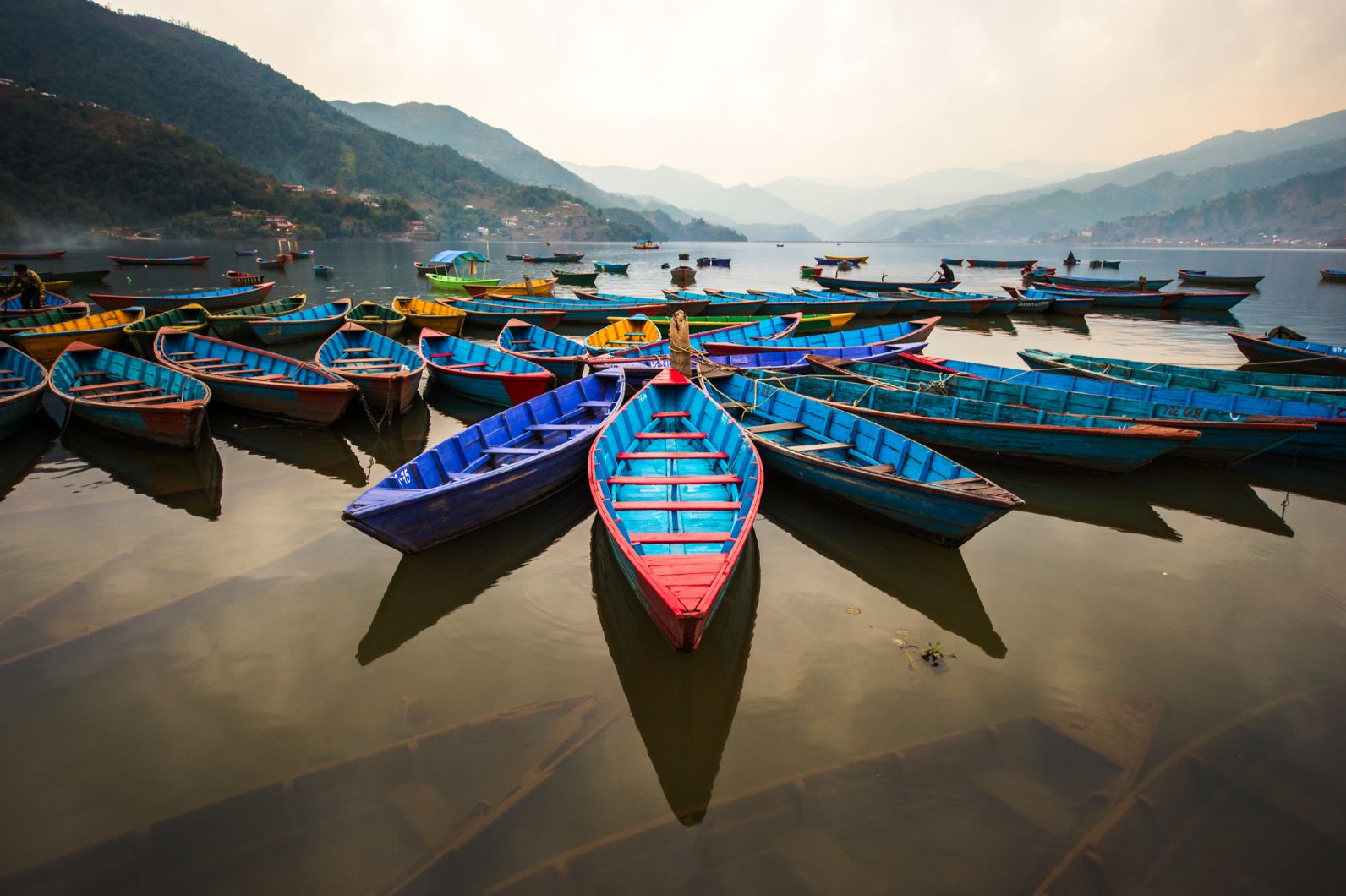 You can get a standard tourist bus from as little as 700 Nepalese Rupees (under £5). That's as appose to the £75-80, depending on time and provider, that it would cost you for the same flight.
From Pokhara, it's only a few hours drive to Besisahar, where the trail starts. You can also get a bus from Kathmandu directly to Besisahar. The direct bus ride from Kathmandu to Besisahar is actually a slightly shorter bus ride. It takes six and a half hours.
A lot of people tend to hang out in Pokhara after completing the circuit, as that's where the trek ends for a lot of hikers. It's a fun city with great restaurants, coffee shops, yoga aplenty and views to spare.
How difficult is the Annapurna Circuit trek?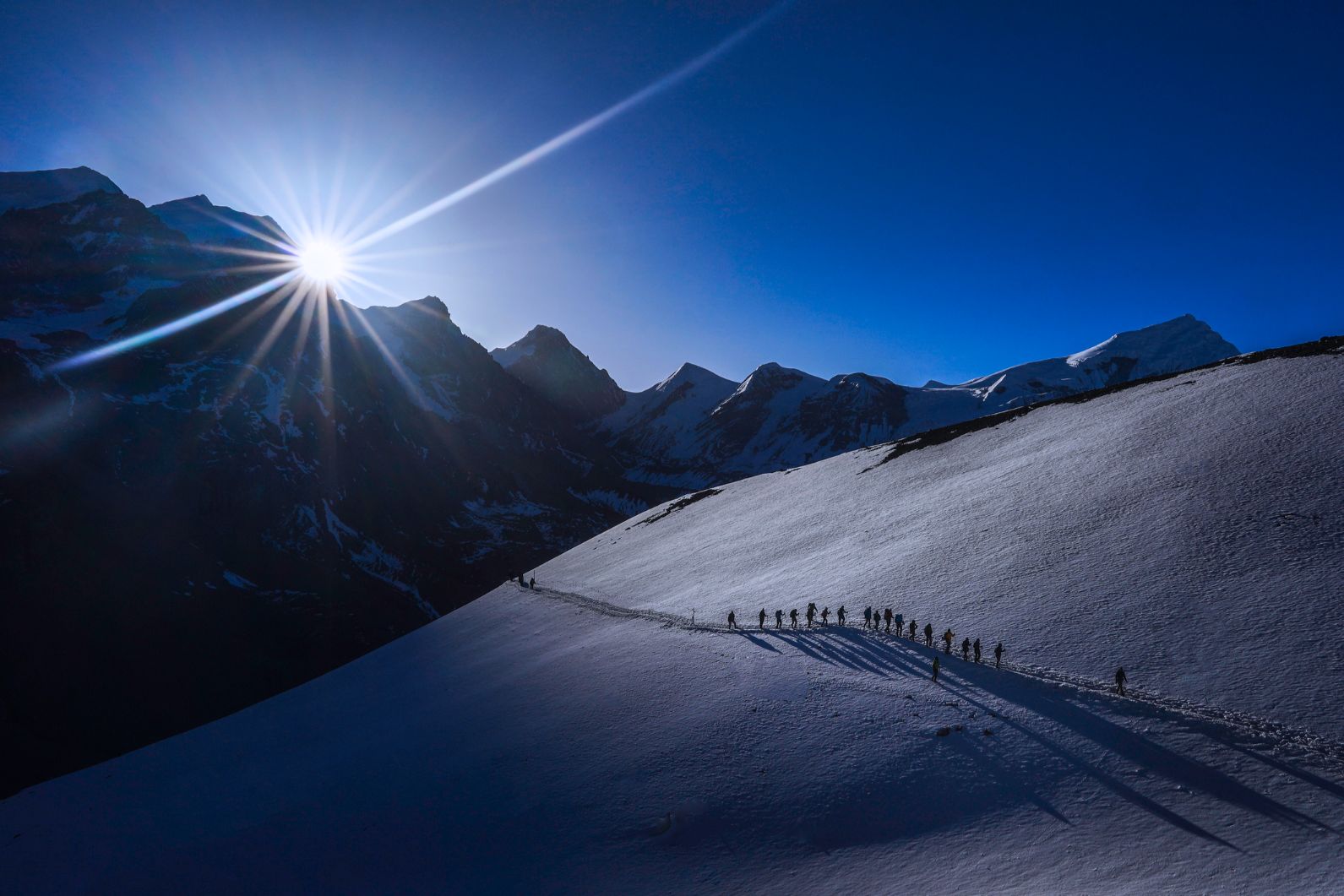 How hard is the Annapurna Circuit? How long is a piece of string? Why didn't Santa bring us that pink bike with the basket and the tassels we asked for when we were six years old? Who's to say. The difficulty of the Annapurna Circuit depends as much on your fitness, mentality and route as it does experience.
With the addition of the dirt roads, more people are starting to cut days off their trek from the get-go. There are now options to jump in a jeep and ride to a point it would've taken days to hike to before (cheating?). There are also often options to follow quicker dirt roads (and still get stunning views) instead of taking the full mountain trail. Pick the right guides and they'll make sure you see all the scenery you're after rather than sticking to the dirt roads as default.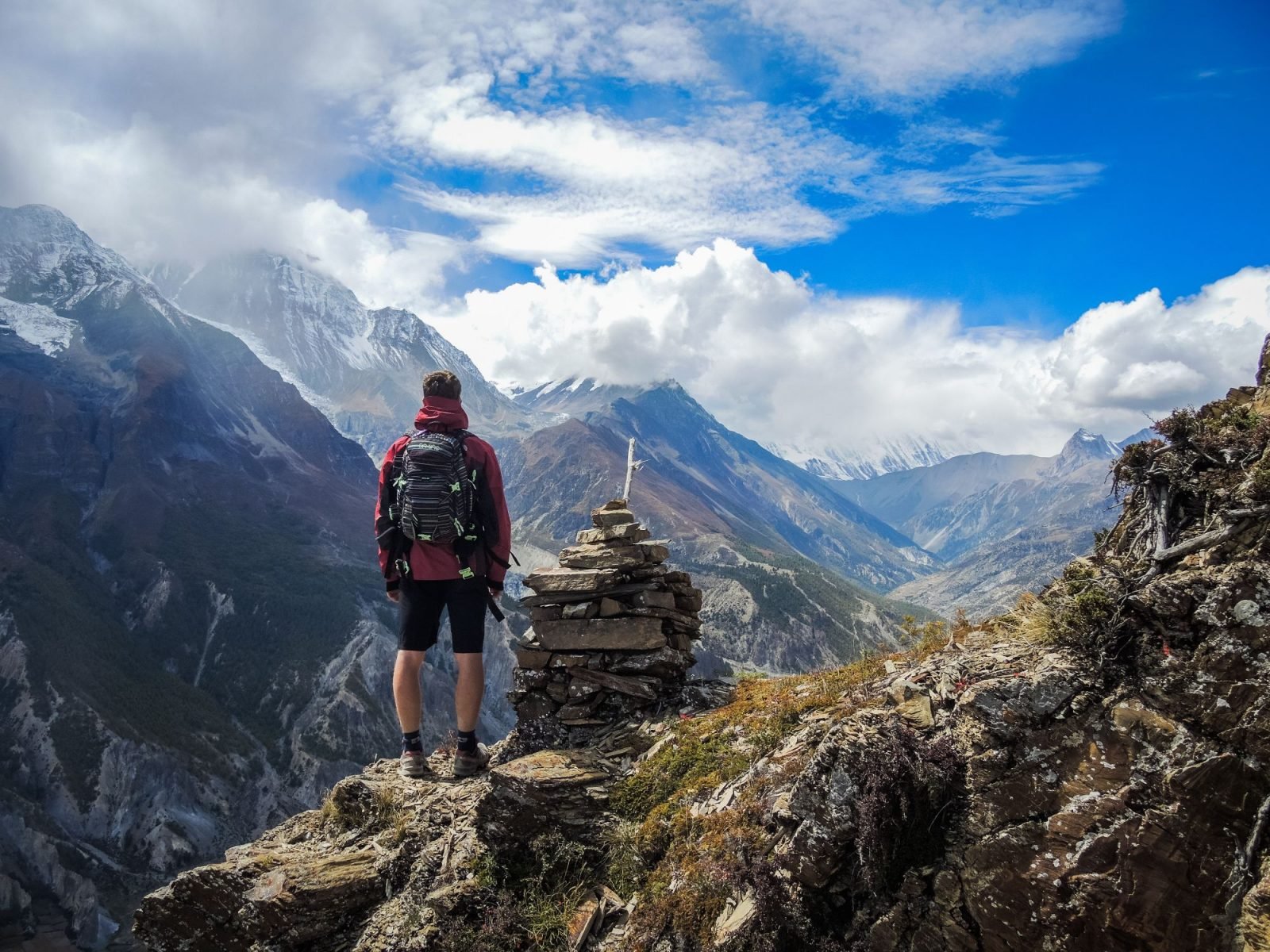 A full trekking expedition around the Annapurna Circuit is always going to be demanding. Any hike that lasts double-digit days is going to require a certain level of fitness. But largely, you do get the chance to go slow and enjoy yourself and to relax in the evenings by the fire. Days tend to have early starts and afternoon finishes, with a lot of days involving hikes of five to seven hours.
Many people hire a porter to carry their luggage for them, too, which removes a bit of the burden. Choosing the right local guide is important in this regard though. It ensures that the porters you use will be paid and looked after fairly and that they'll have proper training and weight limits.
How cold does it get on the Annapurna Circuit?
During the winter months, the average daytime temperature of the Annapurna Circuit trek is 5-10°C, but it can go as low as -20°C in higher altitudes, and even lower at night.
During the warmer months, you'll likely experience temperatures from 15-23°C at the lower altitudes on the trek (below 2,500m). But as you climb up above 4,000m it'll drop below 10°C. And the highest point of the trek, Thorung La, may well be below freezing. So even during summer time, you'll need warm clothes!
What to Bring on the Annapurna Circuit?
With such extremes of temperature, it's absolutely imperative that you've brought the appropriate kit with you, such as tried-and-tested hiking boots, decent waterproofs and a down jacket. A fake-brand sleeping bag picked up on a backpacking route won't cut the mustard in the Himalayas.
It's also worth bringing a metal flask for water if you can. If you have a plastic water bottle, and so the water isn't heated, there's a good chance it'll freeze when you get into freezing terrain. If you can bring something to purify water then even better – bottled water gets expensive the higher you get.
The same goes for food. Dinner may be four times as expensive up the mountain, once the roads have ended, as you would have paid in Kathmandu. There are no cash machines until Jomson either – so come prepared! It'll still only be about £5 in UK terms for dinner, but just make sure you've got enough cash to last.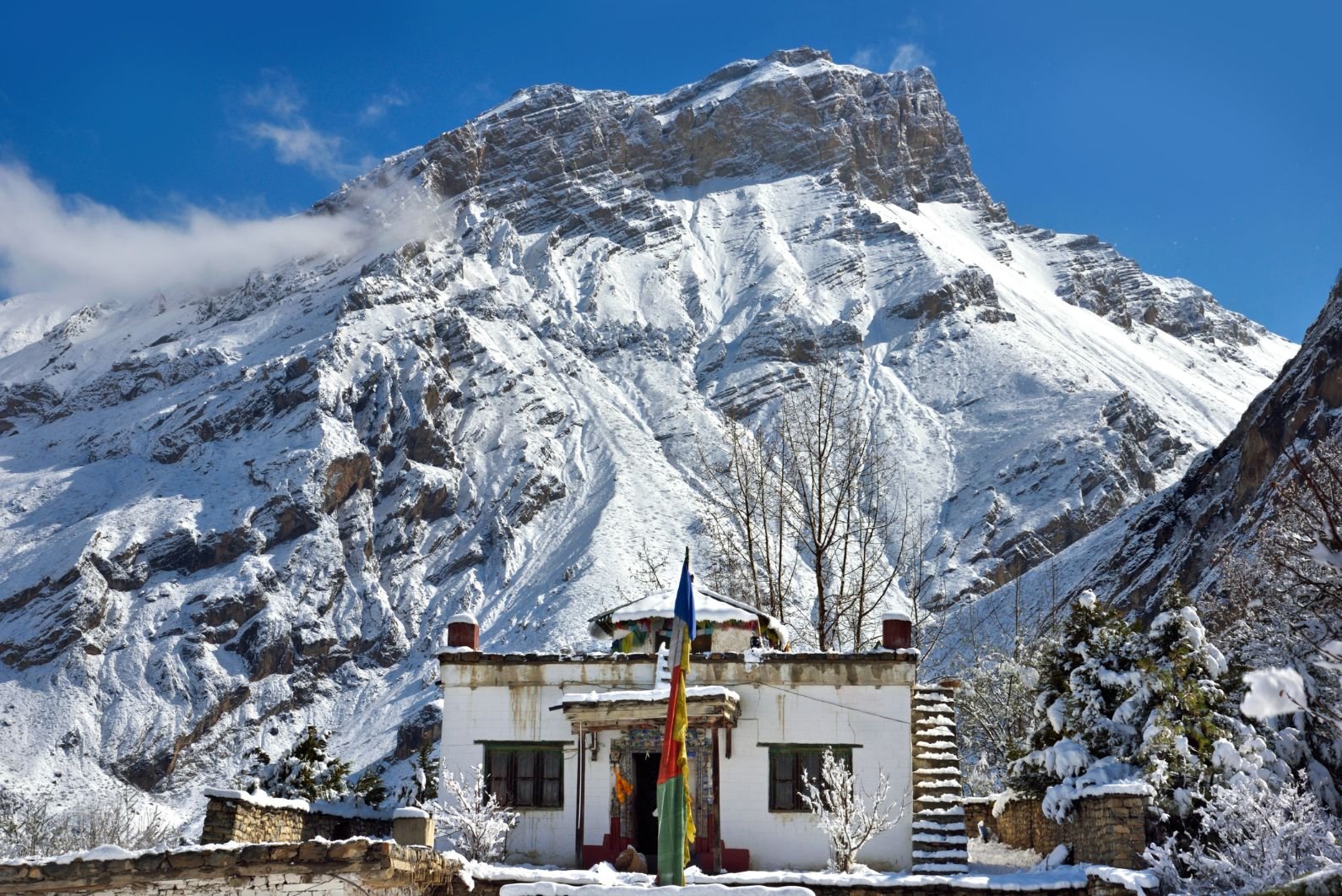 How High is Annapurna?
In terms of altitude, no level of typical city trekking preparation can really help you out here. Once you're over 2500m or so you're likely to start feeling the lack of oxygen. It's well worth taking this into consideration in your day-by-day planning for the trek and leaving a day or so during your hike to acclimatise to the altitude. It affects everyone in different ways. For perspective, at the highest point on the Annapurna Trail (Thorong La Pass, 5416m), there's only half the oxygen that you get at sea level. Properly-trained and experienced guides are invaluable on this front. They're able to pace you properly up the mountain and get you to safety if the worst happens and you do need to turn back.
Acclimatisation is, unfortunately, as important as all those annoying internet articles say it is. This is why it's important not to rush your journey.
The fitness aspect shouldn't put you off doing the Annapurna Circuit, though. If you've got the mental strength and you're fit, then you should manage even without experience. It's not particularly technical trekking terrain, and planned/paced properly, there's room to take your time.
Roads on the Annapurna Circuit and how to avoid them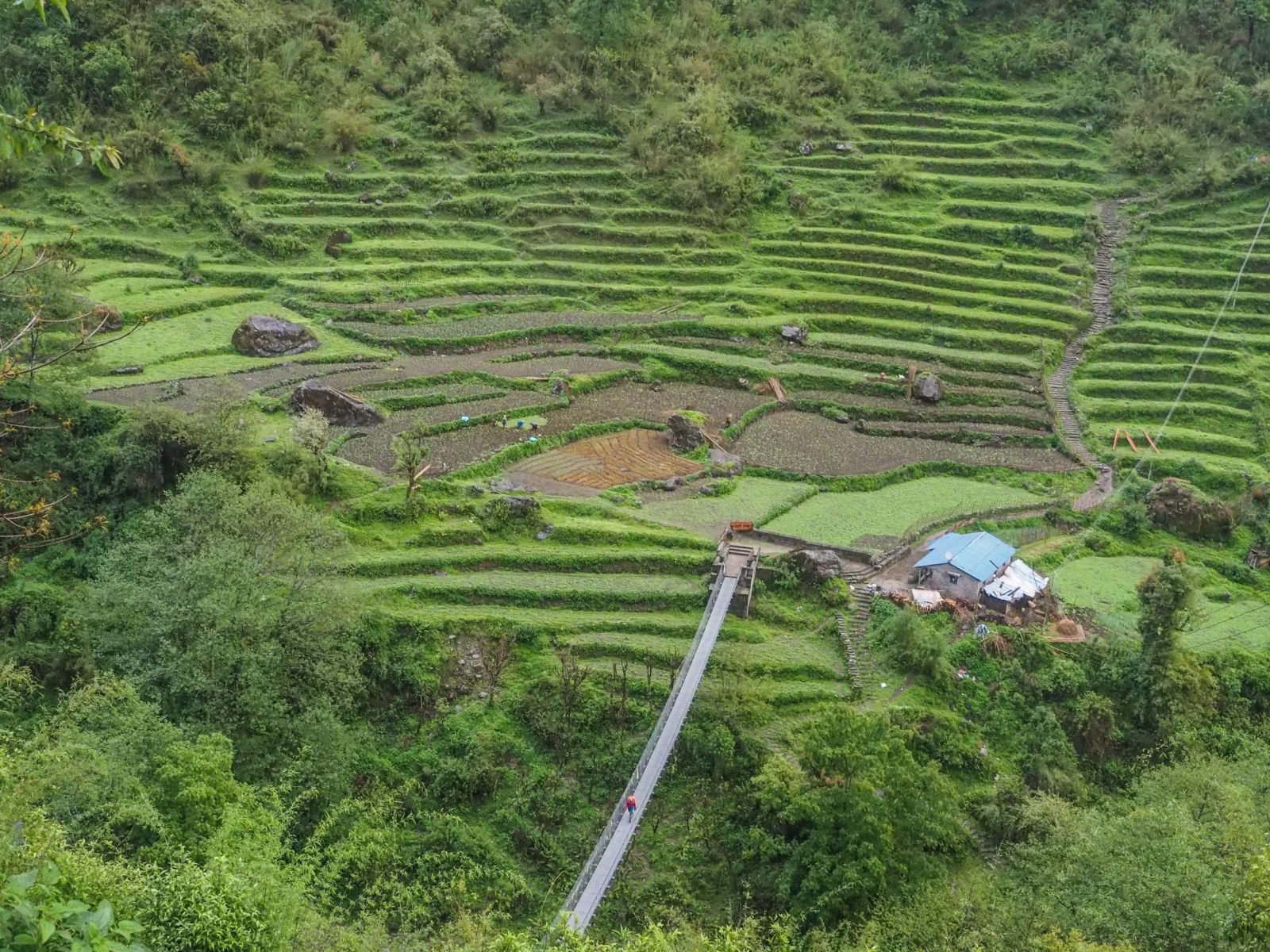 The Annapurna area was opened to trekkers in 1977, and work on the roads began as early as 1980. There was originally 23 days on the trek, and of those, only five days on the Annapurna Circuit are now completely road-free. The dusty roads are there because of the idea that with easier access comes increased tourism. Especially since people can now opt to only do a small section of the circuit rather than to commit to the long slog. It's unlikely (for better or worse) that this will prove untrue.
As you'd expect, the roads have been controversial, but they aren't overflowing with traffic. Hikers can expect to see a handful of 4x4s pass each day if you're on dirt roads. They're not the kind of roads you'd want to drive down in your mate's 109-year-old Fiat Punto.
In many cases, the roads can be completely avoided by using alternative trails. If you see red and white paint striped to look like a Poland flag, and a nearby arrow, that means you're being directed to a trail that avoids the motor road. There will often be a secondary marker in blue and white. These markers are part of the New Annapurna Trekking Trail (NATT) system. NATT was created by hikers Andrées de Ruiter and Prem Rai in collaboration with the Annapurna Conservation Area Project (ACAP) to show trekkers the best ways to follow the trail without too many roads.
When to Walk the Annapurna Circuit?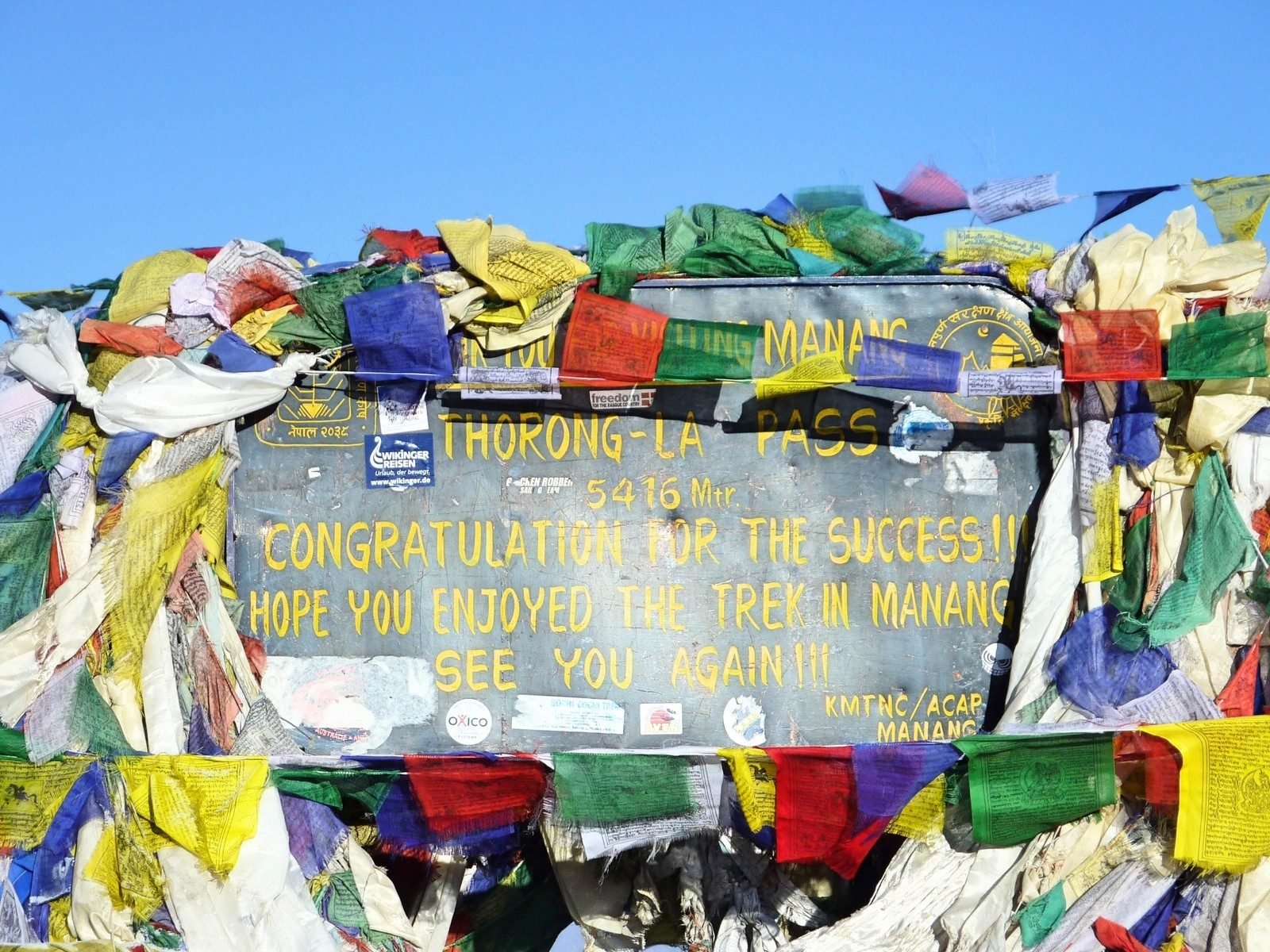 Picking the right time of year to trek in Annapurna or hike the Annapurna Circuit is crucial. The best times to hike the Annapurna Circuit are October-November or April-May. During these seasons everything tends to be pretty dry, the skies are clear, and it won't be unfathomably cold up high.
Between those two seasons, in the winter, things are often clear and the scenery spectacular, but thick snow can lead to the closure of Thorong La Pass for days on end.
June-September is the rainy season and typically the least crowded time on the circuit. It doesn't actually get as much rain as you might expect, given that it's called "the rainy season". Much of the circuit is in a rain shadow, so the northern parts of the circuit are actually relatively dry, but the southern part of the trail does get quite wet. The benefits of going at this time of year are that there are a lot less people around and the flowers are out in force, but clouds are more likely to obstruct your views of the scenery.
Alternative Trekking Routes in Annapurna
1. Trek to the ice lake at the Annapurna IV Glacier
If you're looking to get out into the Nepalese wilderness and get truly away from the crowds of the Annapurna Circuit, then have a look at the trek to the ice lake at the foot of the Annapurna IV Glacier. This is an awesome five-day entry-level hike in the Himalayas, and you get truly spectacular views of the Dhaulagiri, Lamjunh Himal and Fish Tail on the route.
2. Hike to Annapurna Sanctuary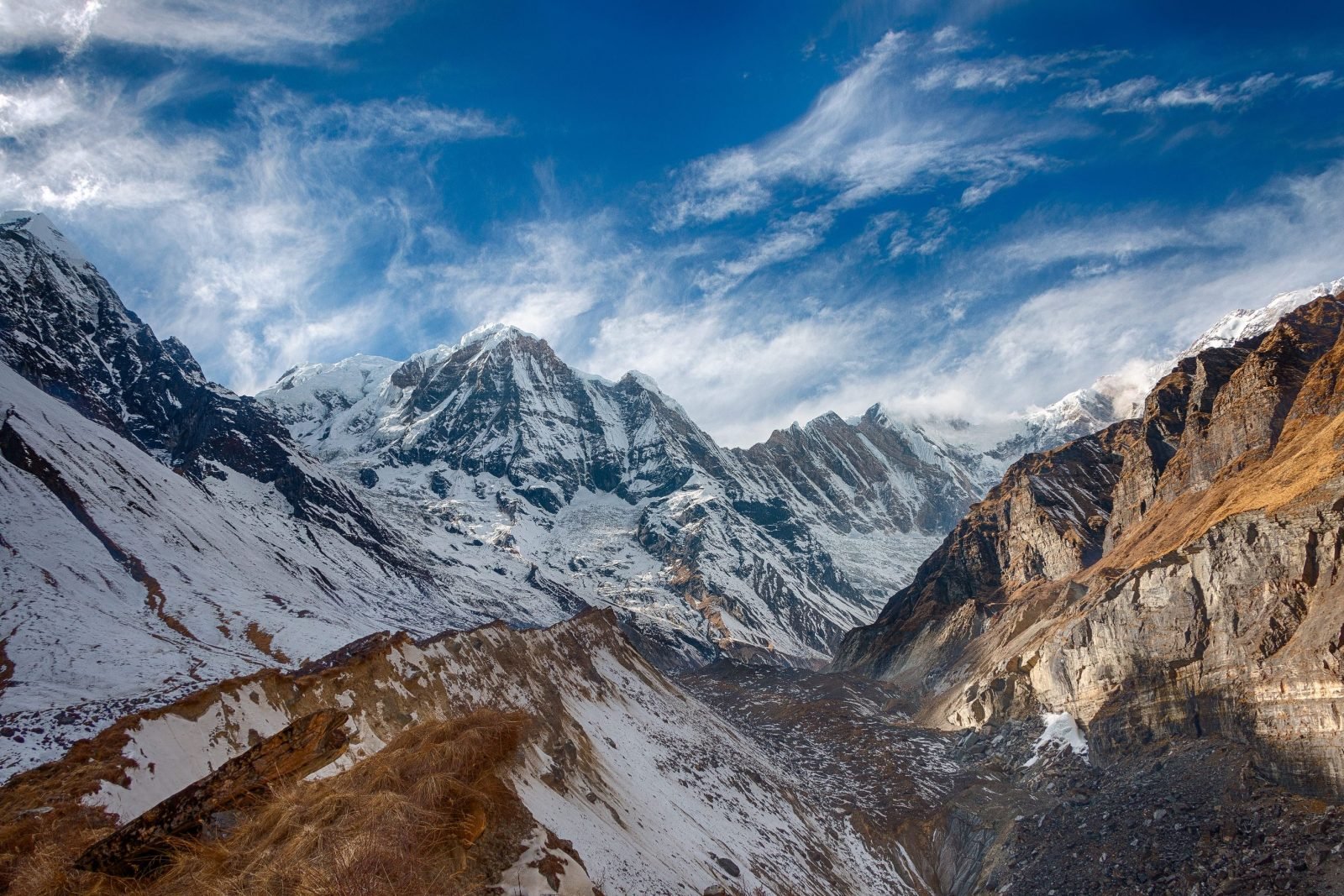 We've mentioned this a few times but as well as being an add-on for the Annapurna Circuit, a lot of people hike to the Annapurna Base Camp, also known as Annapurna Sanctuary, in its own right. It's roughly a 10-day return trip through snow-capped mountain faces, rhododendron forests and settlements of Gurung, at a comfortable pace.
Hiking to the Annapurna Sanctuary is a great Himalayan hike for anyone a bit unsure about committing to something as lengthy as the full Annapurna Circuit but super keen to get out to Nepal and experience the Himalayas, or someone who just simply doesn't have the time to commit to doing the Annapurna Circuit. It's nowhere near as busy as the circuit, either. Simple as ABC.
3. Trek to Mardi Himal Base Camp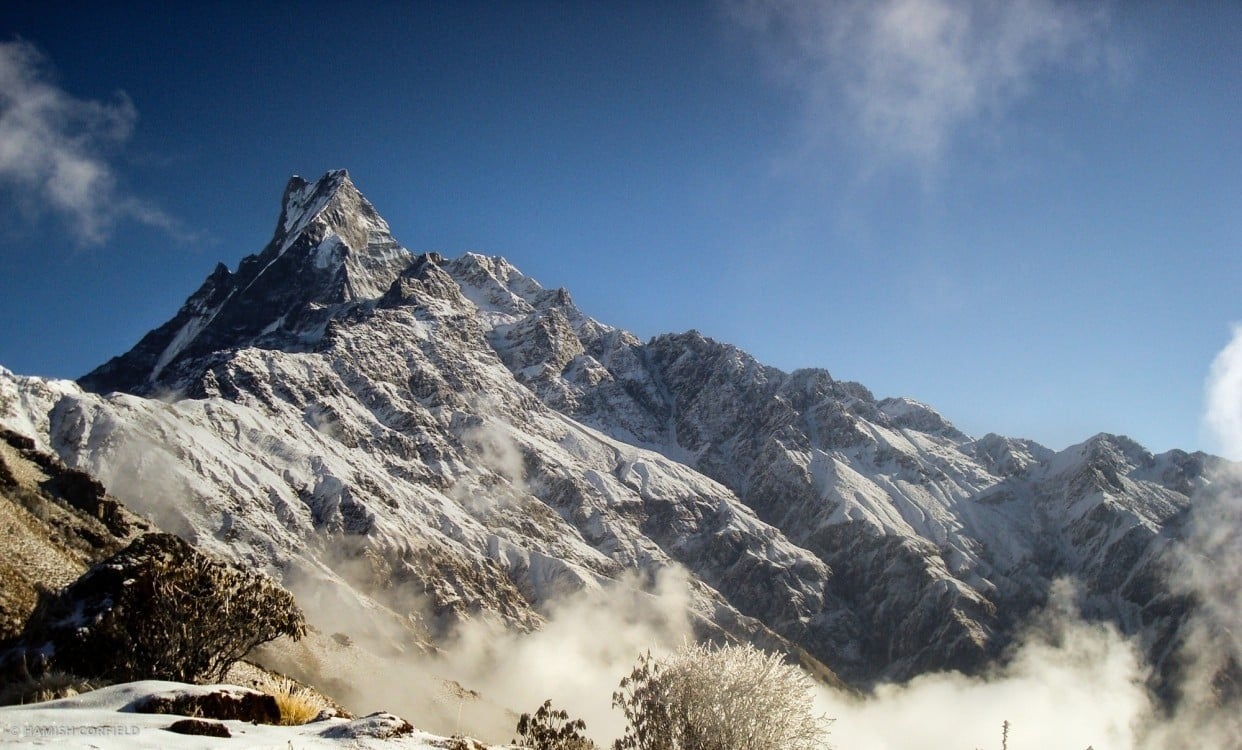 If you're looking for alternative Annapurna trekking, try The Mardi Himal trail. It only opened to hikers in 2011, so if you're heading to Nepal looking for something way off the beaten track, then this could be the trek for you. As with many Himalayan hikes, you're going to see four seasons on one day here, with views of not just the 5,587m Mardi Himal on your way up, but of Machhapuchhre, Annapurna I and Hiunchuli.
The hike is located just to the east of the Annapurna Base Camp trek and brings you to the spectacular base of the 5587m Mardi Himal and 6993m Machhapuchhre. It's a great option for anyone looking to test themselves out for a longer hike at altitude or get maximum views from a shorter time in Nepal.
4. The Poon Hill-Ghorepani Trek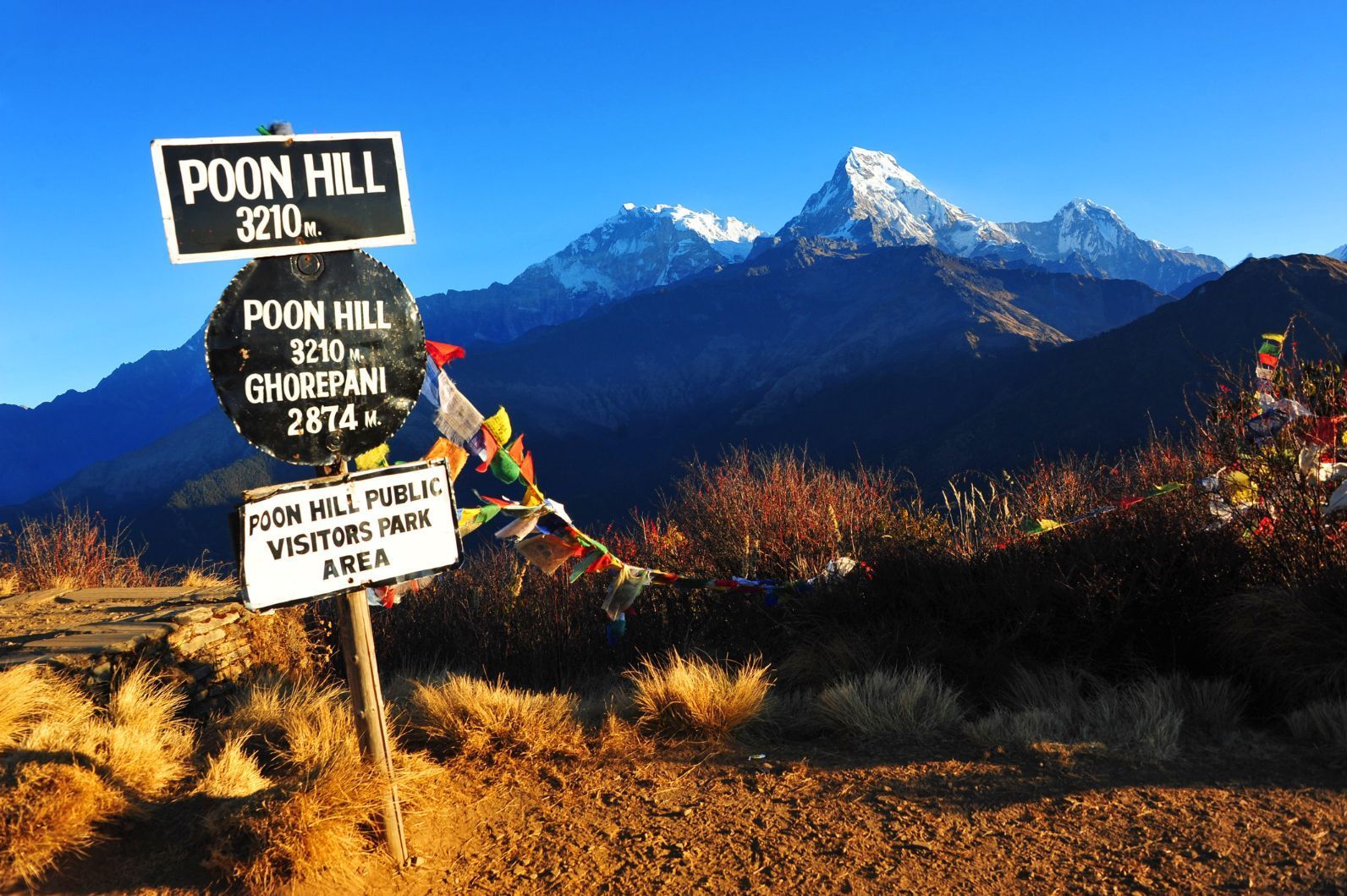 The Poon Hill-Ghorepani Trek is one of the best Annapurna short trekking options. It's actually known as an 'easy' option in the Annapurnas, but that isn't necessarily true. There are some steep ascents, including a pre-dawn climb to the top of Poon Hill for a sunrise view. But, for trekkers who cannot or do not want to embark on a long trek, Poon Hill is a good option.
The first part of this trek passes through ethnic Magar villages with terraced farmland and trails shaded with thick woods. It culminates with an early morning hike from Ghorepani to the top of Poon Hill (3210 metres), from where views of Annapurna South, Annapurna Fang, Machapuchare (Fishtail), Annapurna II, the Lamjung Himal Range, Dhaulagiri, Tukuche Peak and Dhampus Peak can be seen. Allow a minimum of three days for the Poon Hill trek, although four or five are more comfortable.
5. Lake Tilicho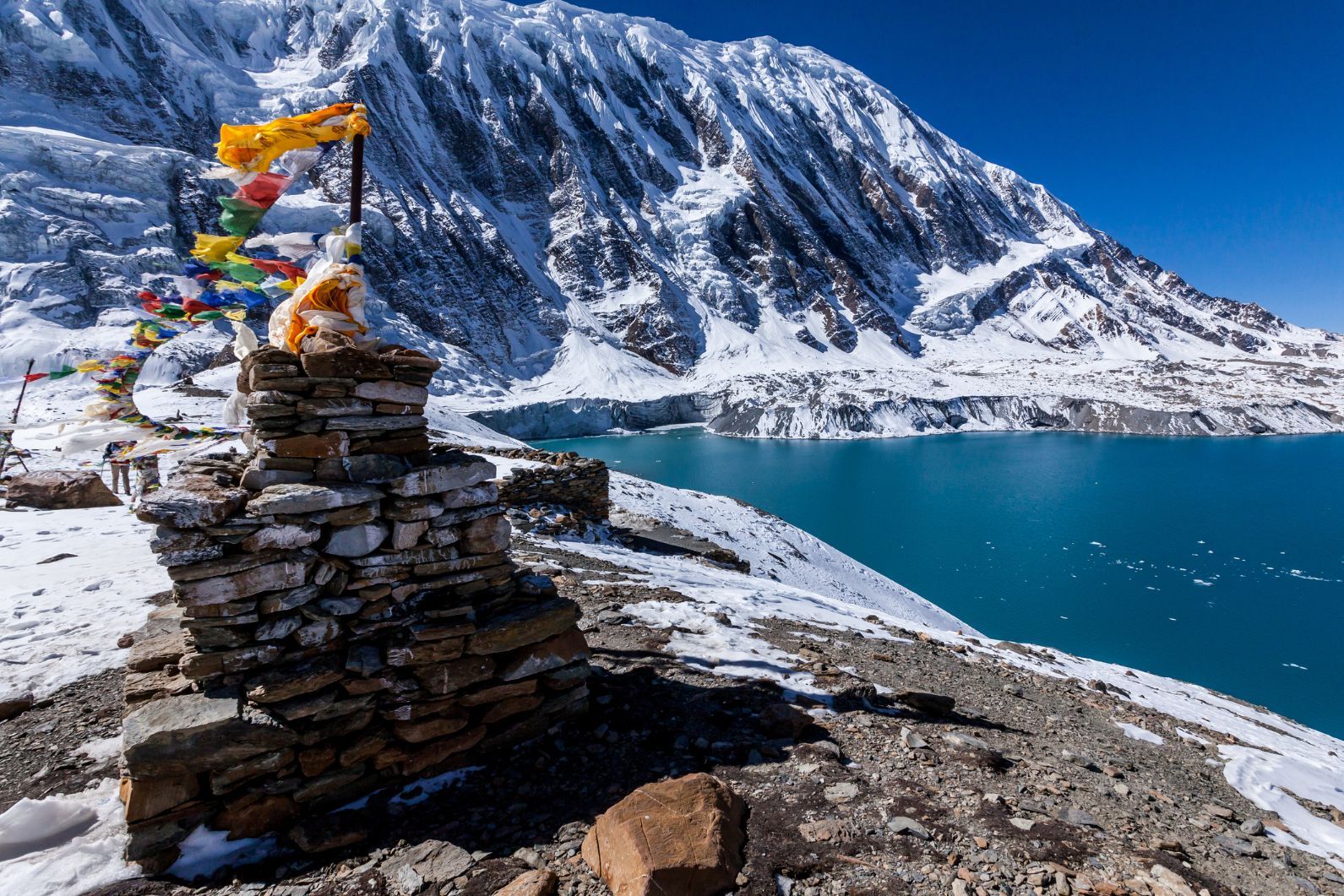 The trek to Lake Tilicho is actually a detour from the Annapurna Circuit route. From the village of Manang, continue to Tilicho Base Camp (3734 metres) and then on to Tilicho Lake (4919 metres). The detour is a worthwhile trip in its own right, as Tilicho Lake is often called the most beautiful in Nepal.
It is the highest lake of its size in the world, and its pristine blue-green waters are surrounded by snow-capped peaks. From the lake, continue on the Annapurna Circuit over the Thorung La and down into Lower Mustang.
6. Lower Mustang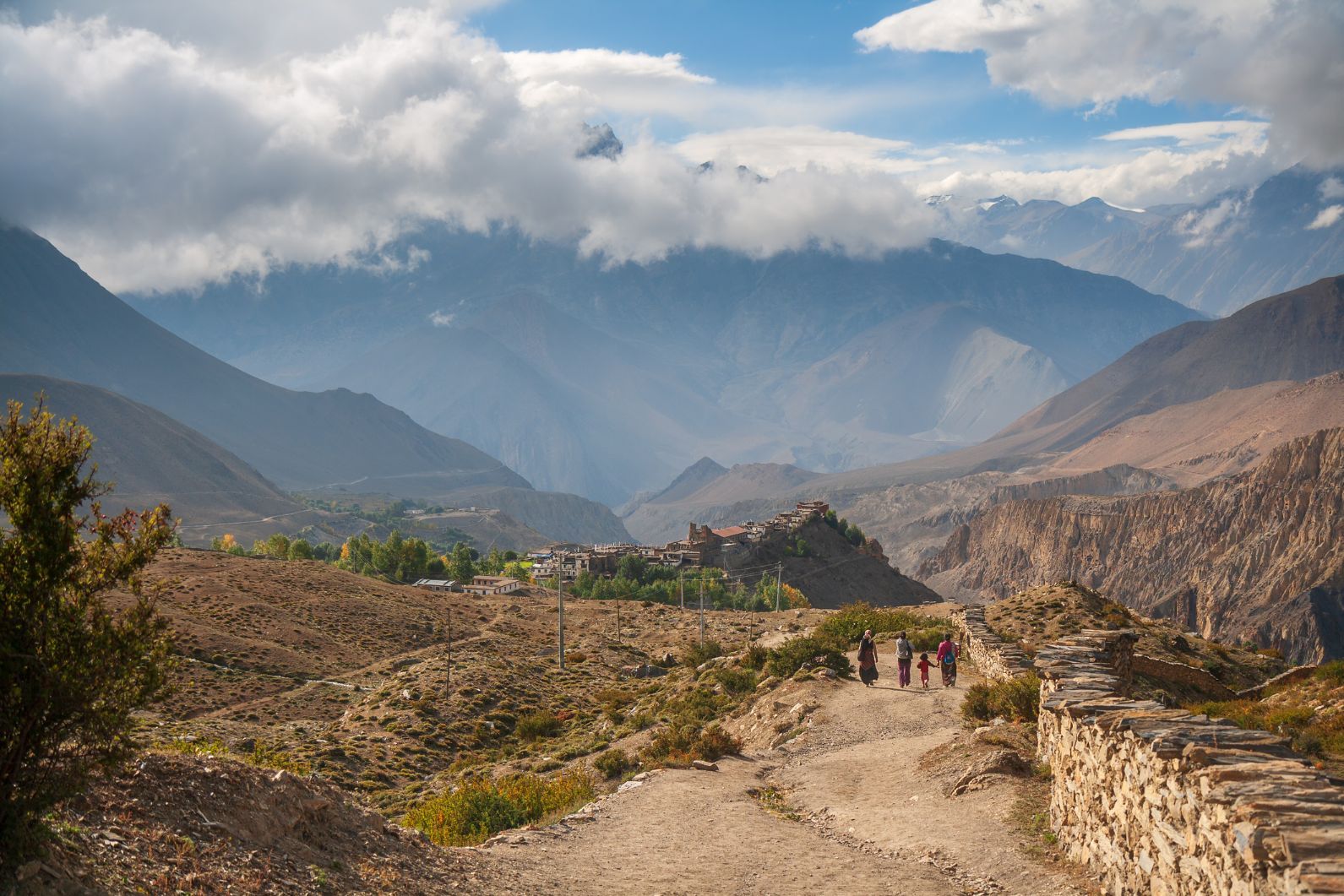 Lower Mustang can be visited on the last leg of the Annapurna Circuit trek, but it's also worthy of visiting in its own right. Plus, you don't have to trek here, as Jomsom town is accessible by bus (15+ hours) or flight (30 minutes) from Pokhara. Mustang is in the rainshadow of the Himalaya, meaning it is geologically and topographically completely different from much of the rest of Nepal. The land is dry and barren, the sun harsh and the wind strong.
As well as Jomsom, the towns of Marpha and Kagbeni are highly worth visiting. Marpha is surrounded by orchards, and Kagbeni is home to a tumble-down old palace. From Kagbeni you can trek or drive up to the sacred temple at Muktinath, and explore the rocky side valleys littered with fossilised sea creatures and meditation caves. Lubra is an unusual village as it's one of the last homes of the Bon religion, which predates Buddhism in the area. Numerous day hikes around the area are possible.
7. Nar Phu Valley
The Nar Phu Valley is actually tucked between the Annapurna and the Manaslu regions, in the rain shadow of the Himalaya. A 9-day trek here makes for an adventurous addition to the Annapurna Circuit, or is a worthwhile trip in its own right. The Nar Phu Valley was closed to visitors until 2003, and it's still a very remote and under-visited area. It's ideal for trekkers who have already done some of the more 'mainstream' treks in Nepal. There are high peaks and passes, remote villages, narrow canyons, amazing rock formations and untouched Tibetan Buddhist cultures. The trails are pretty rugged, and at times are cut high into the sides of cliffs.
Fancy trekking Annapurna yourself? Trek the Annapurna Circuit or Annapurna Sanctuary Route, with our brilliant local guides and hosts, and other trekking adventures in Nepal.