There's something spectacular about the sight of an erupting volcano. All those flames shooting up into the sky; bright sparks leaping from a crater rim. It's a demonstration of nature's power, and of its ambiguity: volcanoes have the capacity to wipe out entire villages, but their ashes create fertile soil for crops to grow.
In recent years, volcano tourism has boomed. In Iceland, hiking routes are opened up for each new eruption. In Nicaragua, you can go volcano boarding down the burnt black slopes of Cerro Negro. On Hawaii's Big Island, you can take boat tours whenever there are active flows of lava from Kilauea Volcano into the ocean. But one of the most exciting sights, for those attracted to the ominous beauty of volcanoes, is Volcán de Fuego in Guatemala.
Volcán de Fuego is the most active volcano in Central America. It's known for being constantly active at a low level - there are small eruptions of gas, ash and lava every 15 to 20 minutes.
For the best view of this spectacle, we recommend climbing the neighbouring volcano of Acatenango and wild camping on its slopes. Surrounded by an amazing view of the Guatemalan highlands, you'll have a front seat of Fuego and the constant plumes of ash rising from its crater. Then, as the sun sets and the sky slowly darkens, you'll have a spectacular view of the red lava bubbling up from the crater, sending showers of sparks shooting up into the sky. It's an otherworldly sight that illustrates how powerful and remarkable the natural world can be.
Here's our guide to completing the Acatenango volcano hike and staying safe as you check out the mighty Volcán de Fuego.
Where is Volcán de Fuego Located?
Volcan de Fuego is located in the western region of Guatemala, and forms part of the Pacific Ring of Fire. It's also part of the Sierra Madre mountains, and is situated 10 miles (16km) from the UNESCO designated town of Antigua.
Volcán de Fuego is joined to Acatenango Volcano - collectively, the two volcanoes are known as La Horqueta.
Is it Safe to Hike Volcán de Fuego?
As one of the world's most active volcanoes, Volcán de Fuego does need to be treated with caution. Alongside its frequent, small eruptions, there have been more powerful eruptions. In 2018 it disgorged a 6.2 mile (10km) column of ash, which caused a pyroclastic flow that resulted in multiple casualties.
Since this awful tragedy, Guatemala's National Institute for Seismology, Volcanology, Meteorology, and Hydrology (INSIVUMEH) has strengthened its volcano monitoring program. Fuego is monitored by a combination of infrasound sensors, seismic sensors, and webcams. Data is shared in real time with other institutions, including the University of Liverpool and Servicio Sismológico Nacional in México. Meanwhile, Guatemala's National Coordinator for Disaster Reduction (CONRED) has improved upon its warning systems and disaster response protocol.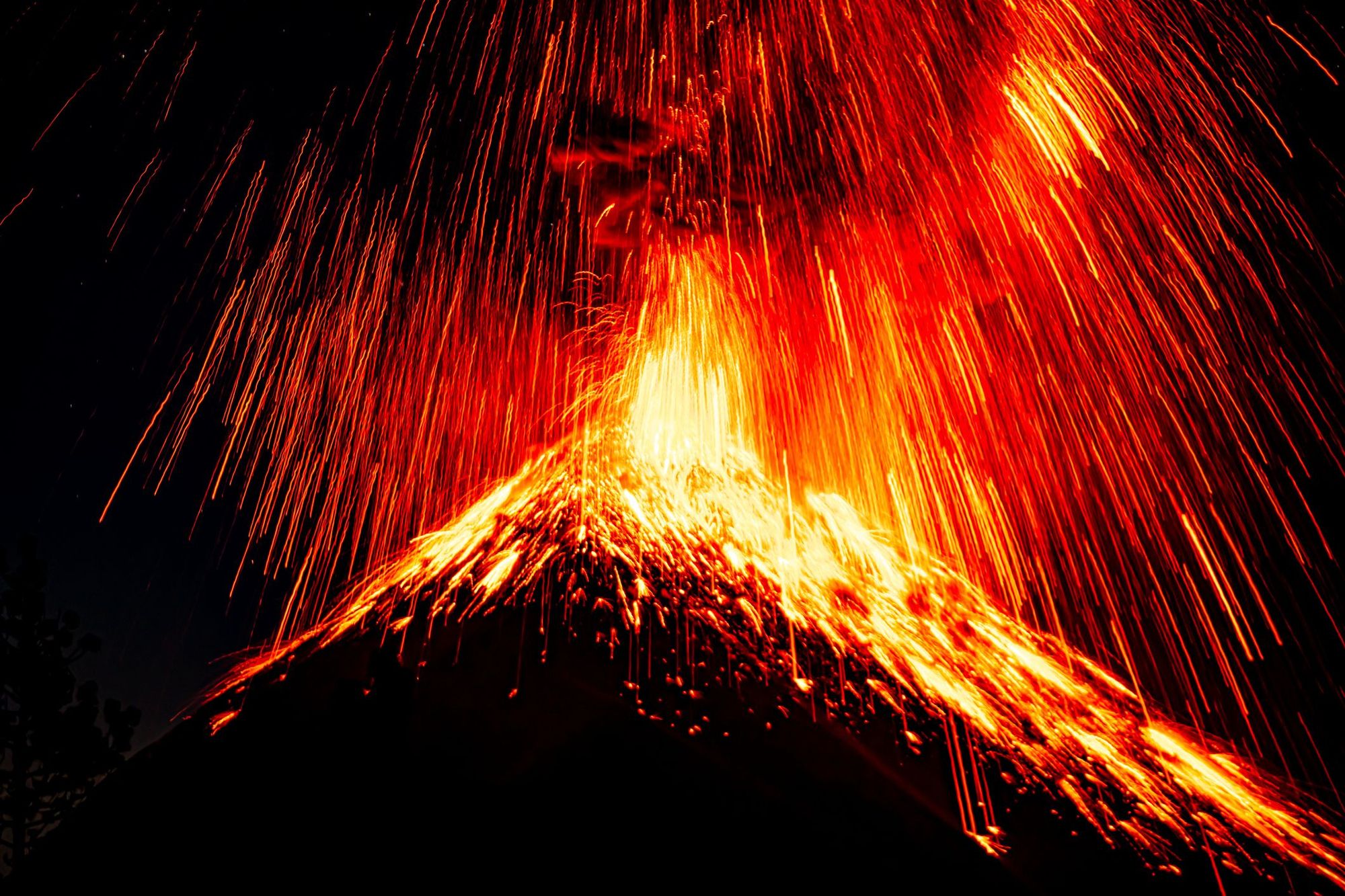 All this is to say that Volcán de Fuego is being closely monitored. If volcanic activity increases, especially if there are pyroclastic flows, Fuego and its surroundings will become restricted - evacuations will take place, and roads surrounding it may be closed. It's very important to be aware of, and receptive to, the latest safety advice - which is why we'd only ever recommend hiking the route with a knowledgeable local guide. They'll be in constant contact with the authorities monitoring Fuego.
Even during periods of low volcanic activity, it's not possible to hike all the way up to the crater rim of Volcán de Fuego. Instead, you'll hike up the adjoining volcano of Acatenango - which has lain dormant since 1972 - to watch the spectacle from there. There is a valley between Acatenango and Fuego which means the former is unlikely to be affected by pyroclastic flows and lava, which stream down the opposite side of Fuego instead.
The Acatenango Hike: Itinerary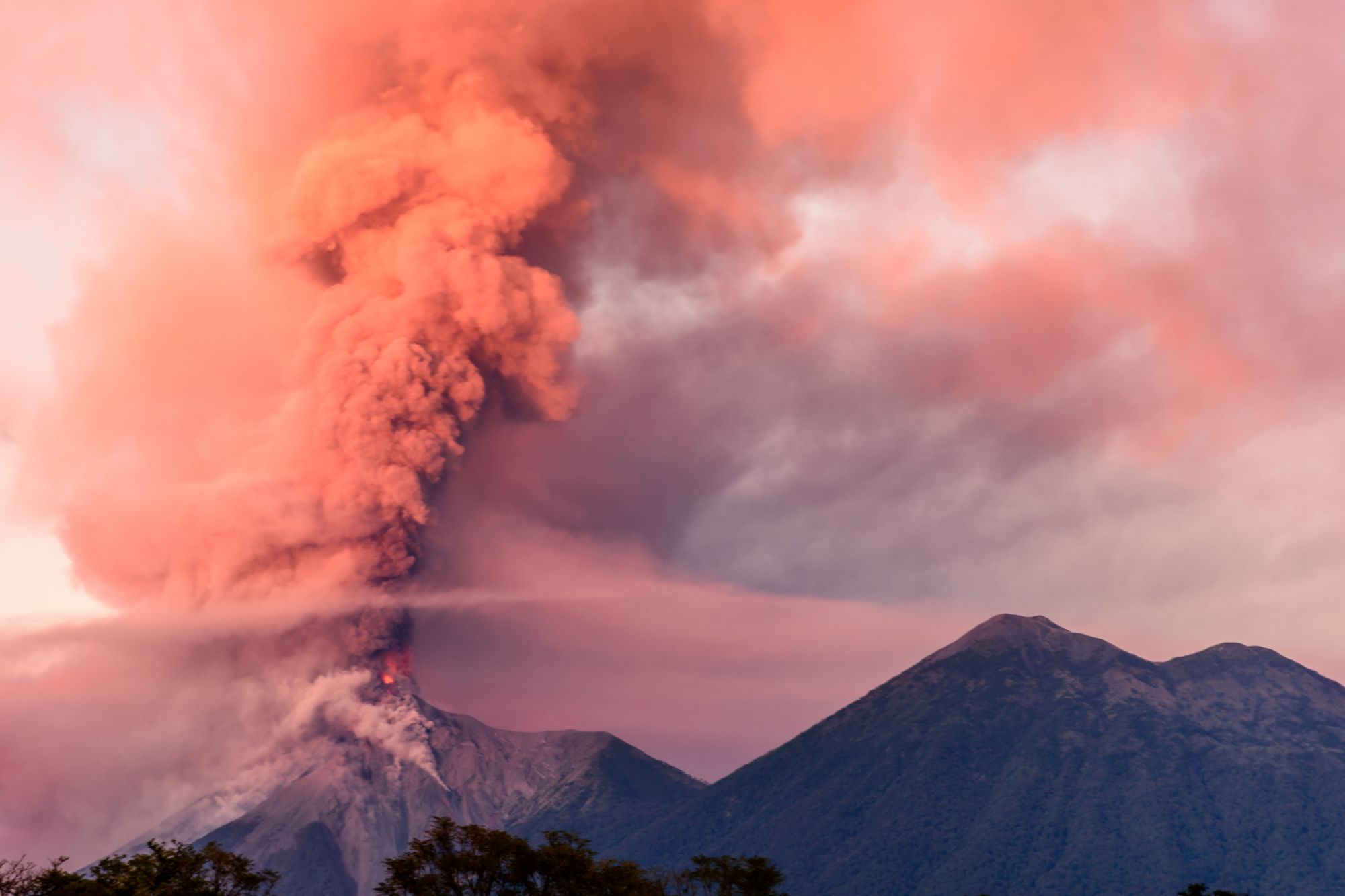 You can climb to the summit of Acatenango and back down again over a single day. However, we wouldn't recommend it due to the strenuous nature of the hike - Acatenango is 3,976m high, and it can take groups up to seven hours to reach the top.
Far preferable is the overnight option, camping at Acatenango Base Camp and hiking to the summit on the second day. This allows you to observe Volcán de Fuego as the sky darkens, which is one of the most unforgettable parts of the hike.
We've detailed the overnight option, although it is worth noting that a few guided tours spend two nights on Acatenango; they'll summit on the final day, and the second day will be spent hiking closer to Fuego, providing it is safe to do so. You'll be able to hike to the saddle between the two volcanoes, and onto a flat ridge around a kilometre away from the eruption crater (approximately a four hour round trip).
Day One - Soledad to Acatenango Base Camp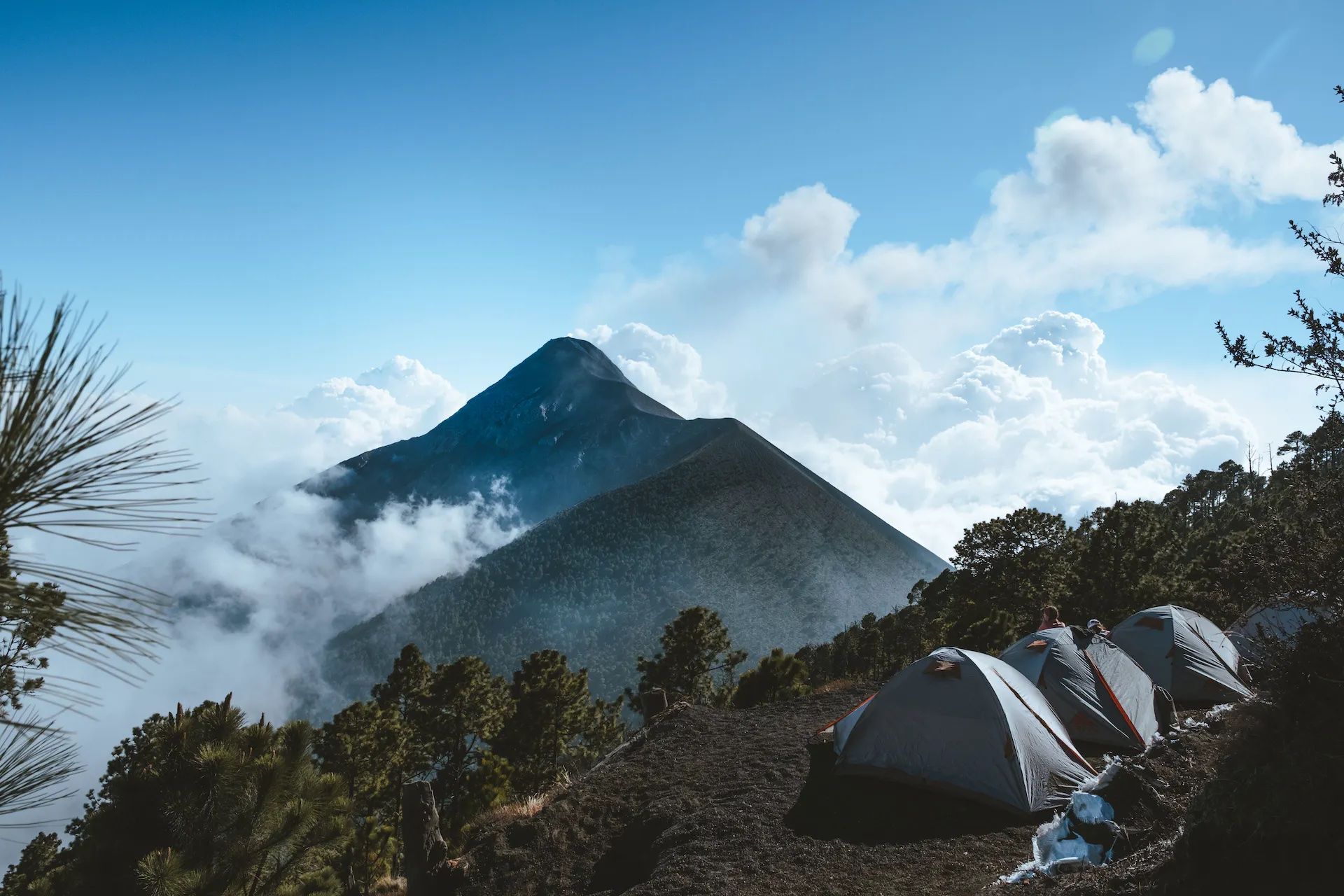 Distance: 4.9 miles (8km)
Total ascent: 1100m up
Hiking time: 5-6 hours
You'll begin your hike at the trailhead in La Soledad, a Mayan village around an hour's drive from Antigua. Across the five hour hike you'll travel through four different ecosystems, beginning with agricultural fields where local farmers harvest corn and squash. The trail winds upwards through old-growth cloud forest; an area of high biodiversity, home to the rare Quetzal bird.
Cloud forest soon becomes high alpine forest - the trees are sparser here, and you'll have sweeping views of the Guatemalan Highlands and the surrounding volcanoes. Continuing on, you'll emerge above the treeline onto high-altitude volcanic terrain - think burnt black slopes, shaped by eruptions. It's very exposed at this altitude, so make sure you bring a windproof jacket with you.
You'll set up camp in a secluded clearing just below the treeline - at an elevation of 3,750m - where you'll be able to warm up around the campfire, and enjoy a hot dinner. You'll also have spectacular views of Fuego Volcano, and can watch as it belches smoke, and perhaps even lava, into the sky.
Day Two - Acatenango Summit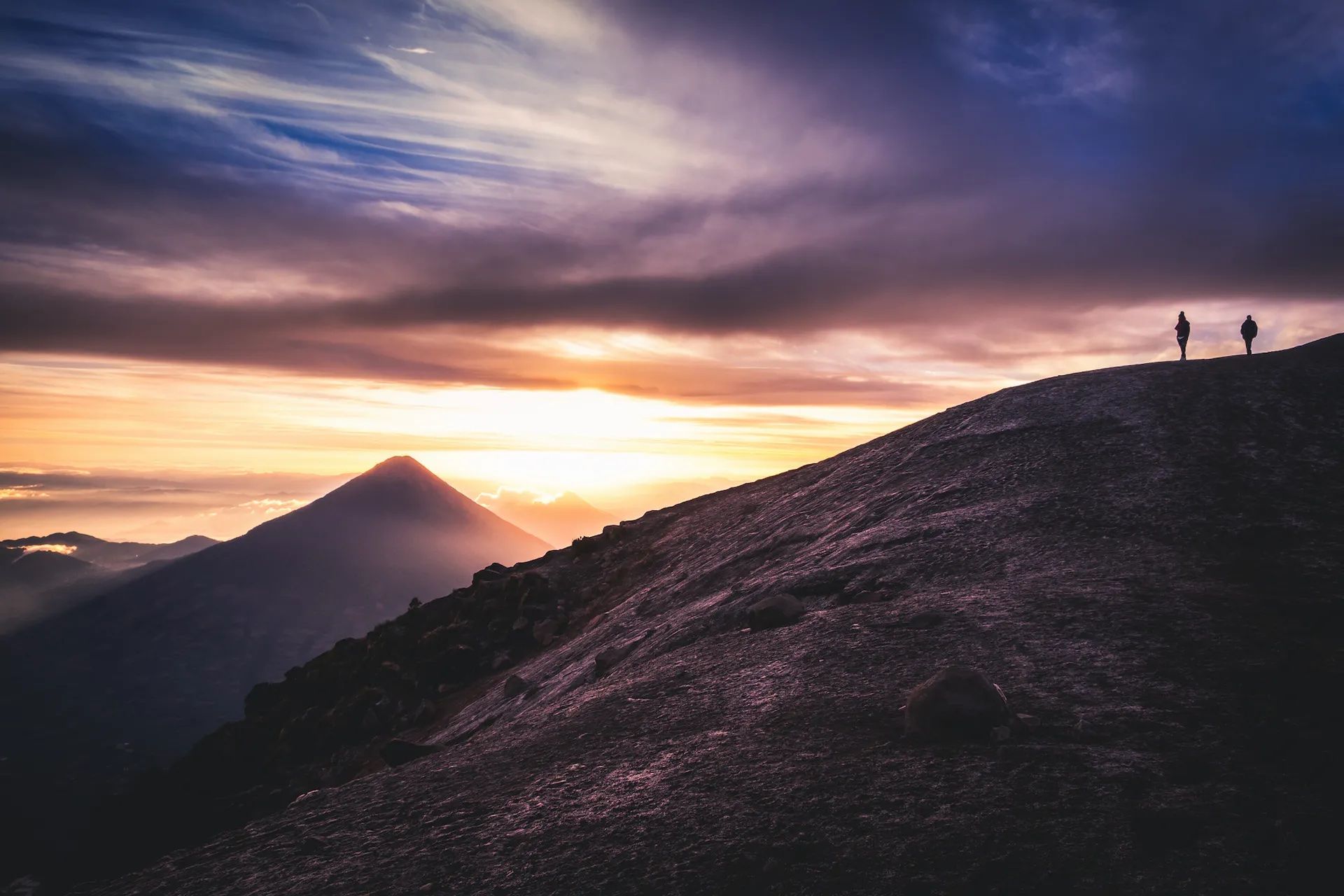 Distance: 4.3 miles (7km)
Total Ascent: 475m up/ 1575m down
Hiking time: 2-3 hours
You'll wake up early, and hike the steep, scree-covered trail to the summit of Acatenango (3,976m) - a tough uphill route which takes around an hour. You'll be rewarded with amazing views at the summit, of the sun rising over the Guatemalan highlands. On a clear day you can see all the way to the Mexican border.
Then it's time to descend. You'll likely go down by a different route, taking a trail through the different microhabitats to the town of Alotenango. From the trailhead, you'll be taken on to your next destination.
What Kit Do I Need for the Volcán de Fuego Hike?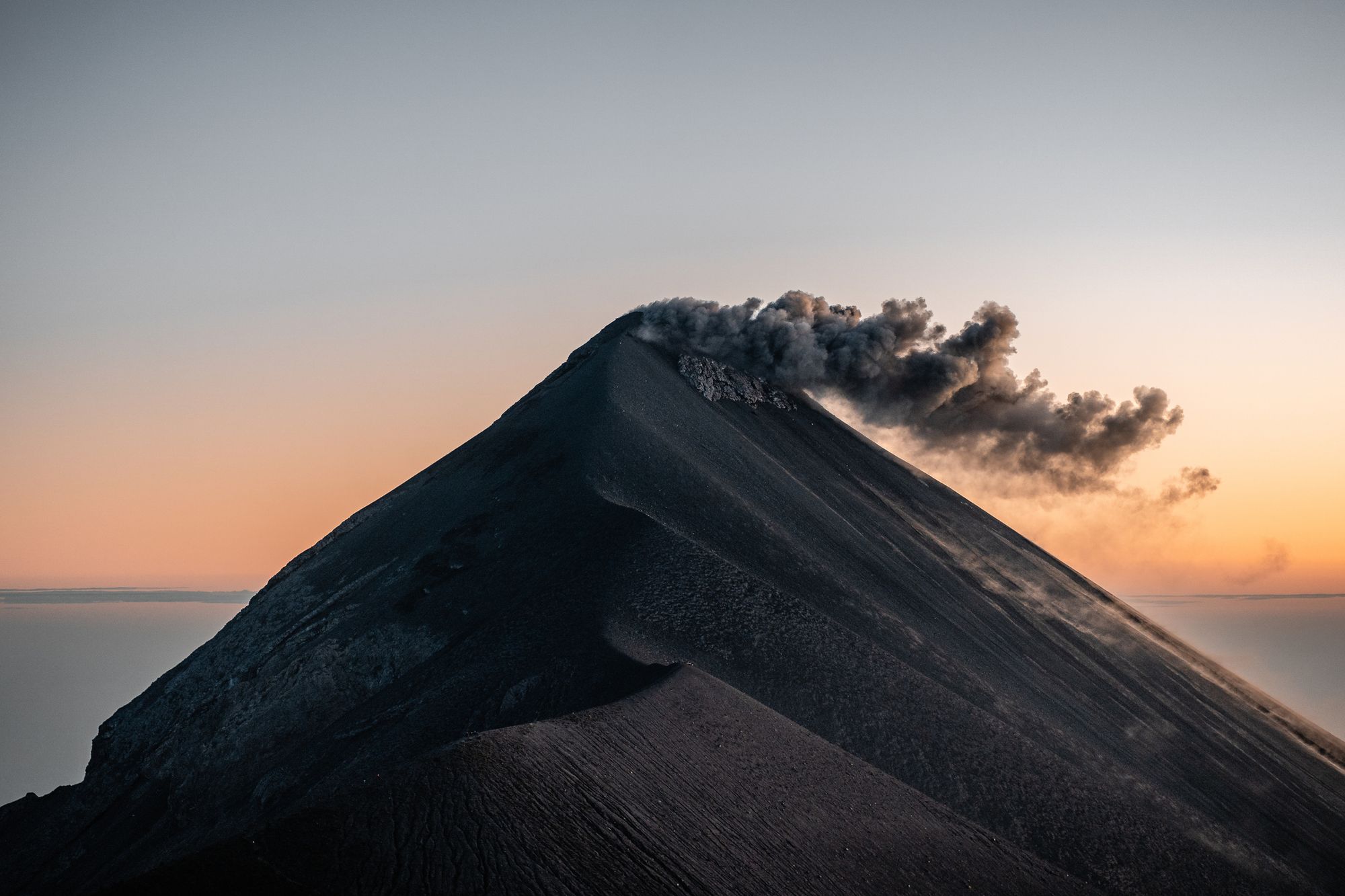 This is a sample kit list of what you should wear - and carry with you - for the Acatenango hike. Tour operators should provide you with everything you need to camp overnight on Acatenango, but be sure to check this in advance. It's also worth pointing out that there's no drinking water on the Acatenango, so check if your tour operator will bring any options for you to refill or if you have to carry all the water you need (we recommend three to four litres).
Down jacket
Waterproof jacket
Waterproof trousers
Breathable wicking layers
Fleece jacket or similar
Thermals (merino is best)
Warm hat
Buff or neck scarf
Sunglasses
Sunhat
Hiking boots (worn-in)
Suncream
Personal first-aid kit (inc. blister treatment)
Personal items (biodegradable toiletries, sanitary wear etc)
Toilet kit (toilet paper, biodegradable bags to carry out)
Headtorch
Energy bars and snacks
Extend Your Trip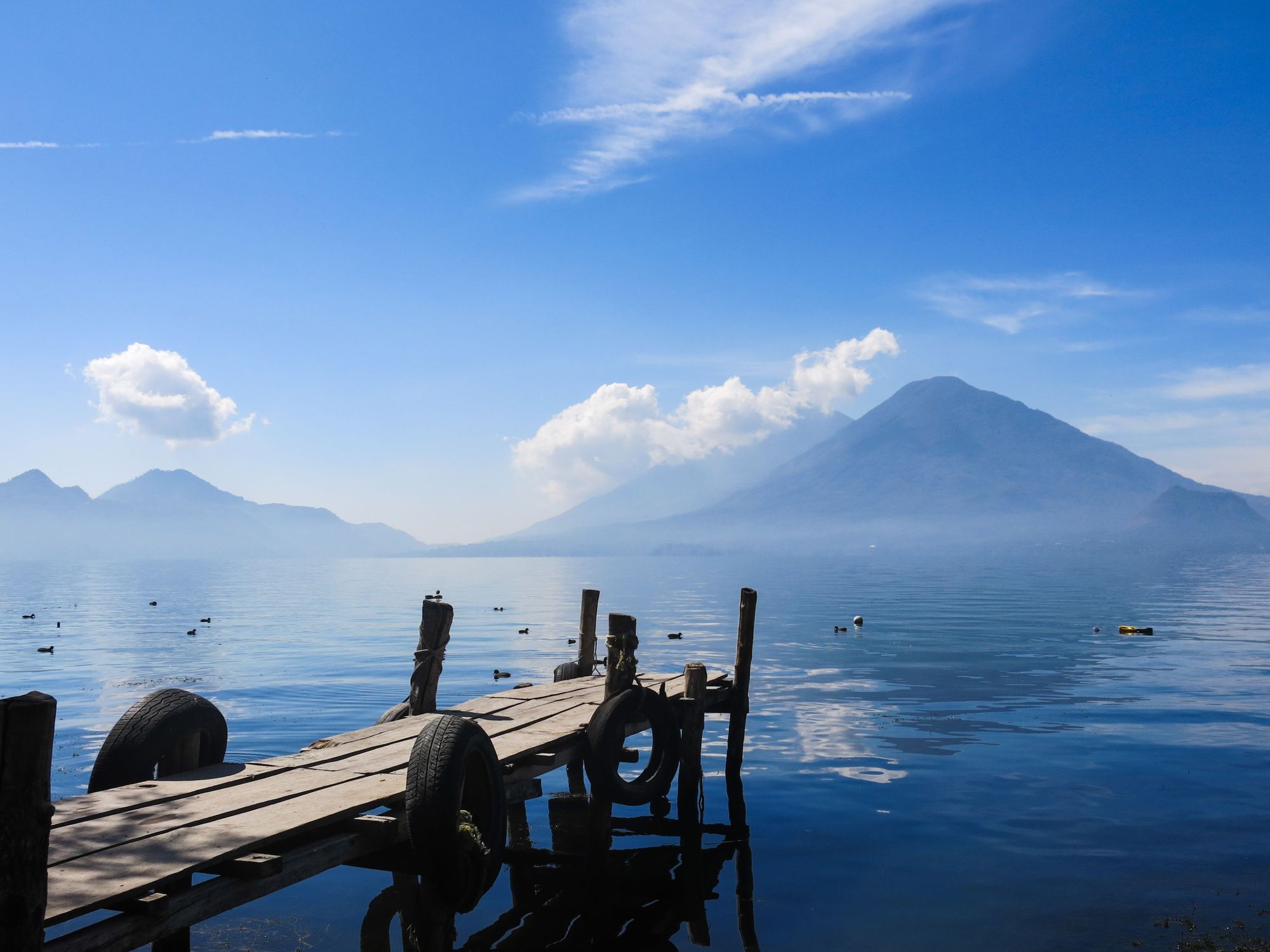 Chances are, you won't fly all the way to Guatemala to climb one volcano - you'll want to stick around and have a few more adventures. The good news is that there are plenty more volcanoes to hike in Guatemala! Tajumulco Volcano is Central America's Highest Point, towering at 4,219m; we also recommend an ascent of Pacaya Volcano (2,288m). If you fancy climbing Acatenango, Tajumulco, Pacaya and two more volcanoes, check out our Guatemala 5 Volcano Challenge.
Tired from all that hiking? Head to Fuentes Georginas to bathe in the natural hot springs there, or relax in one of the villages surrounding serene Lake Atitlan.
Inspired? Marvel over Volcán de Fuego on our Guatemala 5 Volcano Challenge adventure