Imagine a plain of rust-coloured sand, with craggy mountains and arches rising from the desert floor. The sun beats down on cliffs and canyons marked with the petroglyphs of ancient Thamud and Nabatean peoples - ancient Arabic tribes who created trade routes through the desert. When the sun sets, the sand flames red. As darkness falls, the sky fills with pulsing stars.
Wadi Rum desert in Jordan looks otherworldly. According to film director Ridley Scott, who used it as a shooting location for The Martian, "it's the best view I've ever seen of what could be Mars." But it's very much of this earth - an ancient desert that a nomadic Arabic tribe called the Bedouin have long called home. While a lot of tourists might visit for a couple of hours on a jeep safari, we'd recommend stopping for a little longer.
Go on a hike through one of its twisting canyons, or climb one of its sandstone mountains. Take time out to appreciate the vast silence of the desert. Stay overnight to sit around the fire at a Bedouin camp, sharing food and stories with your hosts and the other guests.
It's the best view I've ever seen of what could be Mars
Wondering how to start planning your adventure? Our guide to Wadi Rum is a good place to begin, with tips on the best time of year to visit, and what areas and activities to try out.
Where is the Wadi Rum Desert?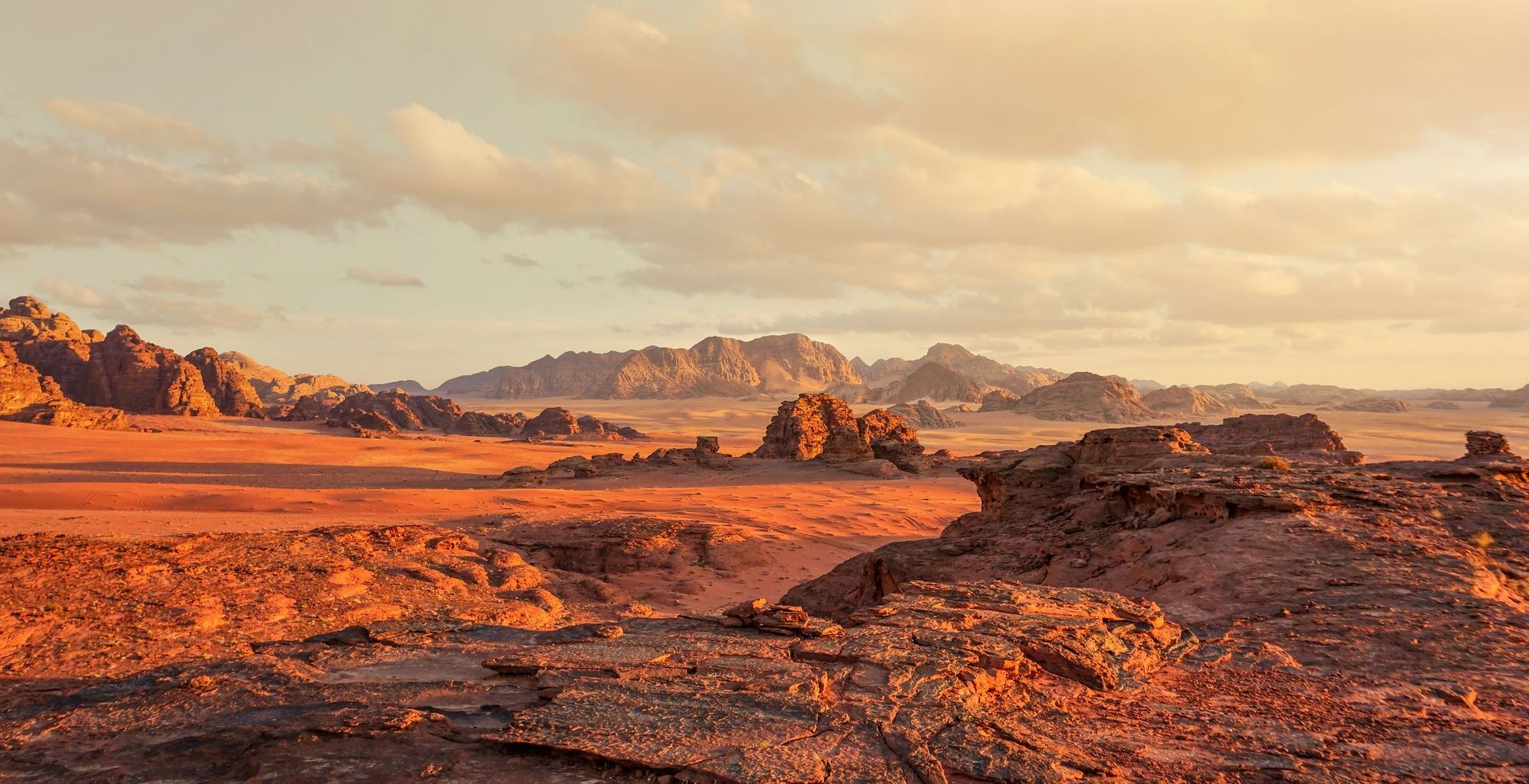 Wadi Rum lies in the south of Jordan, to the east of the country's Rift Valley. It is around 60 kilometres northeast of Aqaba, the only coastal city in Jordan, and 100 kilometres south of the ancient city of Petra. These three attractions are nicknamed the 'Golden Triangle' of Jordan, as they are all popular tourist attractions.
But despite Wadi Rum's popularity, you'll never be surrounded by crowds. The Wadi Rum reserve covers an area of 74,200 hectares (that's 742 square kilometres). It was described by T E Lawrence, the British archaeologist better known as Lawrence of Arabia, as "vast and echoing and God-like". Even in the 21st century, it's a place where you can experience solitude, if you so desire.
When should I visit Wadi Rum?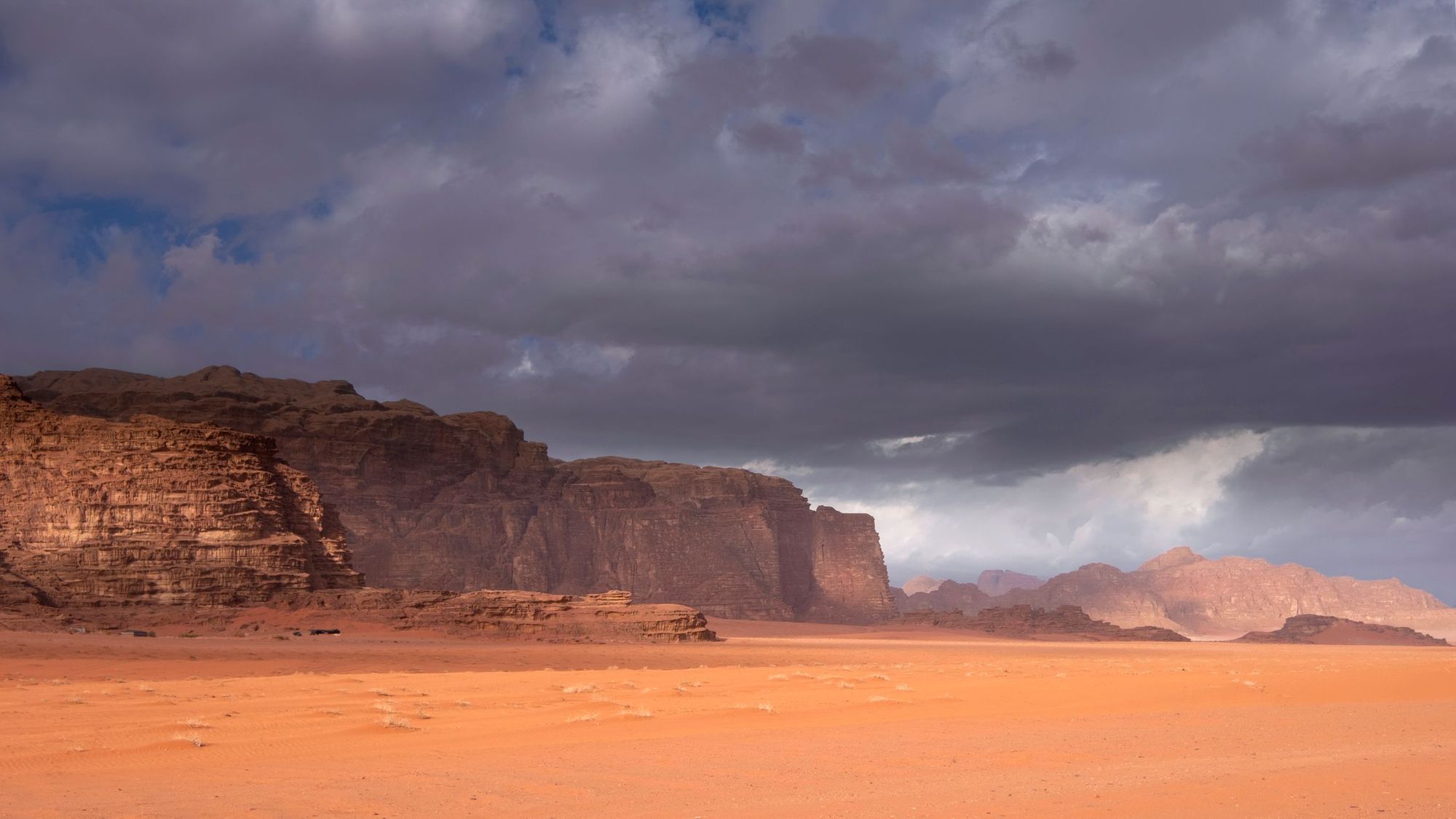 The Wadi Rum weather is important to take into consideration when planning your trip. The most popular time to visit the desert is during the spring (March to May), because this is when you can expect the best weather. The days are hot but not uncomfortably so - the average temperature in April, for example, is a balmy 24℃, although during May you can expect the temperature to rise up into the early thirties. In November, you'll experience a drop in temperature in the evenings - warm clothes are necessary, despite the heat of the day.
In the summer (June to August), you might find the weather in Wadi Rum a little too hot, especially if you're planning to hike or cycle in Jordan. Days average in the mid-thirties, although you will occasionally see the mercury climb to 40℃. Nights are much cooler, though, and there are fewer tourists around.
Autumn (September to November) is another popular time to visit, and ideal weather for trekking, especially November, when days average around 20℃ or a little warmer. The temperature continues to drop during the winter months (December to February), especially during the night, when it can be a little above freezing. You may also encounter the occasional rain shower, but don't let that put you off - there's something wonderfully elemental about a storm in the desert. And fewer crowds is a major plus.
What to do in Wadi Rum
Hike the Barrah Canyon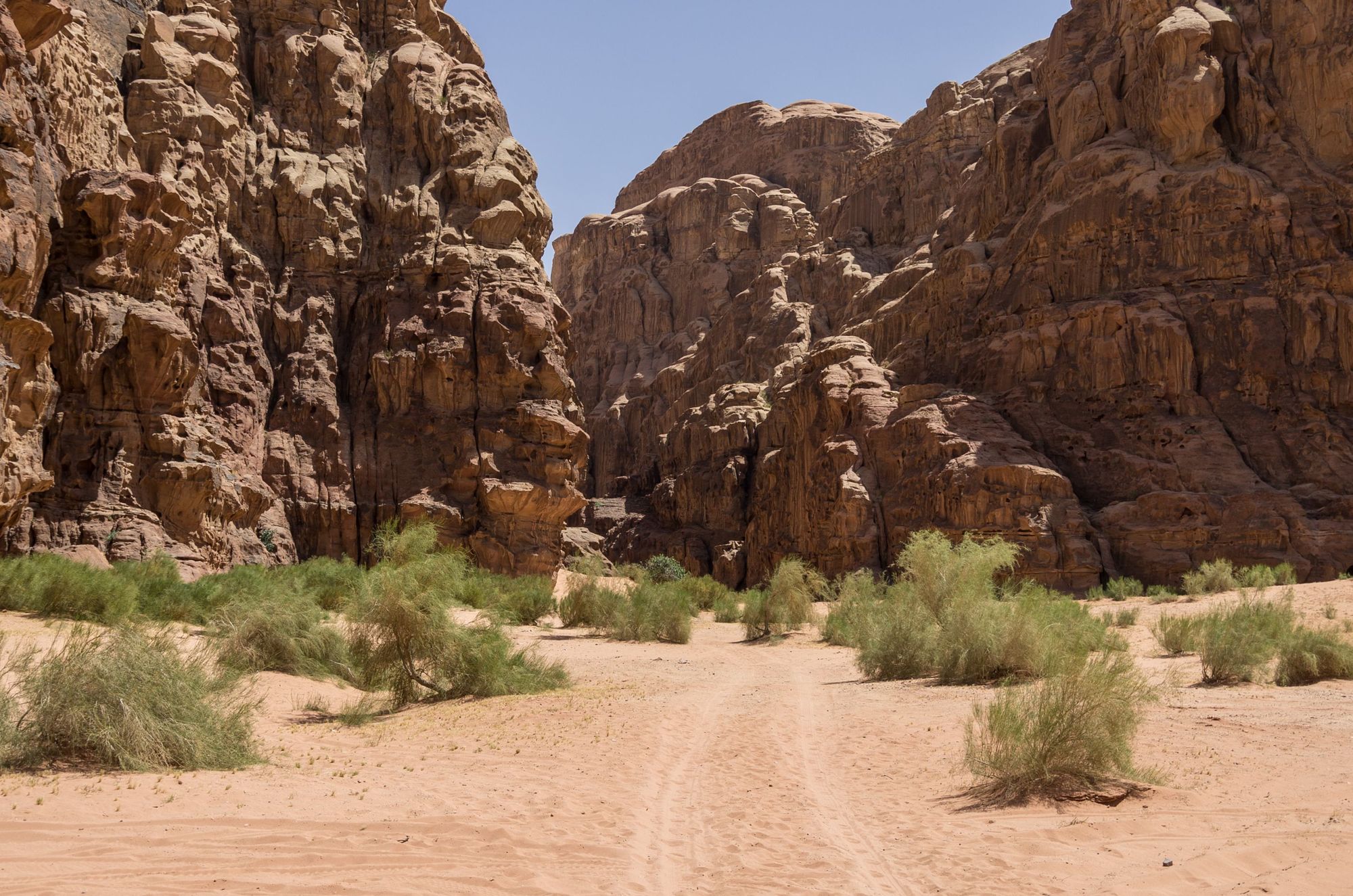 One of the best hikes in Wadi Rum is through Barrah Canyon, a five kilometre canyon that bisects the Barrah Massif. Multi-coloured cliffs and sandstone towers flank vast dunes, green oases and gorges, which allow respite from the day's heat. It takes around 90 minutes to hike from one end of the canyon to another, although with a local guide it's easy to extend your walk.
See the Petroglyphs in Khazali Canyon
Khazali Canyon is a narrow rock fissure that's home to some of the best-preserved petroglyphs in Wadi Rum. This is where Nabatean and other Arabic traders rested almost a thousand years ago, the high walls providing shade from the desert heat. They drew on these rocky walls; the elephants and lions, prayers that were inscribed on the way to Mecca. More adventurous types can climb Jebel Khazali - the high sandstone massif - and abseil down into the canyon.
Climb Um Ad Dami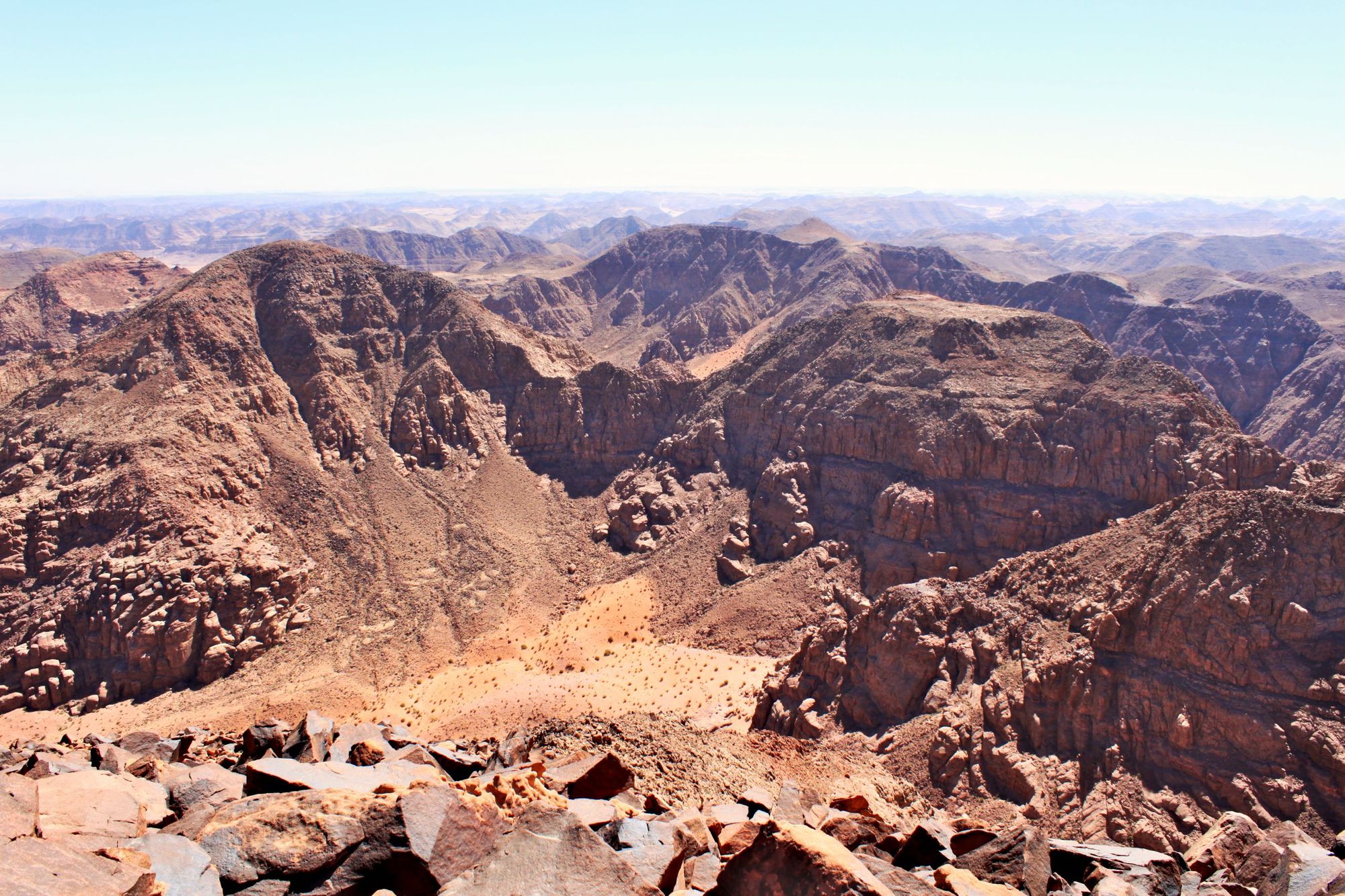 Jordan's tallest mountain - Um Ad Dami (1,854m) - is the highest peak in Jordan, located in the south of Wadi Rum near the border with Saudi Arabia. Of course we're going to suggest climbing it, with an experienced guide to lead you - it takes around three hours for a round trip. You'll begin in a sandy valley at the base of the mountains, then scramble up a steepening rocky trail to the summit. The view from the top is spectacular - a panorama of the valleys and mountains of Wadi Rum. On a clear day you'll be able to see the Red Sea in the distance.
Cycle Ancient Caravan Paths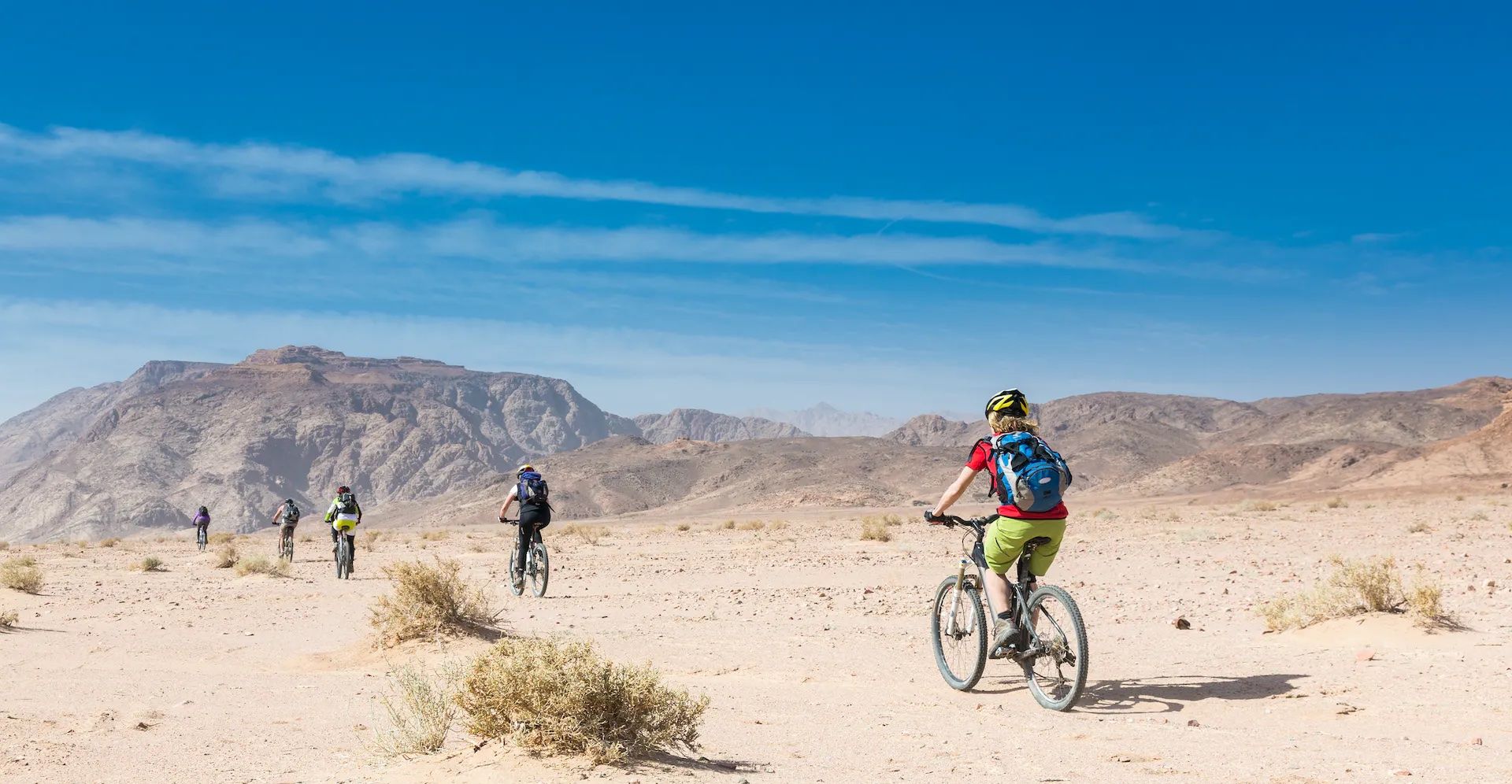 Bike touring is a brilliant way to see more of Jordan, and we'd particularly recommend planning a route that takes in Wadi Rum. Cycle down ancient caravan tracks that wind through this vast desert, stopping for the night at Bedouin camps. There are plenty of sights you can add to your itinerary such as Burdah Rock Bridge, the highest natural arch in Wadi Rum, and Lawrence Spring, where T.E Lawrence made his base. We'd recommend going with a guide so that you don't get lost!
Taste Bedouin Cuisine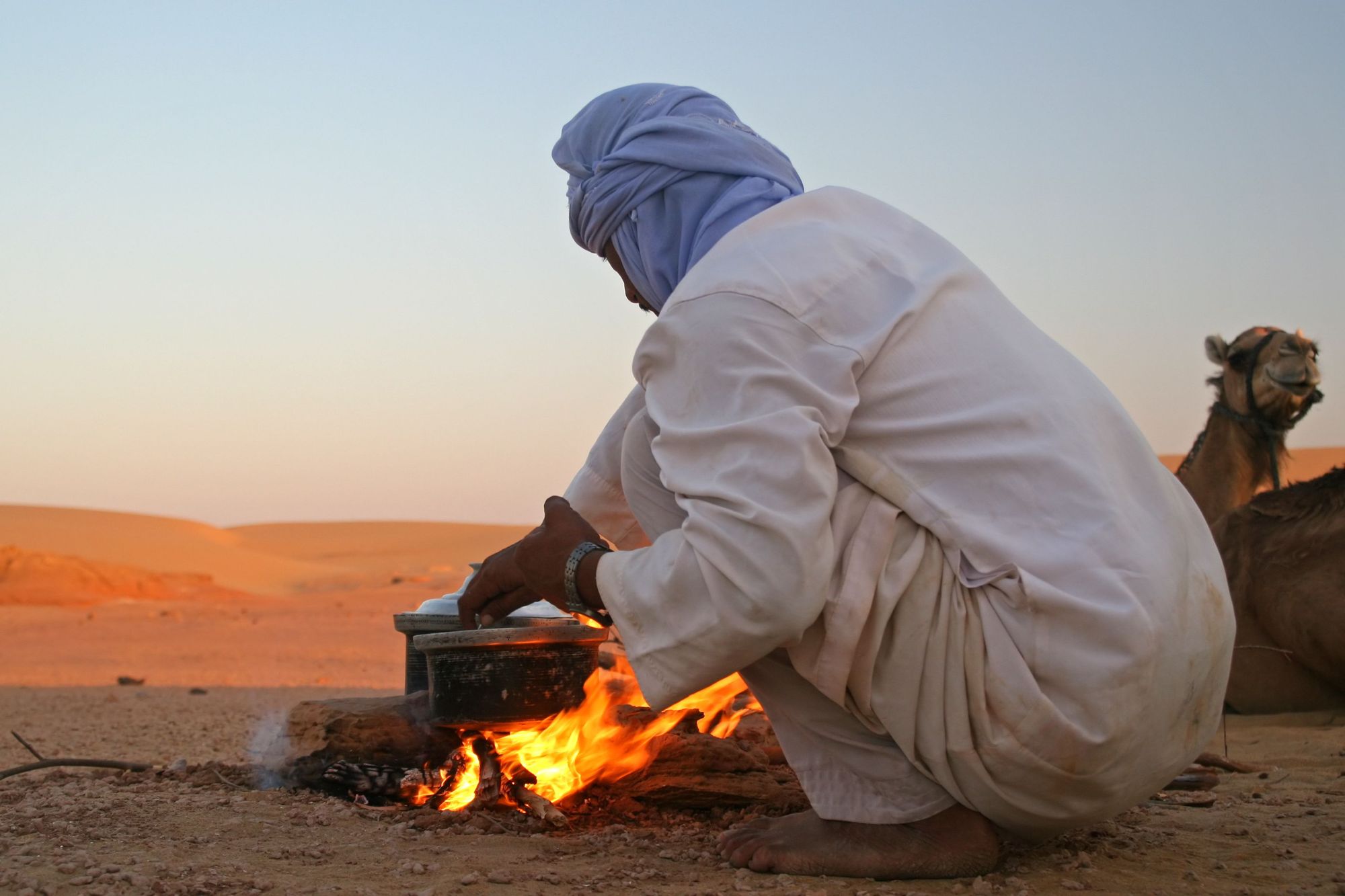 Slow travel in Wadi Rum means taking time out to immerse yourself in the local Bedouin culture, as well as marvelling over the environment. One of our favourite ways to do this is through shared meals. One of the most famous dishes is zarb - rice, vegetables, lamb and chicken cooked for four-to-five hours underground on a bed of coals. Mansaf is a large tray of rice topped with meat and served with flatbreads. A high-energy breakfast is date aseeda - a sweet porridge made of dates - and mint tea.
Go Stargazing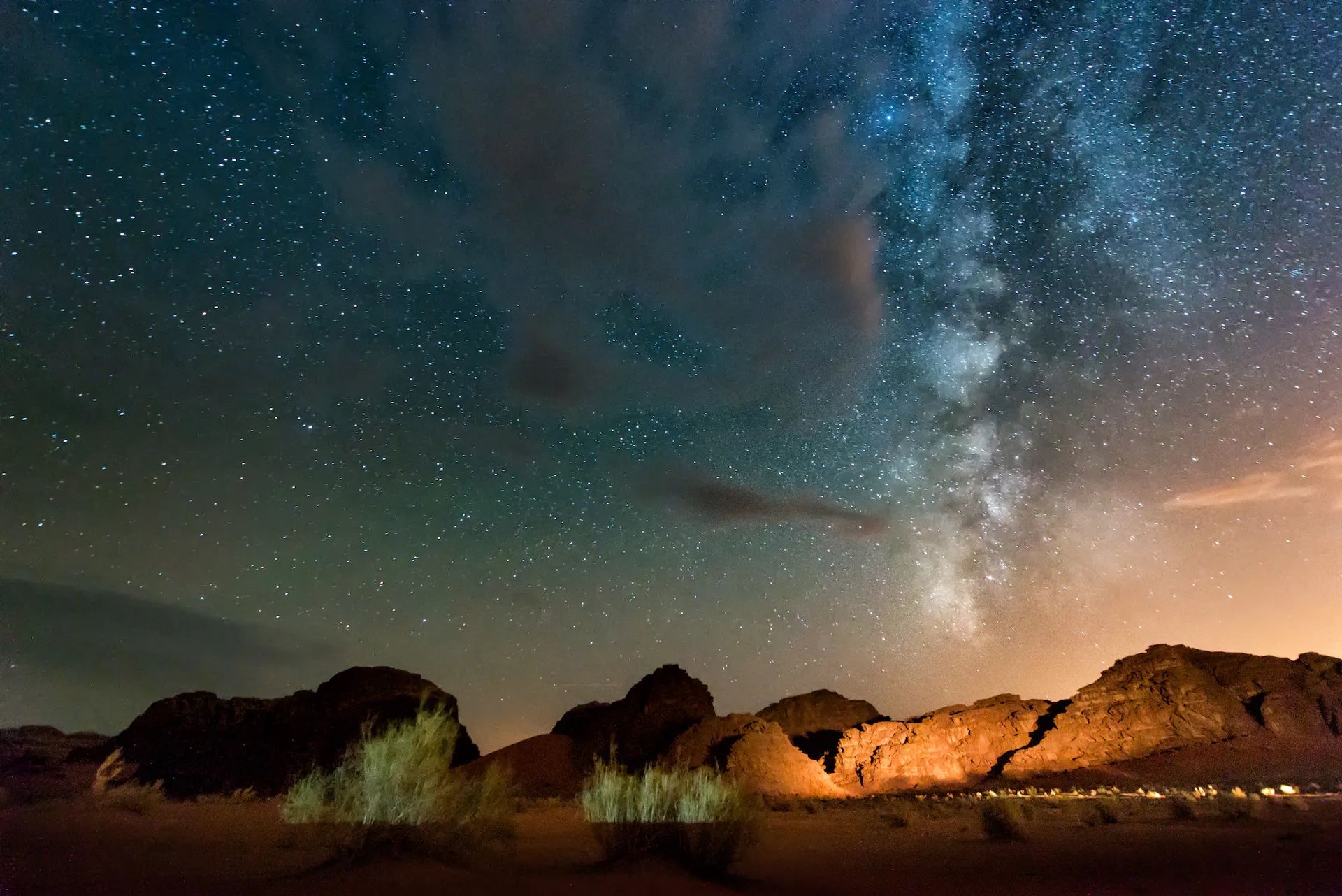 Stay overnight in the desert and you'll be miles away from the light pollution of the city. Tilt your head upwards to the night sky and you'll be treated to the sight of millions of twinkling stars. Wadi Rum has around 300 cloudless nights a year, and registers two-to-three on the Bortle Dark Sky Scale, meaning it's an ideal spot for stargazing.
Stay in a Martian Dome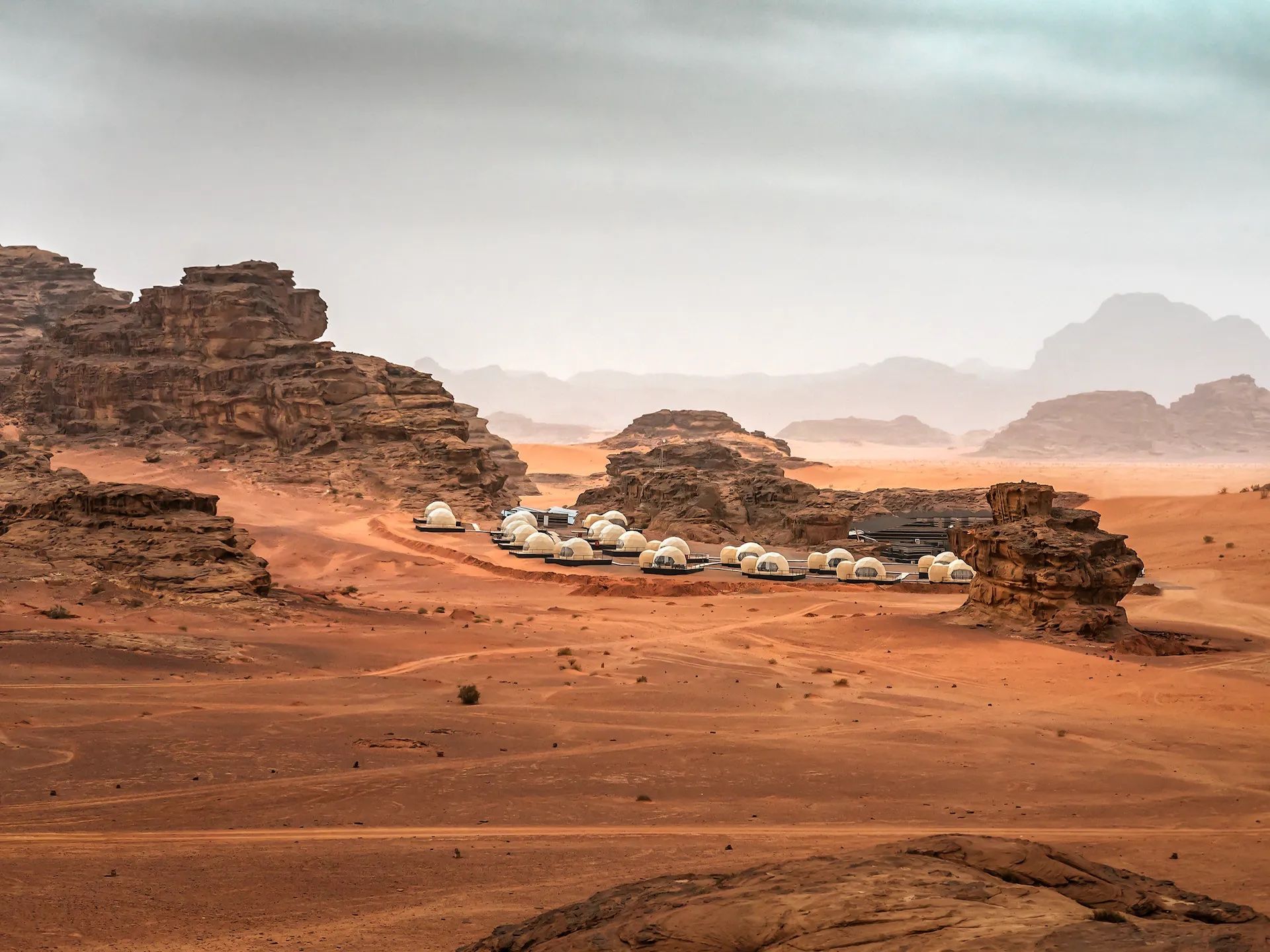 Wadi Rum's lunar-like landscape means it's been a shooting location for sci-fi films like Star Wars and The Martian. Celebrate this legacy by spending the night in a martian dome. These geodesic domes are more comfortable than anything you'd find in outer space (think A/C and a bathroom), but best of all is the clear window panel through which you can watch the stars.
How to Get to Wadi Rum
Wadi Rum is located in the south of Jordan, around an hour's drive from Aqaba, two from Petra and four from Amman, the capital of Jordan. You'll need to turn off the main highway and drive down a paved road to the visitor centre, where you'll need to register and pay a small entrance fee, before continuing onto Rum Village, the gateway to the desert.
You can drive yourself, hire a taxi or get a bus to Rum Village from Aqaba, Jordan or Petra. However, it's not possible to drive independently within the desert itself - in order to minimise damage to the environment and prevent people from getting lost - so you'll need to park your car in the village. From there you will be picked up by your tour guide or accommodation host, and they will take you into the desert.
Feeling inspired? Check our collection of adventures in Jordan, all of which include a visit to Wadi Rum!