A basic first aid kit is fairly essential out in the sticks. The very nature of adventure means you're more prone to injury, and further away from help. Think about it. If you're on the top of a mountain or down a gorge somewhere that's not accessible by vehicle then you're probably going to have to wait for first aiders to get to you on foot. There isn't always a helicopter handy.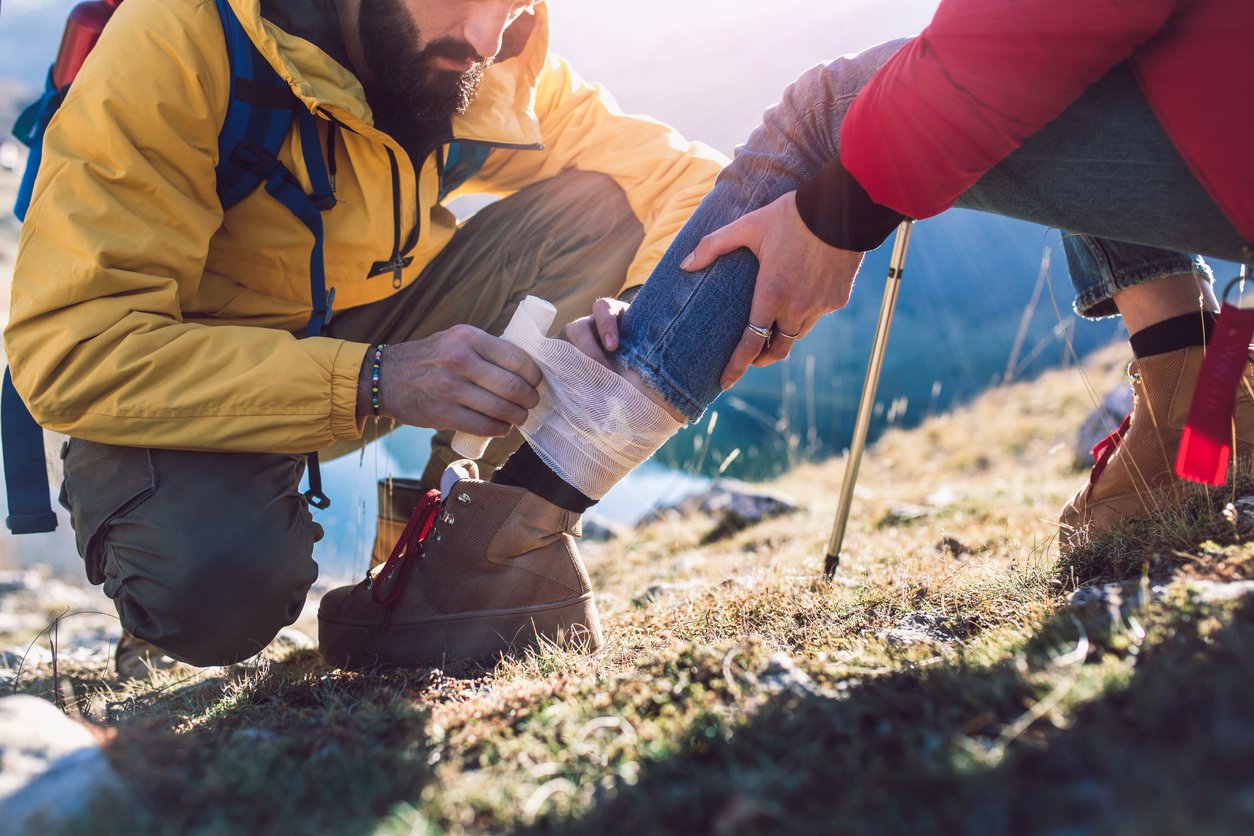 If you're heading off into the wilderness with a guide, you can pretty much guarantee that they'll have a first aid kit. It's their job to keep you safe and safe includes preparing for some common minor injuries. That's what first aid is, after all, it's the first bit of help you can get before seeing a medical professional. Sure that might be administering a dinosaur-patterned plaster and a reassuring pat on the back. Or it might be something that stabilises an injury just enough to save a life.
It certainly doesn't hurt to carry a first aid kit of your own, particularly one specifically tailored to you. We'll come onto what that might mean in a minute. You never know when you're going to get injured, or whether you'll be near your group when it happens. Not convinced? Go watch 127 Hours and come right back here.
So, now you're scared witless, what should you put in your first aid kit? The answer is pretty much like asking "how long is a piece of string". You can take an ECG and a portable X-ray machine if you really want, but it's going to be a lot of effort to carry… And might be a bit excessive for a run in the South Downs, for example.
Doctor and expedition leader Jane Wilson-Howarth suggests what you should consider taking on your next big adventure. Take it away Jane.
What To Put In a First Aid Kit
Most adventurers will put a few first aid items into their pack; some will buy a designer or pre-packed first aid kit. Who you are and what you plan to do dictates what you might take, but many travellers probably carry too much or carry the wrong kinds/mix of things.
Clearly folks enjoying outdoor activities are more likely to sustain scrapes and bumps than at home so antiseptic and dressings are important. Personally, I tend to carry very little except a range of dressings, antiseptic, soluble paracetamol, painkillers and (because I live in Nepal) an antibiotic in case of dysentery or severe diarrhoea. I also recommend travelling with a bar of soap in a soapbox – soap and water kills more microbes than alcohol hand rub or wipes, which I never use.
Here follows a list of everything you could need on a remote trip, and I will leave it up to you to pick and choose amongst the items.
* Asterisked items are those that are scarce or difficult to come by abroad, or may be of poor quality. Some destinations will, of course, have better products on offer than at home.
The Basics
Insect repellent, DEET-based*; sticks or roll-ons are least messy.
Sunscreen and lip screen.*
Soluble paracetamol* or aspirin. Soluble pain-killers allow gargling when the throat is sore.
Heavy moisturiser (e.g. white soft paraffin, petroleum jelly or Vaseline).
Crêpe bandage* (and safety pins) for supporting sprained joints.
Plasters/Band-Aids* (which stick and stay stuck when you sweat).
Steri-strips* or butterfly wound closures. These usually need to be added to any ready-made kit and are readily available in UK pharmacies.
Antihistamine tablets such as cetirizine (e.g. Zirtek), loratadine (e.g. Clarityn) or diphenhydramine (e.g. Benadryl).
Fine-pointed tweezers for removing splinters and coral (pack in hold luggage).
Dressings and Bandages
Non-stick dressings (e.g. Melolin).*
Micropore tape* to stick on dressings or to tape sore/snow-blinded eyes closed.
Treatments and Medication
Antimalarial tablets – Paludrine* is never available abroad.
Strong painkiller e.g. diclofenac or one containing codeine. Painkillers in the opiate group like co-codamol or codeine phosphate calm abdominal cramps in severe diarrhoea. Prescription-only tramadol helps pain and diarrhoea. Mixes of paracetamol and codeine are also good. All cause constipation. Many are forbidden in the Middle East and other destinations even if these are for your own use except with a prescription or doctor's letter.
Sore-throat pastilles
Oral rehydration sachets e.g. Dioralyte, or a *measuring spoon to make sugar and salt rehydration solution or knowledge of how to rehydrate.
Anusol or Sudocrem – especially if prone to piles, but useful in diarrhoea.
Drying antiseptic e.g. an iodine-containing preparation or potassium permanganate crystals to make up a solution in water.
Antifungal cream such as Daktarin (miconazole) or Canesten (clotrimazole) cream.
Calamine lotion/cream or After Bite.*
Tools and Supplies
Cotton buds for removing grit from the eye (10 is plenty).
Dental first-aid kit/temporary fillings* if over 50 years of age.
Scissors. Sharp objects (e.g. tweezers/scissors) must be packed in hold luggage in aircraft; they may not be carried on board flights as hand luggage.
Artery forceps. Useful for pulling out thorns, clamping off spurting arteries, repairing tents and removing fish hooks from people – and fish.
Paperclip for releasing blood under a nail: straighten, heat to red hot and apply to the nail and it is instantly pain-relieving.
A torch
Condoms and contraceptive pills.*
Extra First-Aid Items for Some Particular Travel Conditions
Thermometer: especially if travelling with medicines for self-treatment of malaria.
Mouth ulcer gel (*Bonjela or Teejel): for travellers taking Paludrine or Malarone antimalarial tablets, in case of mouth ulcers.
Low-reading thermometer and space blanket: if going to cold places.
Steroid ointment (e.g. 1% hydrocortisone or Eumovate) if you have eczema or react badly to stings and bites
Aciclovir (acyclovir, Zovirax) cream*: if a cold-sore sufferer.
Adrenaline (epinephrine) injection (0.5% or 0.1% or 1:1,000): if allergic to stings, nuts, etc.
Two different courses of antibiotics: if going somewhere remote. Ask your GP for a private prescription.
Xifaxanta* antibiotic course (also on private prescription from your GP) for severe diarrhoea, bloody diarrhoea or diarrhoea with a fever.
Paracetamol (Calpol, Panadol) or ibuprofen syrup*: if unable to swallow tablets or are travelling with children.
Perhaps an anti-motion sickness preparation e.g. cinnarazine / Stugeron
A fine-toothed louse comb: in case your scalp becomes itchy.
This advanced First Aid Kit list was adapted from The Essential Guide to Travel Health by Jane Wilson-Howarth and is published by Cadogan Guides.