The Maldives is a destination which rose to fame for its idyllic white sand beaches, colourful, charismatic marine life and for its 'one resort, one island' policy, which saw resort tourism take over the islands, and gave the Maldives its exclusive feel (and expensive price tag). But in the last two decades, the narrative of tourism has been changing on this archipelago of almost 1200 islands, split between 26 beautiful atolls in the Indian Ocean.
A change to national regulation in 2009 allowed local island tourism to build guesthouses, and permitted tourists to stay amongst the locals, rather than being required to stay tucked away, on one of the expensive, private resorts.
This opened up the tourist economy to everyday Maldivian entrepreneurs, kickstarting community-based, local island tourism. It also opened up the Maldives to a different type of traveller - adventurers. Today, intrepid travellers come to explore the Maldives' dense forests, paddleboard and kayak along the silent, scenic coasts. They come to island hop and swim, snorkel and dive with whale sharks, manta rays and sea turtles, in front of intense tropical sunsets.
Here are our top tips on what to do and where to go in the Maldives, from the bustling capital of Malé to the quiet coral reefs of the South Ari Marine Protected Area (SAMPA). Here's hoping these tips help you have the perfect adventure in this island paradise. But first? Some basic information about the Maldives.
Where is the Maldives?
The Republic of the Maldives, as it is officially known, consists of around 1200 islands, situated southwest of Sri Lanka and the southern tip of India, in the Indian Ocean. There are around 200 inhabited islands, with almost half of the 521,500 population of the Maldives living in the capital city of Malé.
The Maldives: The Basic Facts
Currency? Maldivian Rufiyaa (Rf)
Language? Dhivehi, though English is widely spoken.
Plug adapter? Type D and G.
Do I tip? A service tax is applied to many purchases, but of course, a 10%-20% tip will be gladly received if you feel it is deserved.
Is alcohol available in the Maldives? The sale of alcohol is illegal in the Maldives, and so alcoholic drinks are only available on resort islands.
The adventure? Island-hopping across the Maldives.
What to Do in the Maldives: 7 Adventurous Ideas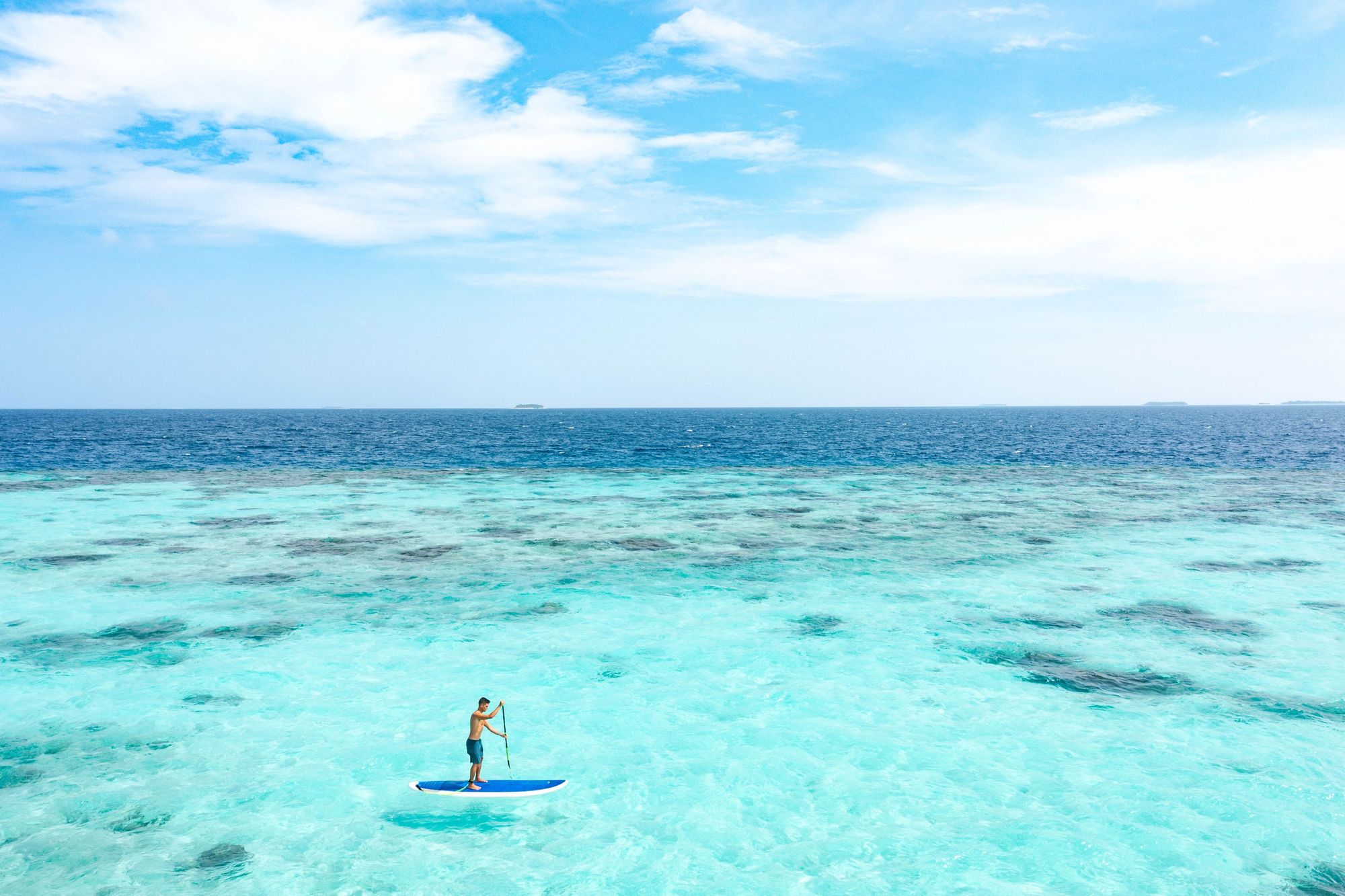 So, you're planning a trip to the dreamscapes of the Maldives, and wondering what you should do when you get there? Here are a few adventurous ideas…
1. Go swimming with whale sharks near Dhigurah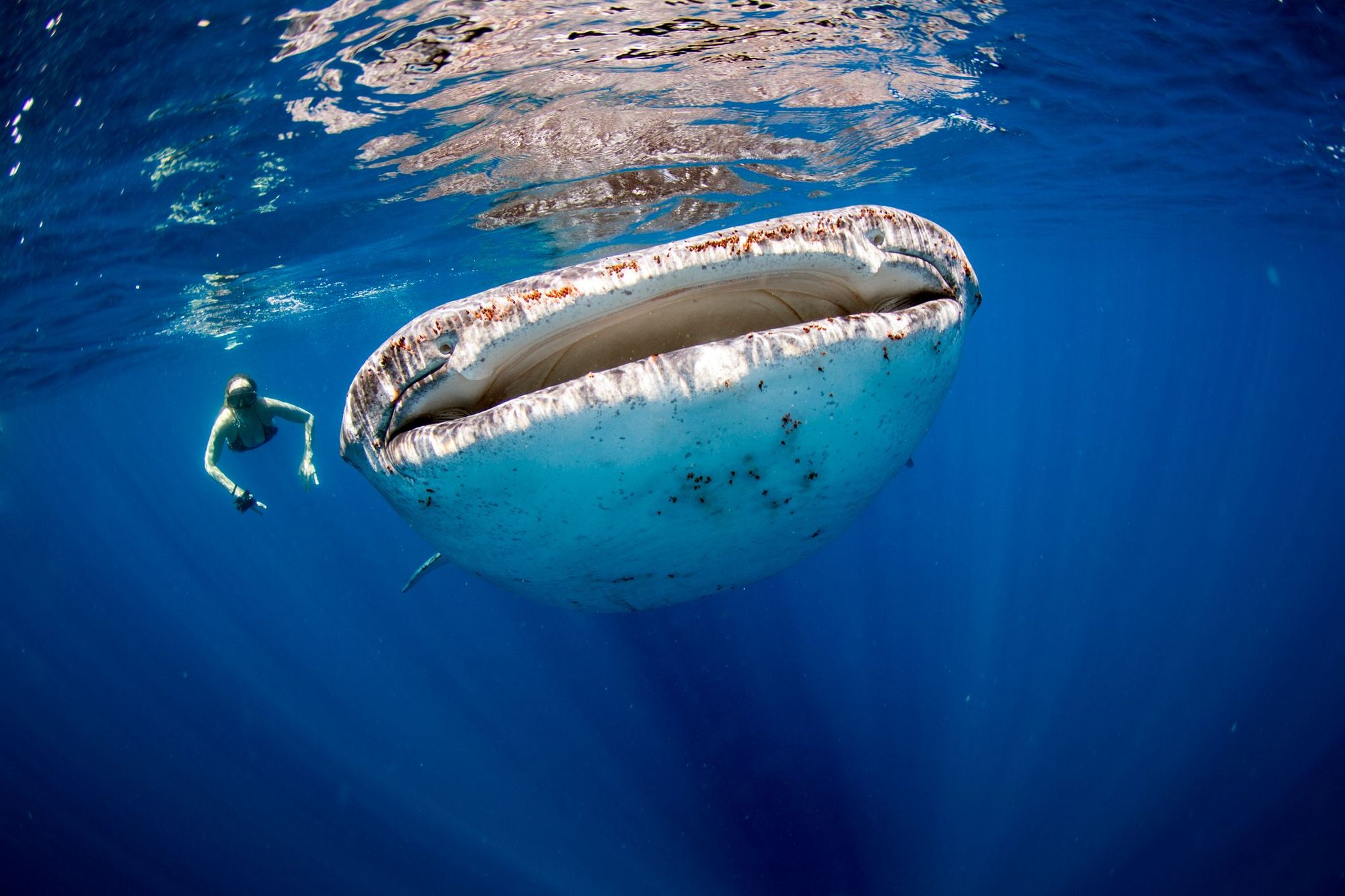 Whale sharks are the largest fish in the world, growing 20ft long and living up to 150 years old. These huge animals are filter-feeding sharks, who munch on plankton, shrimp and other small fish and no… you don't have to worry about being eaten. Whale sharks are known as the gentle giants of the Indian Ocean. Their teeth are tiny and they can actually neither bite nor chew. They can, however, process more than 6,000 litres of water an hour through their gills, and stretch their mouths a full four feet wide - a stunning sight to witness.
The island of Dhigurah (which has one of the longest beaches of the Maldives) sits within SAMPA, and it's one of the few places on earth where you can spot whale sharks year round. More than 350 individual whale sharks have been recorded here, meaning the actual number probably far exceeds this figure.
The best way to spot whale sharks, as you'd probably expect, is to jump on a boat, sail out and look into the waters. As with any wildlife excursion, you can never guarantee a sighting, but the odds are pretty good. If you get lucky and spot a whale shark, you can grab a snorkel and swim alongside the giant fish - a humbling experience, as you get to paddle and share the idyllic, biodiverse waters of South Ari with one of the great creatures of our world. Whale sharks are slow swimmers, travelling at around 3mph, so don't worry about not keeping up.
If you get lucky and spot a whale shark, you can grab a snorkel and swim alongside the giant fish...
Importantly, the whale sharks of SAMPA are under threat, in part because of irresponsible tourist operators who either block, or worse yet, accidentally cut the sharks when they pass on loud, noisy speedboats.
The new 'Be Gentle to Giants' campaign, started by the Maldives Whale Shark Research Programme, Maldives Resilient Reefs and Blue Marine Foundation is encouraging operators to follow a code of conduct on outings, to ensure whale sharks in SAMPA are protected. The campaign also asks tourists visiting to choose a responsible tour operator, who is flying the flag for the campaign. This is a magical experience, purely because these animals are so majestic. Human interactions should not impact the health of any one member of their species.
2. Snorkel amongst the kaleidoscopic reefs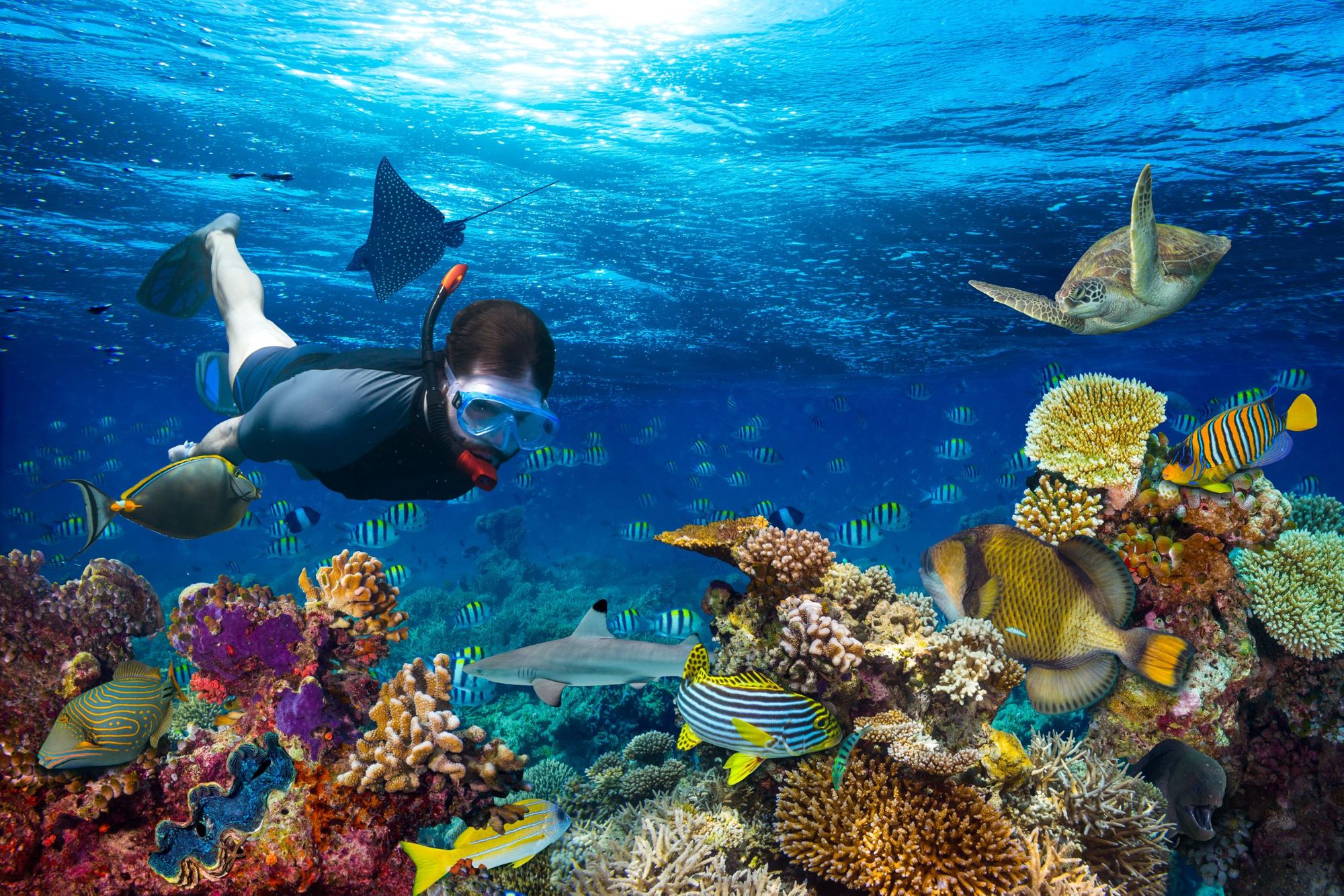 The colourful, functioning reefs of the Maldives make for excellent snorkelling. The waters are alive with life here. You can expect to see tropical fish in abundance, and if you're lucky, everything from manta rays, sting rays and eagle rays to sharks and sea turtles as well. Snorkel with a good local guide and they'll amplify every element of the experience - acting as a spotter and explaining the names of the marine life in the water, and their place in the ecosystem.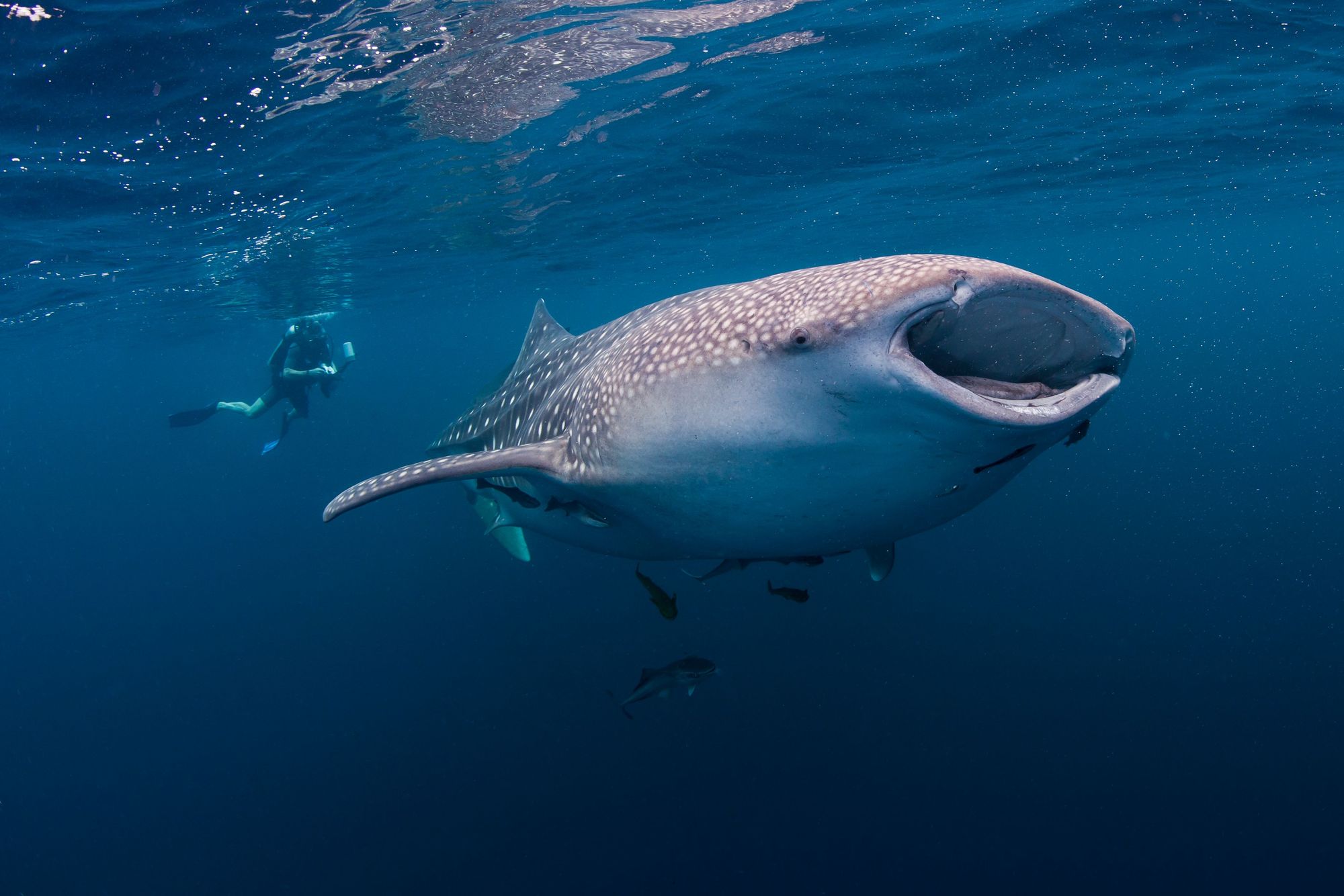 In total, there are around 2500 reefs, with some of the best for snorkelling being in South Ari, around Dhangethi, an island in the Alif Dhaal Atoll. You always have a chance of spotting whale sharks or mantas here - in addition to the colourful corals and exotic fish dotted around. It's world-class snorkelling.
Some of the other best spots for snorkelling in the Maldives include Banana Reef in Kuda Kalhi, where you can see Palette Surgeonfish (best known as the 'Dory' fish from Finding Nemo), as well as barracudas, giant squirrelfish and so much more. In HP Reef, at Malé Atoll, you can see vivid colours in what is also known as the 'Rainbow Reef', and at Manta Point, on Lankanfinolhu Island, you have a good chance of seeing - you guessed it - those beautiful manta rays.
3. Visit a reef conservation project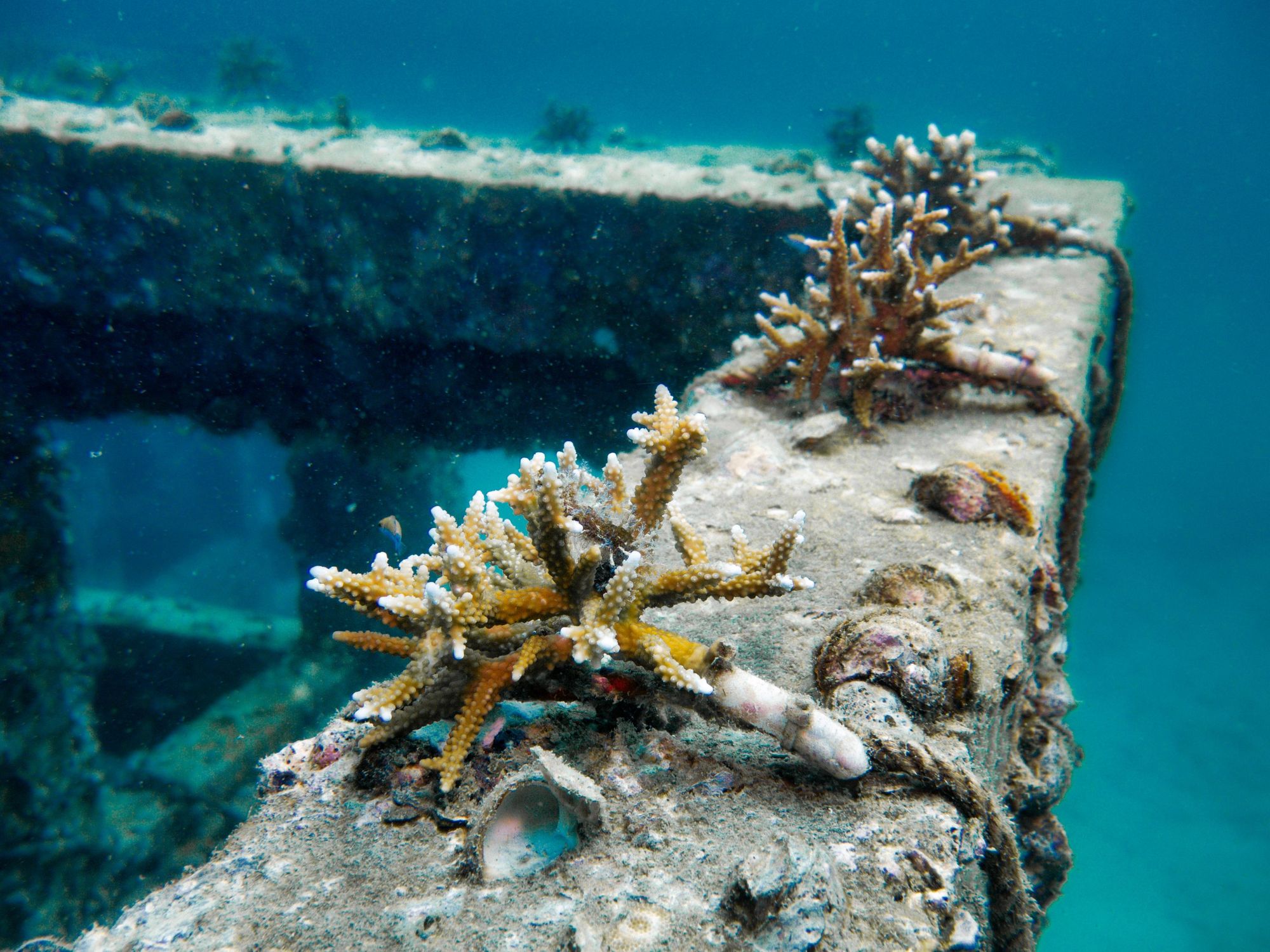 There are coral nurseries around the Maldives, which are conservation projects set up to preserve these wonderful marine environments. Once you've seen healthy coral up close under the water, why not visit one of these projects?
Visit Villimale with guides from Save the Beach Maldives, a local NGO, and you can learn about the challenges the archipelago faces from climate change, and how coral reefs can help. Then you can snorkel above a coral nursery, and contribute to the reef project.
This is just one example of the many conservation projects you can visit in the Maldives - making your tourist money work for the ecosystem as you do so.
4. Learn how the dhoni boats are built - and meet the local community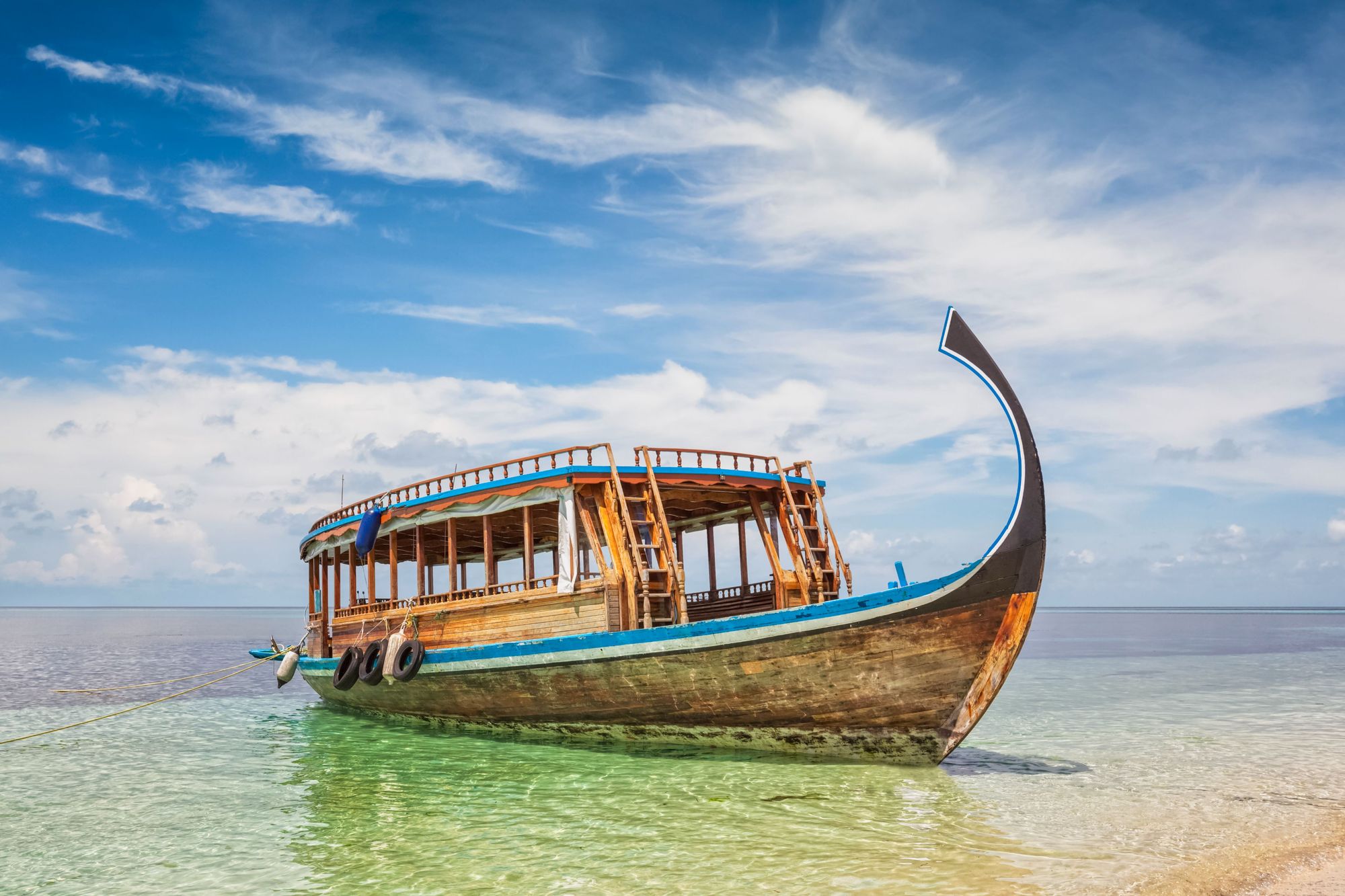 Travelling means discovering new cultures, and there's no better way to do that than by spending time with the local community. The rise in community-based tourism in the last 10 or so years here has really added to the cultural offerings.
One such example? The iconic Dhoni boats, which serve various purposes, from fishing to trading to ferrying people from A to B. These boats are traditionally made of coconut wood - this being the Maldives' most common tree, and renowned for its solidity. There are several islands in the Maldives where you can meet Dhoni boat-builders, and learn how these boats are made. It's a trade which goes back to the 11th century.
Afterwards? Stop at a local café for tea and snacks - known as hedhikaa - including bajiya (pastry stuffed with fish, coconut and spices) and foni boakiba (condensed milk cake). Go shopping, keeping an eye out for genuine Maldivian handicrafts. Maldivian craftsmanship has an outstanding reputation in the region for excellence, particularly for crafts involving the use of raw materials like coral, palm leaves, reeds, shells and wood.
There's a huge diversity of cultures which exist in the Maldives, so ask around about local island heritage - and embrace the results. The island of Hulhudeli in Dhaalu Atoll is well known for silversmiths, for example, and Gaddhoo in Gaafu Dhaalu Atoll is famous for intricate, handwoven mats.
5. Dive, or get your PADI dive certification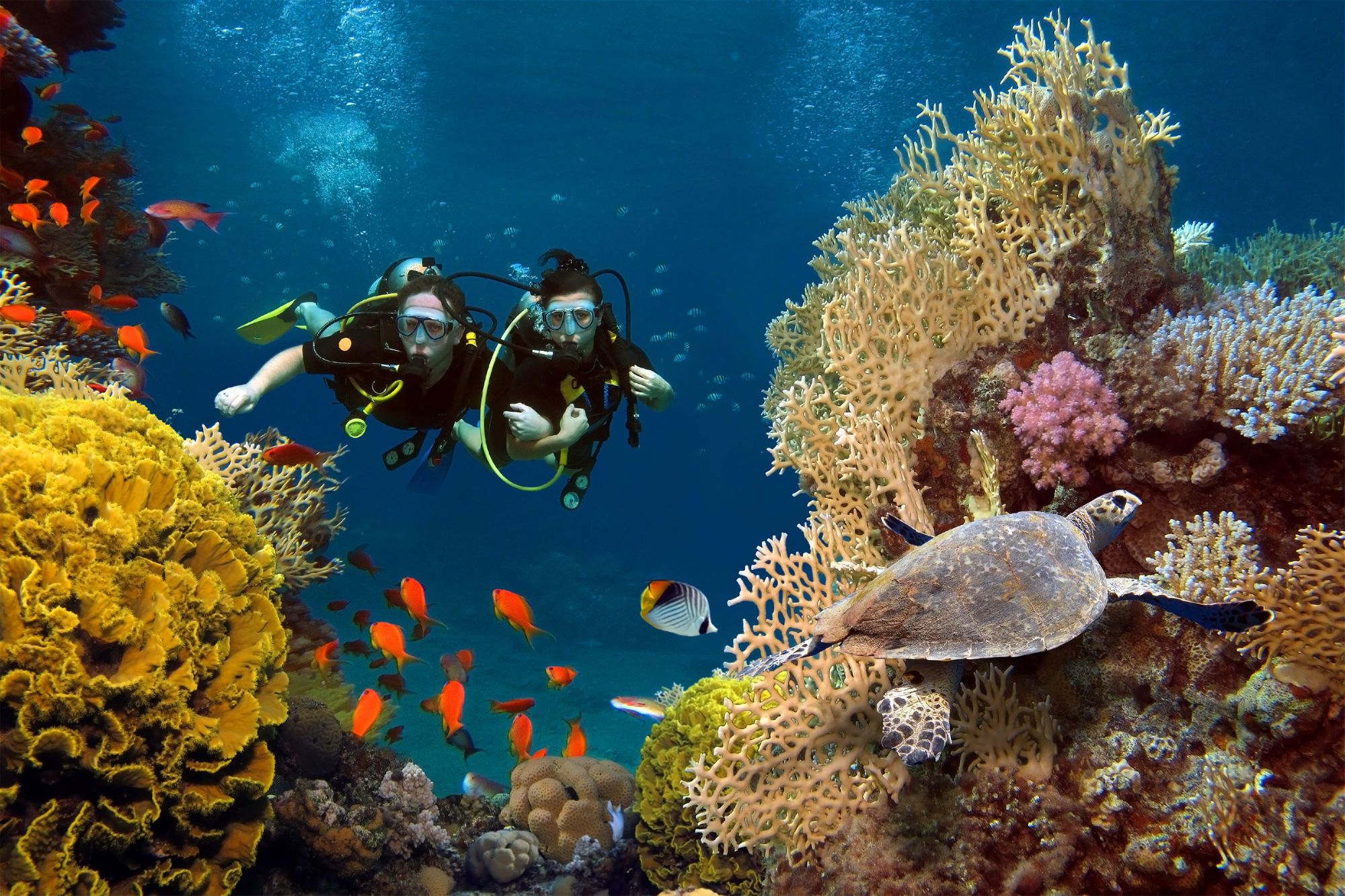 The Maldives is world renowned for diving. If you're relatively new to diving, you can stay around the shores, where the crystal clear waters are packed with pelagic fishes, and the sun and sand of the islands are never too far away. Slightly more experienced divers can head to the Thaa atolls to search for whale sharks, or to the Ari Atoll in search of mantas. Shipwrecks are waiting in the Lhaviyani Atoll, there are cliffs and caves beneath Gaafu Atoll and you can find hammerhead, tiger and thresher sharks, around Foahmulah and Rasdhoo Atoll.
The Maldives has intense sunsets - with deep shades of orange, red and purple.
One of the great things about the Maldives in general is that you don't need to work hard to see spectacular marine wildlife.
If you don't already hold a PADI diving certification, you can't go diving just yet - but you can book a Discover Scuba Diver experience, and start making progress.
6. Watch the sunset from a kayak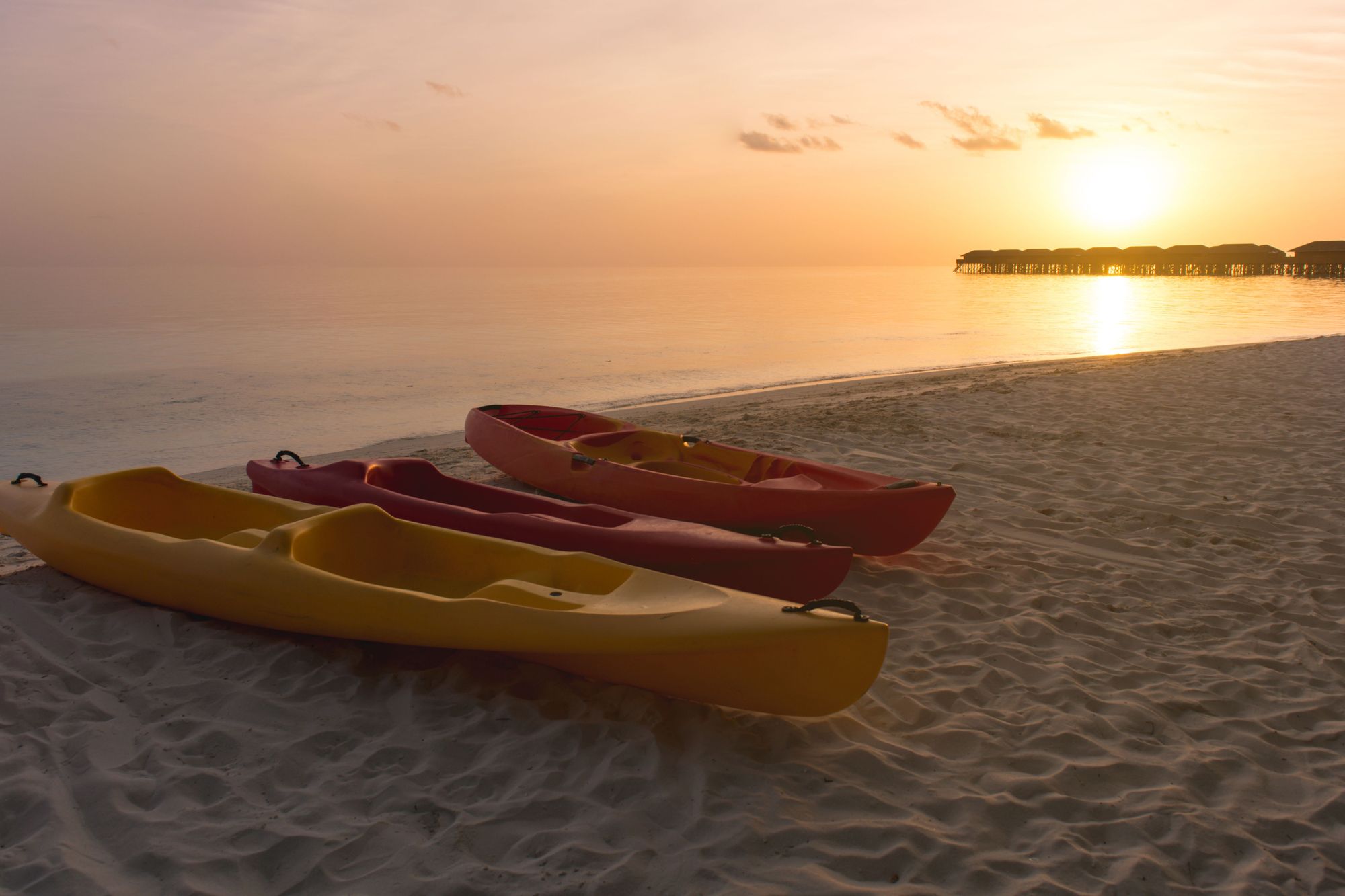 They say that paradise is just a paddle away, and when you've got a kayak (and you're in the Maldives), that's certainly true. To take you back to Dhigurah - a particularly nice area for kayaking given the length of the island - here, you can explore the huge turquoise lagoon, keeping an eye open for rare sea turtles, corals, starfish, molluscs and manta rays. Stay in the cockpit long enough, or time your trip right time, and you can watch the sunset over the water. The Maldives has intense sunsets - with deep shades of orange, red and purple.
7. Grab a surfboard or a stand-up paddleboard and explore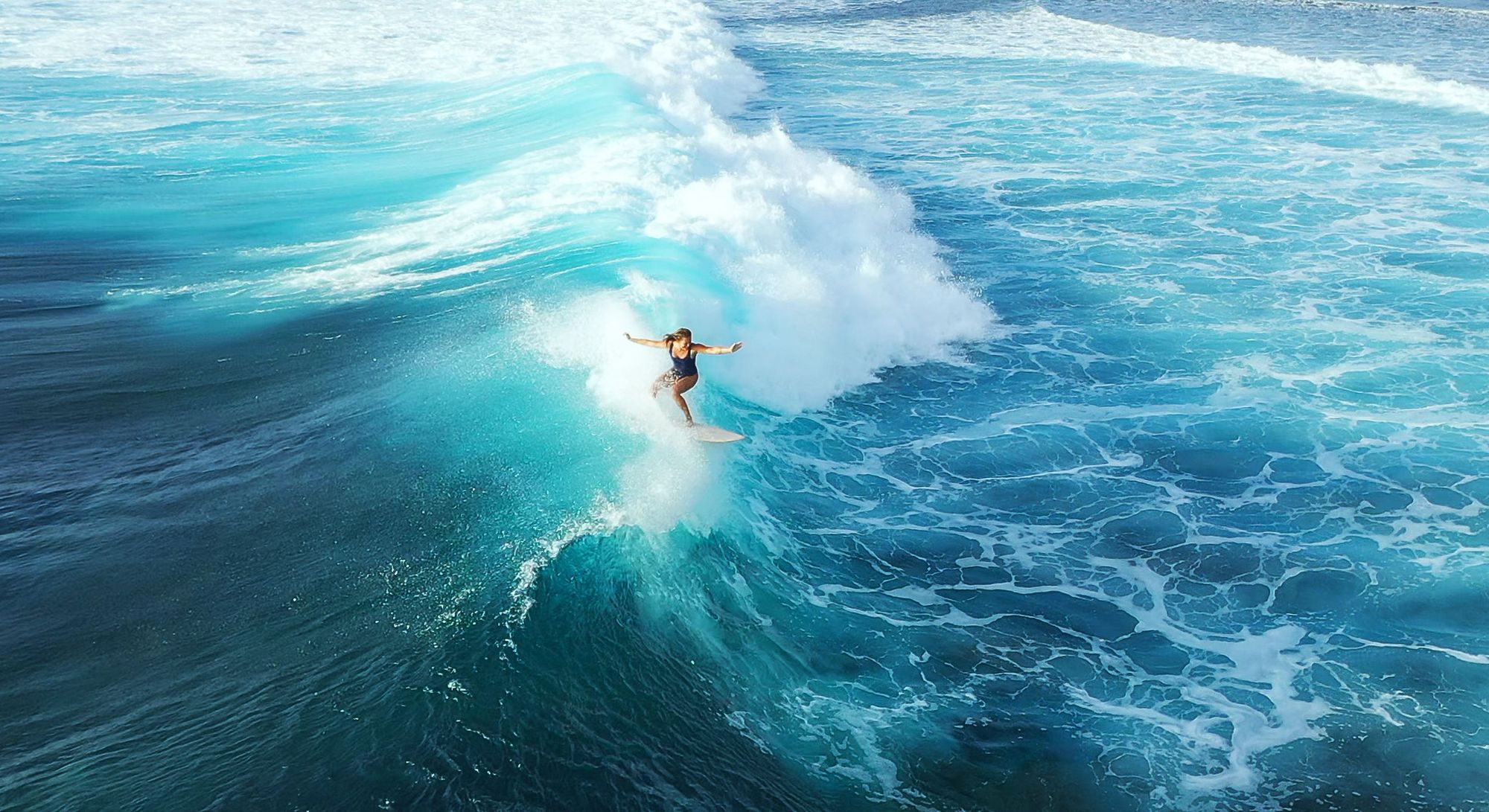 The calm waters near the shores of the islands make for great paddleboarding. It's a fantastic activity for those looking to relax, or take some time for mindfulness, while also still engaging with all of that marine biodiversity.
The Maldives really excels when you pick up a surfboard, though. This place is a surfer's paradise, often described as a relaxed version of Indonesia.
Your experience will depend on which one of the atolls you go to, but you can roughly break it up into north, south and central atolls. The north is slightly busier, but has great, frequent waves. The south is less busy, as it's further away from the populous Malé and the central atolls have fewer waves, as there's more islands to break them up, but you can find yourself out there in a line up of one.
The peak season for surfing here is really April to October, as the Maldives are in the middle of the Indian Ocean, meaning they don't get huge swells year-round. There are great local surfing instructors dotted around the islands.
Inspired? Check out our island-hopping adventure in the Maldives now!