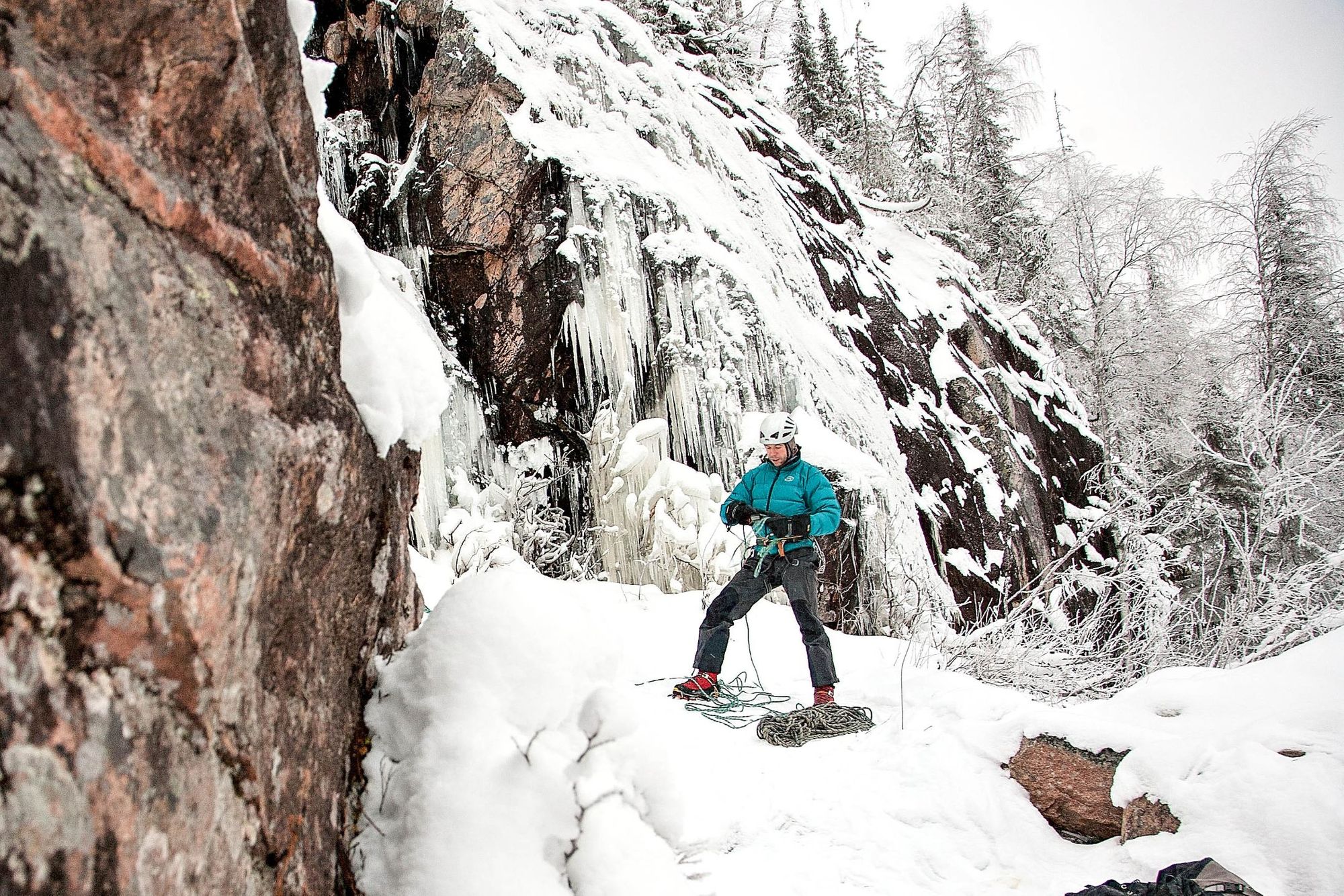 "The connection to Christmas is something very genuine here," says Artturi Kröger, an outdoor guide who lives in Pyhä, in Finnish Lapland, where frozen waterfalls are hidden amongst a maze of forests, weighed down by snow, and the aurora borealis colours the sky at night.
Outside of Artturi's house, a densely-packed pine tree forest sprawls, blanketed in white, fluffy powder, and inside, next to a roaring fireplace, one tree has been repurposed, covered in bright lights and topped with a star for Christmas.
Ice is alive. It changes everyday. It reflects the temperatures, the humidity and it's full of these highly individual parts; each with their own fingerprint.
"This is early for a Finn [to have their tree up]," Artturi laughs. "But I have a very Christmas-focused family. They would happily start celebrating Christmas in August. With a struggle, I'm able to push it back until around November."
It's all very cosy in here, but Kröger is no stranger to far more formidable environments. He's been climbing the frozen waterfalls of Finnish Lapland - and those further afield, from Norway and the French Alps to Kyrgyzstan and Nepal - for over 15 years. He's also a qualified instructor; guiding intrepid travellers up the falls, and on hikes through Lapland's enchanting winter forests, for a living.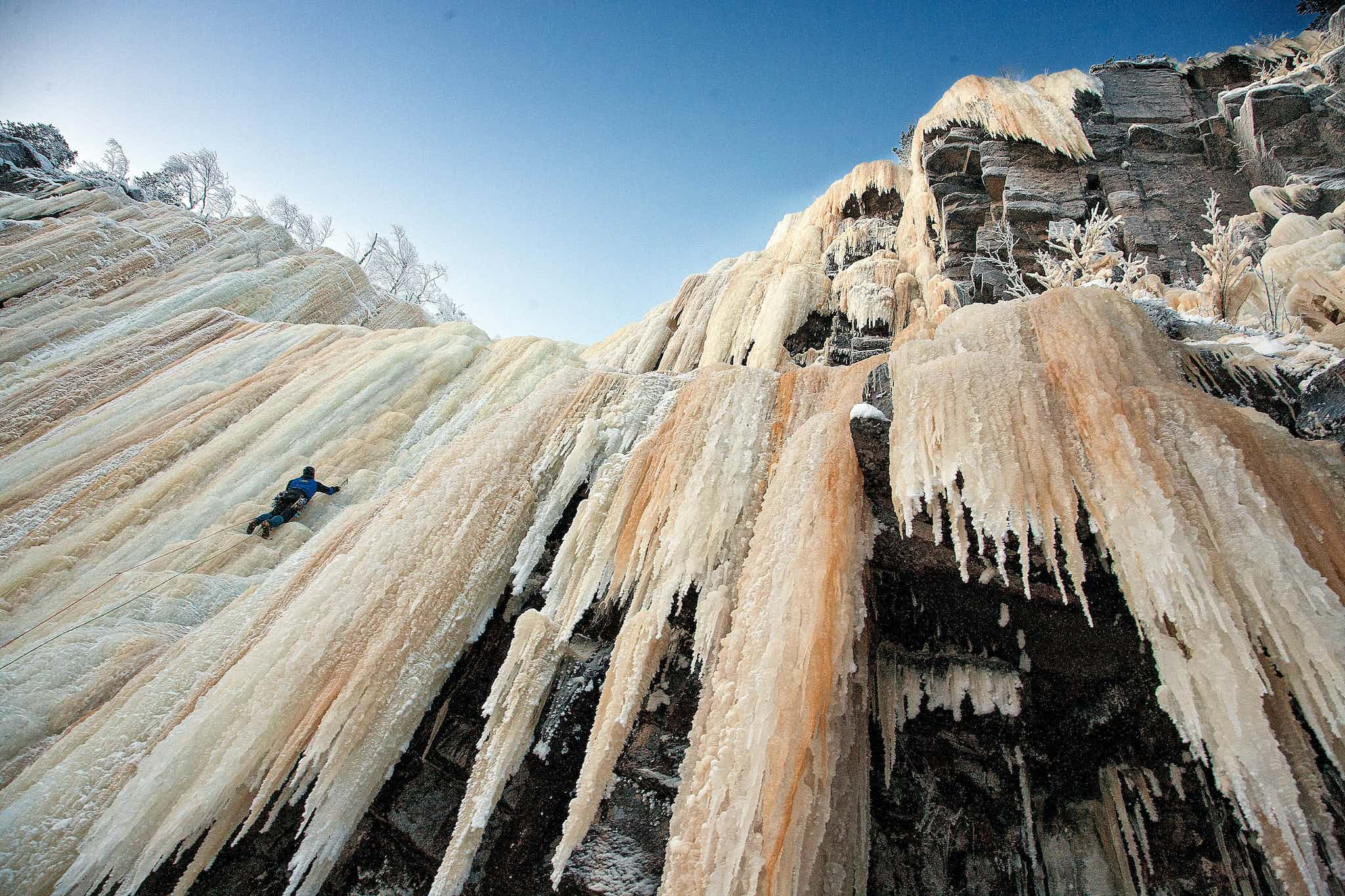 "Climbing is the story of my life," Artturi says. He finds a poetry in ice climbing.
"It's an ongoing dialogue with the ice. When you're rock climbing or climbing indoors, you have a fixed surface, but ice is alive. It changes everyday. It reflects the temperatures, the humidity and it's full of these highly individual parts; each with their own fingerprint. The shape and texture of the ice, whether you have hard or soft ice, all of this keeps changing move by move. So to be a good ice climber requires you to use all of your brain, and to constantly observe - scanning for the best natural placement for your ice axe and your crampons, and where you're going to kick your feet into the frozen wall. It's a beautiful thing."
It can reach -35°C and beyond during the Lappish winter (so you can see why Rudolph has that famous red nose), but you can dress for the cold. And there's something particularly meditative about being layered up all warm, and walking slowly through the snowy forests, with the only sound audible being that snow beneath your feet. It's quite the sight when the ice falls appear, too.
"These frozen ice walls are very visual," says Artturi. "It's just so different to what most people are used to. And it can be a little intimidating, but we explain the technique to people very carefully before they climb. It's all about how you use your own body. It's guys who tend to struggle more because they make it a pull-up rehearsal, while ladies are usually smarter, and understand that it's about pushing using your feet and legs, not pulling your way up using your arms."
It can help to think about the climb in philosophical terms. "It's not about violently bashing your way through the ice," says Kröger. "It's about becoming one with the ice. The water of a stream always finds a beautiful, natural way to come down a mountain. You can visualise yourself being like a stream, but moving up - finding the natural, organic way of moving."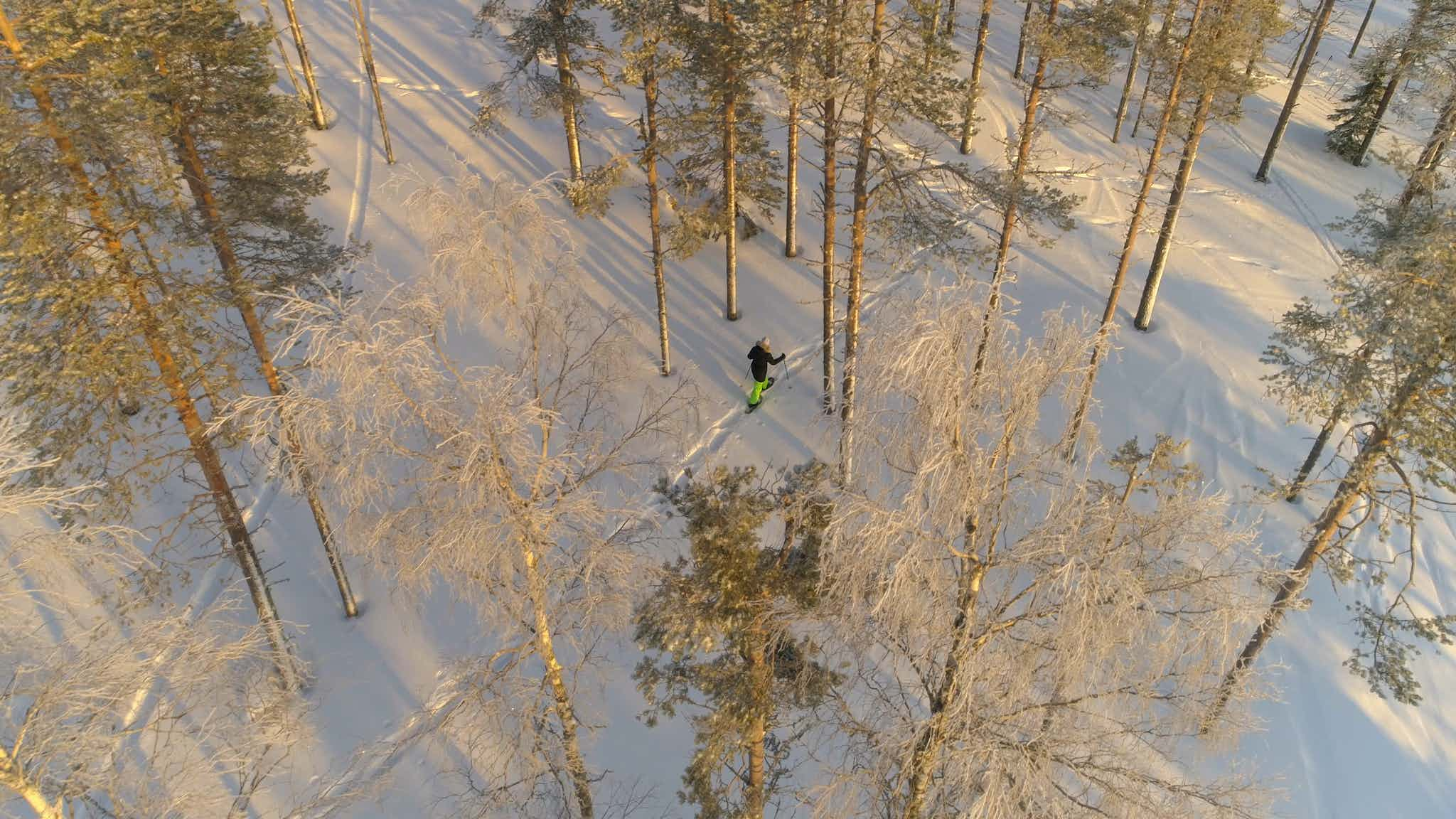 Lapland is an ice climbing haven and a snowshoeing dreamland; where you can weave in and out of thousands of pine forests and spruce valleys - through trees moulded into monsters by the weather. "A grown spruce can hold 4000kg of snow during winter," Artturi says. Still, most people don't think of all that when they link of Lapland. They think of Christmas. The two are intrinsically linked.
"Everybody knows that Santa comes from Finland and from Lapland," says Kröger. "And this isn't something created for international guests. It's something that is equally important for locals and families here as well."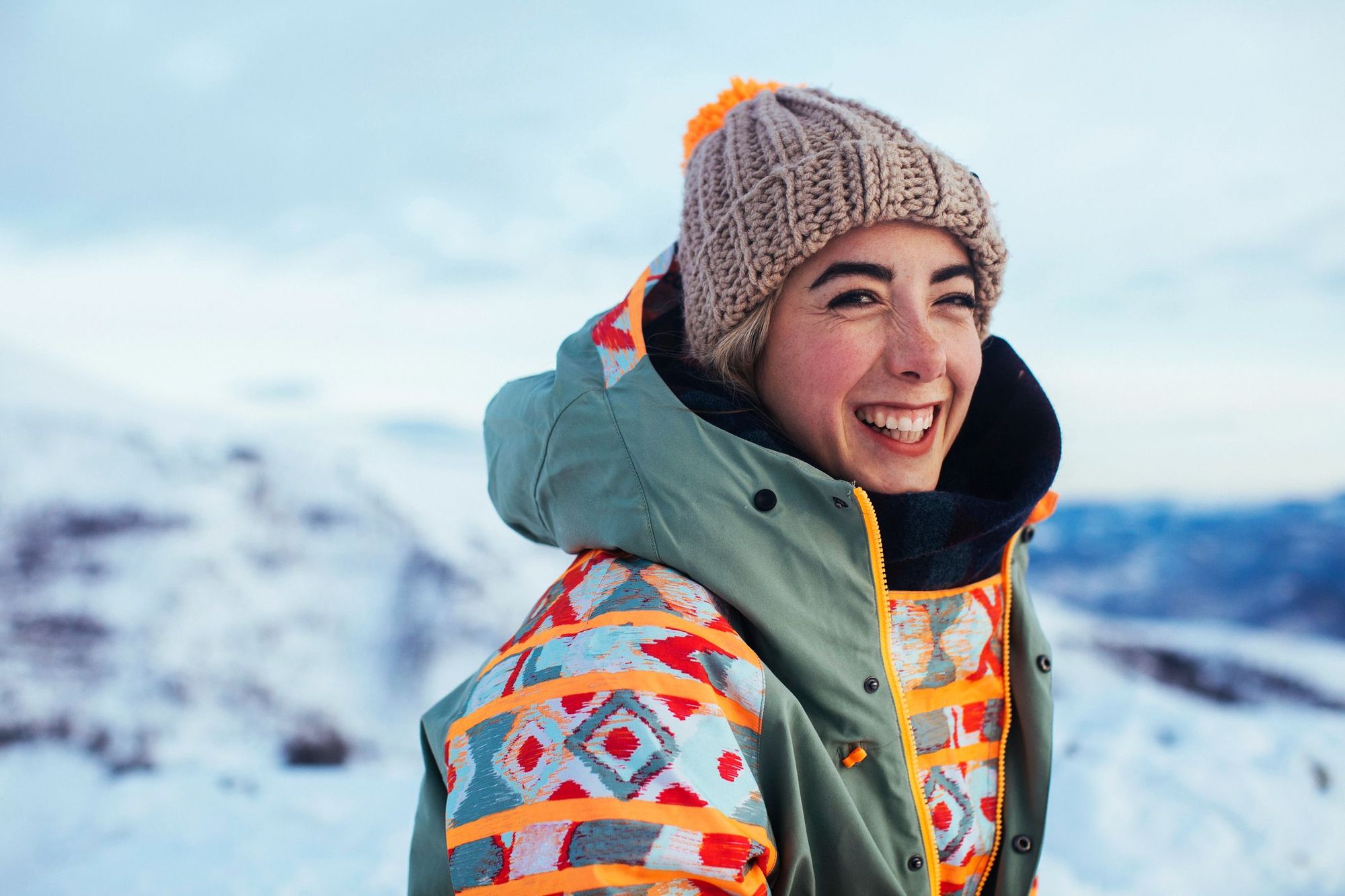 St. Nicholas, the generous third-century saint, actually lived in Turkey. The modern perception of Santa sitting out in the snow is widely-credited as coming from an illustration in Harper's Magazine in 1866, which placed him in the North Pole. In 1927, a Finnish radio broadcaster called Markus Rautio then declared on air that Santa's workshop had been found in a remote fell called Korvatunturi - 'Ear Mountain' - where Claus stayed and could hear all. It made sense. After all, there's no reindeer in Turkey, or the North Pole. There's a whole lot in Lapland.
"In this region there are more reindeer than people," Artturi says. "There are around 987 people here, scattered across 13 different villages, in the whole municipality - and it's not a small area. It means that we are half a person per square kilometre. So it's very small in terms of population, and it doesn't get too crowded here. There's a lot of space for reindeer to roam."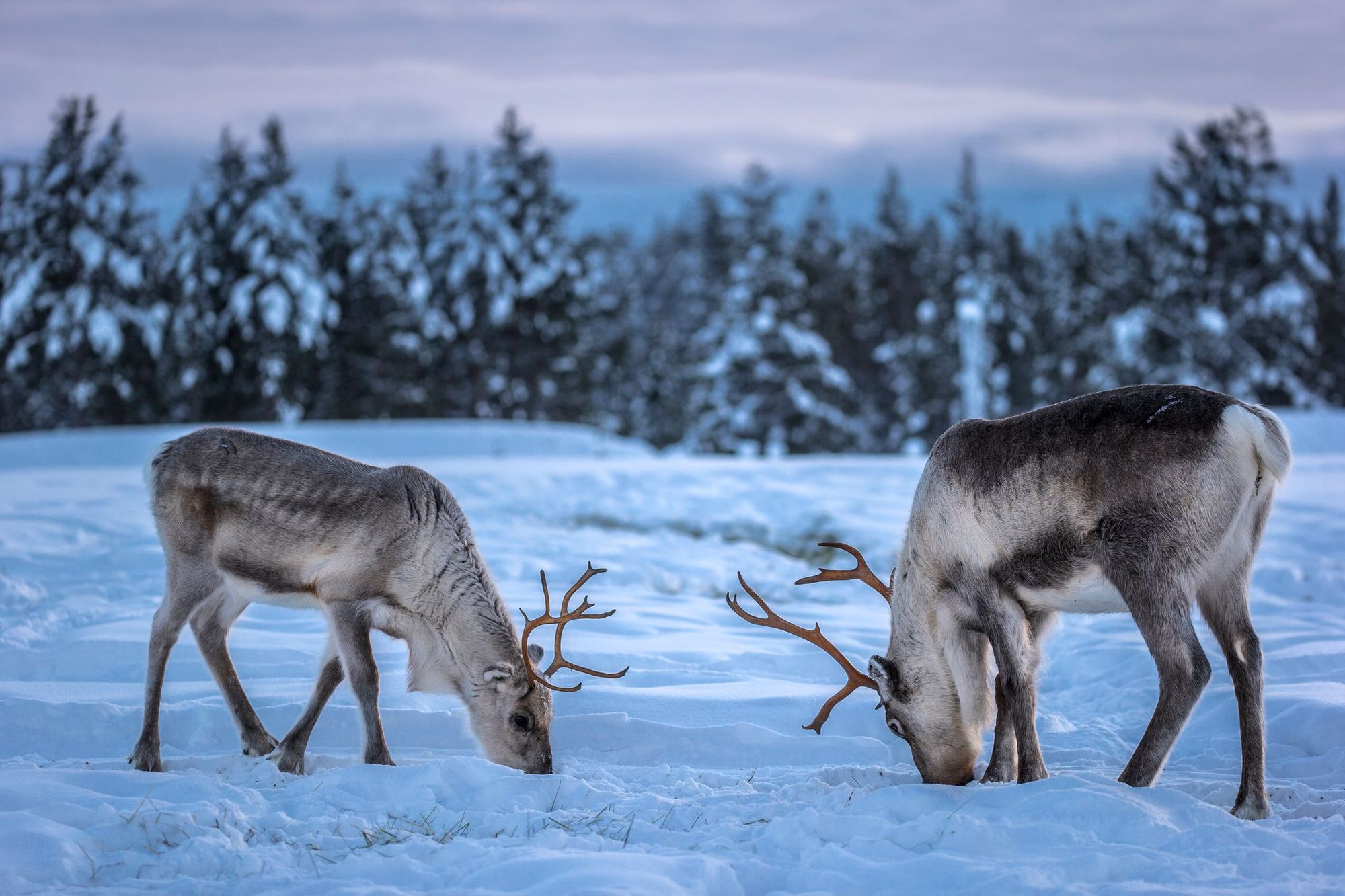 Finnish traditions around Santa Claus date back centuries.
During mediaeval times, the Finns used to celebrate Yule, a Pagan mid-winter celebration which included nuuttipukki; local men dressed up as goats (masks, horns and all) who would go door-to-door in the neighbourhood, demanding gifts or food and scaring children. St. Nicholas became known in Finland much later, around the 1800s, and it was then that these myths were combined to create Joulupukki, an all-round jollyer presence who handed out gifts to well-behaved kids, rather than giving them nightmare fodder. It was said that after visiting the children of the town, Santa would return to Korvatunturi - that Lappish mountain, and from there, listen out for who was naughty and nice.
You can read a book outside at midnight in June, July or early August...
"Korvatunturi is in eastern Lapland," Artturi tells me. "It's not too far from here, but it's not easy to get to. Even when you open a children's book, you can see authentic-looking illustrations of Santa's village there - but no roads."
It's owing to the difficulty of reaching Korvatunturi that Santa was kind enough to set up his official Santa Claus Village in Lapland in a more accessible location - Rovaniemi, the capital of Lapland. "It sits almost exactly at the Arctic Circle," says Artturi. "I usually go around once a year, and it's done very nicely. The buildings ooze with quality. I'd recommend it to any Christmas-minded person."
Rovaniemi is an area with a remarkable history of its own. It was bombed by the Russians and taken by the Nazis during WW2. The Finns drove the occupying forces out during the Battle of Rovaniemi in 1944, but the town was destroyed. There are still wartime battlements buried in the surrounding forests. Rovaniemi Airport - "the Official Airport of Santa Claus" - was once a base for the Luftwaffe.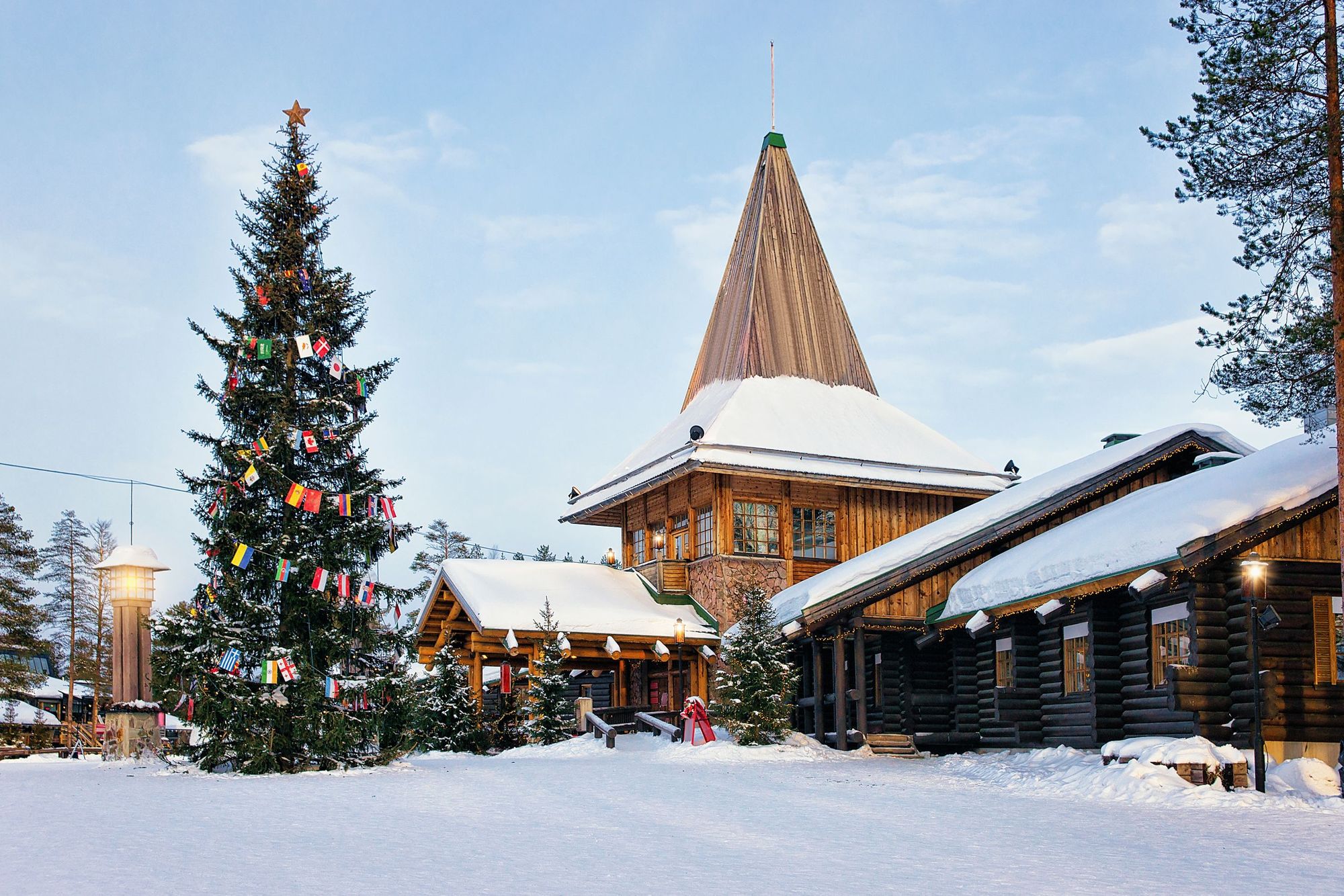 After the war, the town was rebuilt by the Finnish architect Alvar Aalto in the shape of a reindeer's head, and the region became a crucial part of the tourism push to help Finland's economy recover. Visitors travelled from near and far to experience the summer midnight sun - "it's true that you can read a book outside at midnight in June, July or early August," says Artturi - and to see the stunning snowy landscapes of winter, and the northern lights flickering in the dark.
Santa Claus Village opened in Rovaniemi in 1985. It's got its own post office, which receives over 30,000 letters a day during the holiday season.
Meanwhile, in the vast Lappish hills and forests beyond, things are calmer, and another type of tourism thrives, far from the crowds, in the silence of nature.
It was this environment that brought Artturi, and his friend Mikael Backman, to Lapland originally. "I think we both recognised this longing for peacefulness, and to discover a place for a good life," he says. "That meant settling in an area where it isn't too crowded, with very good access to nature."
The local water here is purer than you'll find in a supermarket, he says, and the air quality is second only to Antarctica. "The place is perfect," Artturi explains. "And there's a huge amount of trust and community, because people have leant on each other here, often in harsh environments, for generations."
Mr. Claus and his workshop are just one small part of this winter wonderland.
Inspired? Check out our Ice, Snow and Saunas in Finnish Lapland adventure, built and guided by Artturi Kröger and his team!