Hiking in Georgia can be a truly remarkable experience. The country is simply covered in mountains. Approximately 85% of the total land area of Georgia is mountainous. Which is crazy, right? That's 130,823km² of mountains in one country. Which, for those who failed mathematics class is… well, it's an awful lot of mountains. And an awful lot of mountains means an awful lot of hiking trails, which is why Georgia hiking tours are becoming more popular than ever before.
The best hikes in Georgia - the country, at the intersection of Eastern Europe and Western Asia, that is, rather than the US state - showcase the stunning heritage and culture of the country, which has grown from a foundation in Iberian and Colchian civilizations, whilst also immersing you in the dramatic landscape.
Georgia is home to the Greater Caucasus Mountain Range – one of the most formidable mountain ranges on planet Earth. It stretches for 1200km and can be split into the Western, Central and Eastern Caucasus. It includes numerous peaks over 5000m, so Georgia actually boasts some of the highest mountains in Europe. Shkhara, the highest point in Georgia, and a mountain on the Russian-Georgian frontier, reaches 5,193m. That's 382m taller than Mont Blanc in France. Basically, thanks to the Caucasus Mountains Georgia is a hiking haven.
With all that in mind, it should be no surprise to find out there's whole heaps of hiking in Georgia. People don't tend to know too much about the country either, so it still fits neatly into that oh-so-cliché category: "the hidden gem". With the wealth of hikes and trekking in the Caucasus, that's sure to change, but until then, keep hush and you might just have the trekking trails all to yourself.
Below, we've listed some of the best hikes in Georgia. Before that, though, here's a super speedy look at what the best time of year is to head west.
When to go hiking in Georgia and what about the weather?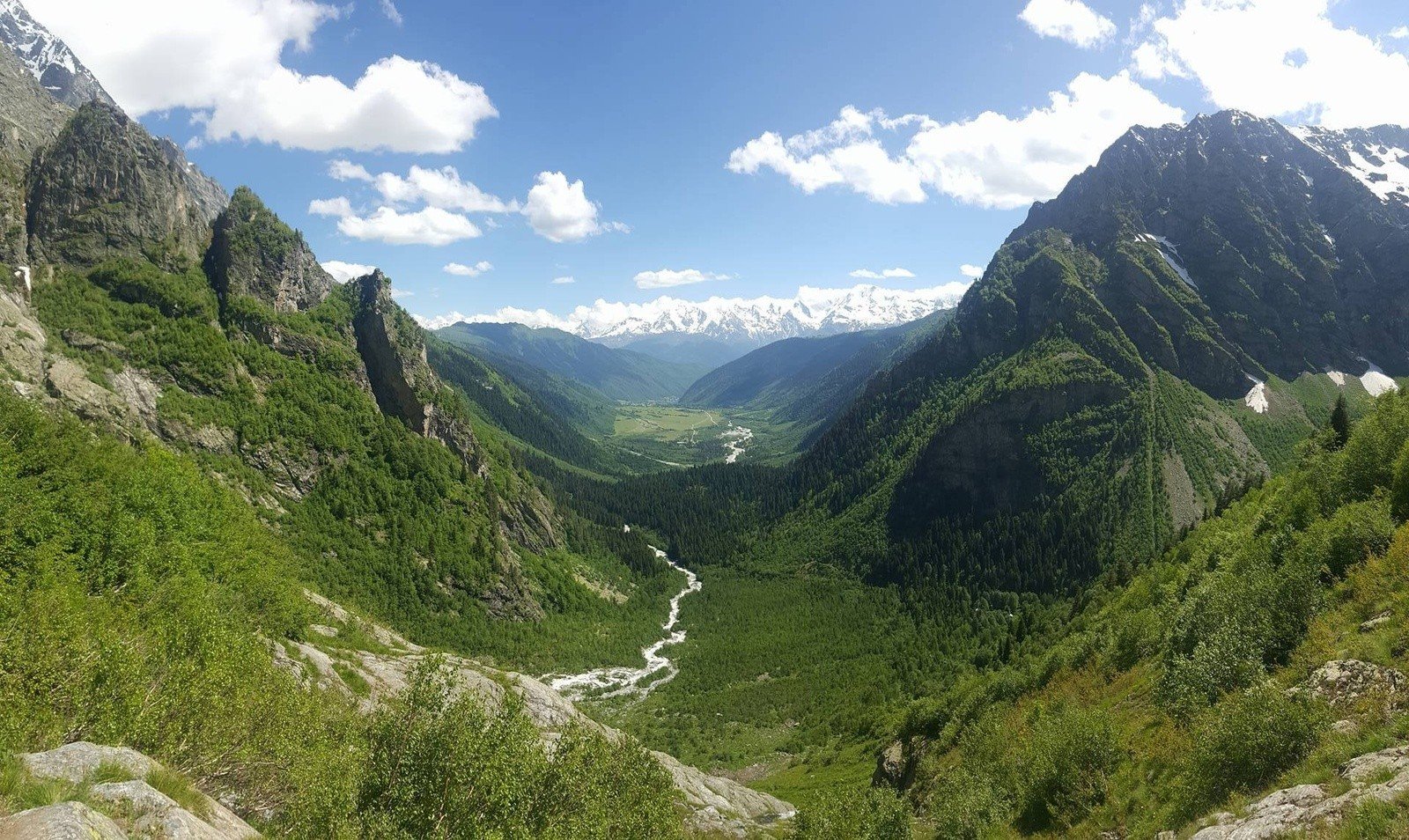 The late spring and early summer months are the best time to go hiking in Georgia. That said, the country remains popular for hikers right through to September. In July and August the trails can get extremely warm, while if you're heading to the Georgian mountains in winter time, you'd best bring your skis. Even in summer, snow remains on the higher mountains.
With mountains so high, the weather can change in an instant, so you really need to be prepared for every eventuality when you go hiking in Georgia. This means planning in advance, having the right equipment and knowing how to use it.
5 of the Best Treks in Georgia
1. Hike the Trails of the Borjomi-Kharagauli National Park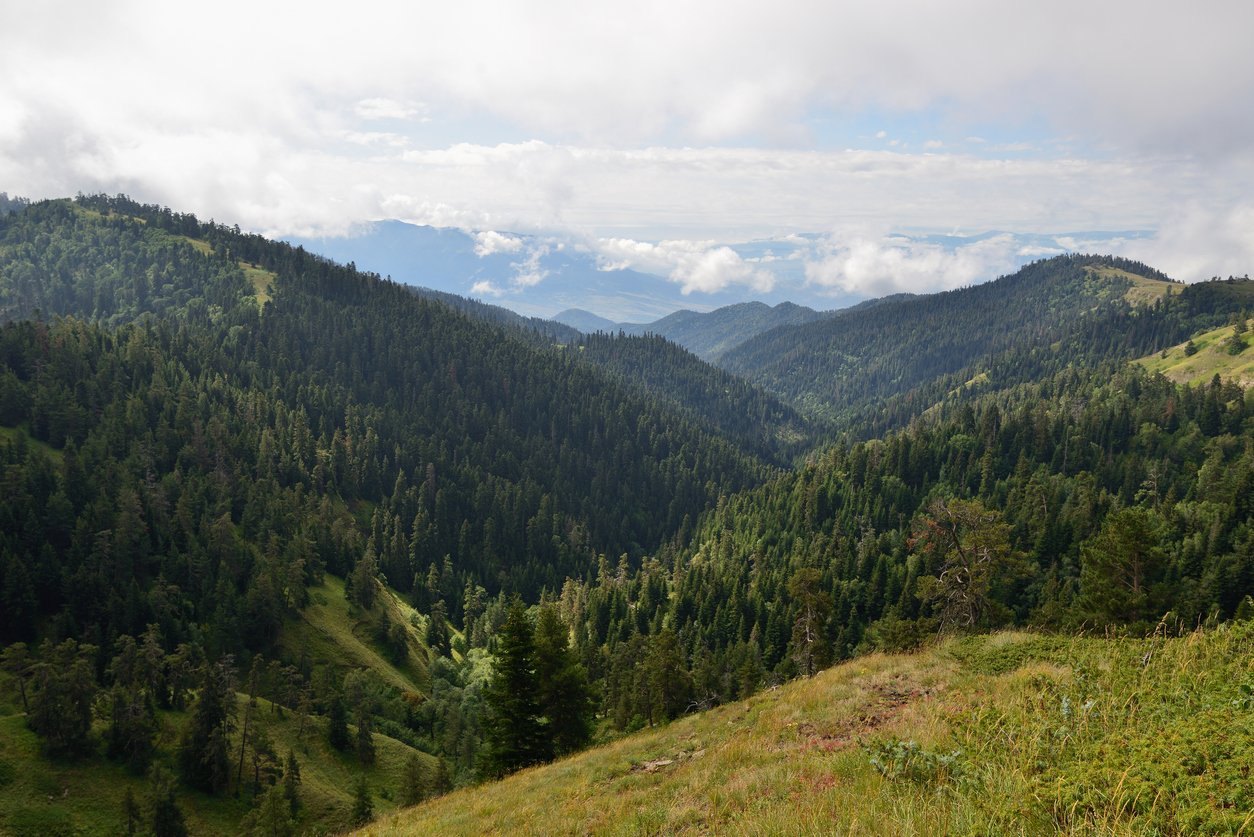 The Borjomi-Kharagauli National Park can be found in the Lesser Caucasus. The Lesser Caucasus are so named because they're smaller than the Greater Caucasus in terms of length and height. That said, the mountain range doesn't come with the inferiority complex the name might imply. The Lesser Caucasus are still about 310 miles long and have peaks reaching 4,090m. So it's a bit like calling someone small because they're three inches shorter than their seven foot tall brother. Both of them are still going to whoop your ass at basketball.
Borjomi-Kharagauli National Park is one of the largest national parks in Georgia at 851 square kilometres - so when you're looking at trekking in Georgia, there are a lot of options in this area alone. It covers more than 1% of the total land area of Georgia – and there are 12 tourist hiking trails which run through the park.
Below we've listed a few options. So yes, point one on our list is a small list of hikes in Georgia within a larger list of hikes in Georgia. It's like Inception, except that instead of breaking into Cillian Murphy's mind and planting the idea of dissolving a lucrative energy conglomerate, we're… talking about the best hikes in Georgia.
So maybe it's not that much like Inception after all. Maybe it's more like a Greater List of Hikes in Georgia and a Lesser List of Hikes in Georgia. That feels more appropriate. Now, here are some hikes in Borjomi-Kharagauli National Park: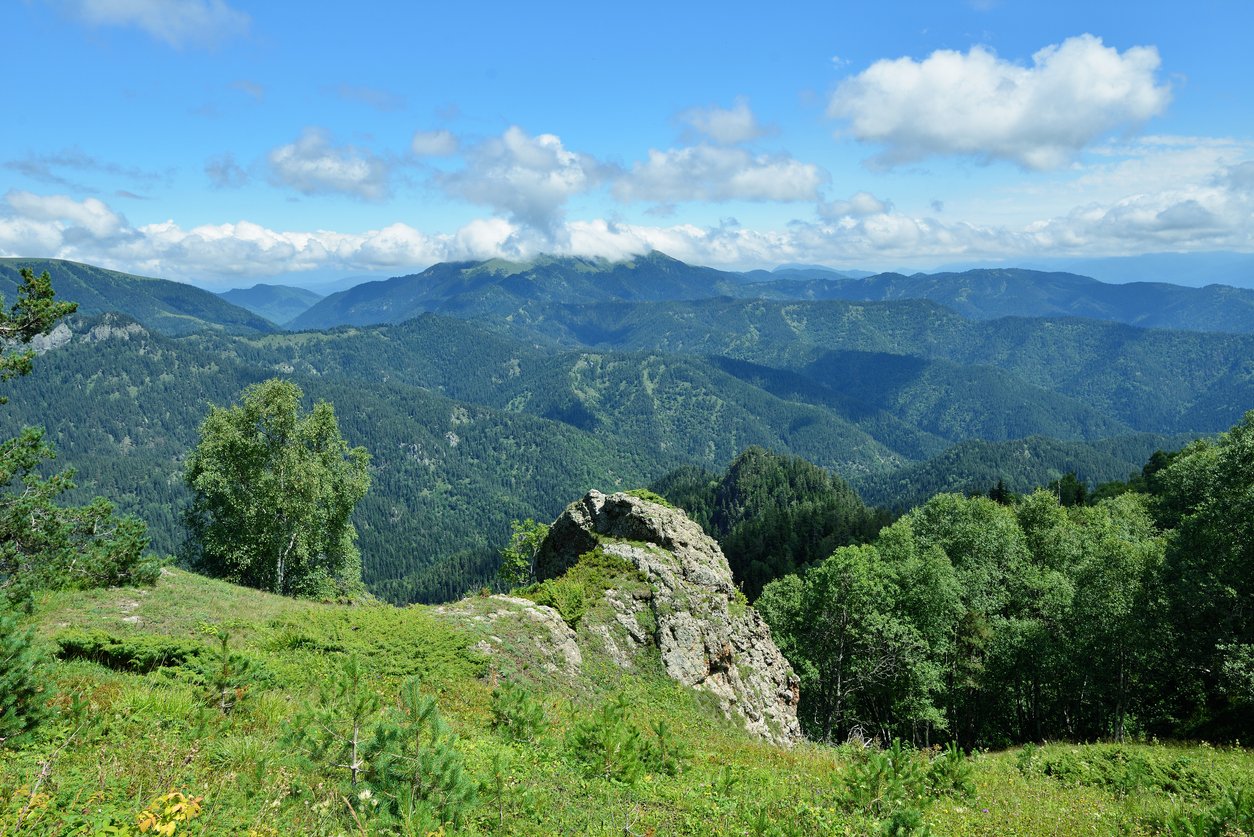 Nikoloz Romanov's Trail: 43km, three days. A route which crosses the park from Likani to Marelisi. This trail follows subalpine meadows before flowing into the Colchic sub-tropical forest zone and staying at shelters along the way. This is a great hike for less experienced hikers in Georgia who are still looking for a big challenge and a multi-day hike. It rises to more than 2,000m above sea level at times, so it's certainly no walk in the park.
Panorama Trail: 34km, two days. Starting at Atskuri guard station, this hiking trail takes a circular route round the Borjomi-Karagauli National Park and includes a stay at a summer cabin along the way. Another great option for those newer to hiking, this is a great way to see the biodiversity of Georgia and earn some stunning views as you go. If you're lucky, you might even see some wolves or bears.
The Shepherd's Trail: 54km, three days. Passing Lomistmta, Giorgi church, Shepherd's cabin and beautiful panoramas of the Caucasus, this is a beautiful hike through Borjomi-Kharagauli National Park. Starting in the Likani River valley (valley being the key word there, don't start in the river), hikers ascend to the Lomismta tourist shelter, 1800m up. It's around a six hour hike. On day two you head to the Amarati tourist shelter via panoramic views, and on the final day it's back to Atskuri guard station.
The Agency for Protected Areas in Georgia has more detail on each of these hiking routes, and the others which run through Borjomi-Kharagauli National Park. It's a great resource if you're going to be looking at Georgia hiking.
2. Hike from Adishi to Ushba Waterfalls (via Ushguli & Shkhara Glacier)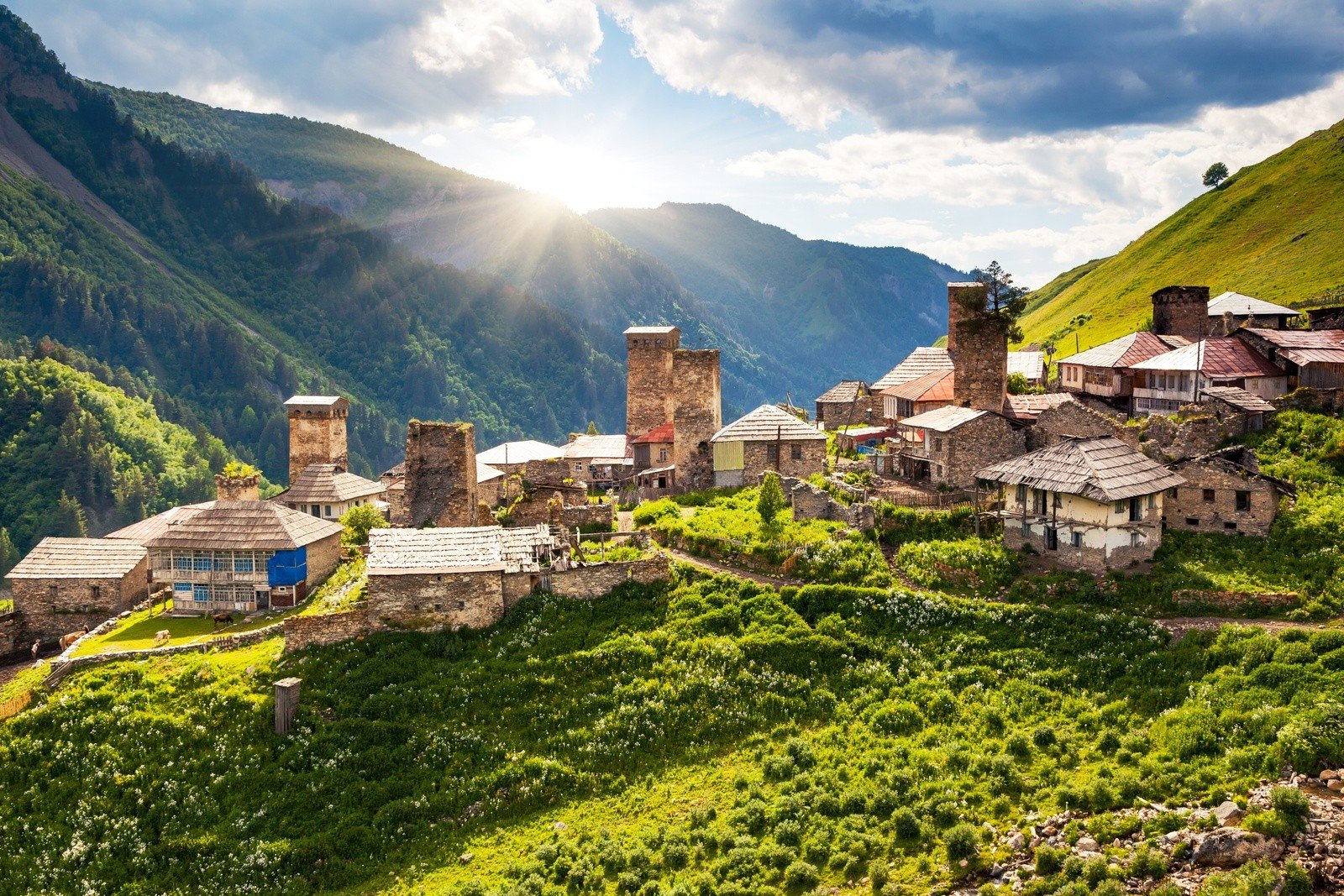 If you want to see the full diversity of nature in Georgia in the space of a week, then this is the trek for you. The journey starts from a guesthouse in the heart of Svaneti. Next you journey into the mountains via local markets and traditional lunch spots, then visit the second highest arch dam in the world. It's called The Enguri Dam and it has a wall that spans a massive 271.5m. It's also surrounded by beautiful green hills on every side. This is all before you've even got started with the hiking.
The actual hike starts from the ancient village of Adishi. You'll walk through meadows and forests under the 4858m Mount Tetnuldi and pass more scenic views than you can shake a camera phone at. This is hiking in Georgia its best. The Adishi Glacier will take your breath away, Chkhutnieri pass is the perfect lunch spot and there's history in abundance along the way – not least at Ushguli, a settlement at 2000m which is both a UNESCO World Heritage Site and one of the highest continuously inhabited settlements in all of Europe.
The stunning Ushba waterfalls are accessible through a challenging hiking route from the foot of Mount Ushba. Eventually, you'll complete your trek in Becho before driving back to Kutaisi to explore the cobbled streets. Want to go hiking in Georgia and properly explore the country? This is the trip for you.
3. Hike from Matskhvarishi to Lentekhi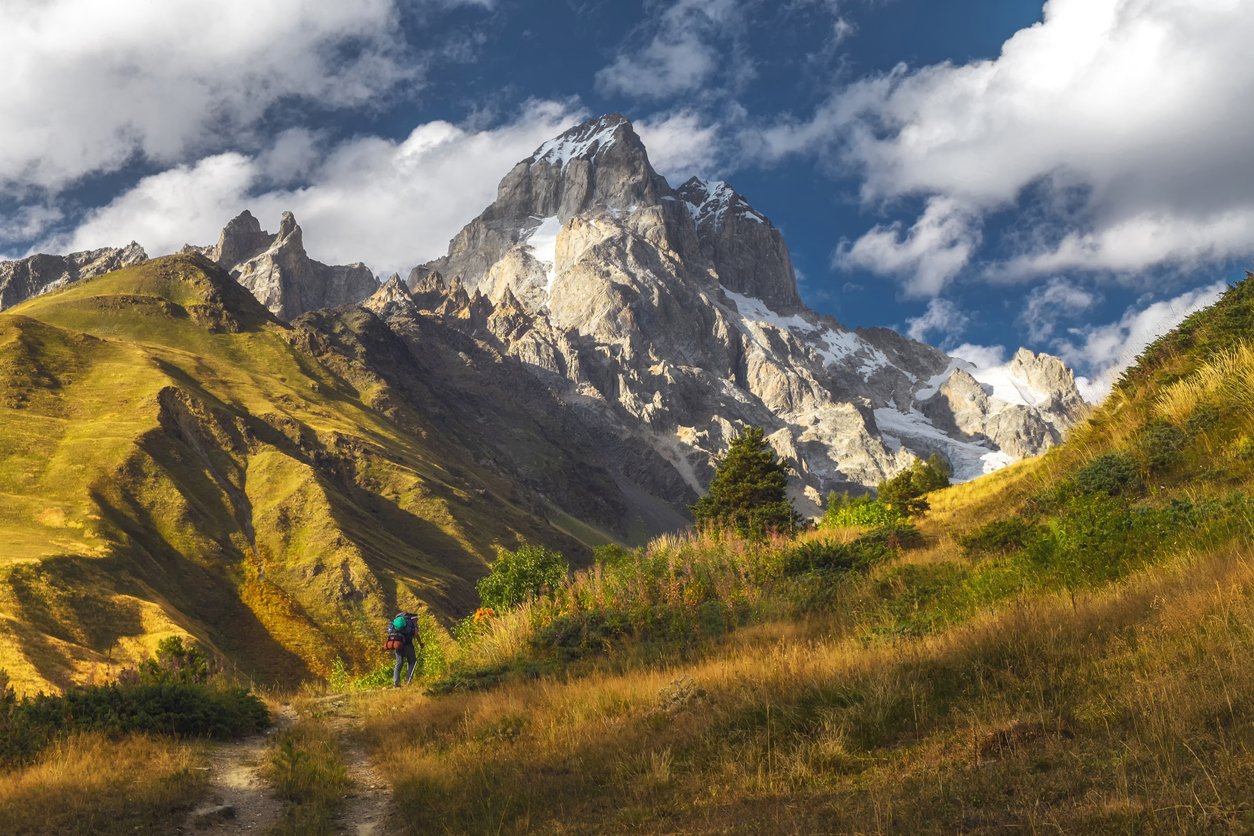 The Matskhvarishi to Lentekhi trail to is a beauty, but you'll want to be fond of a climb or two. The 27.3 mile journey has an elevation gain of 3,842m along the way, dropping 4426m in return. To describe the route as in any shape or form flat would be a bit like describing Godzilla as a large cockroach. It's a bit of an understatement. That doesn't mean the hike is for experts only, though. When broken down, it can actually be a really manageable and beautiful hike.
This is typically a three-day excursion. Day one starts in the village of Matskhvarishi and rises to St. George Church of Lahili. The next segment is a little more challenging as you head to the Church of St. Michael. The views from here are near unbeatable, though. You can look out over everything from Ushba to Tetnuldi, two stunning peaks. You'll walk onwards to reach your camp after a day of around 12km and six hours.
Day two is around the same distance, but maybe takes a little longer. This is because you're heading to the highest point of the route – Mount Chkeeru. It's up at 3587m, so you can expect some snow on the ground. You'll next descend to Kvemo Svaneti and Laskadura Gorge and head to your accommodation. Day three sees you descend back down to Lentekhi in a long slog. It's over 21km and will take the best part of nine to ten hours. It's not nearly as challenging terrain as the previous, day, however.
4. Climb Mount Kazbek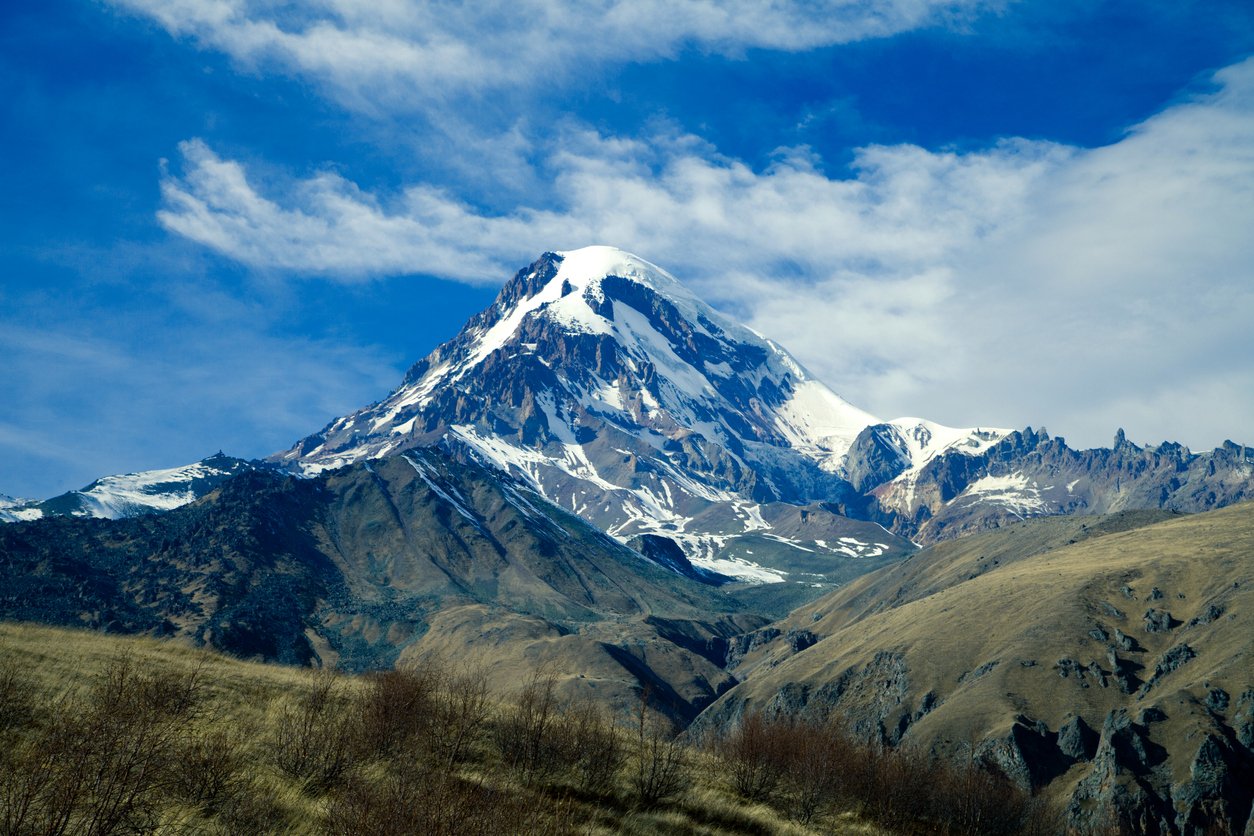 There's a good chance that you're coming into this article without much background knowledge on Georgia hiking tours. But if you want to throw yourself in at the deep end, then this might be the trek for you. As you've probably garnered by now, there are a lot of mountains in Georgia. Like, a lot. And most of them are extremely high, too. So why not make your first hike in Georgia a good one?
Mount Kazbek stands tall at 5047m - it's one of the highest mountains in Europe. That's almost four times the size of Ben Nevis, the highest mountain in the UK. Kazbek is the highest mountain in Eastern Georgia. That means that climbing it is not easy. It's a four day trek and it can be very physically demanding. But it's non-technical and doesn't require any previous mountaineering experience if you go with a good mountain guide.
The trek starts from Gergeti Trinity Church (pictured below) at 2150m, one of the most famous landmarks in Georgia, perched on a hilltop with a stunning backdrop of fierce mountains.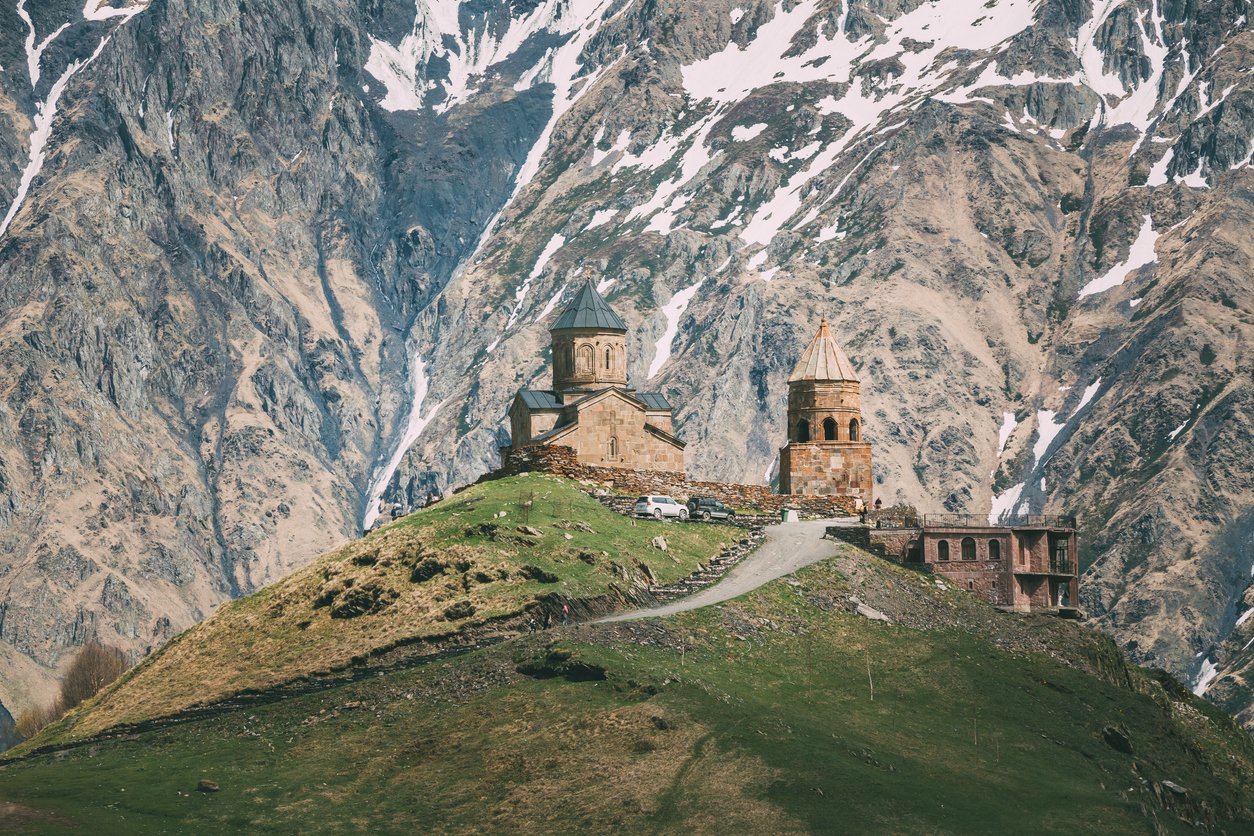 From here it's a steep ascent to the Arsha pass, with views of Gergeti glacier, and then onto Meteo Station at 3600m. You'll spend a day acclimatising here, before heading to the summit of Mount Kazbek the following day. Be aware, good weather is required and you'll have to get up about 2am to set off. This is not one for the faint of heart.
The summit is a challenging 9km trek on narrow paths, often over snow or ice. It only gets tougher the closer you get to the top as well, but eventually… you'll get there. And you won't forget it in a hurry. Descend safely and the day should be about 11 hours of trekking, with an ascent and descent of 1147m each way.
You'll have earned remarkable views of Georgia en route and you'll also be able to say that you've climbed a 5000-er. There aren't a lot of people you can say they've done that. Check out our tailor-made climb up Mount Kazbek, with spots still available for 2020, if you're interested.
5. Hike from Upper Svaneti to Racha
This route is part of The Transcaucasian Trail – a small jaunt across Georgia and Armenia that comes in around 3000 miles long. This segment of the Transcaucasian Trail is a lot more manageable than its eye-boggling parent, though. The route through Svaneti should take around 10 days, according to the guide provided by the trail.
Those 10 days are divided up into five sections. You go from Chuberi to Nakra, Nakra to Becho, Becho to Mestia, Mestia to Adishi and finally, from Adishi to Ushguli.
The trail crosses five major passes along the way, meaning the landscape changes quickly and frequently along the way. Deep, forested valleys will span out before you, rivers rush by and alpine meadows sprawl out for kilometres. All of this beneath or alongside the ferocious peaks and stunning glaciers of the Greater Caucasus.
It's worth noting that because of the altitude involved, it's worth thinking about altitude sickness, and building up gradually on this hike – and indeed on all hikes in Georgia. It should also be noted that the route doesn't become snow-free until July. The Transcaucasian Trail provide an abundance of detail on this route, giving stage by stage guides and a KMZ map you can utilise for the trek.
Inspired? Check out our diverse range of hikes in Georgia, from four-day treks to week-long hikes and mountain climbs.