So you've booked your kayaking trip to Norway, and now it's time to pack your bags. It's now that excitement about the upcoming trip might veer slightly towards panic. Is your warm jacket going to be warm enough? What shoes are you going to need for kayaking? And surely, surely, there's something you've forgotten.
We are going to allay that panic slightly by providing you with a kayaking packing list for Norway (and beyond, obviously). It includes everything you'll need on your trip, plus a few optional extras.
Of course, a kayaking expedition can be an overnight or a week-long affair. This kayaking trip packing list has been designed for a four day trip, including two days of paddling with a day hike in between. If you're going to be travelling for longer, alter the list accordingly - you'll need more t-shirts and socks, for example. Having enough dry socks is as vital to trip success as taking enough snacks is.
Your Packing List
Your packing list for Norway needs to include the following:
Kayaking equipment:
A sea kayak, paddle and spray deck
Paddle jacket with hood and reflective strips
Life jacket
Sleeveless long john neoprene wetsuit and neoprene booties
Waterproof case for your camera/phone (various sizes available)
22-litre drybag plus plastic bags for extra items if needed
If you're travelling on a guided trip, chances are that everything on this sea kayaking packing list will be included. But to assume 'makes an ass out of you and me', so if you have any doubt about what's provided, reach out to your trip host and ask. Of course, if you're an experienced kayaker, you might have your own trusty equipment that you'd like to bring along instead (such as neoprene booties).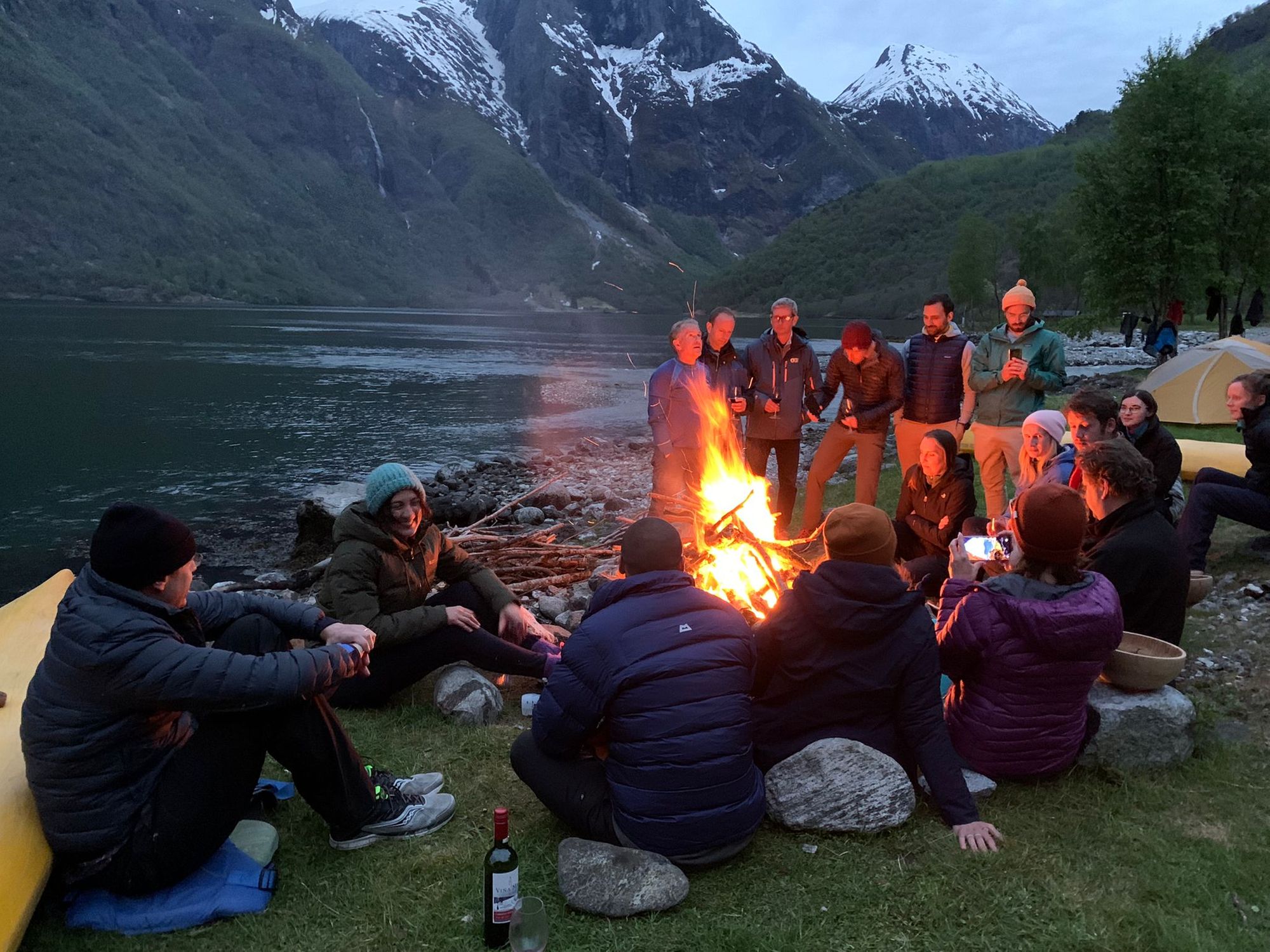 Camping equipment:
Tent, cooking gear and crockery
Sleeping bag
Sleeping mat (foam)
Again, your trip host will likely be able to provide you with basic camping gear. You can, of course, easily transport your own mat or sleeping bag to Norway with you, though. If you're going to be travelling independently, we recommend checking out outdoor gear rental services from brands such as Rab and Picture.
Norway packing list
Rucksack for hiking (20-25 litres, without a frame so it can be packed into the kayak)
Waterproof jacket with hood for hiking
Warm clothes for evenings at camp: long trousers, fleece, warm jacket
Base layers
Worn in waterproof hiking boots or hiking shoes
Hiking socks
Swimwear and/or rash vest (something to wear under the wetsuit)
Flip flops/sandals or light trainers for camp
Thin gloves
Beanie
Sunhat
Sunglasses (ideally with a retainer strap)
Sunscreen
Small travel towel
Refillable water bottle
Toiletries
Personal medication if needed
Antihistamines/bite relief
Head torch
Personal snacks
Optional, but recommended:
Sleeping bag liner (recommended)
Gaiters
Waterproof trousers for hiking (recommended for early/late season departures)
Walking poles (optional, lightweight and collapsible)
What to Wear Kayaking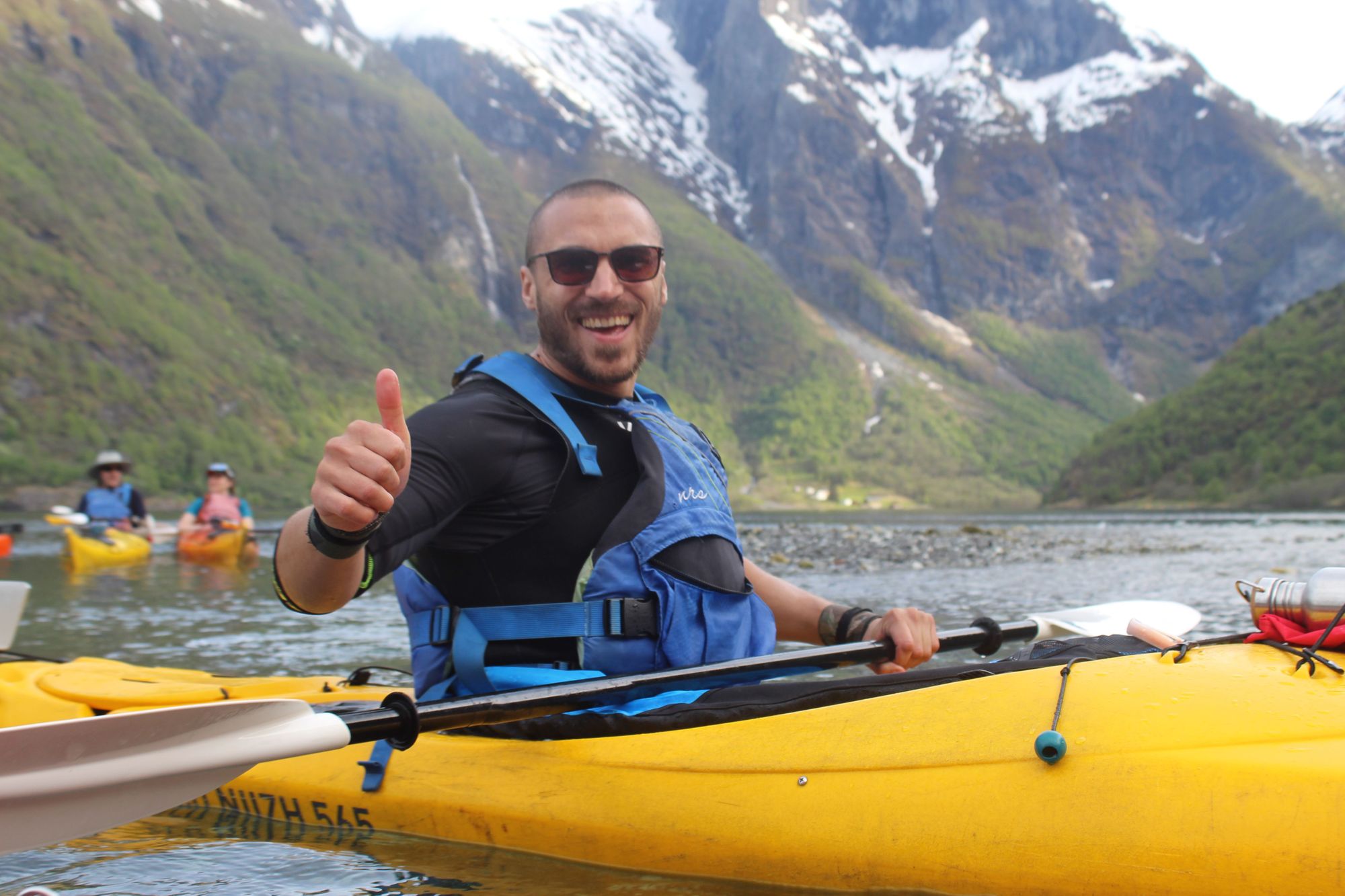 When you're out kayaking on the Norwegian fjords, you'll experience all sorts of weather, from radiant sun to driving rain (sometimes in one weekend). In the rain, your spray jacket and neoprene will keep the water out, but you might want some extra layers to keep out the cold. We'd recommend wearing a merino base layer under your wetsuit, and perhaps even a microfleece over the top.
On sunny days you might end up taking off your spray jacket, and just wearing your sleeveless wetsuit. If you're doing this, make sure you frequently apply sun cream - the sun's rays reflect off the water and mean you're more likely to burn. Make sure you wear a peaked cap for the same reason (or a warm beanie on colder days).
Under your wetsuit you'll need to wear a swimming costume or shorts and a t-shirt. Men can wear swimming shorts or even boxers, and we'd recommend bikinis for women - if you wear a swimming costume and need to disrobe for the bathroom at lunchtime, you're going to end up topless! There'll be secluded places to pee (and maybe even long drop toilets), but even so…
On long kayaking trips, you might find your hands and feet get cold. We recommend warm, waterproof gloves. You can also wear socks under your booties - we highly recommend picking up a decent pair of waterproof socks.
We also can't stress how important it is to pack warm clothes, both for your overnight camp out and for hiking the fjords the next day. We were tramping through snow when we visited in May!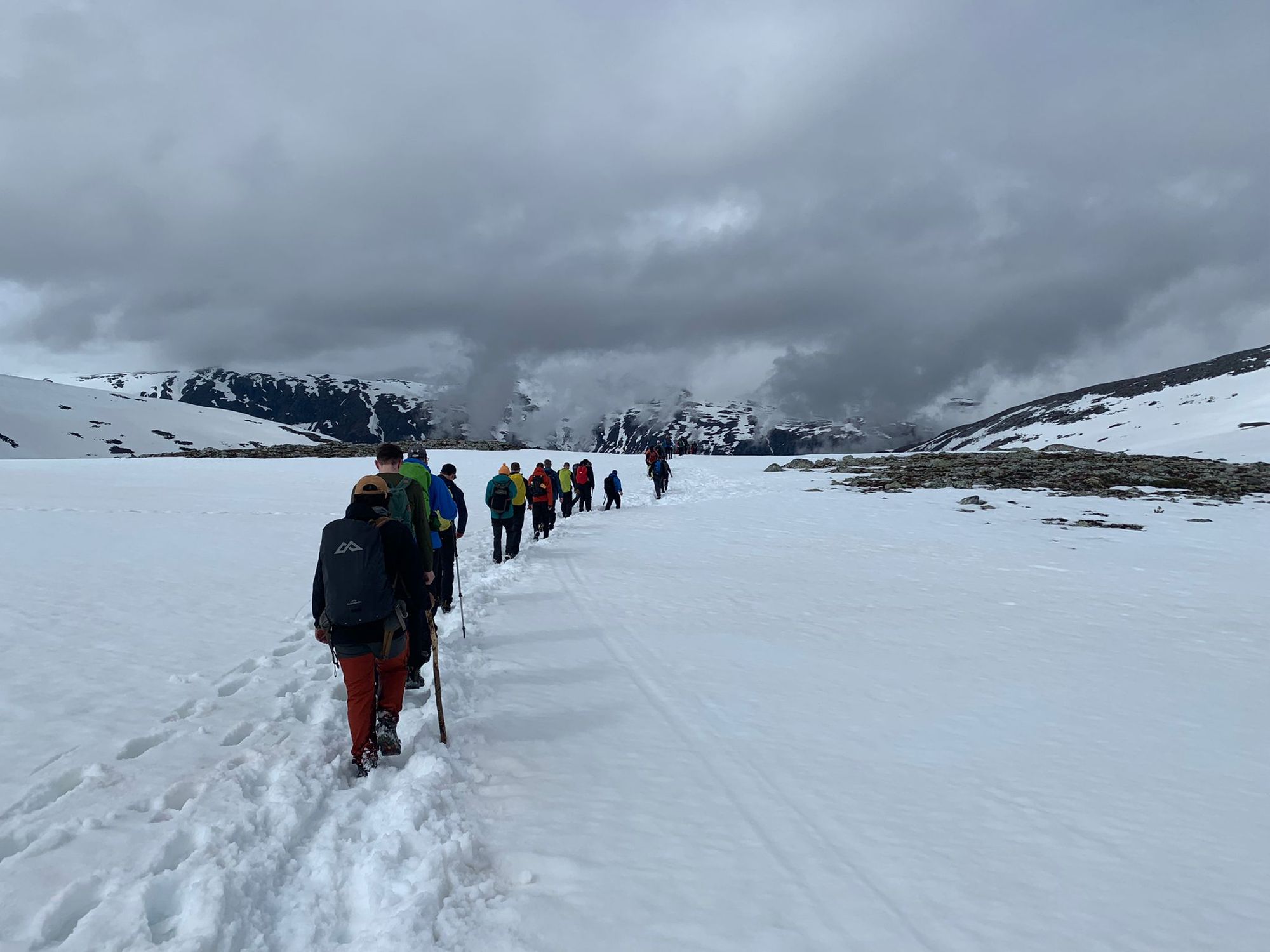 Accessories to Pack for Kayaking
Although space is limited, there are several vital accessories which we've added to the kit list.  You might be tempted to eschew sunglasses if the weather forecast is bad, but trust us, you'll need them when the sun glances off the water. If you go hiking, the snow's glare on a cloudy day can require sunglasses.
A head torch is vital for when you're at camp. You'll be off-grid so you won't be able to see once the sun goes down. Alongside the neoprene booties and your hiking boots, it's nice to have another pair of (dry) shoes to wear around camp - flip flops or trainers are perfect. If you're planning a hike while at the fjords, a day pack is definitely a necessity - you'll want water bottles for that too. And snacks. We can never overstate the importance of carrying snacks.
Tech to Pack for Kayaking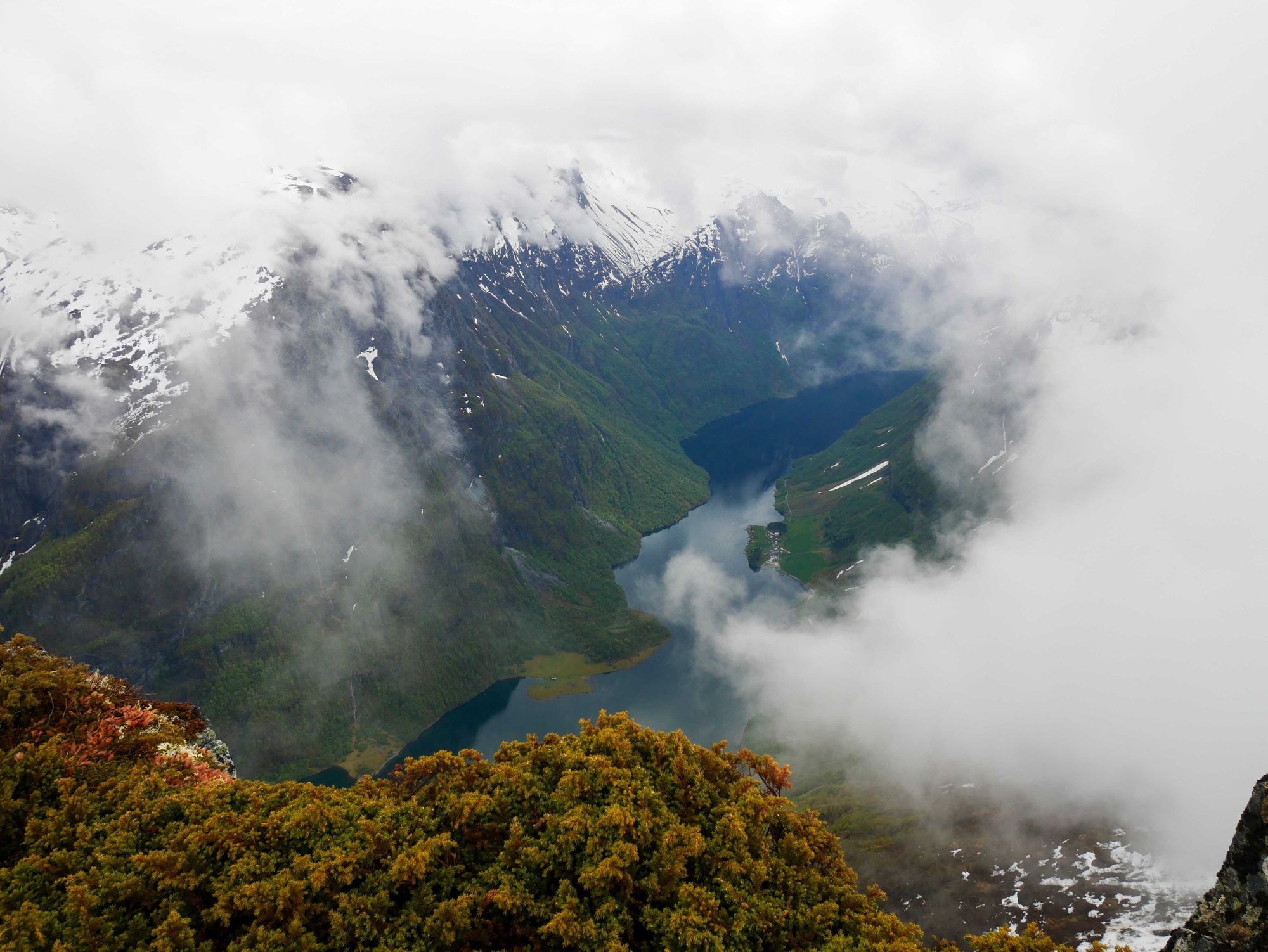 Heading out on a kayaking trip on the Norwegian fjords is an opportunity to immerse yourself in nature, so we recommend leaving some of your modern technology behind. Laptops and kindles are definitely unnecessary, but you might want a phone for taking photos and communicating with loved ones. Waterproof boxes which can be clipped onto your kayak will be provided to keep them dry, but if you have an outsized phone you might want to consider bringing your own.
If you're bringing a phone or a camera you might want to bring a way of charging it. A small USB power bank or a solar charger is probably your best option (remember your charging cable). However, chances are you won't be on the phone too much. If you're only going on a short expedition, then it's probably easier to leave your charger behind - make sure your phone has full battery before you go.
Toiletries to Pack for Kayaking

If you're travelling with a larger group, you might end up staying at a campsite with a shower you can use. But don't hold your breath - it's more likely that you'll be wild camping, and the only water you can bathe in is that icy, icy fjord.
To keep the musk at bay, we recommend packing a small, roll-on deodorant. Biodegradable wet wipes will help you freshen up in the morning. Toothbrush and toothpaste is also a vital part of your toiletries kit, while antibacterial hand gel never fails to come in useful.
Chances are, if you're someone who has periods it'll make an appearance on the trip - even if it's not quite that time of the month. How you manage your period on an adventure is very much up to you. A menstrual cup might not be practical if you're sharing a tent with a stranger; period pants or biodegradable tampons are a more convenient option.
How to Pack for a Kayaking Trip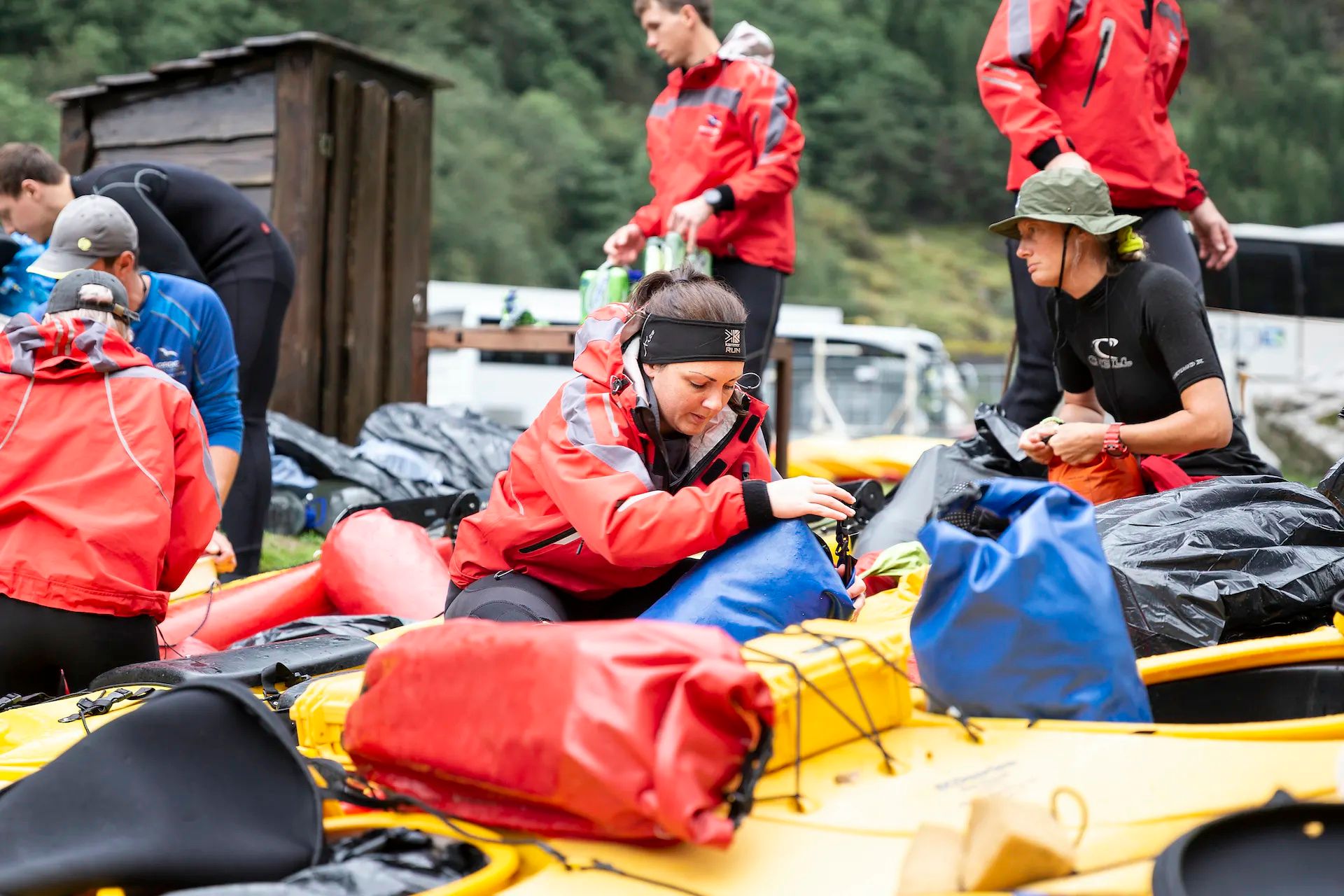 When packing for your trip, it's worth noting that space will be limited. Your kayaks will be loaded up with things you need for your expedition, from supplies to cooking equipment and tents. At the kayaking base camp, you'll be allocated a 22-litre drybag (or similar) which you can fill with the items you need, plus a few inches of space for your boots and a daypack.
What that means is you need to pack smart. Choose clothes that pack down well - a down jacket for chilly evenings is ideal. You'll have to strip your kit down to the essentials. The book you brought with you is probably not going to fit. Or your portable speakers. But that doesn't matter - you won't have time to read and the silence of the fjords is music to the ears.
You'll be able to leave any excess items at the kayaking base. Most people will arrive with a suitcase to store, and then decant what they need for kayaking into a drybag. Walking boots and your daysack can be put into a black plastic bag too.
Our Top Tips
The Much Better Adventures team visited the Norwegian fjords on a kayaking expedition, and returned with several recommendations of what you might need.
"An eye mask (or Buff) for sleeping in a tent when it never really gets dark," our Content Manager Kirsty says. Dan, Head of Performance Marketing, also mentioned that ear plugs are a useful addition - you never know if someone near you will start snoring.
Many of the team tried using Sealskinz socks for the hike, which did a great job of keeping out the icy puddles and snow when hiking in the fjords.
"I was a big fan of the waterproof socks for the hike. Also not so much items to pack, but keeping a set of clothes back at the base so you have something clean and dry to change into was lovely," our SEO Manager Lauren says.
The team were unanimous in their opinion that having enough snacks is vital to a trip's success. Peanut M&Ms went down a storm, while cereal bars are easy to transport and carry.
Inspired? Check out our Hike, Kayak and Wild Camp the Norwegian Fjords adventure, or our other kayak trips.