Our Lunchtime Cinema pick for November is 'After Ice' - directed by Kieran Baxter, written and narrated by glaciologist M Jackson and produced by Baxter and Þorvarður Árnason. The award-winning 12-minute film overlays imagery from the archives of the National Land Survey of Iceland with modern footage of six outlet glaciers in the Hornafjörður region of Southeast Iceland to reveal the story of a rapidly disappearing frozen world.
'After Ice' is an emotive visualisation of climate change in action: something that is not decades or centuries away, but is having a marked impact on our planet now.
"There's an urgency to these landscapes affected by climate change," Baxter says. "It's fascinating how landscapes can tell these stories and have these stories written into them." Watch the film, then scroll down to read our full interview with director and producer Kieran Baxter.
'After Ice' may only be a 12-minute film, but the production required several years of work, starting in 2017. "We were initially interested in how to visually represent the changes that were happening to glaciers in Southeast Iceland," says Baxter. "We wanted to find a way to show the scale of the changes there, which are obviously quite staggering."
He began looking into repeat photography with Þorvarður Árnason, of the University of Iceland, and the pair came across archive aerial photography images held in the National Land Survey of Iceland. "We realised that we could take those photographs, which were taken for mapping purposes, and through a photogrammetry process, get these really high definition 3D-models which enabled us to bring the camera down to a more familiar landscape view, and match those with photography and drone footage that we could get today."
The key concept was to show the real-time impacts of climate change in a way that was easier to understand and emotionally connect with than complex stats.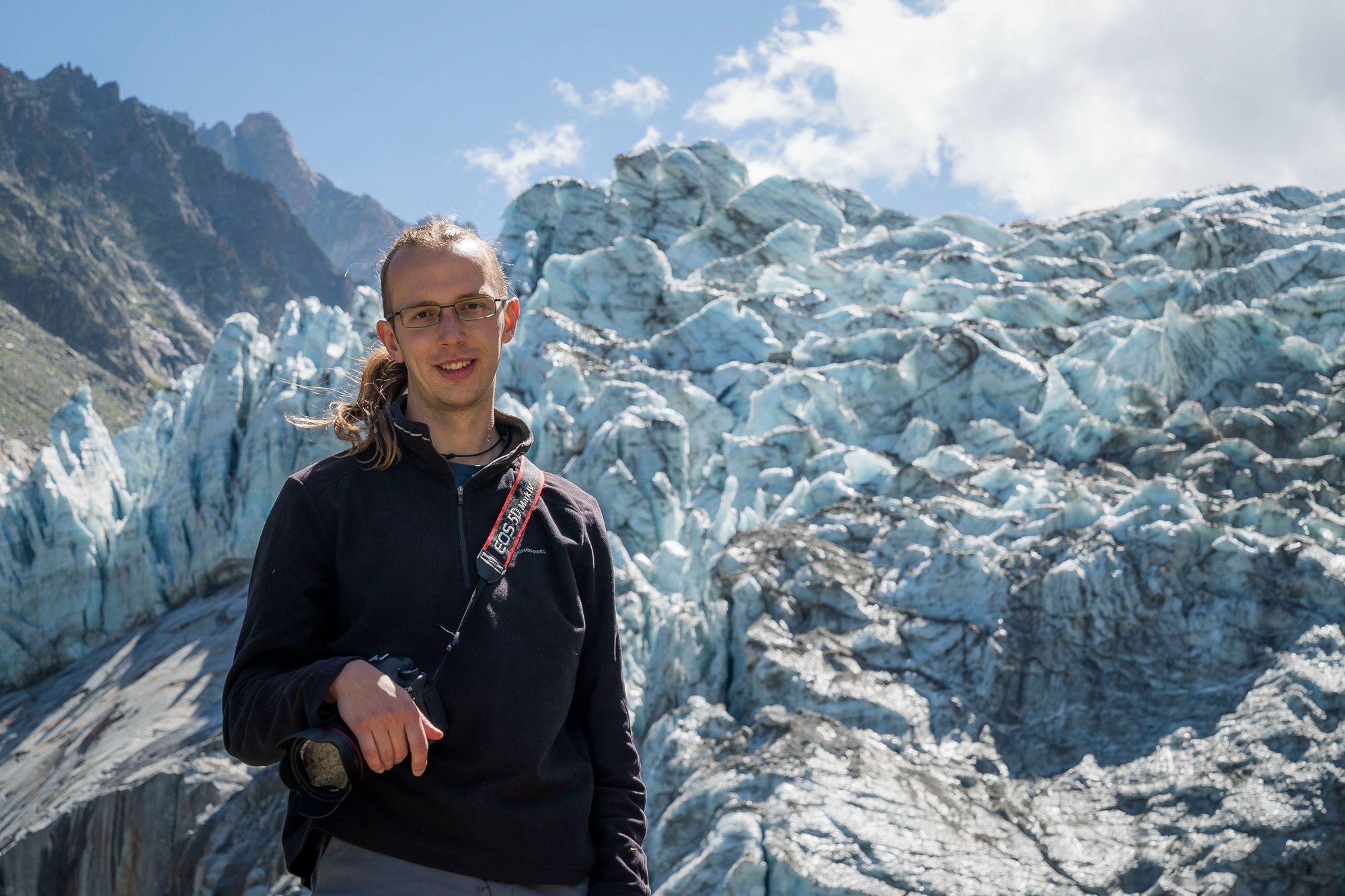 They realised that in order to properly tell that story, they needed to provide scale. "It's difficult to bring the realities of climate change home, and make them relatable and meaningful, because a lot of the impacts are invisible to us," says Baxter. "And just looking at the cryosphere, and thinking about ice melt, it can be really hard to get to grips with the scale and the vastness of the change."
What's special about Iceland is that it's where climate change is most visible, but it's not necessarily where climate change will be most keenly felt
In order to achieve that scale, they came up with the idea of juxtaposing the images of glaciers with images of people. "It's something to make sense of the scale," says Baxter. "There's a huge impact to just standing in front of a glacier which is melting, walking amongst it or kayaking around the remains of a glacier of that size. Several kilometres of ice melt is quite significant when you're standing in front of it but it can look very small on a map.
"Then we started working with M Jackson, who narrated the film and wrote the script, and she's done a really good job of tying those together  - the facts and the figures and what they actually mean for the people visiting Iceland and living in that landscape."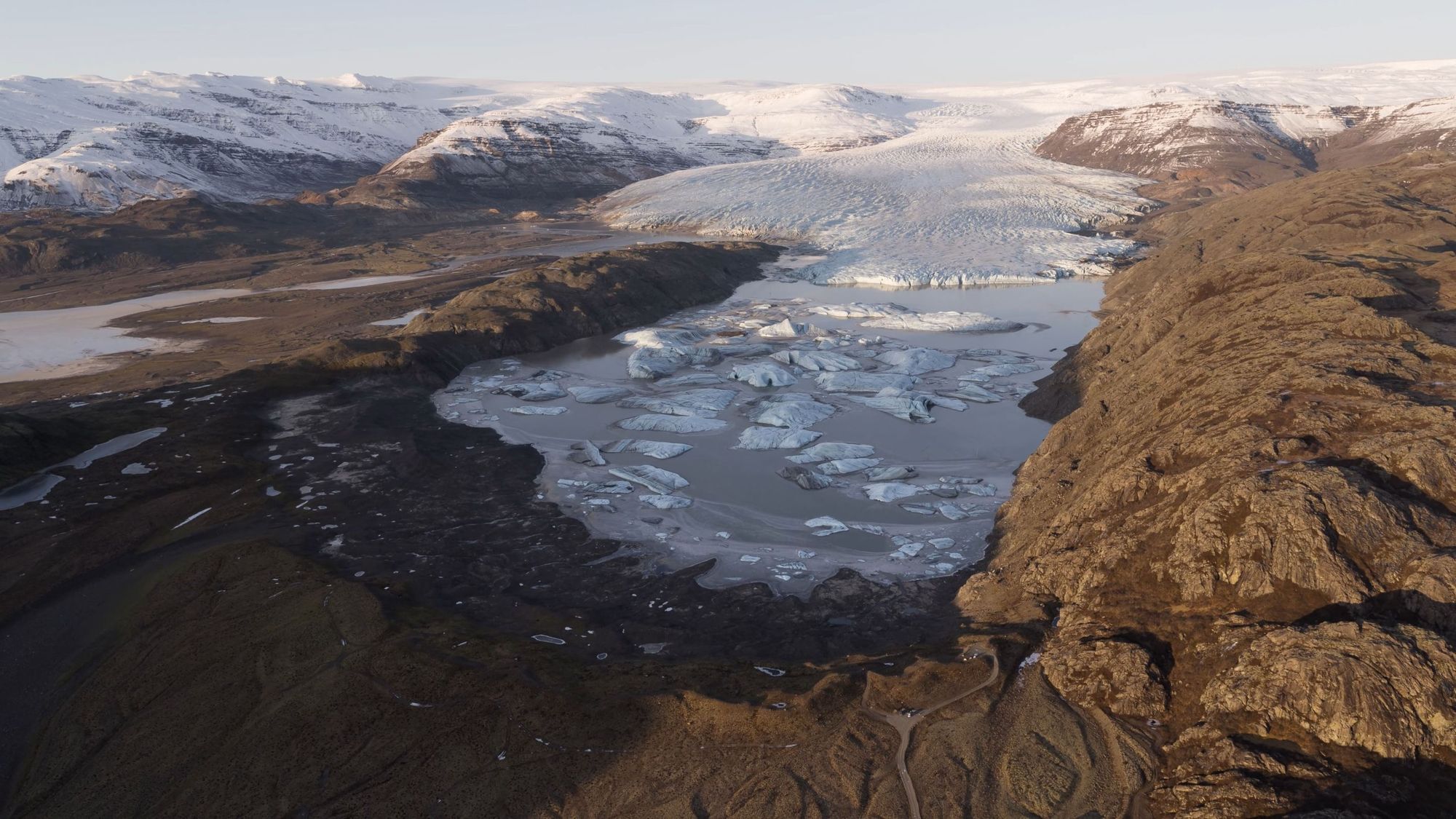 Baxter has a history working with big landscapes in Scotland, but he also has a family link to the Icelandic glaciers. "My dad is a landscape photographer and he worked in Iceland, first in '89 and then throughout the 1990s, so we were travelling there as a family throughout my childhood," Baxter says. Three photographs taken by Baxter's dad were actually used in the film. "They weren't really taken as a record of the landscape, but they just so happen to show the state of the glaciers at that time. So we went and replicated those photographs and used them to add a grounded perspective to complement the aerial view.
"It was really useful to have that material but also a little bit devastating - to be stood exactly where I would've stood at some point, on holiday, years before without any recognition that those landscapes would be quite fundamentally changed within 30 years of me going back. These are very well studied glaciers, so in principle and in theory, it's not a surprise that they're retreating, but when I first started photographing there I didn't have any sense of just how quickly. It is quite frightening to see such drastic changes. There's definitely a sadness there."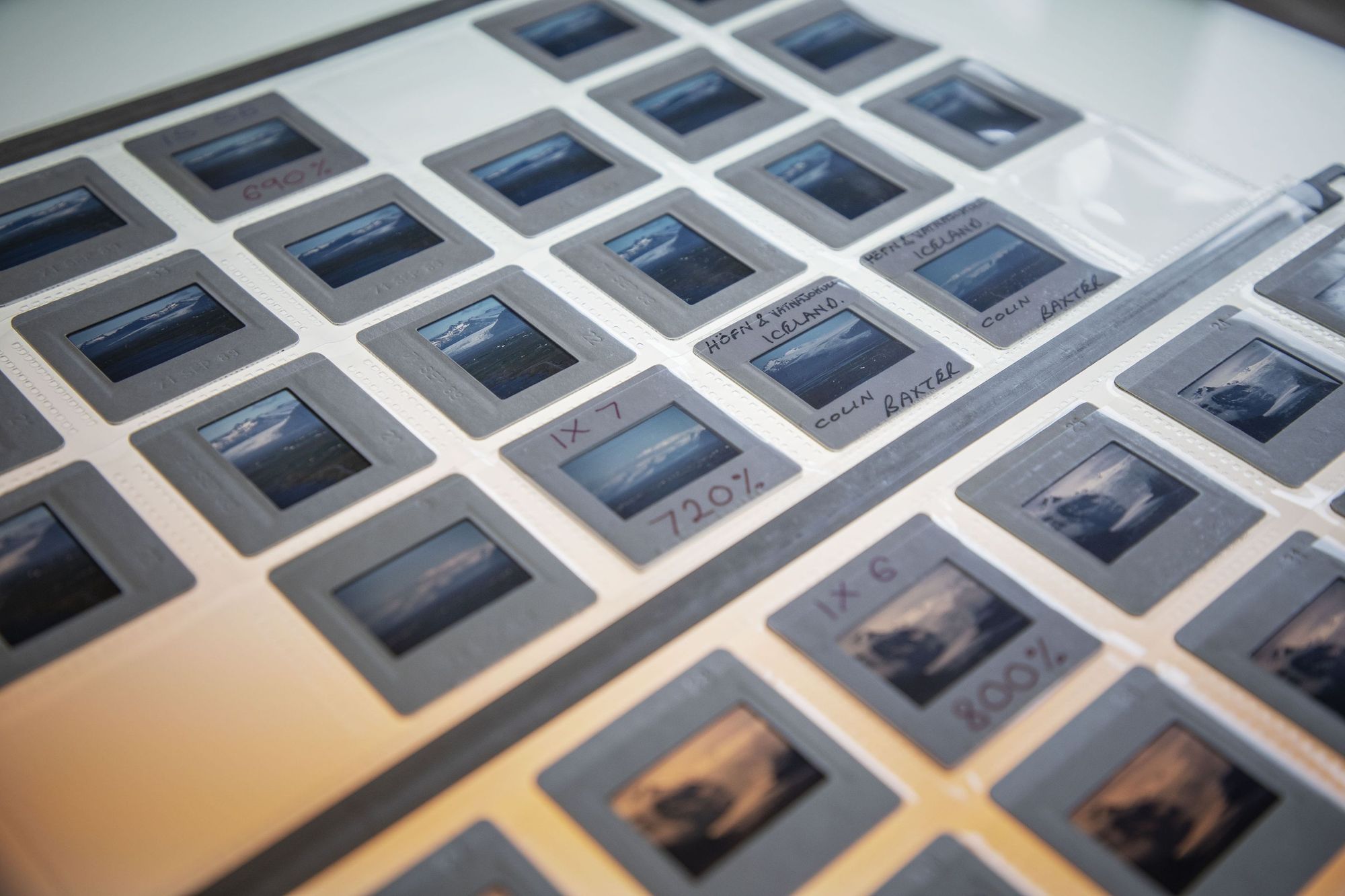 It's this note - the acceleration of climate change - that Baxter hopes viewers take away from the film. And the fact that climate change doesn't just exist in an abstract world of maps and data, it's happening around us today.
"It's not the fact that these glaciers are melting that's alarming, it's the rate of acceleration," says Kieran. "Since the mid 90s we've seen a marked acceleration. Before then, did greenhouse gas emissions have an influence on global warming and the rate of melting? Probably. But after the mid 1990s, it becomes very, very clear. There's a marked effect that can't be accounted for by anything else. And that's such a fleeting period of time. Over the past 130 years, half of the melt has happened in the last 30 years alone. That acceleration is the alarming bit."
He concludes: "Of course, there is a much bigger story here too. What's special about Iceland is that it's where climate change is most visible, but it's not necessarily where climate change will be most keenly felt. Much bigger impacts which will be felt beyond the relative security of the north, and felt a lot more keenly. This is just the tip of the iceberg. There are impacts of climate change that are far, far beyond what we're seeing visibly written out in the landscape."
Inspired? Read what you can do to get involved at COP26, or read the Glasgow Declaration from 'Tourism Declares a Climate Emergency'.