Josh Beech is an Australian chef who lives and works in London. In his downtime he loves getting outside, and on a whim booked a Much Better Adventures trip to climb Mount Toubkal. We spoke to him about his experience, hiking in Morocco, and his subsequent travel gamble.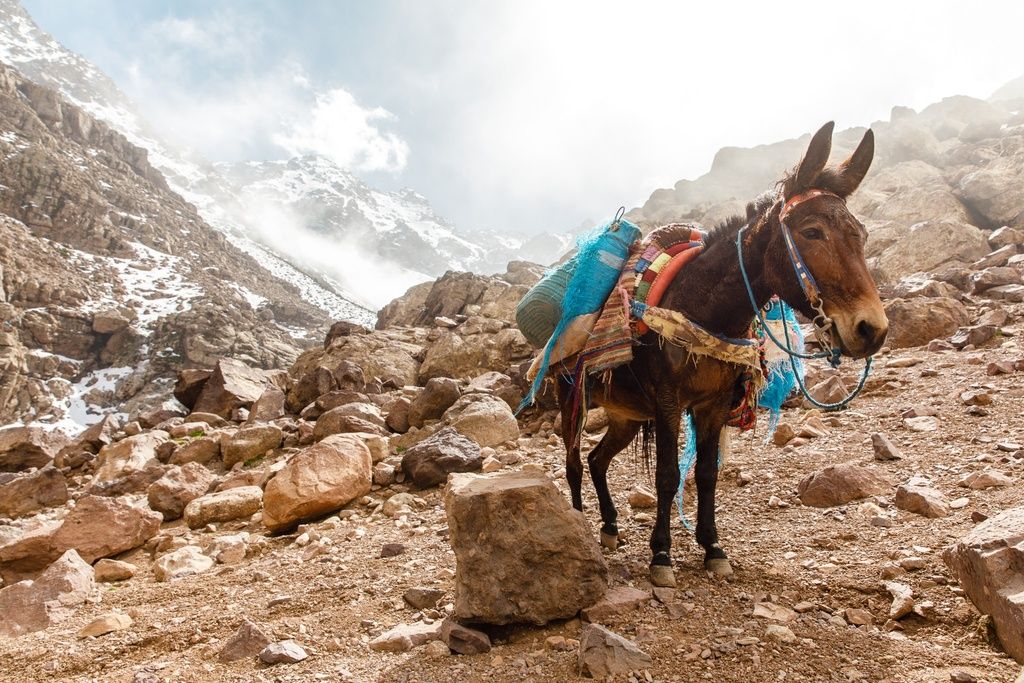 Hi Josh. Thanks for speaking with us. So firstly, why did you book the trip?
I hadn't been on an adventure travel kind of trip for a very long time. I had a mate who was very hesitant at first. He then came across your website. You guys have a wide range of trips that all look amazing, including a lot in Morocco, which I've always wanted to visit.
Then I eventually bit the bullet and said to him "Mate, we're booking this today," and we just went for it.
Excellent. Was the booking experience easy enough for you?
Incredibly easy actually, that's one of the things that was great. I just booked it with you guys, then had what was basically a text message conversation with one of your colleagues, I forget his name, and he guided me through the process. He couldn't have been more helpful.
I'll pass that on. So who else was on the trip?
I went with a friend of mine, that one who I said was hesitant. And we had six others. That was a perfect size, as it wasn't too many and wasn't too few.
We then found out how small the world was because two of the people ended up working around the corner from where I work, in London.
We all asked, "how the hell have we not met each other before?!"
Are you all still in contact?
I saw Tom from the trip, we had a few beers, and had a lucky dip draw, basically. The lucky dip was "Which mountain should we climb next?" So I got one of my employees to pick a country out of a hat, and we are going to climb the highest mountain in that country. Don't suppose you do any trips to Mexico, do you?
That's a great story! So was it difficult to persuade your hesitant friend to come on the trip?
He wasn't sure at first. But when I booked the trip and everything was organised, well you know how it is, he just went along with it.
On the way back, he actually said "This is one of the best trips I've ever done."
That's great to hear. Do you think the trip gave him the confidence to go on more adventures in the future?
Oh, it definitely did.
When we got down to the bottom of the mountain, he looked at me and asked "Where next?"
Brilliant. So had you been to Marrakech before?
I had never been to Marrakech before, I had never been to Morocco before. The riad we stayed in was just gorgeous, it wasn't overdone. It was right next to this lovely little side street. Quite intimate; it would be a good place to take your girlfriend actually. But I took my mate. *Laughs.*
So on the first night, me and the rest of the team had a few beers and a bottle of wine, and caught up and got to know each other before the trip. We didn't expect the trip to be so social. I didn't know how many people were going to be climbing with. They all turned out to be very good, like-minded people.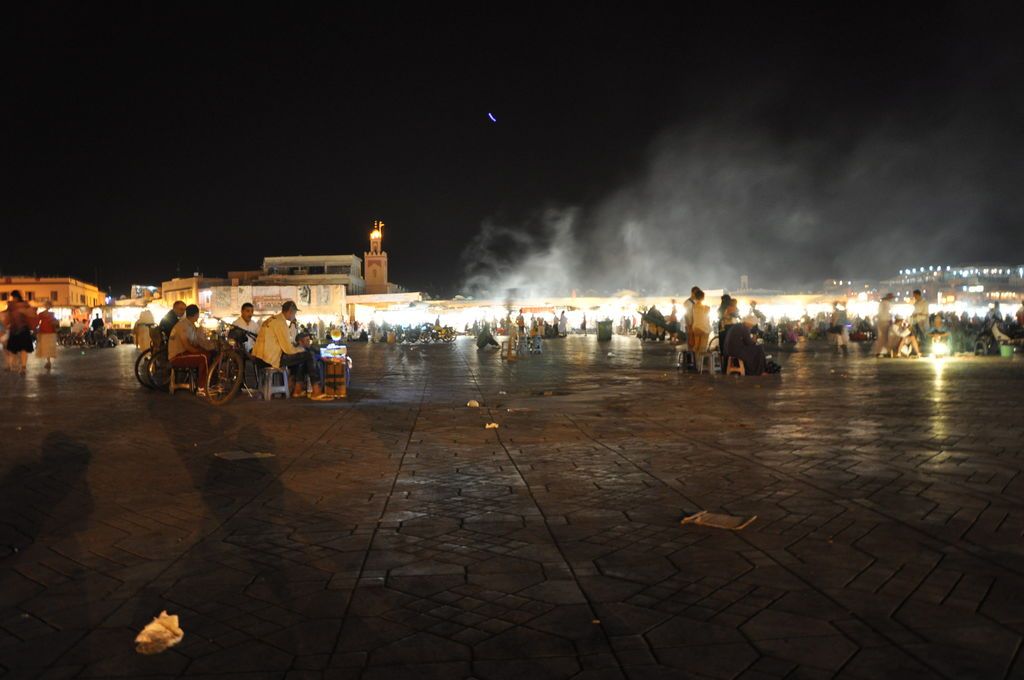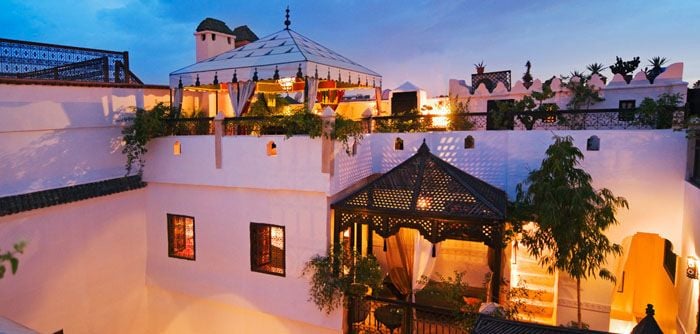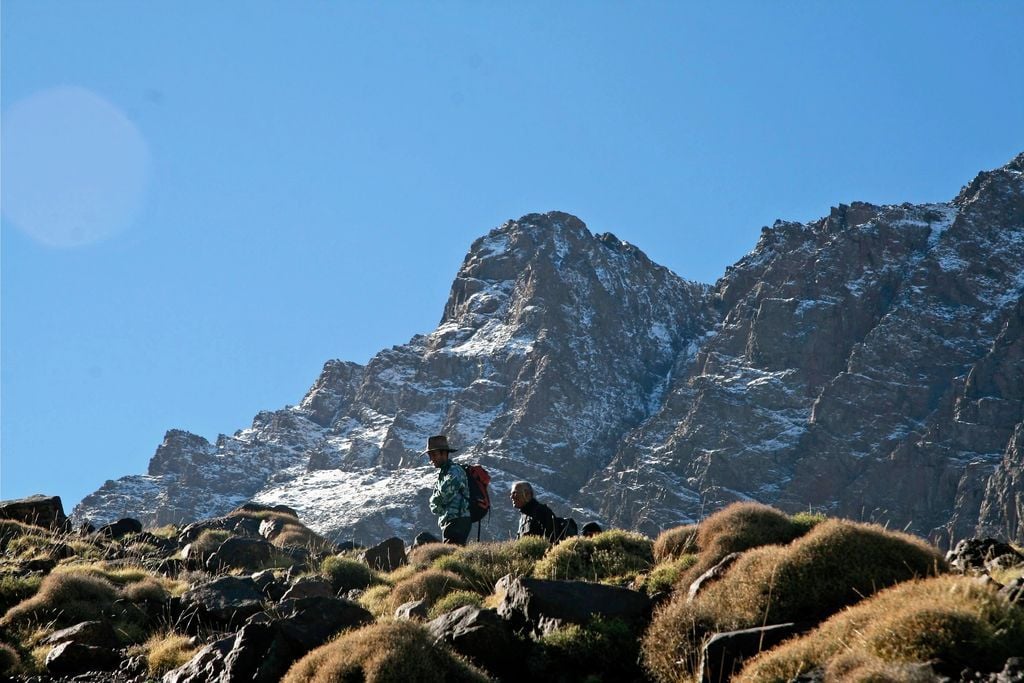 And you got on well with your guide?
I'd recommend our guide, Mohammed, to anyone. The man is incredible on that mountain, he knows it like the back of his hand.
Amazing actually, he told us he actually used to run it for competitions.
I thought I was doing pretty well just climbing it, then I find out this guy runs the trek in 5 hours and 27 minutes.
I'd do anything for that man, he was a really good dude, he looked after us really well.
In fact, my friend James wanted to slide down the mountain on his bum. Mohammed said it wasn't a good idea. He then saw him do it once with his ice axe dragging behind him, found it hilarious, and ended up filming James whilst he did it. We actually also had the opportunity to meet his family and see his house.
Oh great, how was that?
We were on our way back and this little kid comes running over. It turned out to be Mohammed's son. There was a bigger kid around the corner not allowing the smaller ones past. So Mohammed had to tell the bigger kid off in front of us. It was quite funny.
The refuge we stayed at in the base camp was amazing. I was expecting some small thing for us just to hang out in before going to the summit, but it was like a chalet without electricity. Well, they had electricity, but only ran it a few hours a day because it ran on fuel. They had fireplaces and big bunk beds. It wasn't what I expected, but it was very, very good.
So how was the actual climb to the summit?
We got incredibly lucky. The day went to the top, it was clear blue skies with a touch of wind. The view was incredible. You could see the Sahara on one side, and Marrakesh on the other. Yeah. It was amazing.
Mohammed even took us up on another trek the next morning because we had the time. He took us up to this saddle, which is a peak between two peaks, and we caught a glimpse of another amazing view looking through the mountains. We left pretty early for that one, so we saw every star known to man in the morning, and we caught the sunrise through the two valleys, which was very nice.
Hard to describe something like that.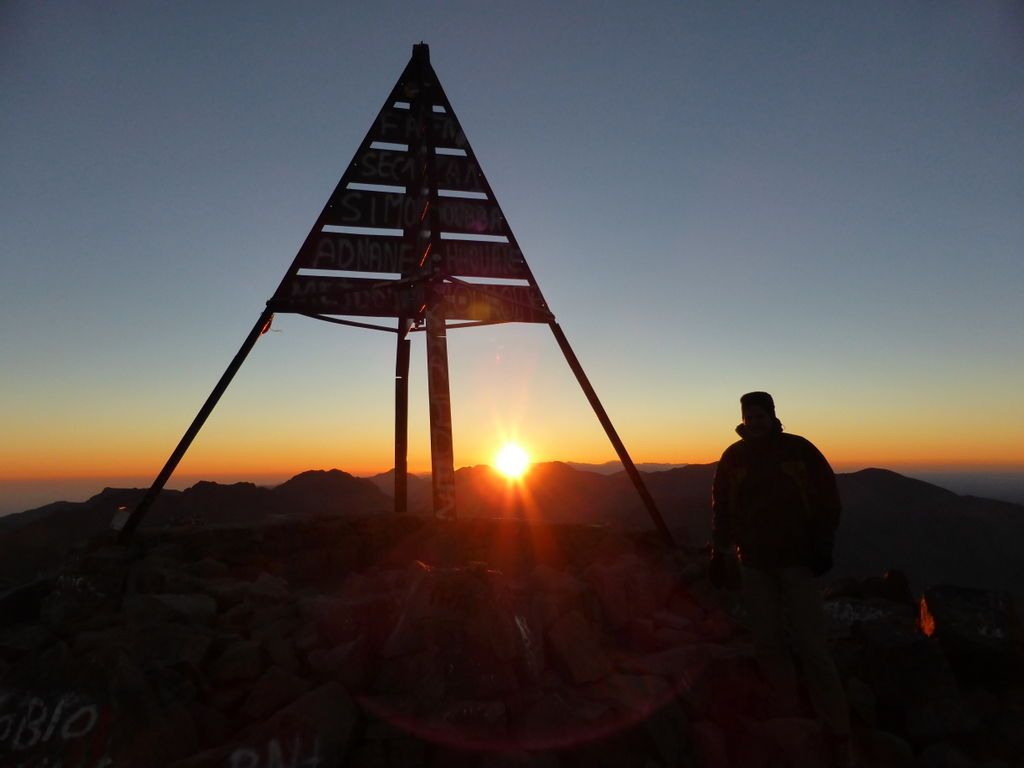 So how did the trip match up to your expectations?
Well it was my first mountain climb so I was a little apprehensive, I didn't really know what to expect. And similarly I didn't know what to expect in Marrakech. I went over there for the food and spices, as I'm a chef. So that was gorgeous for me.
But as far as the mountain goes, it just blew it out of the water.
Especially as I'm from Australia, I bought our flag up there. There was a group of ten Moroccan guys up there as well, and they had their flag. We had a photo with both of the flags. They wanted a photo with our flag, and we wanted a photo with the Moroccan flag. So that was a great cultural experience.
Thanks for speaking with us Josh. Let us know how Mexico goes!
*Laughs* Sure thing!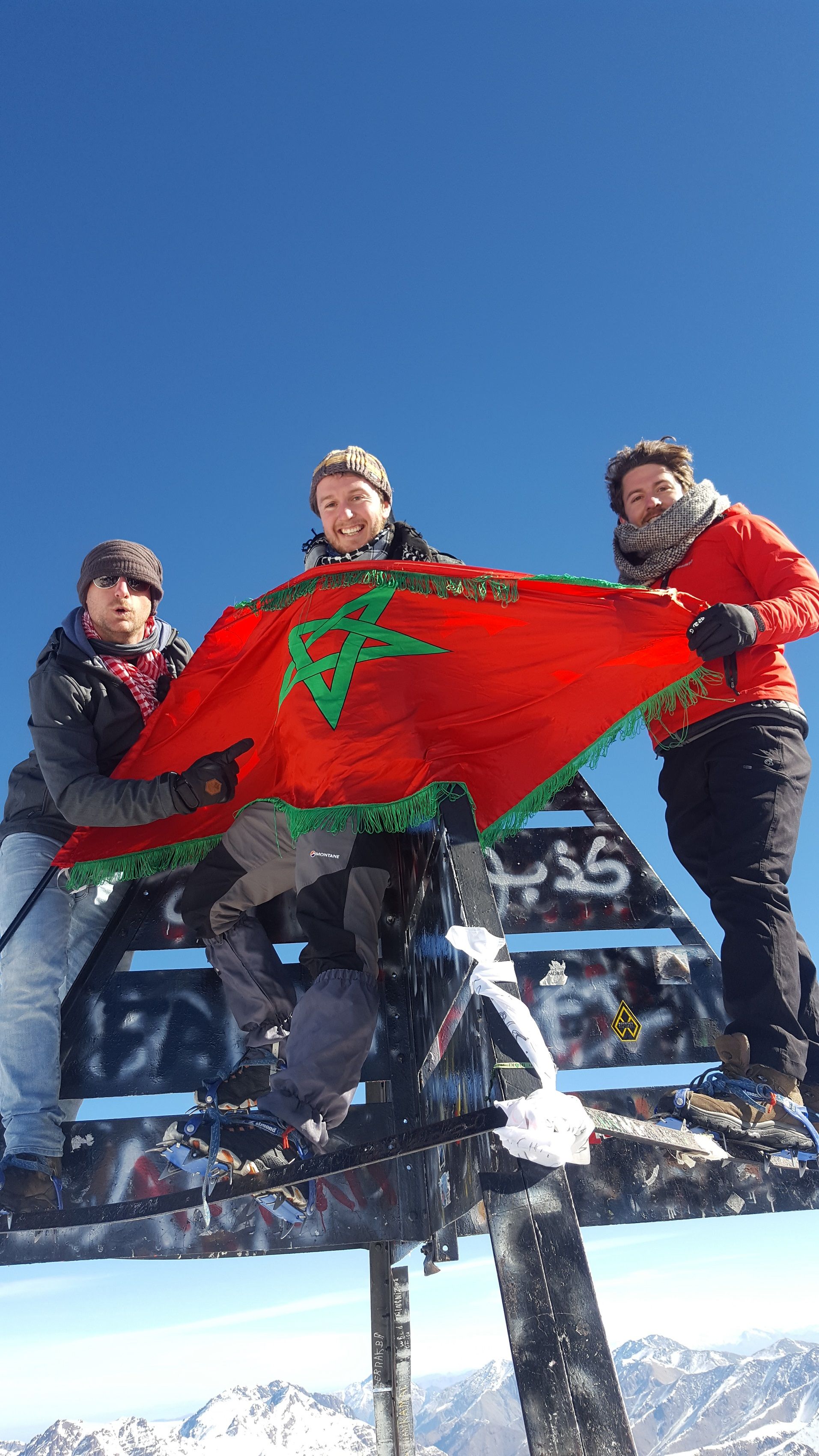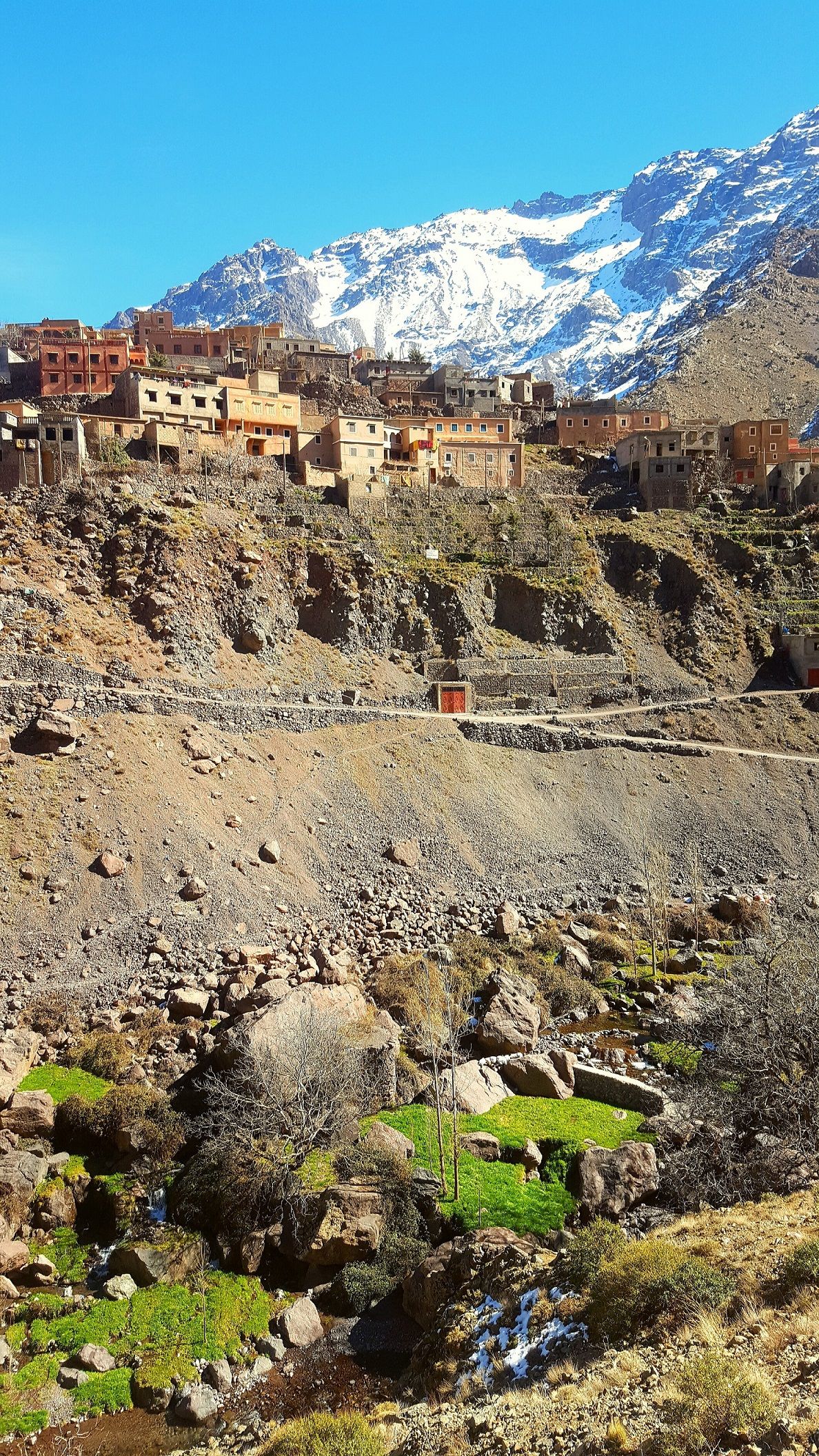 Feeling inspired? Check out our Trek the Atlas Mountains Adventure, or our other adventures in Morocco.