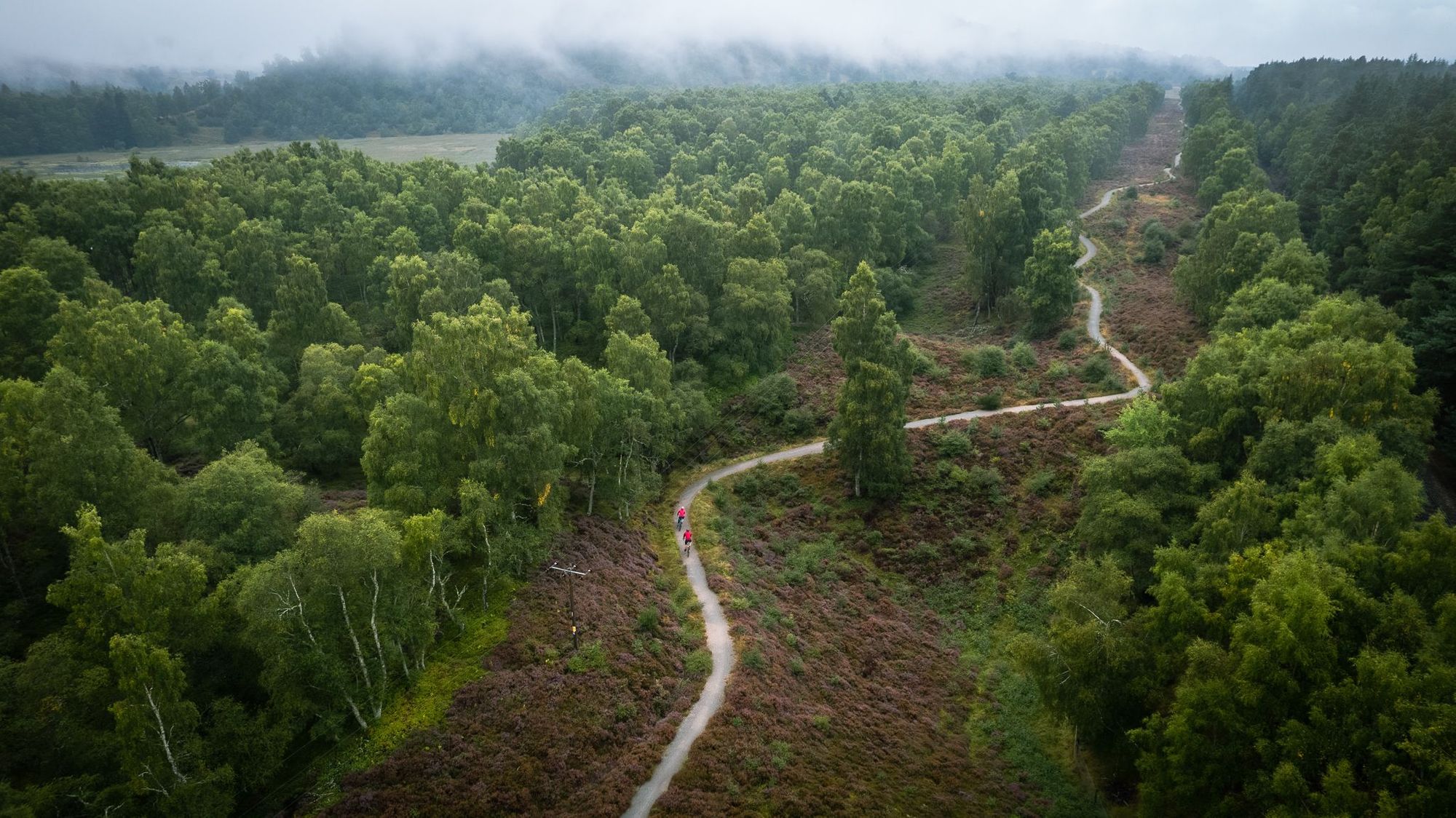 Markus Stitz is the founder of Bikepacking Scotland, author of Britain's Best Gravel Rides and a round-the-world cyclist. He's also a prolific filmmaker, and in his latest film 'Home is Where the Trails Take You', Stitz heads to the Cairngorms National Park in the Scottish Highlands, where he's set a new 266km route. The ride takes in not just the rugged, sweeping scenery of the mountains, but the bustling communities around the Cairngorms, where Stitz meets the people who call the national park home.
Watch the film below, and then scroll on to read our interview with Stitz.
When the Cairngorms National Park is captured on camera, audiences are used to seeing wild, dramatic landscapes, far-reaching Caledonian pine forests, fast-flowing rivers and dramatic glens - often immortalised on film without a person in sight. But this narrative skips over the bustling, thriving communities and towns of the park - from Ballater and Braemar to Kingussie, Kincraig and Aviemore - as well as its beauty, which makes the area so spectacular to visit.
The Cairngorms provide an income for people here, but I think it's even more important for people that they have this connection to the land.
This is the message at the heart of Markus Stitz's new film 'Home is Where the Trails Take You', which sees the cyclist set and cycle a new gravel bikepacking route through the national park, meeting locals along the way.
"The idea was to make a film which really captures the place, but also the people's place within the environment as well," says the filmmaker. "It's a mix of meeting local people and exploring those wild spaces. The Cairngorms provide an income for people from a business point of view here, but I think it's even more important for people that they have this connection to the land.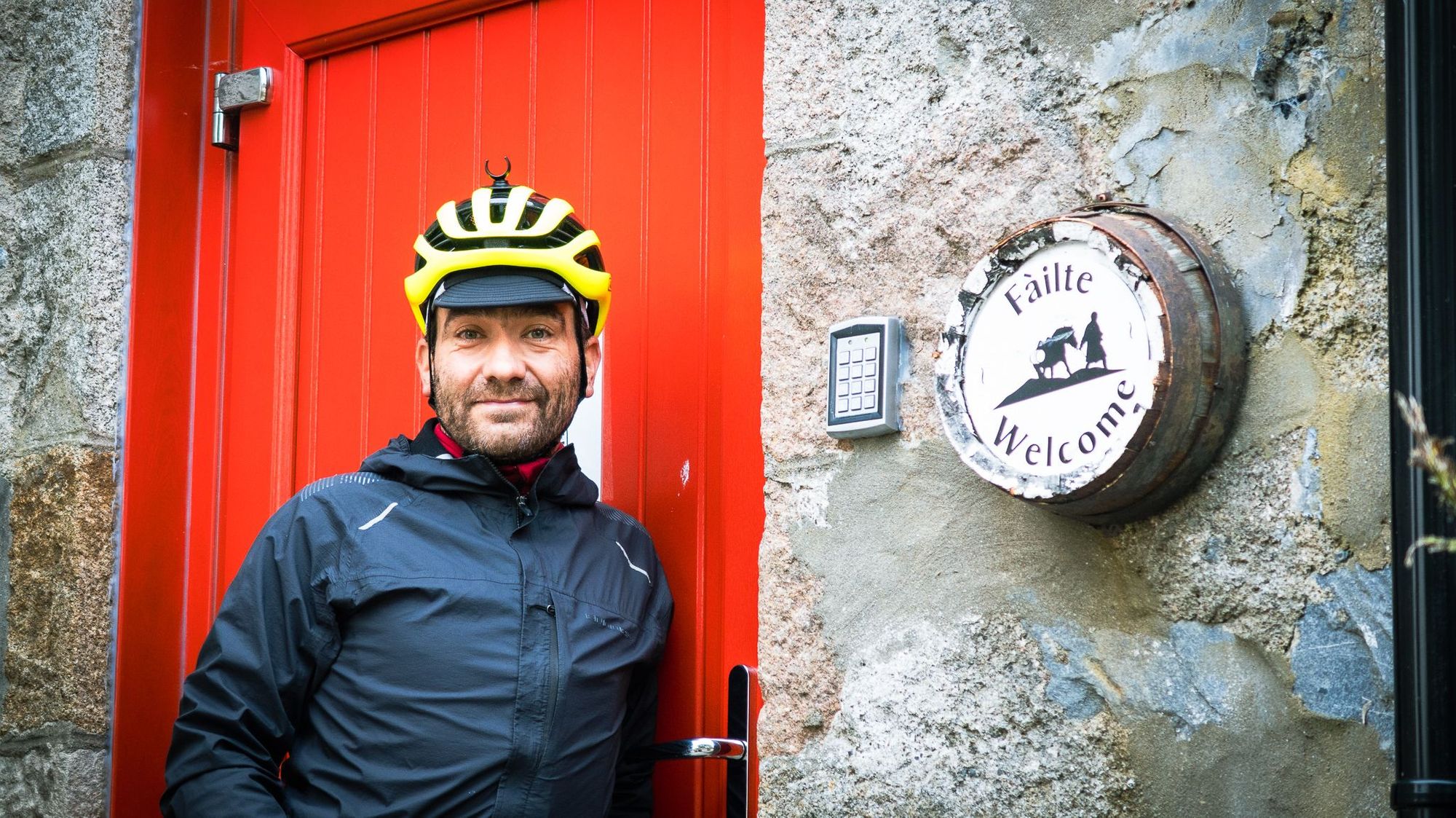 "Toni Vastano [from the Old Post Office Cafe Gallery in Kincraig] is a good example. In the film, he talks about the mental and physical well being affects associated with the place where he lives in. It's somewhere he can go to switch off and reset. You've got the natural resources, the mountains, but you've also got these businesses that serve the community - and that's where you really see the importance of these interactions between humans and the landscape."
Sally Devlin works for Aviemore Bikes, in the heart of the Cairngorms. It's the people that make the Cairngorms home for her, she says.
"You can go out on your own for hours and not see a soul, but also it is quite nice to meet, or see, like-minded people out doing these things [cycling and walking] too," she says. "There's always people that'll say hello, or welcome you in from the cold. Instantly there's something to chat about, and there's a welcome there, if you go into a cafe, and maybe you've been on a six hour bike ride and you're absolutely freezing and soaked through, you know that the people are going to welcome you in. I think that's what really makes it home - all these connections."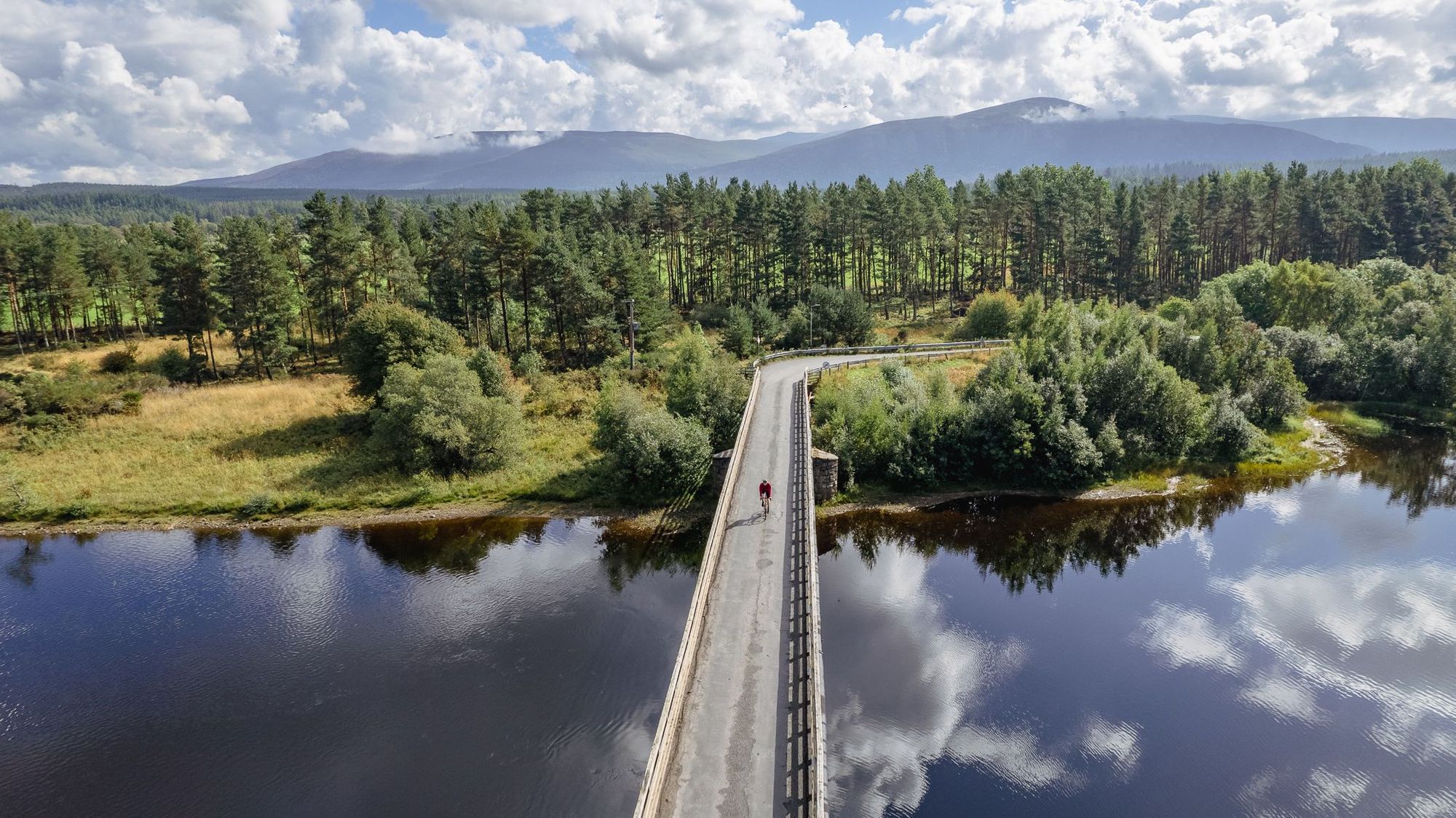 In terms of cycling, the Cairngorms boast some of Britain's finest terrain.
"We're so lucky in that we've got a bit of everything here," Sally says. "The film shows Markus going through mountain passes, really nice, accessible family routes that link up some of our local villages, you've got singletrack and technical mountain biking and we have some nice, quiet roads on our mountains as well."
Markus worked in partnership with locals to put his new 266km route together. "You've got some honeypots; some well known places in the Cairngorms," he says. "Aviemore, Carrbridge and Kingussie, for example, but if you go just a few kilometres away, you're suddenly away from all of it, and you can reach these really remote sections that do feel like you are miles away from civilisation."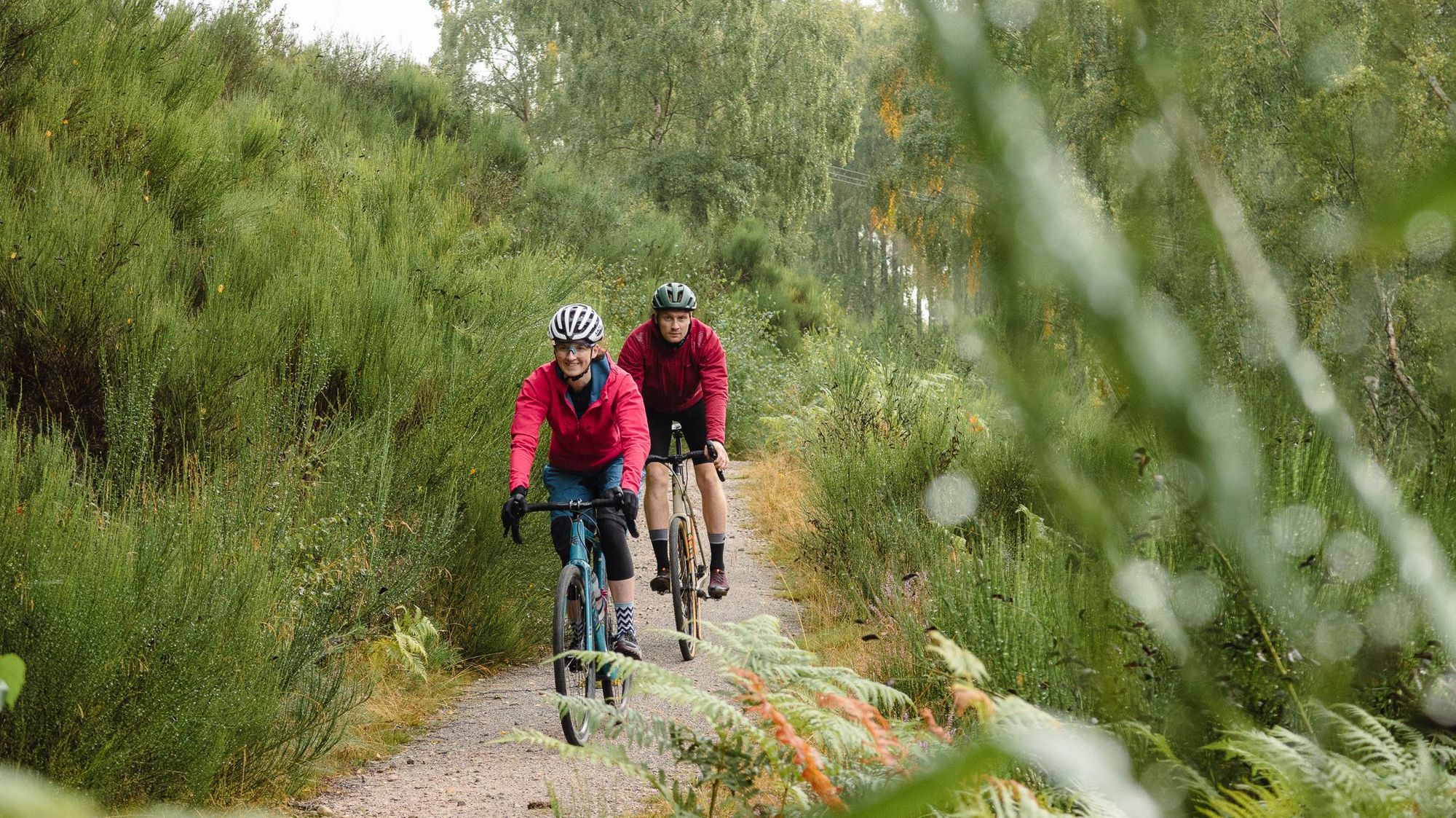 The route highlights? "The most memorable landscape was between Ballater and Tomintoul and Glen Avon," says Markus. "It's a typical Cairngorm landscape, with quite a gentle cycle coming up to Ballater, then you drop into this glen and it's just barren and open and even somehow quite intimidating. If you wanted to drill bikepacking down into a landscape, that's about it.
"The other section that stood out to me was the Speyside Way, between Aviemore and Kingussie. It's a well-trodden path, but it meanders into the landscape and forced me to slow down. I was with Sally and Callum [MacGregor, also of Aviemore Bikes], and it didn't feel like I was a visitor in the landscape, because I was exploring with people who knew it so well."
If you wanted to drill bikepacking down into a landscape, that's about it.
Stitz highlighted a third section, which also blew him away - almost literally. "I'm always fascinated by the view when you come up the Cateran trail, from Encohdhu, past the Queen's Lunch Hut, and then you look into Glenshee. When you reach the top of the saddle, you get this amazing view right into that valley. I had pretty bad conditions, it was blowing a gale, but even with all of those distractions, I think if you want an iconic Scottish view - then that's it."
It always comes back to people for Markus, though. Not only are there thriving communities in the Cairngorms now, there is centuries of history.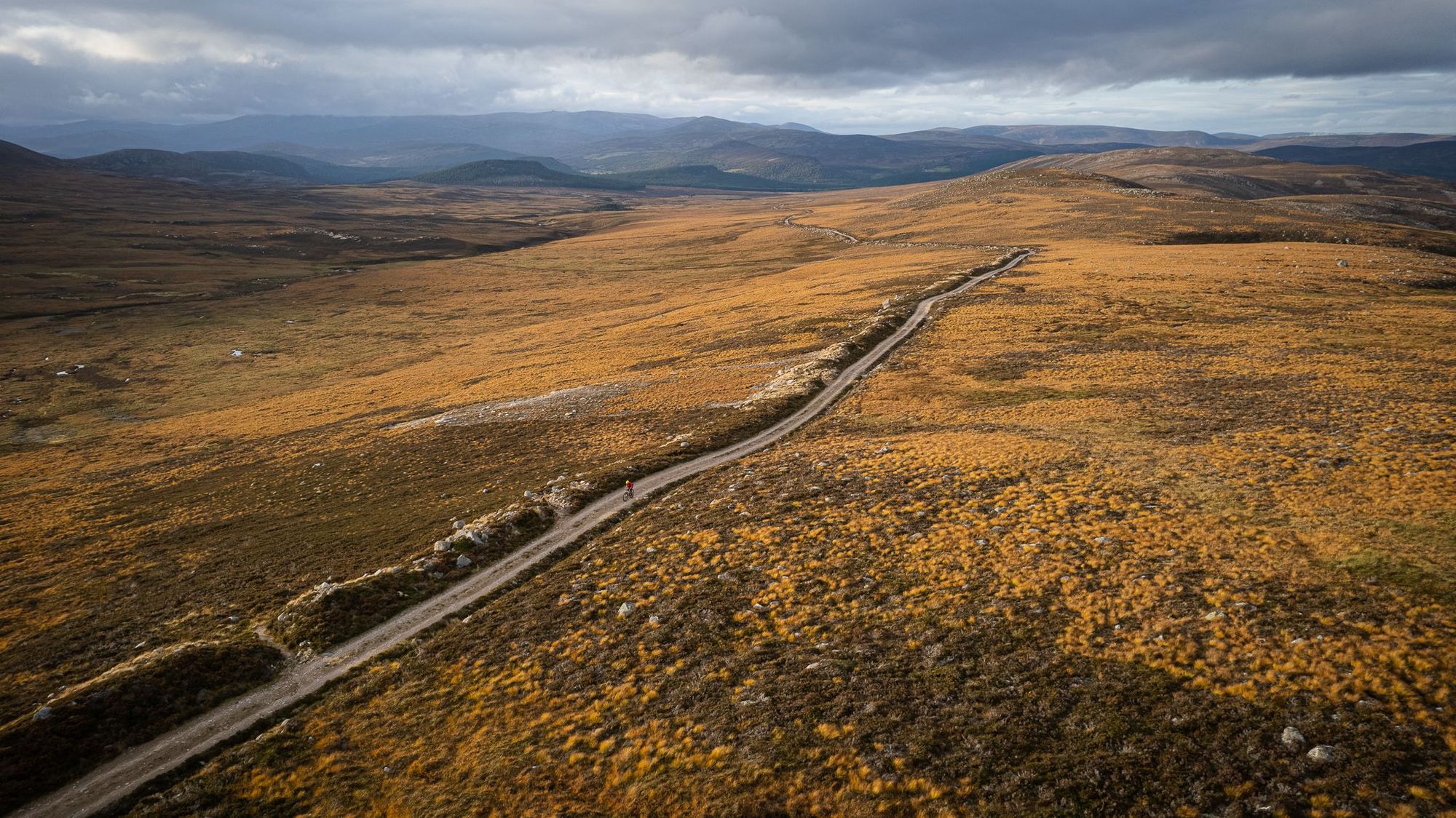 "In the southern side of the Cairngorms alone, there's so much history. If you look at the history of the Drover's routes, so many pass across the Cairngorm mountains, and were used by people bringing cattle down to the south of Scotland," he says. "If you want to put yourself in the mindset of what Scotland used to be like 200 or 300 years ago, the Cairngorms is a good place to go. It's such a living and breathing space - and that makes it so distinct."
He highlights Ruthven Barracks, built by George II's government after the failed Jacobite uprising of 1715. "Look out the window and you can put yourself in the position of the soldiers who were stationed there," he says. And of course, Balmoral in the southern Cairngorms has its fair share of history too. Stitz even got inadvertently caught up in some of it, when he had to reroute his journey after Queen Elizabeth II passed away at Balmoral while he was making the film. "I skipped a section, and went back once everything had calmed down," he says.
The route map, to follow in Markus' tracks, launched with the film. You can find the full 266km route on Bikepacking Scotland. Starting at Aviemore Station, the trail soon joins the Speyside Way, going on to track the River Spey, and take in the towns of Kincraig, Kingussie, Blair Atholl, Braemar, Ballater, Boat of Garten and more along the way - via some of Britain's most beautiful trails.
Inspired? Check out our cycling adventures in Scotland and beyond now!