Markus Stitz is a round-the-world cyclist, ultra-endurance racer and the founder of the brilliant Bikepacking Scotland - so basically, there are few better people in Britain to recommend you a bike route.
In his new book Great British Gravel Rides, from Vertebrate Publishing, Stitz does exactly that, curating a collection of 26 gravel routes split across Scotland, England and Wales.
For each route, Markus sought out a gravel rider based in the area, from GBDURO winners Josh Ibbett and Gail Brown in East Anglia to Markus' fellow round-the-world record holders in Scotland, Jenny Graham and Mark Beaumont. The end result is a guidebook which is not only full of local expertise and exceptional bike routes, but which also has more of a human edge.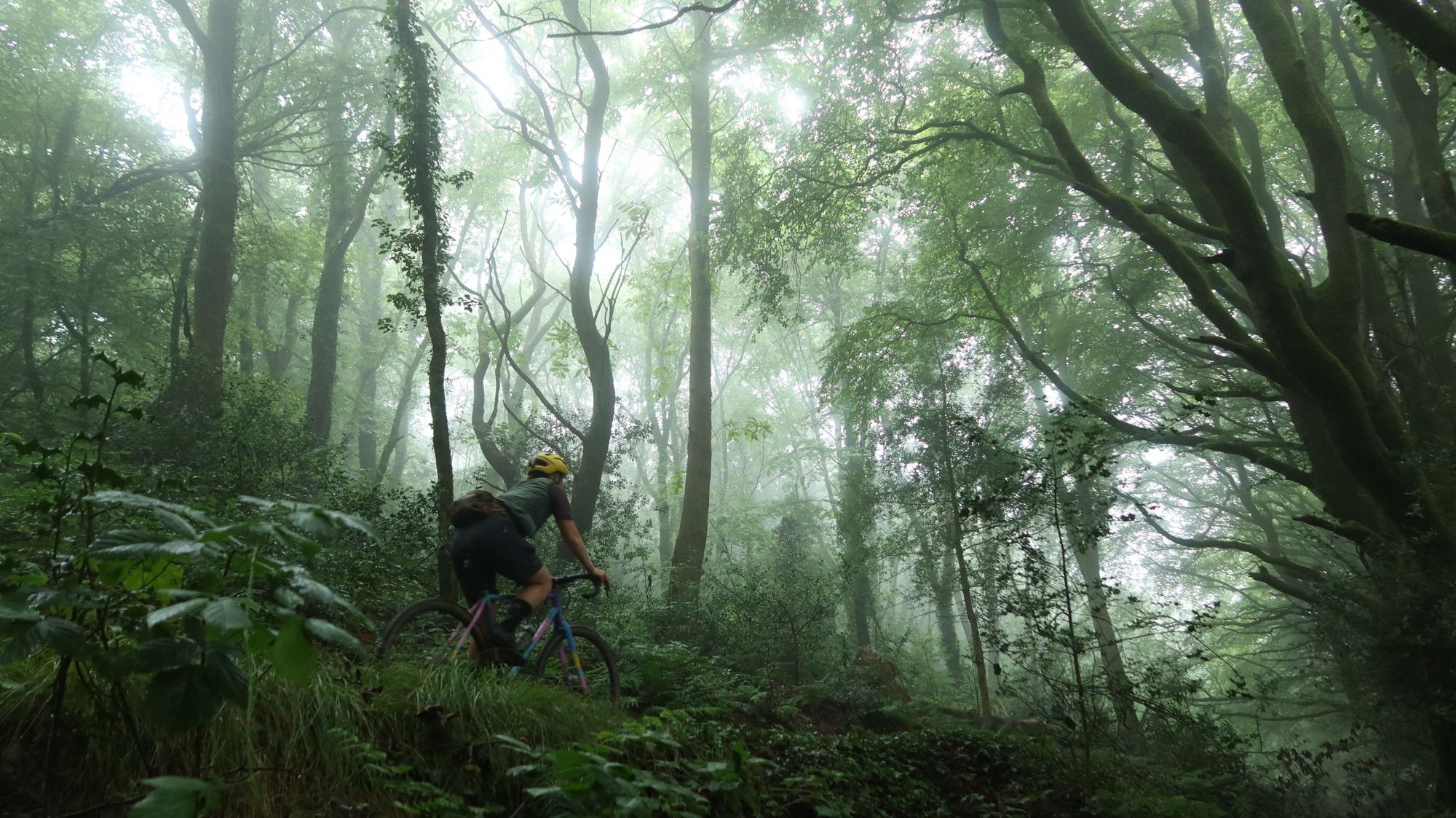 "It's not just about describing a route," Markus says. "It's about that connection to people and places. It was driven by people. My main takeaway from writing the book was that I got to see all these amazing areas of Britain I haven't been to before and I got to meet all of these characters that I always wanted to meet."
Stitz says the book caters for those just getting into gravel riding, and for more experienced riders, who can tackle the longer routes, "or even look for ways to extend them," he says. "But there's also information in there for people who are new, so they get an idea of what types of tyres to use and what bike to use.
"I was also keen to make as many routes available by public transport as possible, so we can encourage people to get out of their cars and use their bikes."
We asked Stitz to pick three of his favourite routes from the book; one from each of Scotland, England and Wales. For the full routes described below and 23 more wonderful rides, grab yourself a copy of Great British Gravel Rides now.
Twmpa Gravel, Powys, Wales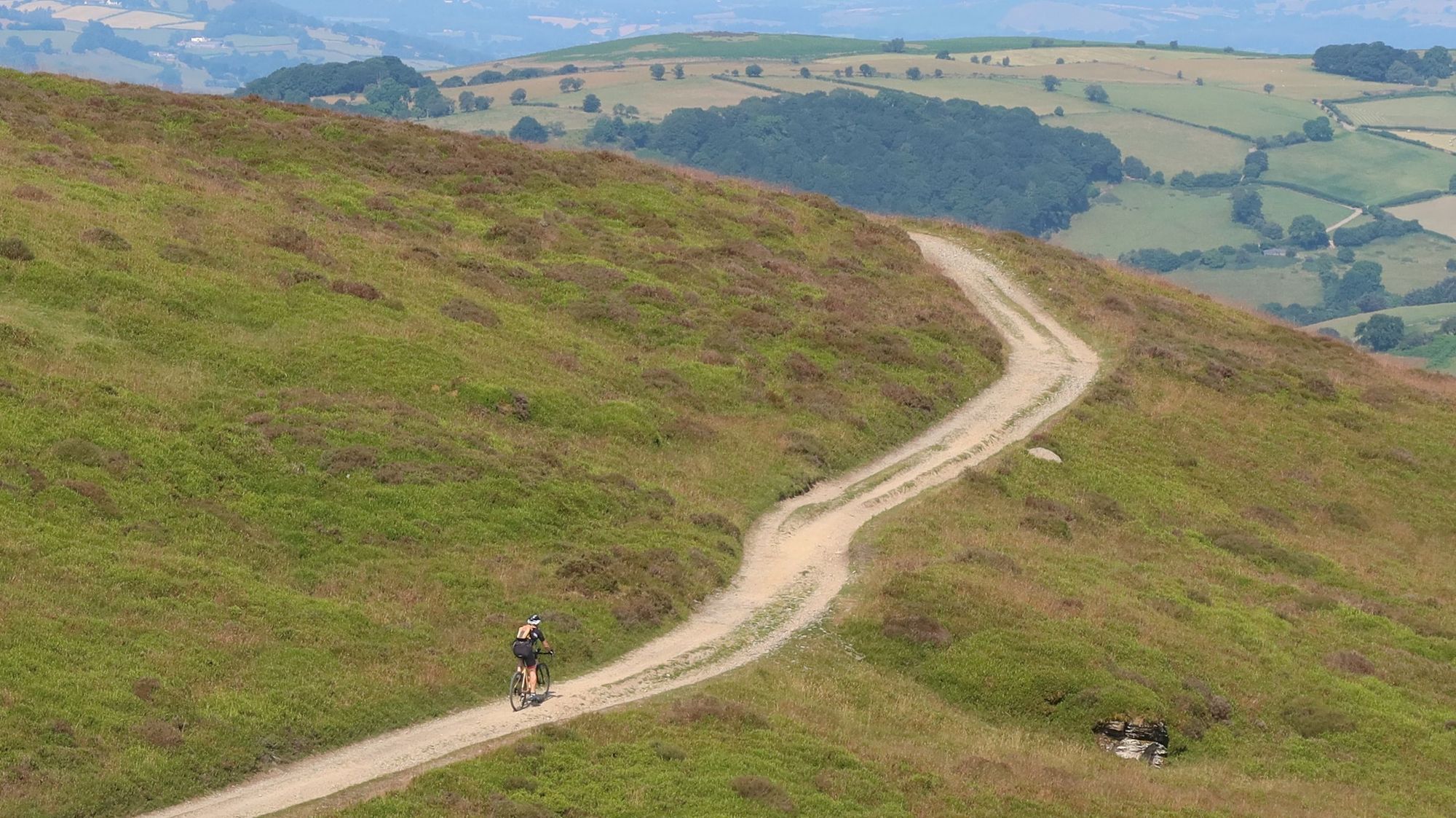 Length: 76km
"The area around Hay-on-Wye is stunning," says Markus. "The countryside is absolutely amazing. This is also one of those routes which is very green, very enjoyable and it's got everything that gravel riding is all about. It is quite a difficult route as well, but there is some very nice stuff there."
A loop from Drover Cycles in Hay-on-Wye, you'll pass Hay Castle, the Begwns, Painscastle Castle and Cradle Rocks. Markus' book describes this route as "an exhilarating mix of the various types of terrain that gravel bikes enable you to explore, from narrow lanes to wide open hilltop tracks with stunning views."
Stitz's companion for this ride was gravel rider and furniture-maker Andy Dix.
We actually rode this route on wooden gravel bikes...
"We had planned to ride with Andy and Robert Penn originally. Robert has written a book called 'It's All About the Bike', where he travelled the world to assemble his dream bicycle. I have a German translation and watched a documentary about it as well. I got to stay with Robert when I was in Wales researching the route. He's a super interesting character and the story of [Andy's business] Twmpa Cycles is really interesting - they make bikes out of wood.
"Originally the idea came from Robert, who had an ash tree, and approached Andy, to do something with it. Andy turned around and said 'why don't we make a wooden bike?' and I think the story is that it was for a television documentary, and the producers got hot feet and were worried that he wouldn't produce a bicycle, so he made a writing desk for Robert instead, but out of the idea for that, they picked up the idea for making a wooden bicycle, and then later they made them. So we actually rode this route on wooden gravel bikes.
"When I first looked at a wooden bike, I was a little bit doubtful. It looked absolutely stunning, but sometimes you've got a really nice-looking couch or armchair and in reality they're not practical. These bikes were an absolute joy to ride. They're really nice, responsive rides, and it was quite special to do that."
Windmill Gravel, Buckinghamshire, England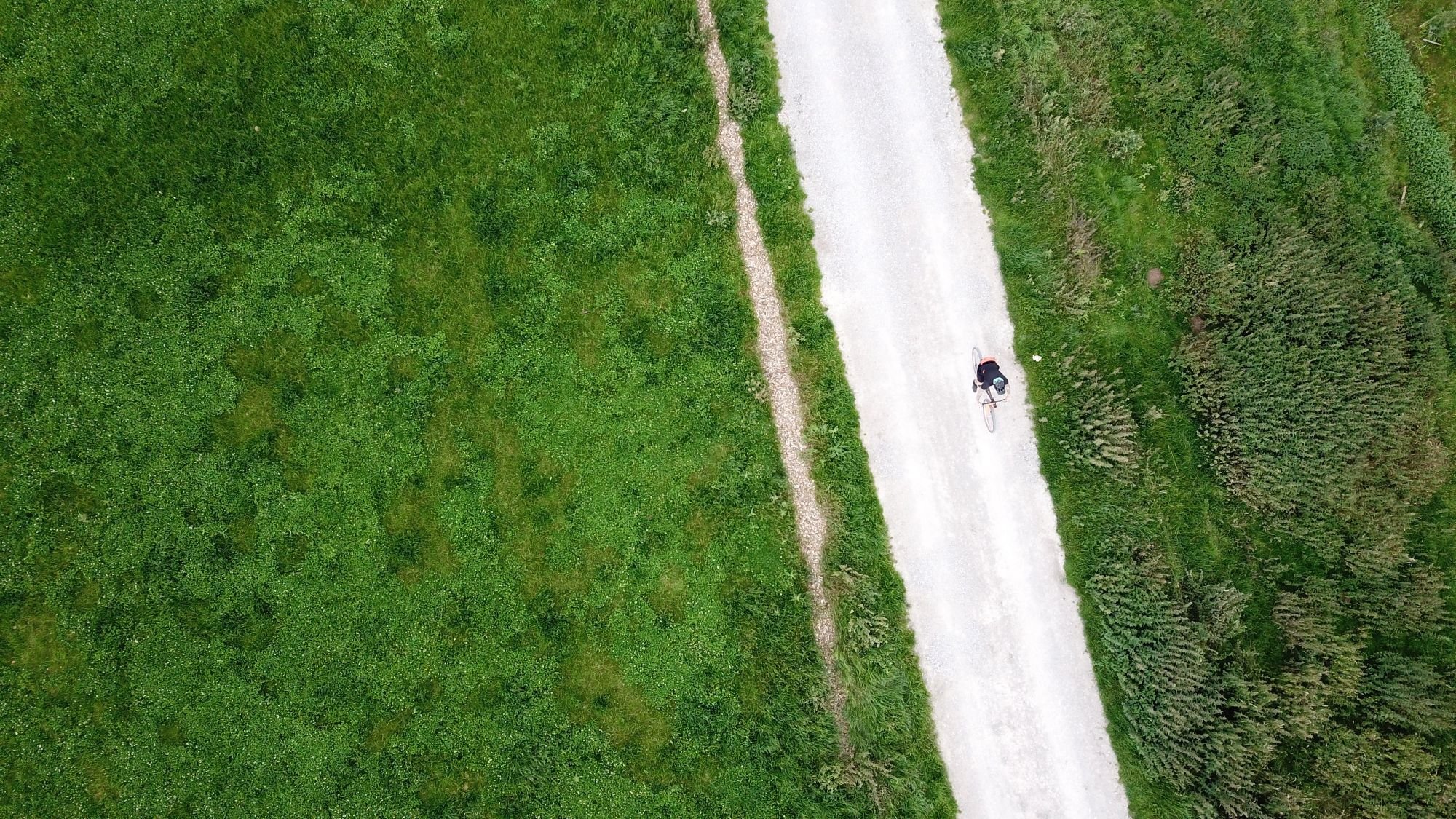 Length: 58km
"The whole idea of the book was to feature areas that aren't on people's radar, which is why I've picked this route around Milton Keynes," says Markus. "I think if you go to the South Downs or the Lake District or the Peak District there are quite obvious places to ride bikes, but around Milton Keynes - it's very close to an area where loads of people live, and where people from time to time want to get out of town and see something else, and my experience of riding with Grant [Wildman, representative for Schwalbe Tyres UK] was exactly that."
This route starts and finishes at Wolverton Railway Station, with the high point only hitting 118m. Great British Gravel Rides describes the route as pretty flat, noting that "at times, riding the route feels a bit like riding in Holland, amplified by the Redways, brick houses and a windmill. At other times, the route offers exactly the vastness and escapism needed to forget the city."
Along the way, you'll pass Cowper's Alcove, Cowper and Newton Museum, the Emberton Country Park, Great Linford Manor Park and Bradwell Windmill.
Markus describes Milton Keynes as a busy place. "It's a typical big town," he says. "But it's an interesting town, built in the 60s, with good cycling infrastructure. It's a new town, so there's not a shiny castle, but it was a great day out on bikes, passing canals and these picture-perfect, wide gravel paths which if you took out of context, you would be saying 'this is amazing'!
"The other thing that I found really interesting is that we passed a house which used to host a recording studio, where Jamiroquai and Portishead recorded albums. So you get routes in the book that have all these big landscapes and stories centred around them, and then you have these more urban routes where popular culture creeps in.
"Another example of that is that the route also goes by Olney, where 'Amazing Grace' was composed. There's a pavilion where you can sit and look out on a field, and that's where Reverend John Newton used to sit and write. Those kinds of things I find really interesting."
Lomond Hills Gravel, Perth and Kinross/Fife, Scotland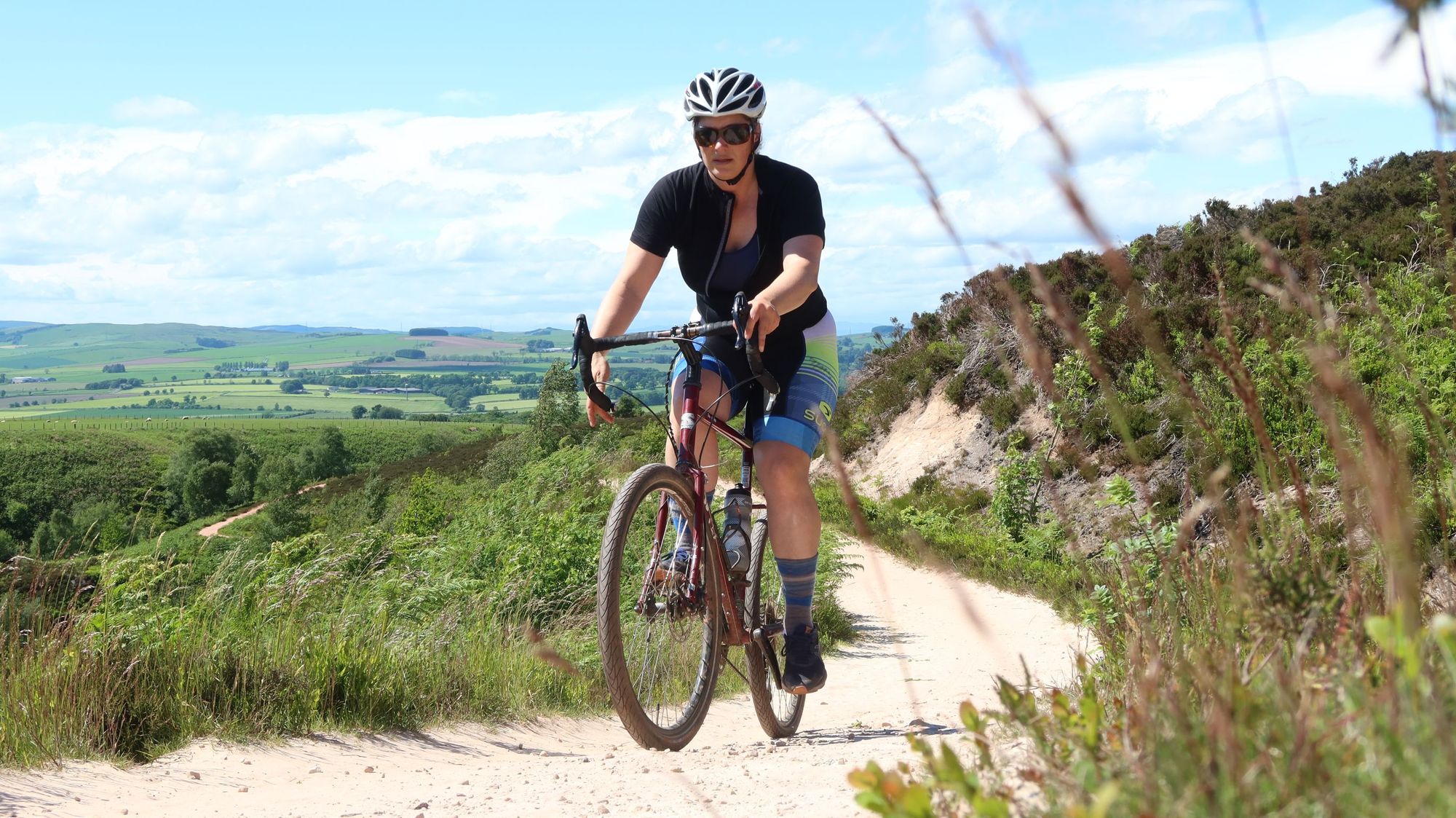 Length: 59km
"This route is not super long and it's also not super tough to ride," says Markus. "Plus, it's an easy one to get to from Edinburgh or Glasgow. It starts in Kinross, and there's an electric bus service that runs there, Ember, on the way from Edinburgh to Dundee."
This route is a loop from Kinross, which the book says spans "from faster sections on rural roads and the cycle path along the shores of Loch Leven to more technical off-road passages."
The Lomond Hills are a really nice place to ride. You're not going high up, so you can ride the route year round...
Markus says: "I find Kinross quite an interesting place. There used to be three railway lines going into it and now it has none. That's partially because someone decided to build a big motorway from Edinburgh northbound, and the railway line had to give way to that. So in a way, Kinross as a town is a place where public transport has been going in and out for decades.
"The Lomond Hills are a really nice place to ride. You're not going high up, so you can ride the route year round unless there's deep snow, and it's just a really nice mix of lovely gravel riding. There's a bit which takes you round Loch Leven which is very pleasant to ride for pretty much all ages. And then you head to the Lomond Hills and there's a bit of a technical climb going up towards the saddle, and then you go over to a loch, and pass East Lomond and down into Falkland, which is just a very nice, picturesque village in Fife. You then pass the Pillars of Hercules, which is a lovely cafe, and then it's back to the start.
"If I wanted to pick a Sunday ride, that'd be it - especially if you live in Edinburgh or Dundee."
Inspired? Pick up a copy of Markus Stitz's Great British Gravel Rides, or check out our Intro to Gravel Riding adventure now!
This article contains affiliate links. Which basically means we make a little commission if you click through and buy something. It doesn't cost you anything, and it just means we can do more good things in good places.