Summertime, and the living is easy... but maybe a little too easy? If you're looking to inject a bit more adventure into your summer, we've got you covered. Before the months slide away in a hazy blur of warm days and light nights, why not challenge yourself to do something a bit more memorable. How does attempting to climb atop a mountain sound? How about three of them in a oner? Or racking up some hefty kms on an icy expedition or multi-day trek? Either way we've got a few lofty ideas to turboboost your summer... are you game?
1. TREK THE TOUR DU MONT BLANC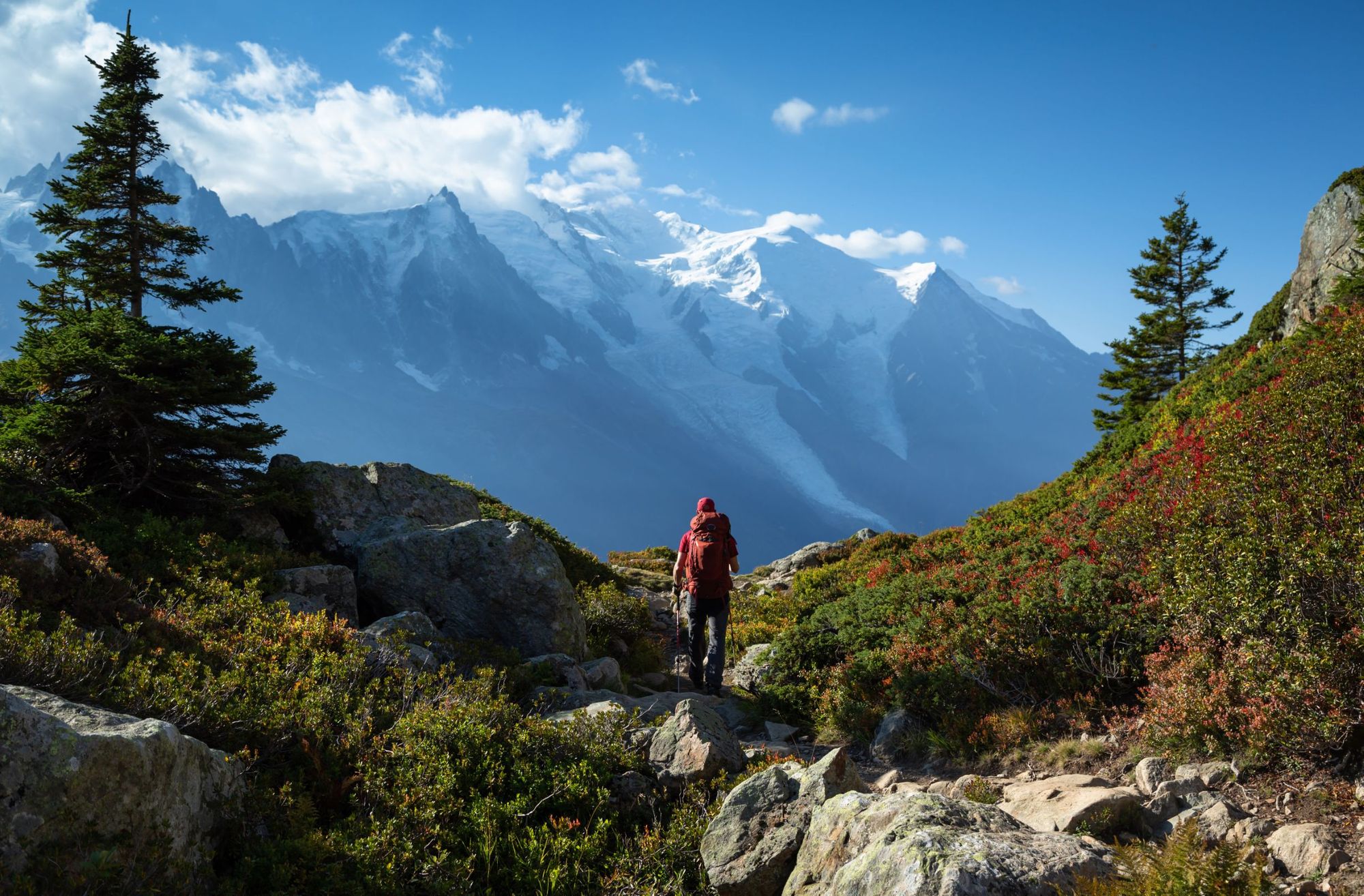 Tackle this iconic hike through the heart of the Alps, passing through France, Italy and Switzerland. You'll be hiking 15-20 kilometres a day, from refuge to refuge, with 1,600 metres of ascent on the toughest day. You'll climb snow covered passes, pass through Alpine wildflower meadows and beautiful glacial lakes. Mountain hiking at its finest.
2. ARCTIC WILDERNESS ADVENTURE IN SVALBARD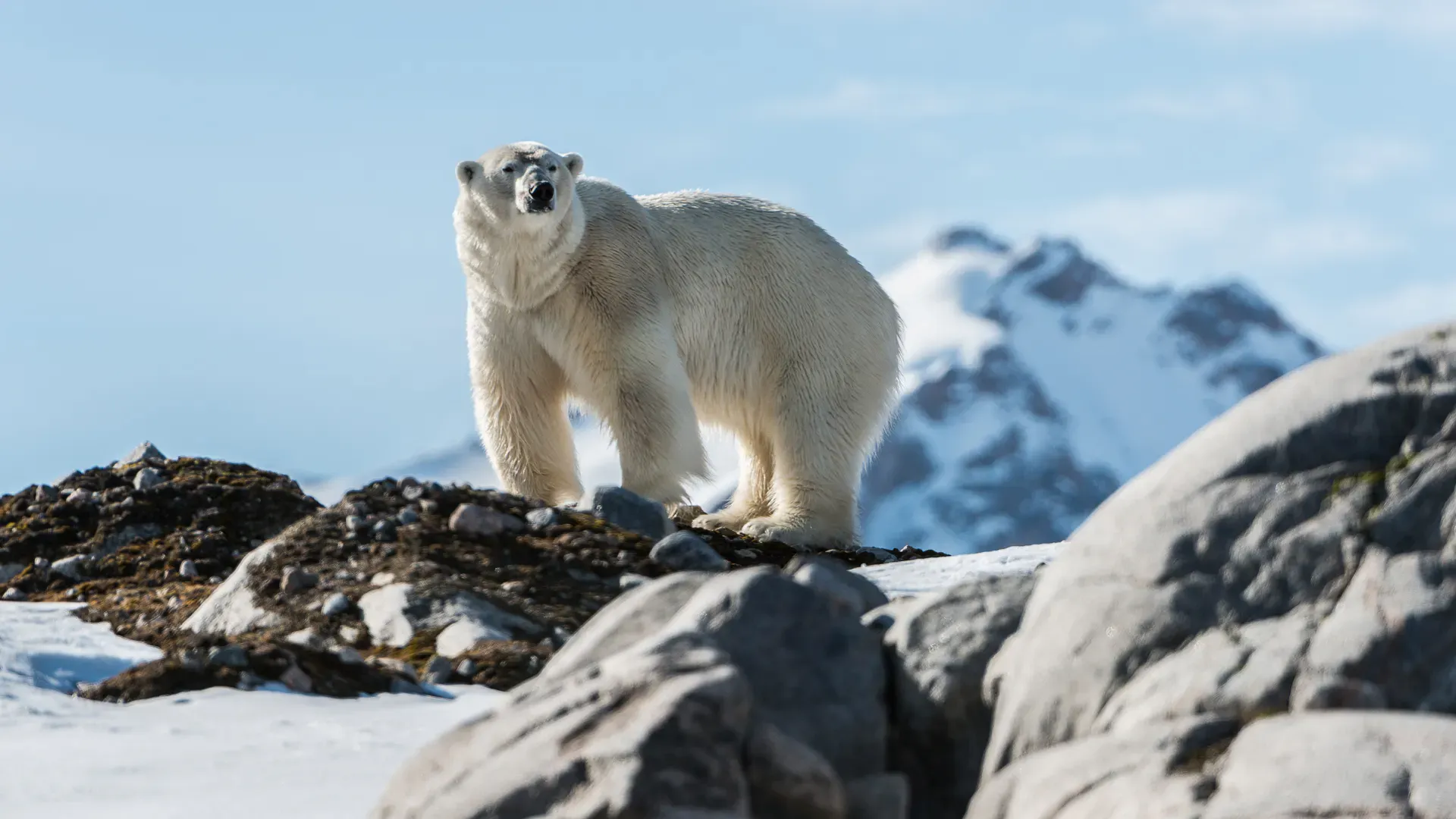 Summer sun not your thing? Then snag a spot on a trip so epic and unusual that 'not your average summer holiday' doesn't even begin to cover it. Set off on a true Arctic adventure in Norway's Svalbard archipelago. You'll hike, kayak and glacier walk across the dazzling fjords and majestic mountains of Spitsbergen Island, sleep in the wilderness, brave the 'Polar Plunge' – a (quick) dip in the Arctic Ocean – and experience the midnight sun as you take turns on polar bear lookout. Remember to keep your eyes peeled for whales and walruses as you paddle through this insanely beautiful scenery.
3. SUMMIT TO SEA EXPEDITION IN SCOTLAND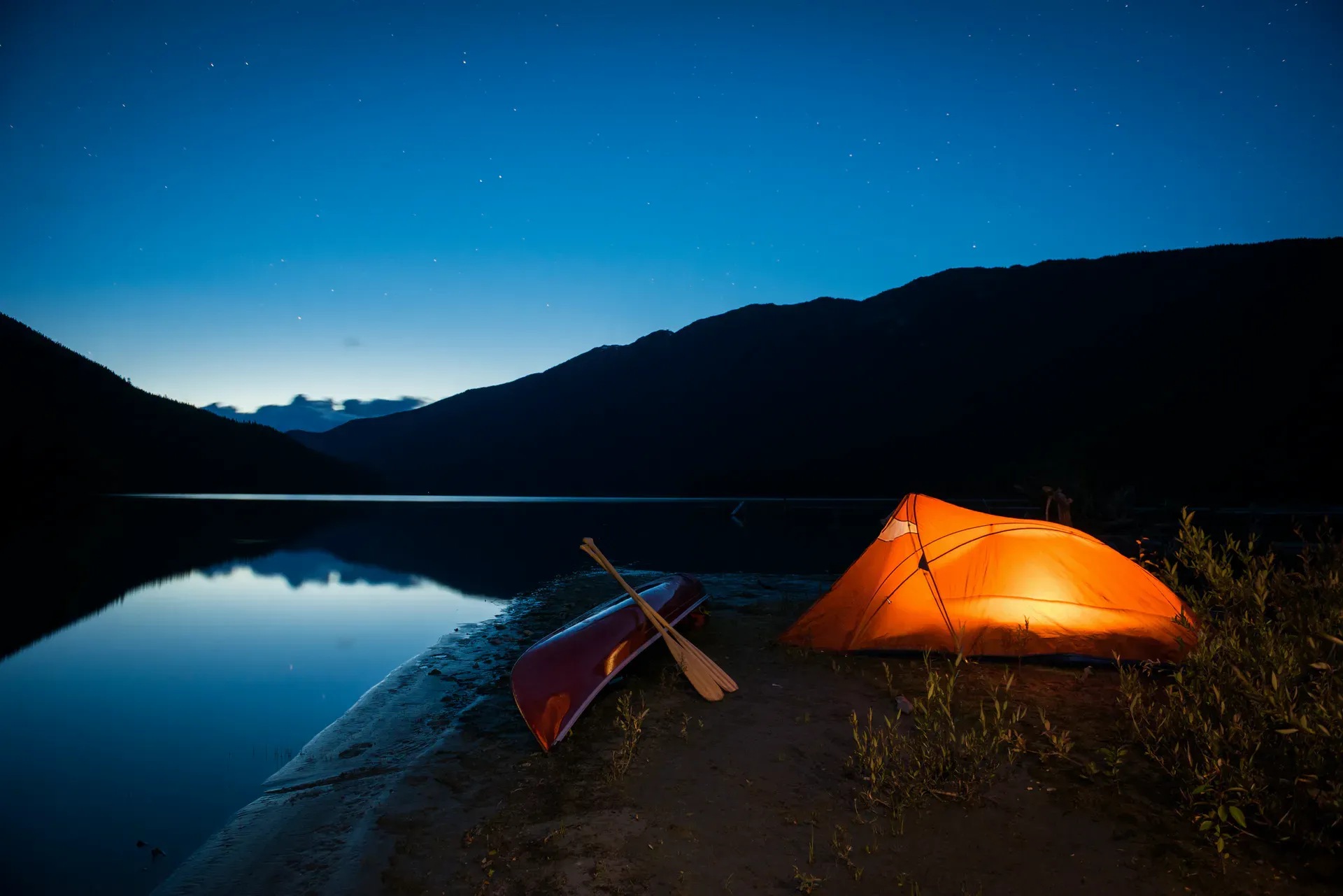 Traverse the Cairngorms National Park and canoe the rapids of the River Spey all the way to the sea. Climb Cairn Gorm, the legendary 4000ft mountain right at the heart of the UK's largest National Park, before you brave the cold waters and wild swim in stunning Loch A'an, over 2000ft above sea level. Tackle the notorious 'washing machine' section of the River Spey as you canoe through whisky country, camping on riverbanks as you go.
4. HIKING IN THE CANADIAN ROCKIES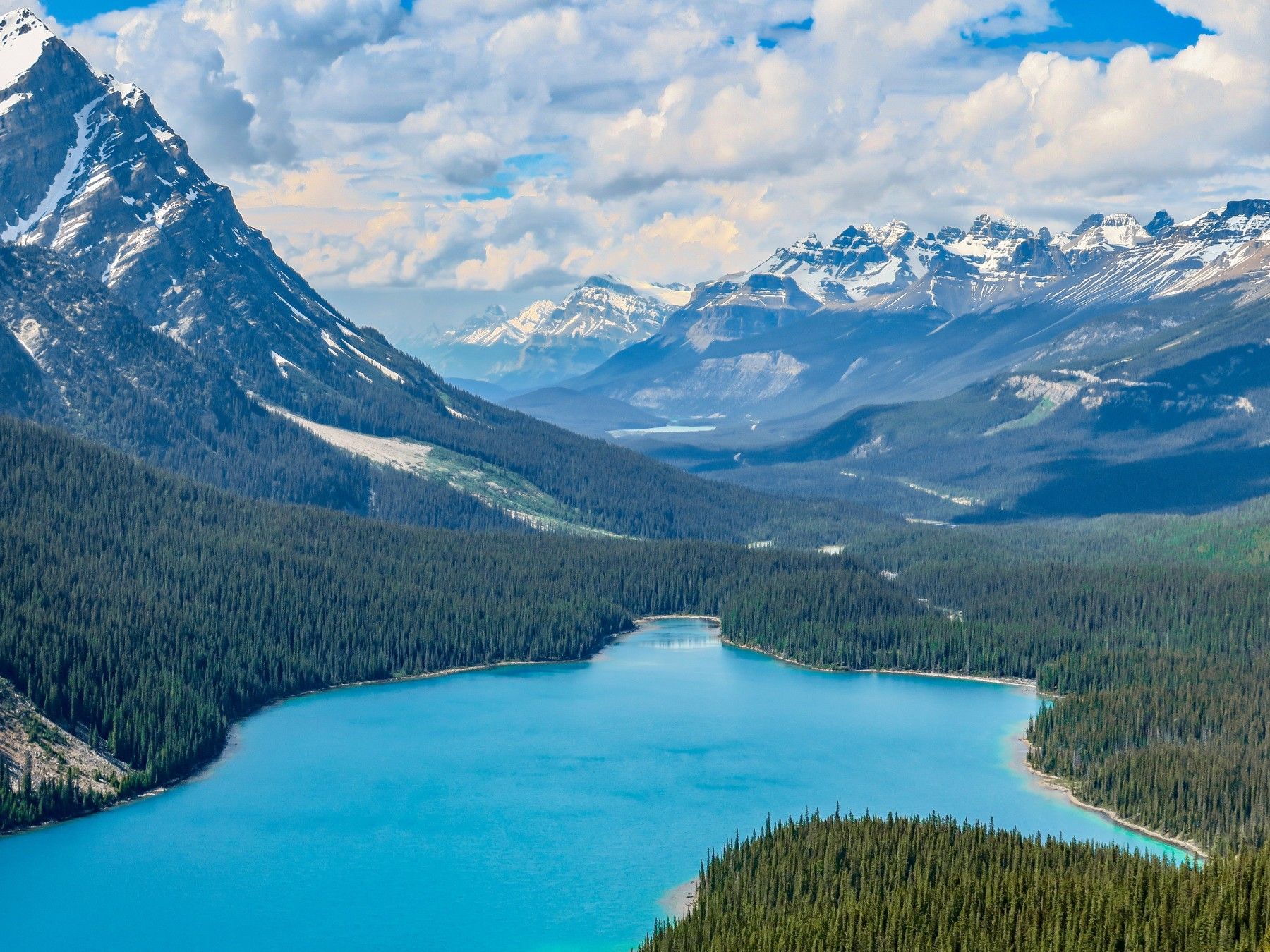 Grab one of the remaining spots on this hiking adventure in the Canadian wilderness. Across the week you'll immerse yourself in the nature of four national parks. In Banff National Park you'll summit Mount Fairview (2744m) and tackle Sentinel Pass, while in Jasper National Park you'll trek by the Athabasca Glacier. Couple it with some chilly dips in glacial lakes, epic road trips and some 'front country' camping, and you've got a brilliant adventure!
5. KAYAKING EXPEDITION IN TANZANIA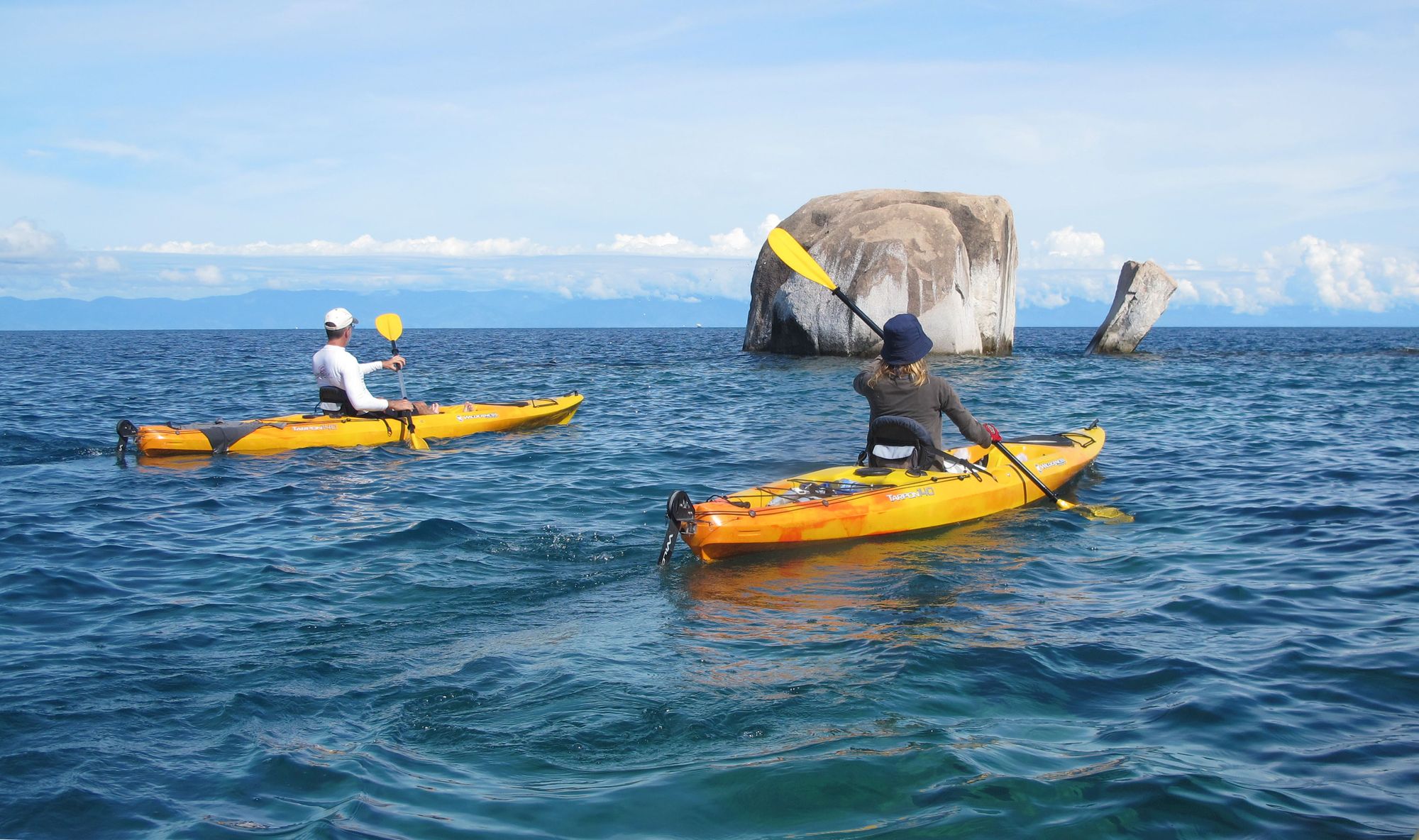 This is a kayaking expedition that traces the shoreline of wild, remote Lake Tanganyika – one of Africa's Great Lakes and the world's second-largest freshwater lake. You'll kayak over the clear waters, stopping to swim and snorkel as you go. You'll tuck into freshly caught fish and wild camp on idyllic beaches under the stars. You'll also have a chance to explore the forests of Mahale Mountains National Park for ranger-guided hikes to see the protected chimpanzees. Life-affirming stuff.
6. HIKE THE VOLCANIC ISLAND OF GRAN CANARIA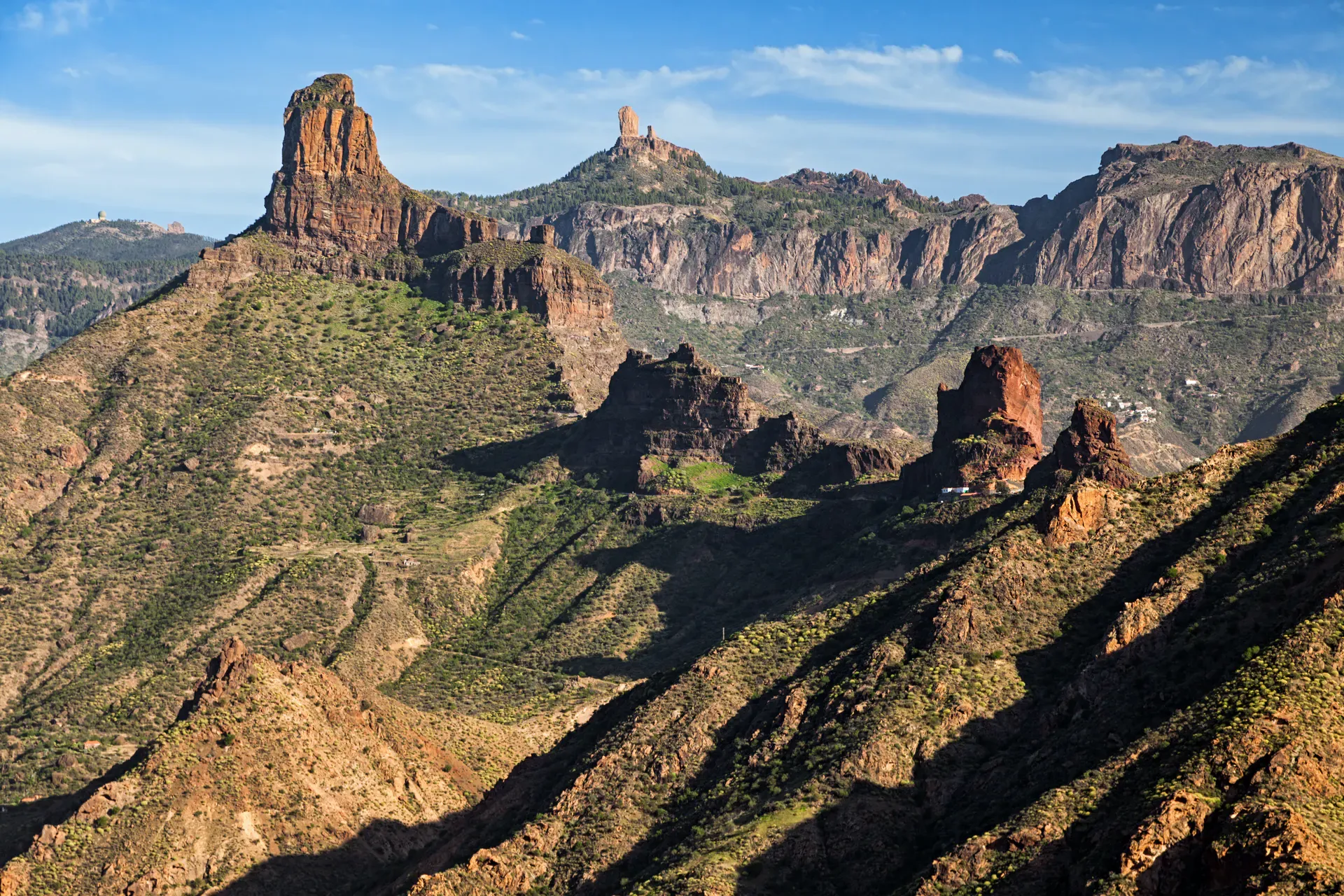 Take on a challenging hike from the highlands to the coast of a tropical mountainous gem in the Canary Island archipelago. Stomp to the summit of Pico de las Nieves, the highest point on the island at a hefty 1949m; cross the craggy sun-baked mountain ranges taking in cool pine forests, sunken calderas and sky-skimming ocean views; bask in a subtropical climate, traversing one of the sunniest islands in the world, and finish by cooling off in coastal rock pools. You'll see a wilder side of Gran Canaria that most people don't discover.
7. THE ULTIMATE NORWEGIAN FJORDS ADVENTURE
Hike and kayak through astounding landscapes and glacial tongues, staying in cool places along the way. Summit Scandinavia's highest peak, clip on crampons to clamber across icy glaciers, paddle through the pristine Nærøyfjord, and hike the towering cliffs above for unforgettable vistas. Come nightfall, you'll have the pleasure of bedding down in quirky boutique hotels, cosy historic inns and directly under the stars, in a wild camp by the fjord's edge. A bucket list trip exploring one of the world's most astounding landscapes.
8. TREK HUT TO HUT IN THE DOLOMITES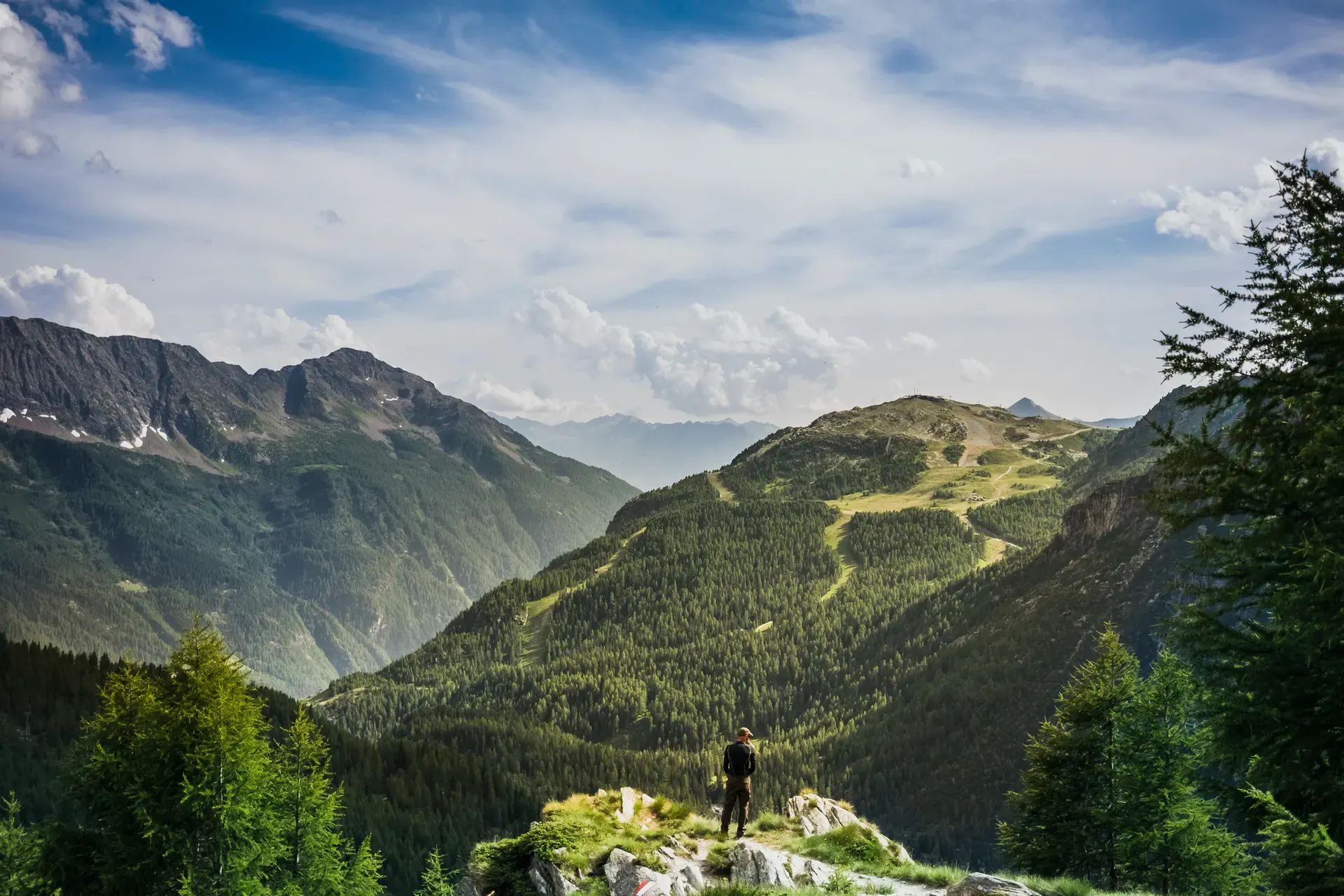 Hike through the deep valleys and dramatic spires of Italy's Dolomiti Bellunesi National Park. You'll follow a wild route through the towering pinnacles and lunar landscapes of this UNESCO World Heritage Site, trekking along the Moschesin Pass beneath the peaks of Mt Pramper (2409m), Mt Schiara (2,565m) and Mt Pelmo (3,168m). When darkness falls, you'll bed down in high Alpine refuges deep in the Dolomites and fuel up on delicious Italian food.
9. 100KM CANOE EXPEDITION ACROSS SCOTLAND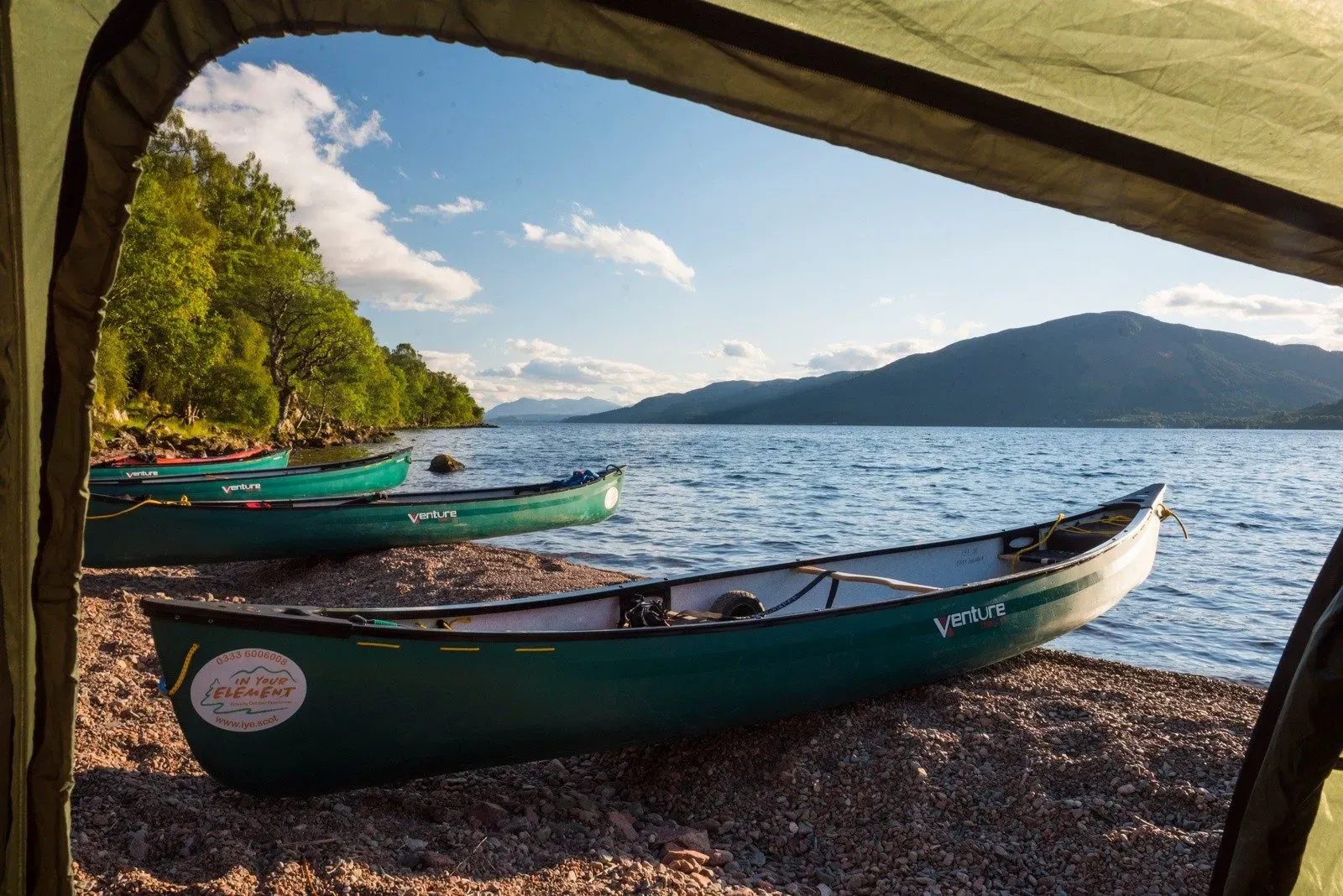 Traverse 100km of flat water and experience the Great Glen Trail on a long-distance canoe adventure, crossing Scotland from Fort William in the west to Inverness in the east. Head along the Caledonian Canal, cross the legendary Loch Ness – pretending that you're not secretly looking for monsters – and wild camp at remote, beautiful spots along the way, all the while surrounded by some of the UK's highest mountains. If you're quick, you'll still find a few departures this summer that aren't yet fully booked.
10. THE SNOWDON CHALLENGE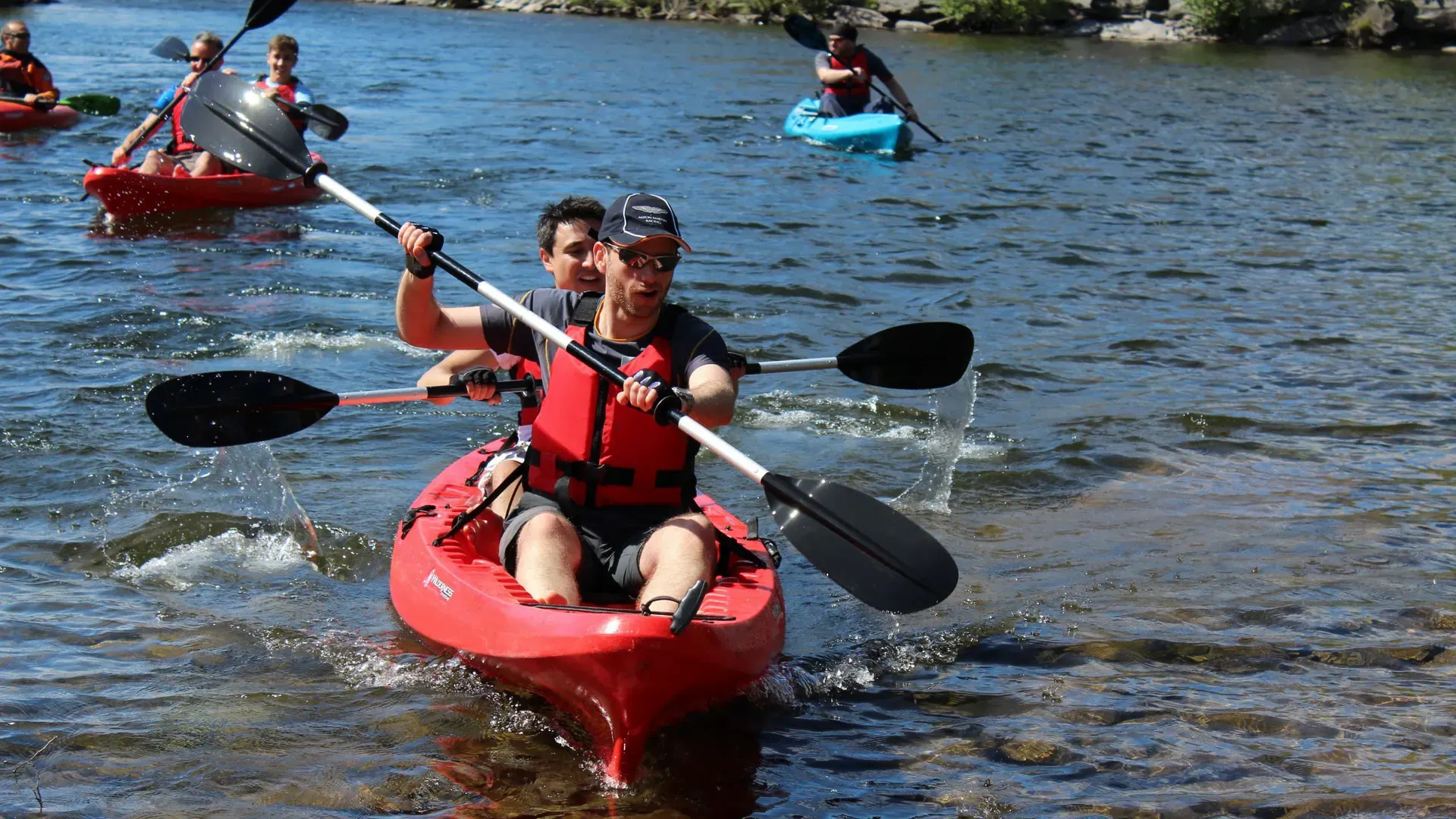 Take on one of the UK's most rewarding mountain challenges in just one day: a 17km cycle, 14km trek, 5km paddle and 10-hour sweat to the finish line. You'll bike across Snowdonia National Park, nail the 14km trek up Snowdon and kayak 4km round the stunning Llyn Padarn. This is eight hours of unrivalled action in one of the UK's wildest adventure playgrounds.
11. 100KM EXPEDITION IN GREENLAND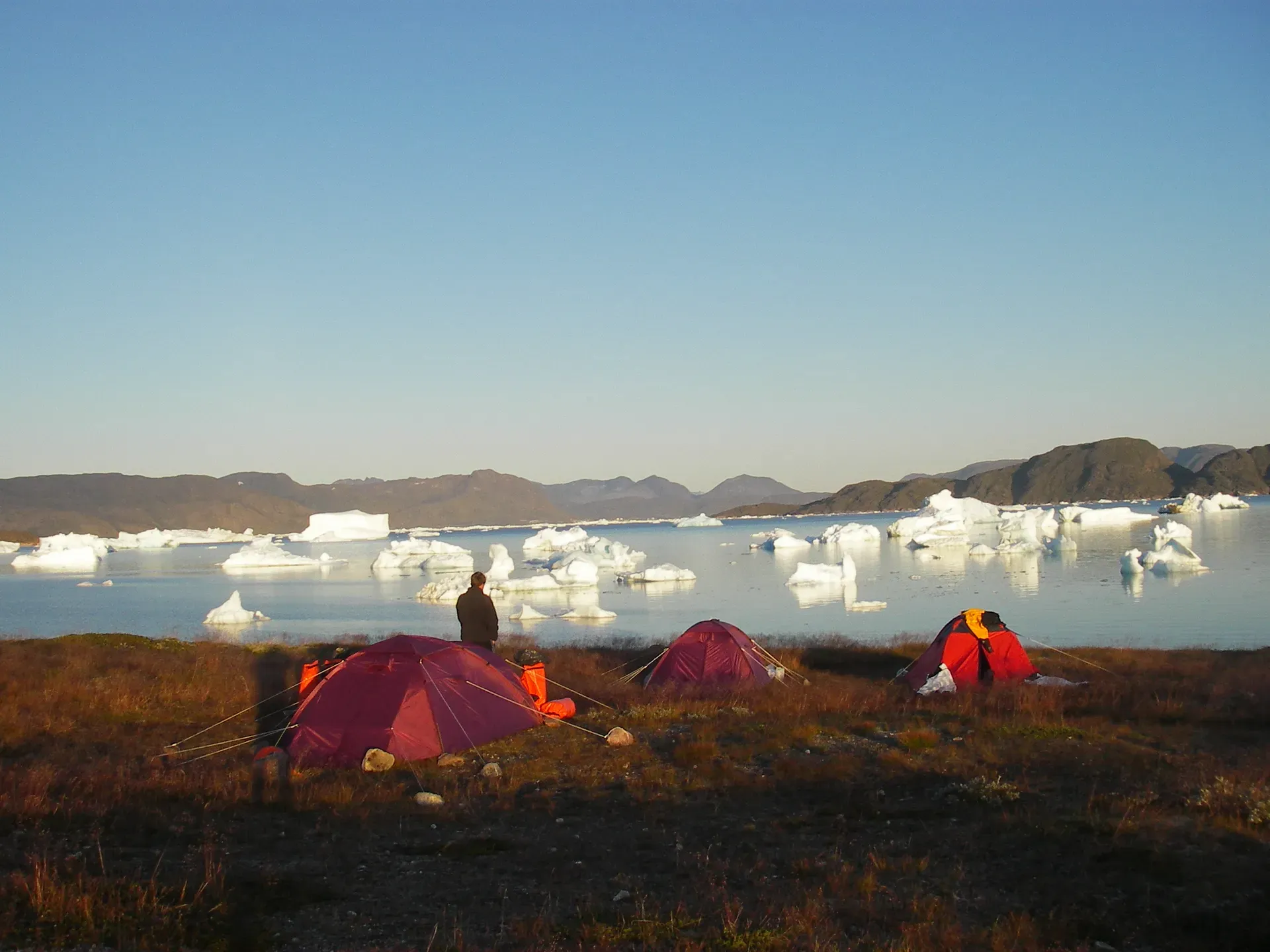 Ok, this is a big one. Power through never-ending Arctic summer days as you hike and kayak this remote, icy wilderness on a self-powered adventure like no other. This is an unspoilt wilderness where you'll kayak amongst the looming icebergs of the Greenlandic fjords (eyes peeled for seals, caribou and whales) and hike across the craggy Qaleralig glacier, with the creak of ancient ice underfoot. Oh, and did we mention it was deemed a 'Life-Changing Adventure' by The Telegraph?
12. ADVENTURE CYCLING IN NAMIBIA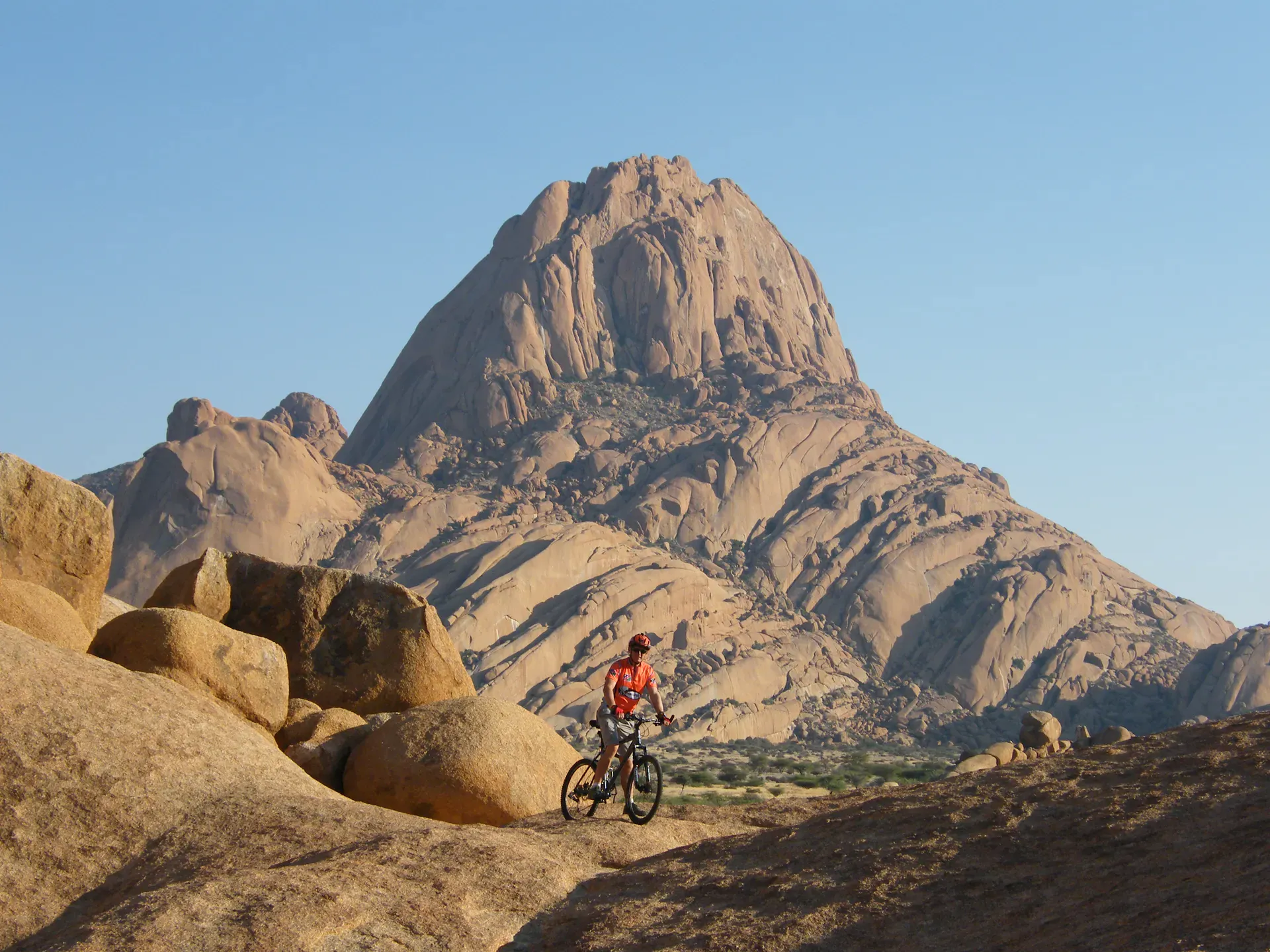 Ride through Namibia's vast dune desert, along the Skeleton Coast, jump on a safari and sleep under the stars. We have just one spot left this summer on an adventure where you'll pedal through an ever-changing desert landscape beneath enormous open skies and watch the sunrise over the tallest dunes in the world. Cycle along the Skeleton Coast, the world's largest shipping graveyard and join a safari – eyes peeled for lion, elephant and rhino. Visit thousands of breeding Cape Fur Seals in their enormous reserve and stand on the highest point in the country – Spitzkoppe Mountain.
13. Hike, Snorkel and Whale Watch in Dominica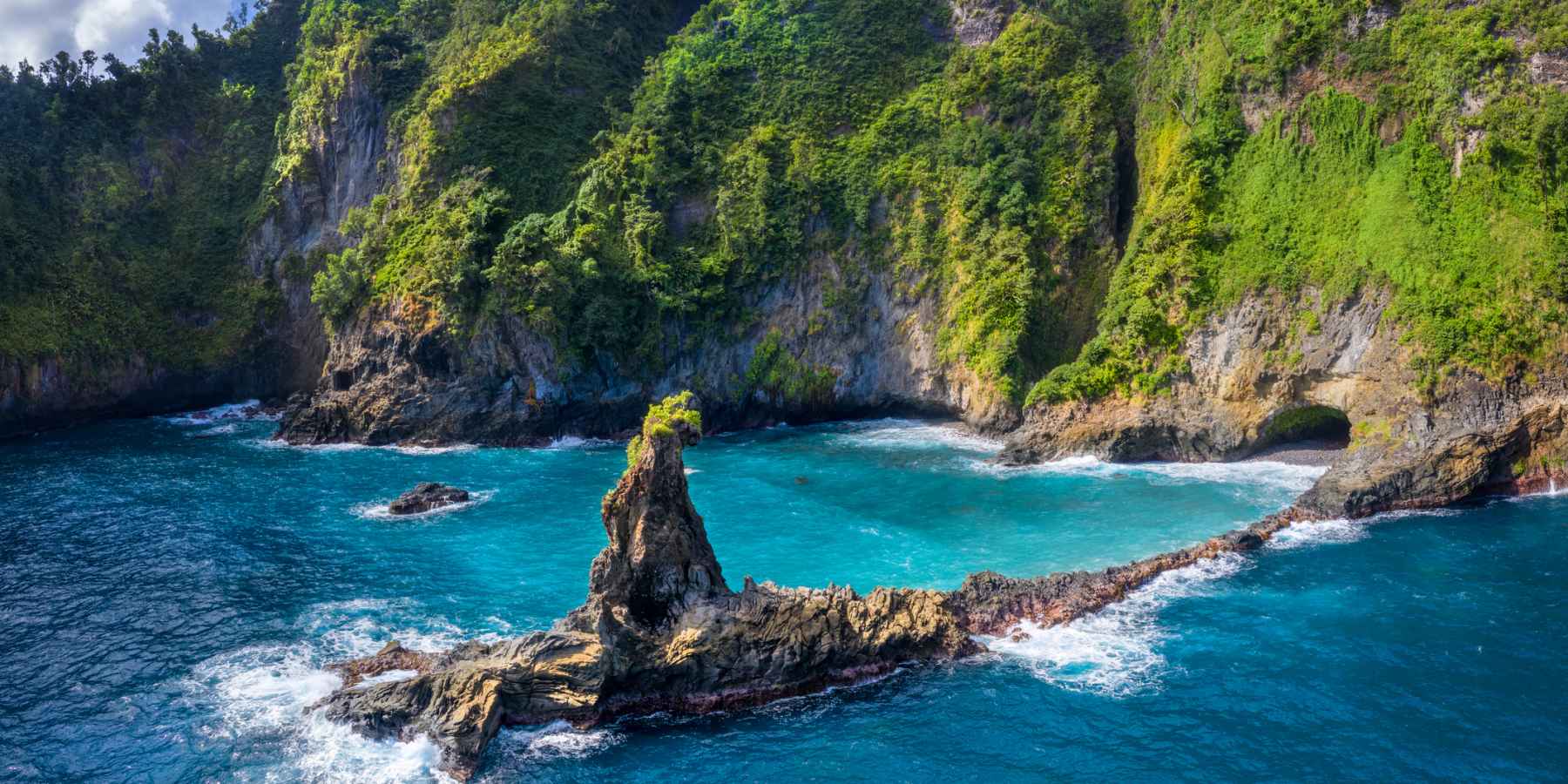 A multi-activity trip on the glorious Caribbean island of Dominica, away from the crowds. You'll hike sections of the Waitukubuli Trail through verdant jungle to dreamy waterfalls. You'll snorkel the turqouise seas of the Champagne Reef. You'll also head further out to spot sperm whales, humpbacks and dolphins from a boat. There'll be plenty of time for relaxing, too. Summer break done right.
14. ISLE OF RÙM EXPEDITION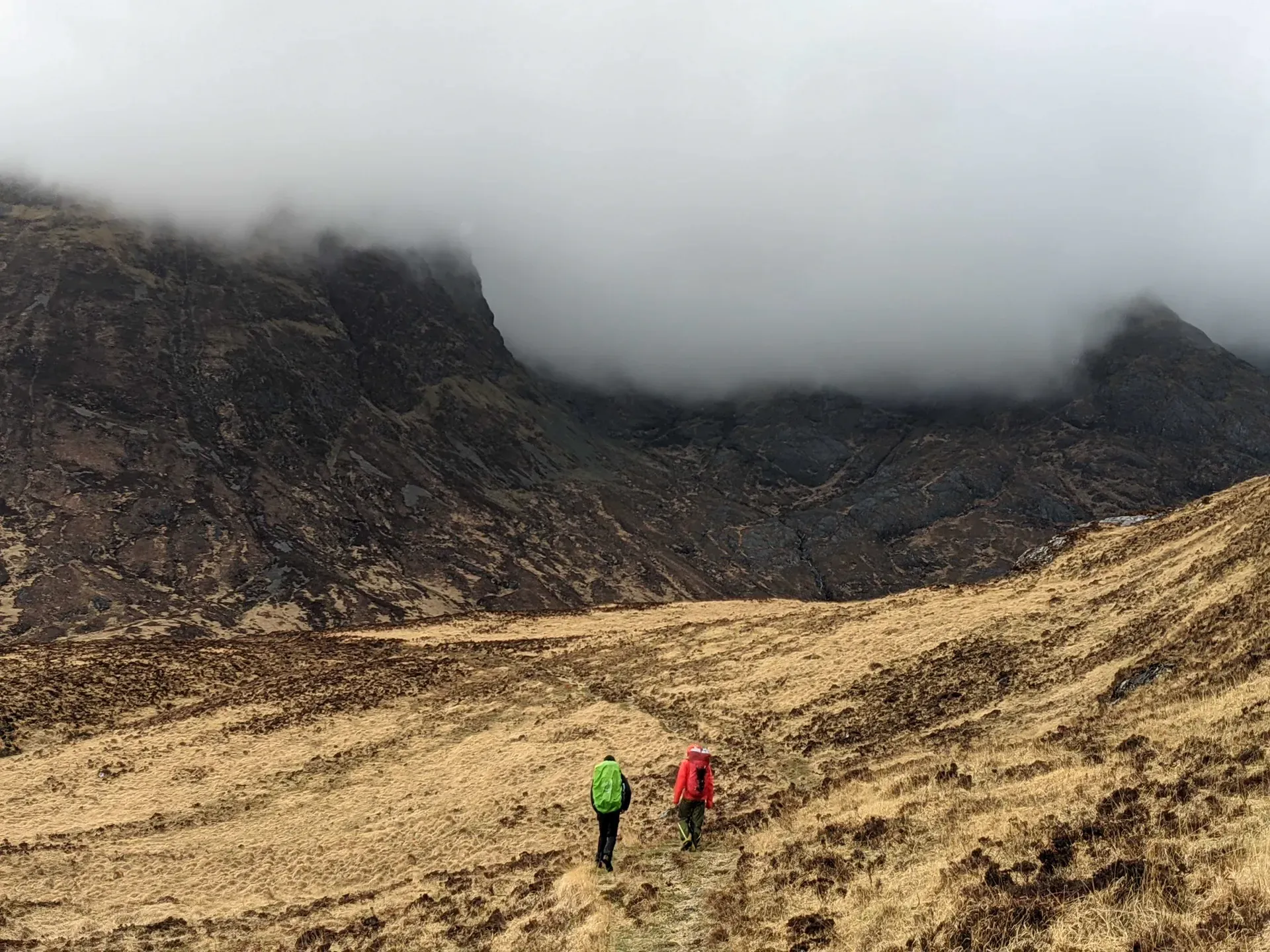 A truly wild adventure on a remote island in the Scottish Inner Hebrides, where you'll soak up life on Scotland's hidden gem; an island of no roads, forgotten castles and a mere 29 residents. Traverse the 6 peaks of the Rùm Cuillin ridge, topping out on Askival (812m) for the ultimate panorama of the Western Isles and wild camp in deserted spots alongside rocky shorelines, keeping watch for eagles, otters, seals, dolphins and the ubiquitous red deer.
15. HUT TO HUT TREKKING IN THE PICOS DE EUROPA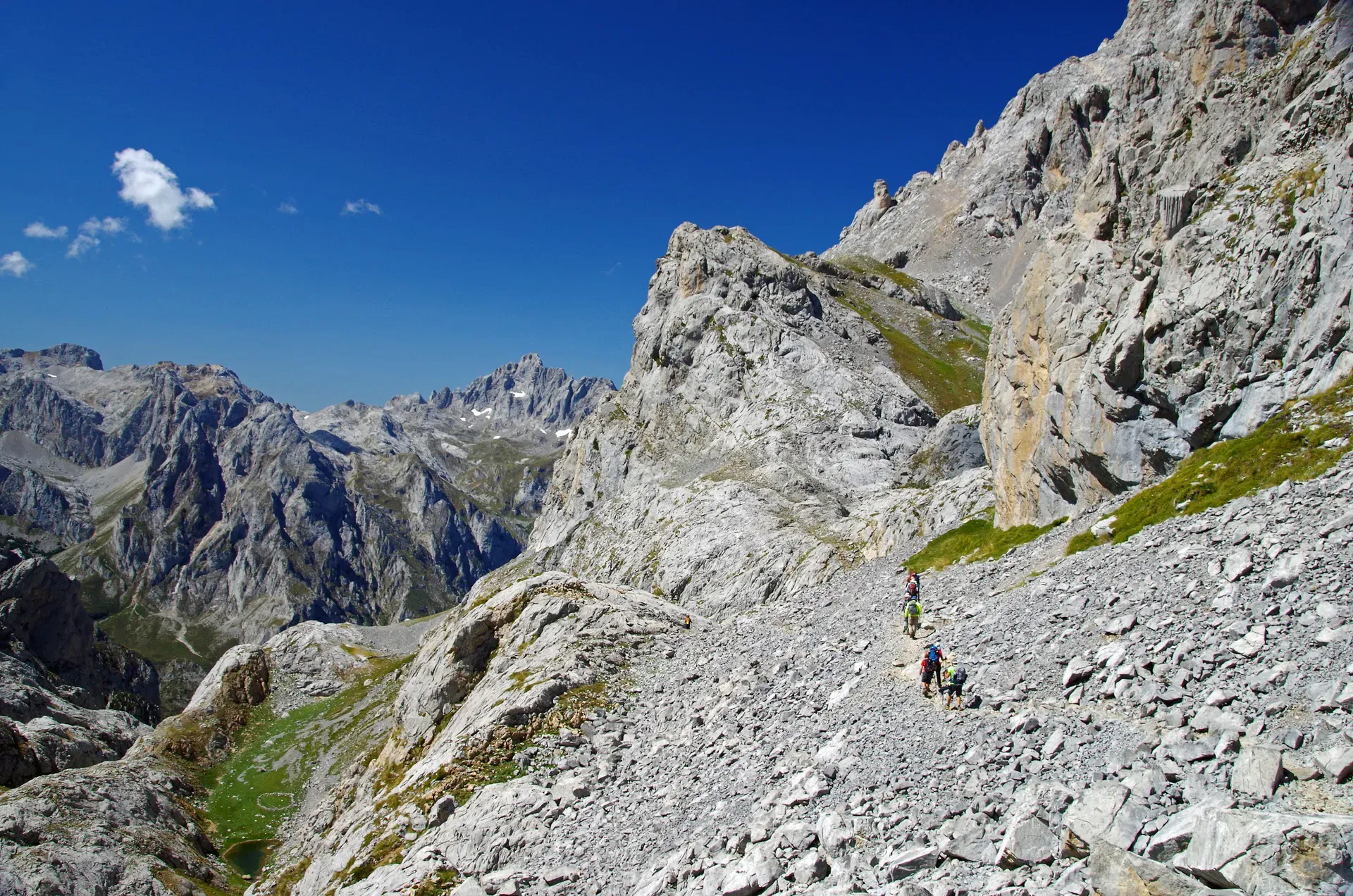 This wild hike through Northern Spain's hidden gem of a mountain range has added scramble. Tackle an epic route through limestone peaks, deep valleys and green pastures in one of Europe's quieter mountainous corners, all the while soaking up the good life in Asturias and Cantabria provinces, Spain's best kept secret far away from the crowds in the South. At night, you'll bunk down in rustic rural villages and hiker refuges deep in the Picos and fuel up on delicious Spanish food.
16. TREK THE TIAN SHAN MOUNTAINS OF KYRGYZSTAN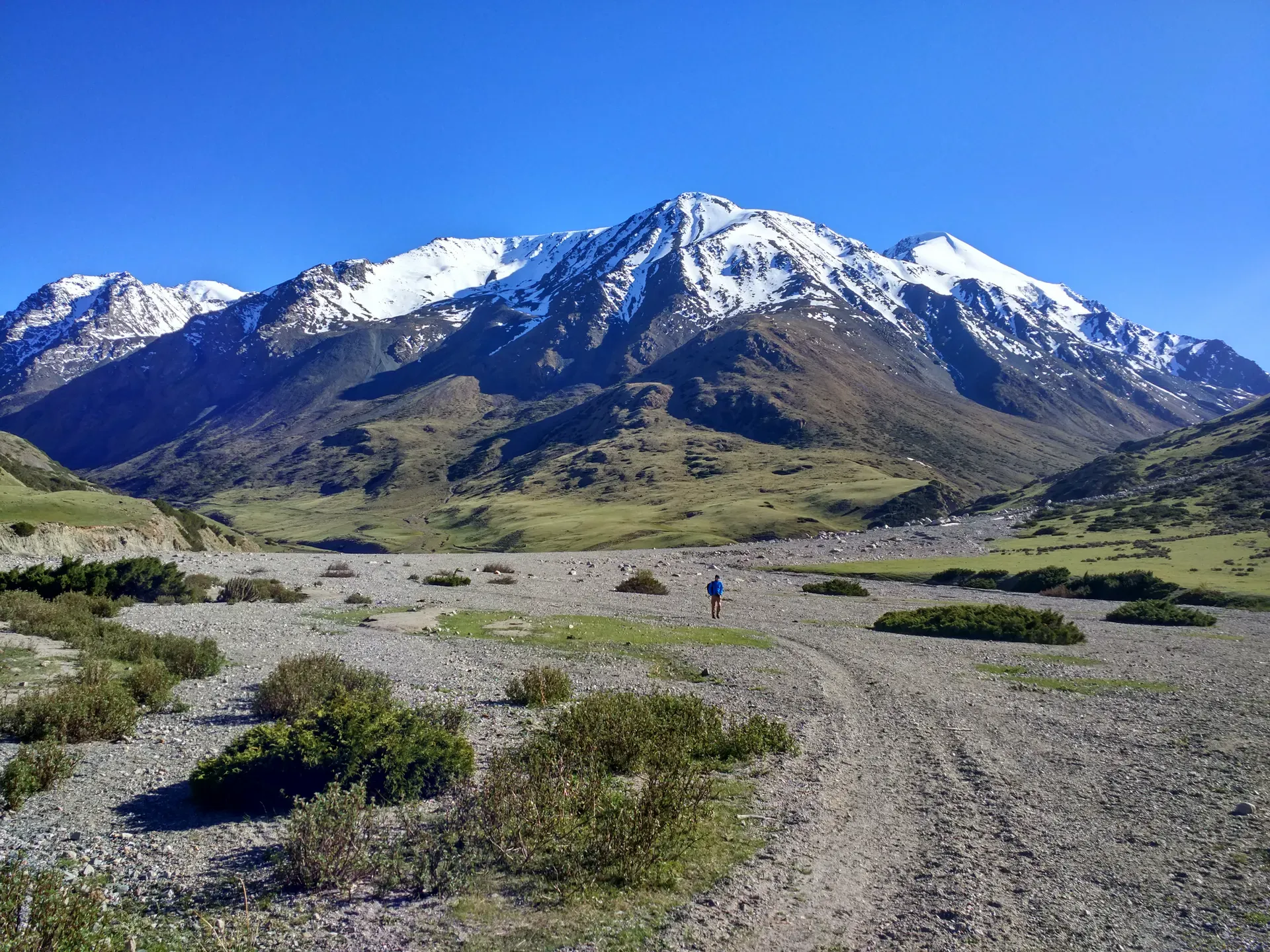 Hike the most spectacular mountain range in Central Asia and sleep under the stars on this epic adventure. Stomp through dramatic, red sandstone canyons, swim in the pristine water of the Issyk Kul high alpine lake, share a bowl of kumys with Kyrgyz semi-nomadic shepherds and spend a night in their yurt. What's more, you'll also cross the epic Jukku Pass (3800m) – a spectacular climb surrounded by glaciers and meet Aitbek, one of the last remaining Eagle Hunters in Kyrgyzstan.
17. TREK THE LAUGAVEGUR TRAIL IN ICELAND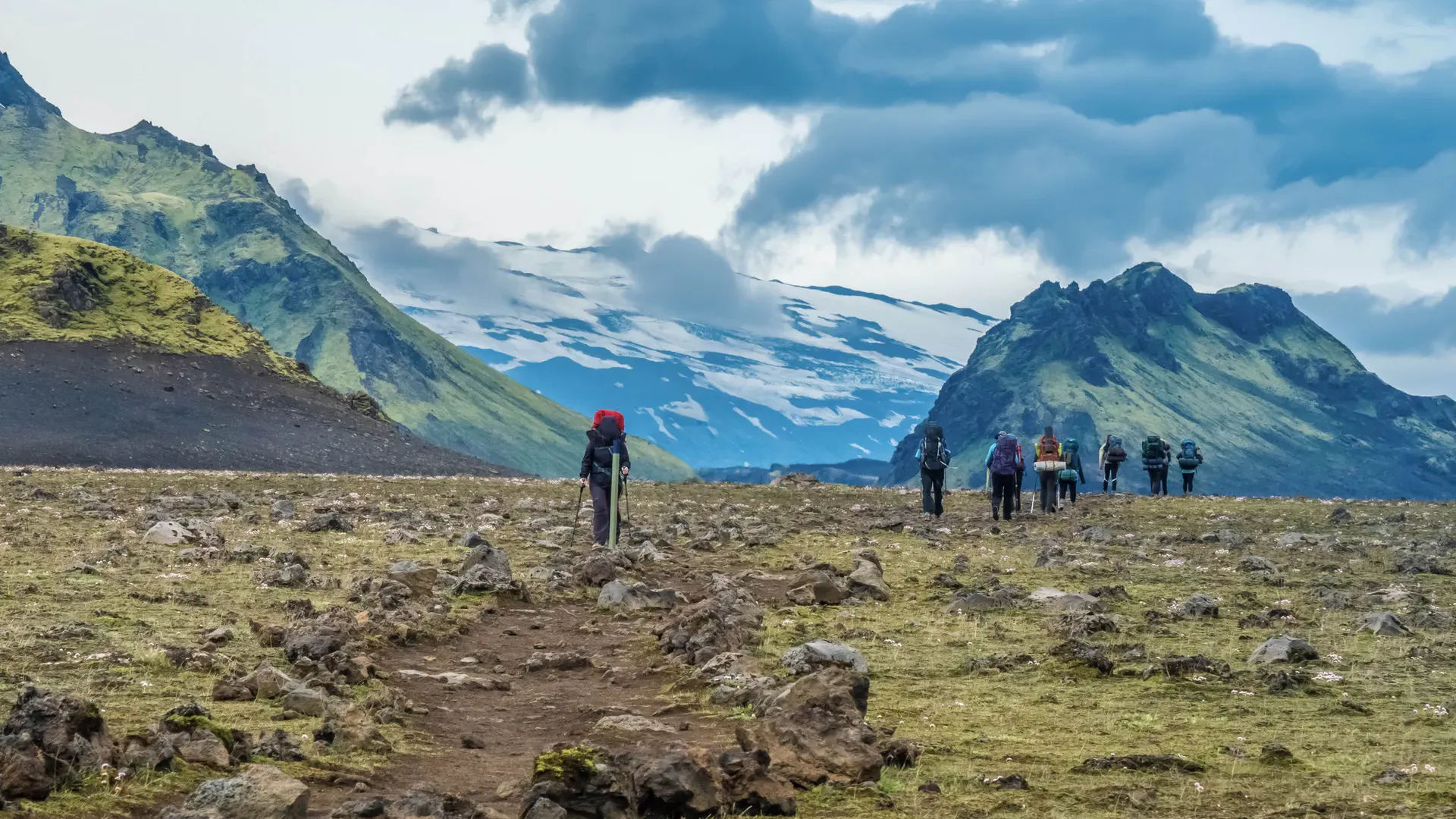 Tackle Iceland's legendary hut-to-hut trek – 55km of multi-coloured mountains, thermal pools, glaciers and volcanic slopes. Trek through one of the world's most iconic landscapes, including the otherworldly Landmannalaugar mountains, a multi-coloured geological wonder. Enjoy the pristine silence of Álftavatn and the undulating 'Valley of Thor' before finishing beneath the infamous Eyjafjallajökull volcano. Thanks to this uncompromising scenery, the trek is included in National Geographic's '20 Best Hikes in the World', and can be tackled June to September.
18. THE 3 PEAKS CHALLENGE IN MOROCCO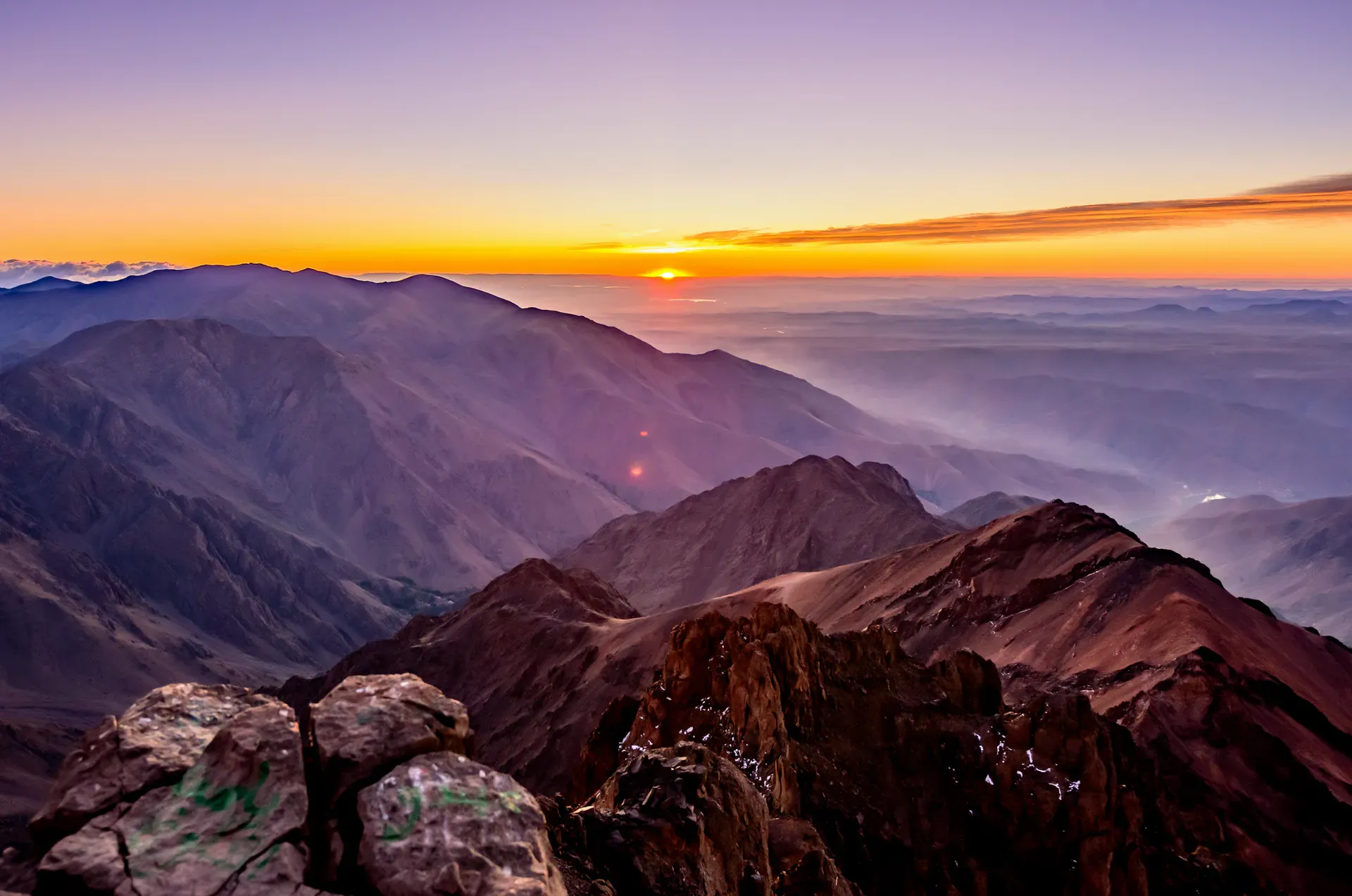 Tackle 3 summits over 4000m back-to-back on this tough traverse of the High Atlas, including the highest point in North Africa. You'll scramble to the top of Mt Toubkal (4167m) and the double summits of Mt Ouanoukrim: Timzguida (4089m) and Ras (4083m), hiking through the Imlil Valley alongside Berber guides and your very own mule train. Catch some Zs in a classic Marrakech riad and scenic mountain refuges built in incredible locations.
19. HIKE SLOVAKIA'S HIGH TATRAS MOUNTAINS IN A WEEKEND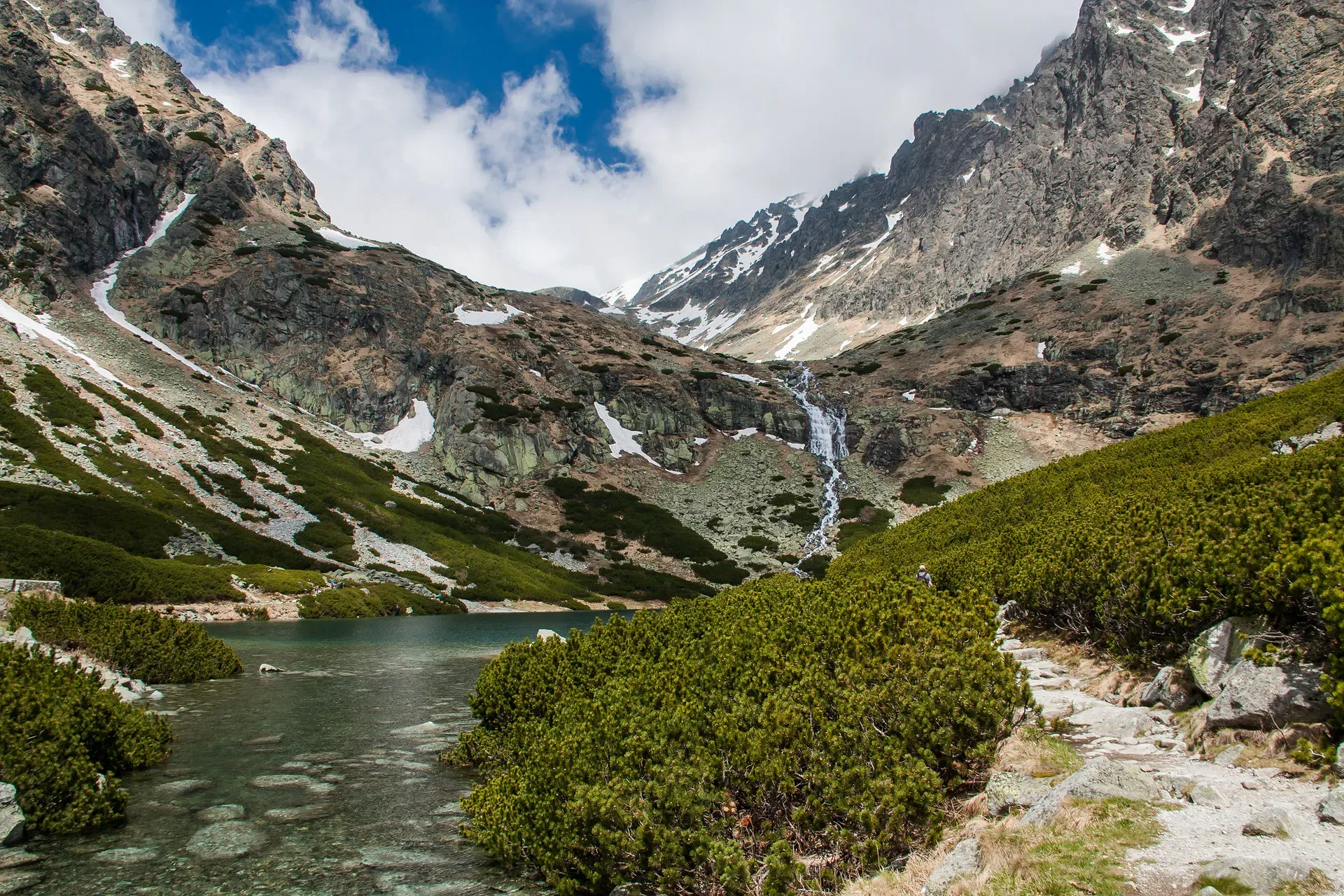 Trek across the scenic peaks and awesome valleys of Slovakia's highest mountain range, now a UNESCO protected reserve. Across 3 days in the High Tatras – one of the wildest and most beautiful mountain ranges in Europe – you'll experience a hiker's paradise of forested valleys, hidden waterfalls and alpine lakes all nestled beneath 2500m+ peaks. Follow the epic but little-known trekking route of the Tatranská Magistrala trail which is remote, quiet and insanely beautiful.
20. ALASKAN WILDERNESS KAYAK EXPEDITION
Power yourself along Alaska's wild coast on a stunning journey teeming with wildlife, camping in remote spots along the way. Paddle into Bears Kitchen and the iceberg alleys of the Shoup Glacier Marine State Park. Keep your eyes peeled for orcas, humpbacks, bald eagles, bears and rafts of sea otters in the Prince William Sound. Hike through coastal rainforest, wild camp on secluded beaches and feast around the campfire under the stars. A summer adventure you'll never forget.
21. HIKE 'THE EDGE' IN KOSOVO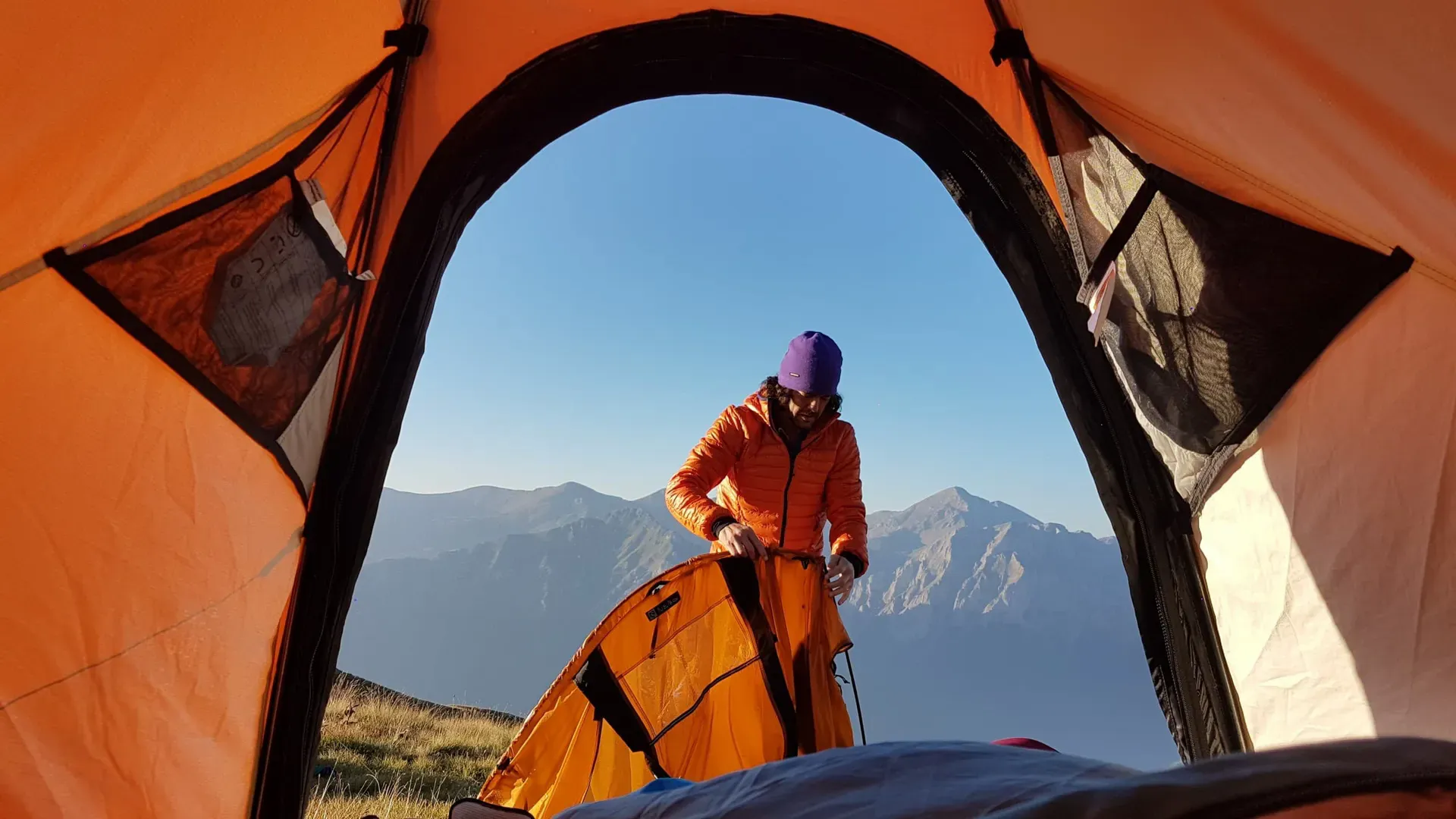 Lynx. Bears. A 532.72 km2 national park. Two mountain peaks over 2500m high, and a camp on the edge of the ridgeline that connects them. Book this trip before the secret gets out! You'll trek the spine-tingling ridge that connects two peaks in Kosovo's remote Sharr Mountain National Park. Keep your peepers open for bears, lynx, wild boar and roe deer as you bag up to 4 challenging peaks in a single day, whilst visiting this unspoilt country brimming with glacial lakes, alpine plateaus and dramatic limestone cliffs.
22. CIRCUMNAVIGATE MENORCA BY SEA KAYAK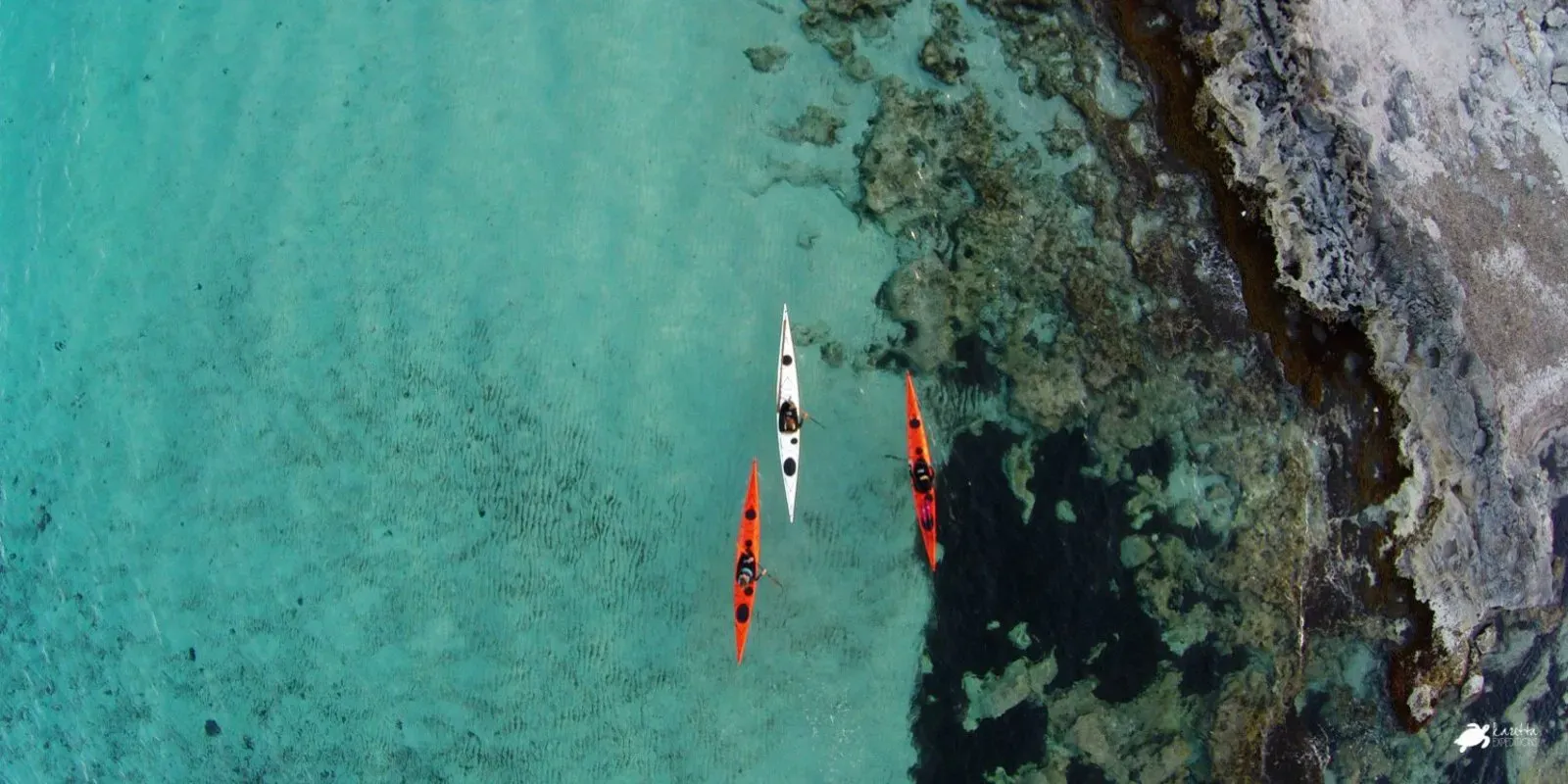 Bivouac on deserted beaches, explore hidden coves and paddle alongside white calcareous cliffs on this epic sea-kayaking adventure. You'll navigate 210 km of Menorca's spectacular and varied coastline on a magical seafaring adventure, swimming in turquoise waters and resting on picture-perfect beaches throughout. To visit concealed coves, explore hidden limestone caves and enjoy homemade meals this summer, snag one of the handful of remaining spots.
Itching to sign up for a summer adventure, stat? We don't blame you. Check out all of our upcoming departures here. For more inspiration and adventure insights, sign up to our newsletter.