Africa is well known for the diversity of its landscapes, from the sun-scorched plains of the Serengeti to the white sand beaches of Zanzibar. But it's also got some pretty impressive mountains, many over 4000 metres and relatively unexplored compared to those in the Alps and the Himalayas.
The highest mountain in Africa is the iconic Mount Kilimanjaro, its flat-topped silhouette dominating the horizons of north Tanzania. Climbed by 30,000 people a year, this 5895m-high peak is far from Africa's best kept secret. But the craggy, lunar-like Rwenzori Mountains of Uganda - where you'll find six of Africa's highest peaks - are strong contenders for that honour. You might be surprised to find out that Morocco's Mount Toubkal (4167m/ 13,671ft) narrowly missed out on being listed, but there are plenty of other options to inspire you.
It's worth noting that many mountains in Africa have several summit cones. We have selected a list of the highest mountains, not the highest summit cones. So although Kilimanjaro has three summits (Kibo at 5895m/19,341ft, ​​Mawenzi at 5149m/16,893ft and Shira at 4005m/13,140ft), Kilimanjaro only counts as one entry - measured at its highest point, Kibo - rather than multiple. Make sense?
So, without further ado…
1. Mount Kilimanjaro, Tanzania - 5895m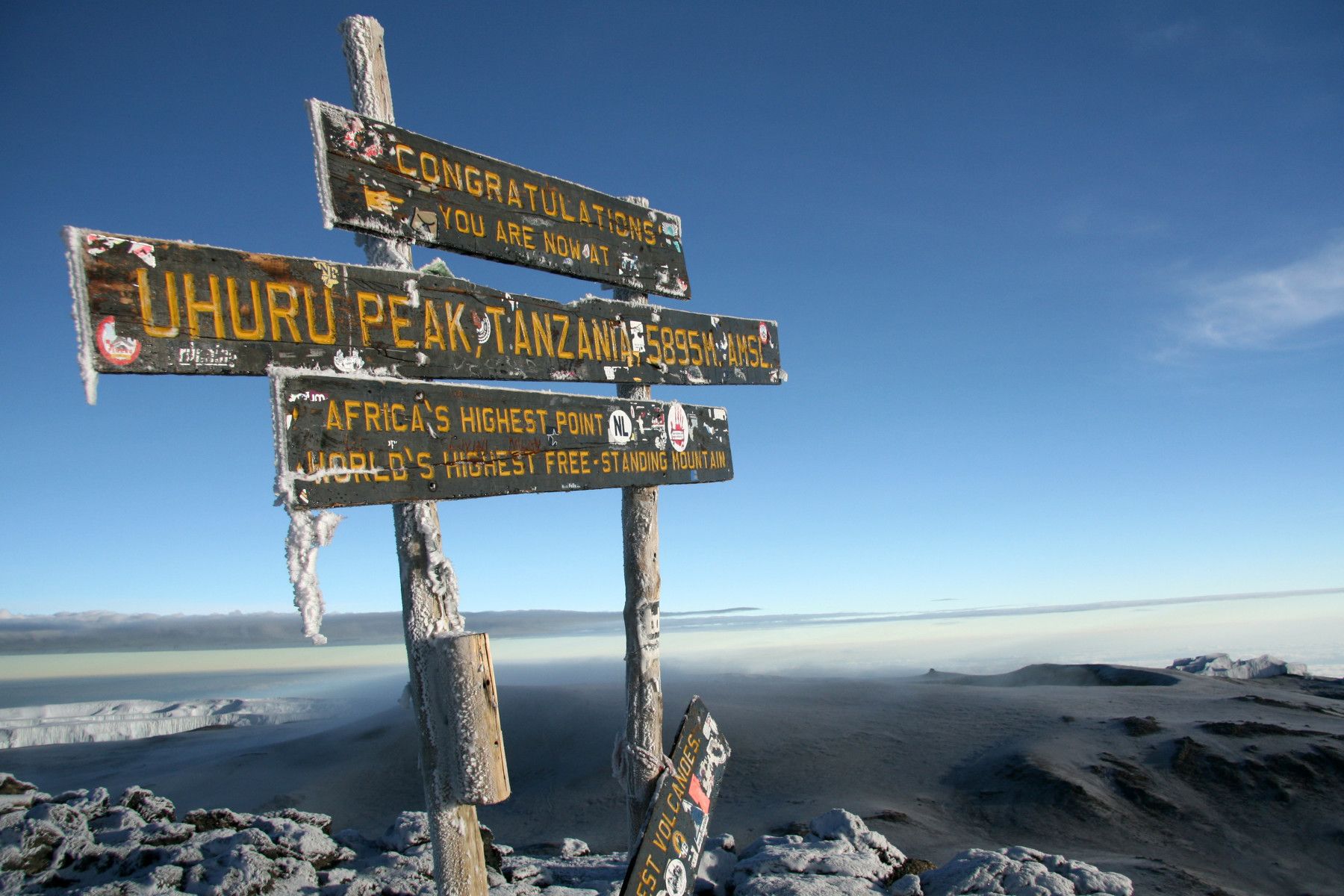 Highest Point: Kibo Peak (5895m | 19,341ft)
Mountain Range: Free-standing
Type of Climb: Walk-up/no technical skills required
There are several reasons why Mount Kilimanjaro is unique. For a start, it's the highest free-standing mountain in the world, which basically means that it isn't attached to a mountain range, normally because they're volcanic in origin. Mount Kilimanjaro is also the highest mountain in Africa and the highest mountain in Tanzania. It has three volcanic cones: Kibo, the highest, which is dormant; then there's Mawenzi and Shira, both extinct. Another unique feature of Kilimanjaro is that an ascent from base to summit takes you through five different climatic zones: rainforest, heathland, moorland, alpine desert and Arctic.
Kilimanjaro might be high, but climbing it requires no technical mountaineering knowledge (hence its popularity). However, it shouldn't be underestimated as a physical challenge; trekking at such high altitude is no mean feat. There are seven main routes up Kilimanjaro - we recommend the Machame Route, which has some of the most diverse scenery and one of the best ascent profiles.
Extra info: Read How to Climb Kilimanjaro Responsibly
2. Mount Kenya, Kenya - 5199m
Highest Point: Bastian Peak, 5199m | 19,341ft
Mountain Range: freestanding
Ascent Difficulty: Technical knowledge required
The second highest mountain in Africa is also a freestanding stratovolcano. Once covered with a thick ice cap, this has melted over the millennia, creating a landscape of valleys, peaks and 11 small glaciers (fast retreating due to global warming). The three highest peaks on the mountain are Bastian (5199m/19,341ft), Nelion (5188m/17,021ft) and Point Lenana (4985m/16,355ft). While Bastian and Nelion require technical mountaineering knowledge, Point Lenana is a good trekking peak.
One of the most popular routes up Mount Kenya (to Point Lenana) is the Sirimon Route, an ascent that gives you a good view of the peaks while avoiding their exposed ridges. But we also recommend checking out the Summit Circuit, a slightly longer trek where you'll spend more time around the ridges and glaciers found in this high-altitude environment.
Extra info: Read No Picnic on Mount Kenya
3. Mount Stanley, Uganda and Democratic Republic of Congo - 5109m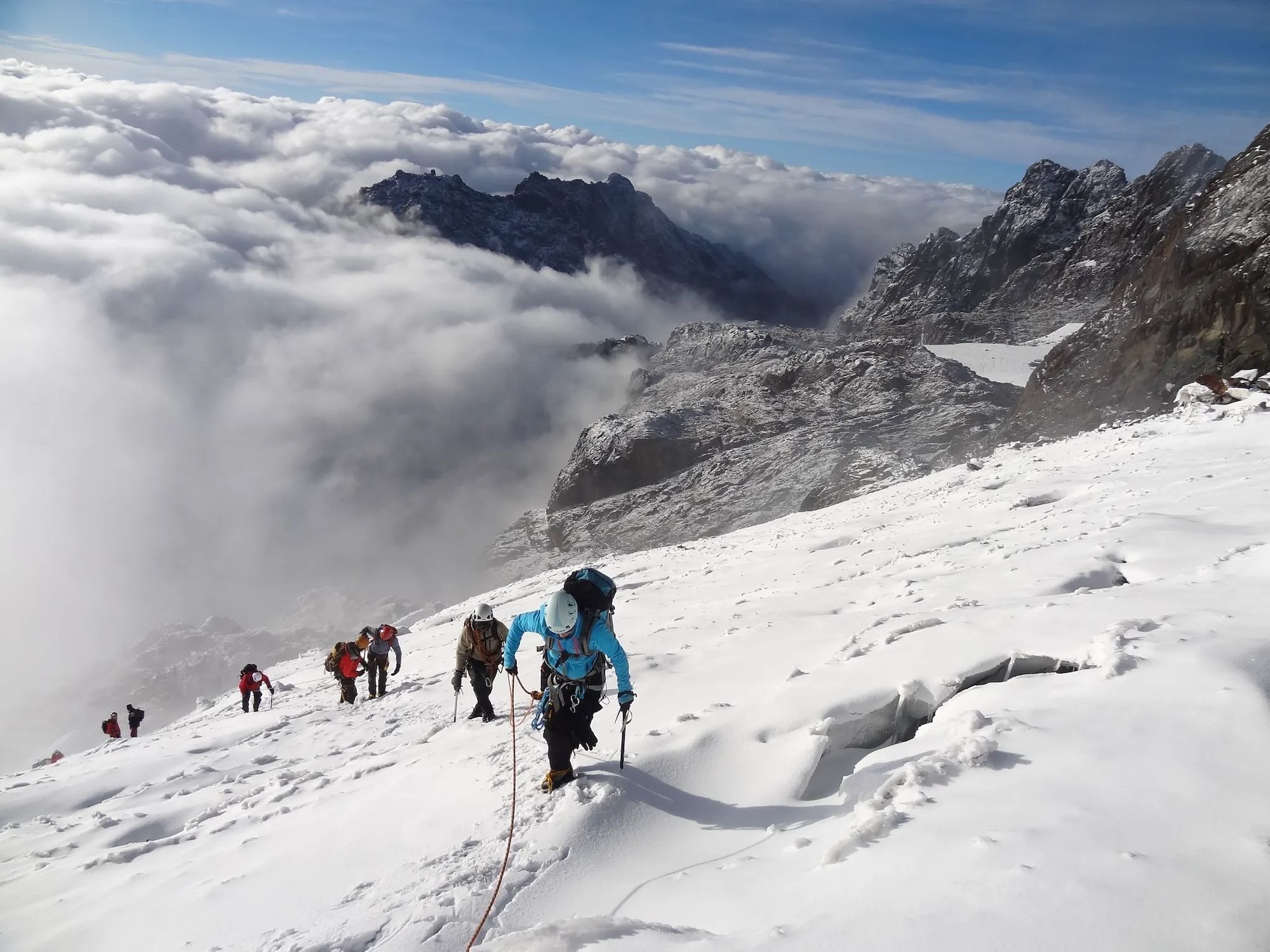 Highest Point: Margherita Peak, 5109m | 17,047ft
Mountain Range: Rwenzori Mountains
Ascent Difficulty: Trekking peak with a scramble at the summit
Mount Stanley is a craggy mountain in the Rwenzori Mountains, with several rocky summit peaks - the highest being Margherita Peak, at 5109m (17,047ft). Mount Stanley is notable for being the mountain in the Rwenzori with the most glacial ice remaining - although this is shrinking rapidly.
There are plenty of routes up Margherita Peak, but we favour the Central Circuit, which traces a path from the farmlands of Nyakalengija (1615m/5299ft) along the Mubuku River and into Rwenzori Mountains National Park. You'll trek through grassland and into the rocky peaks, staying in mountain huts en route. You can reach the summit of Margherita Peak from Elena Hut (4,541m/14,898ft) - you'll need crampons, ice picks and to be roped up to traverse the glacier. It's a gradual ascent, which is followed up by a steep scramble to the top.
Extra info: Watch Margherita Peak Summit

4. Mount Speke, Uganda - 4890m
Highest Point: Vittorio Emanuele 4890m | 16,043ft
Mountain Range: Rwenzori Mountains
Ascent Difficulty: Scramble
This mountain is named after the explorer John Speke, who spent time in the Rwenzori Mountains while mapping the source of the Nile (but never climbed the eponymous mountain). It has a long, exposed ridge with five summit peaks, the highest of which is Vittoria Emanuele (4890m/16,043ft).
The ascent up Vittorio Emanuele begins at Bjuku Hut, and up rocky slopes. The glacier having all but disappeared, you'll encounter very few patches of ice. You will, however, need to be roped up to navigate the steep slopes. Mount Speke is located in an area of the mountains which receives significant rainfall, and these downpours make the rocky trail even more tricky to navigate.
More info: Watch this short video of the summit ascent.
5. Mount Baker, Uganda - 4844m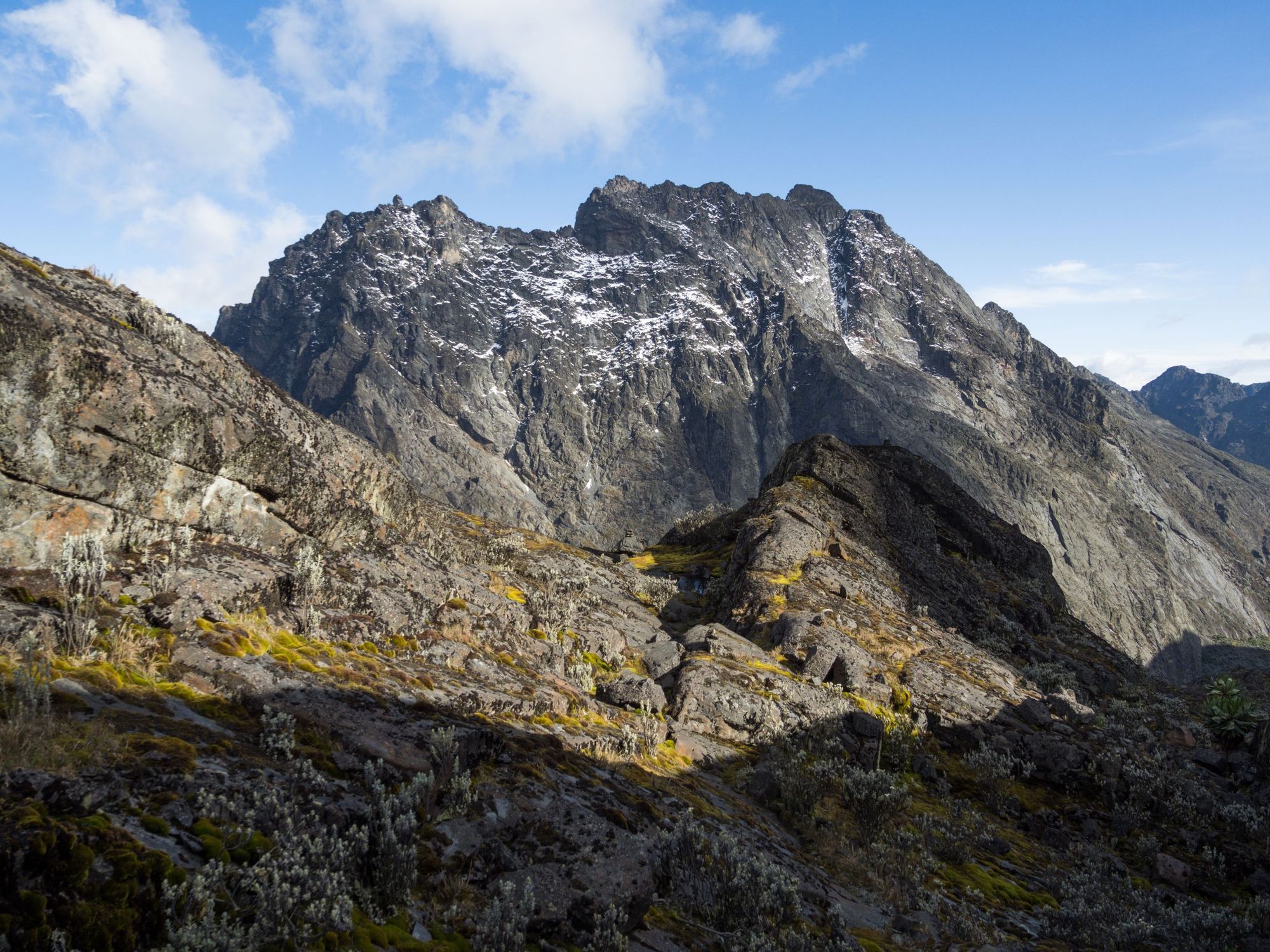 Highest Point: Edward Peak, 4844m | 15,892 ft
Mountain Range: Rwenzori Mountains
Ascent Difficulty: Hiking and crevice climbing
A third entry from the jagged peaks of the Rwenzori Mountains, nicknamed the 'Mountains of the Moon' by a Greek merchant several thousand years ago. Mount Baker lives up to this moniker with its sparse, ice-coated slopes. Having said that, below the snowline of the mountain it's a different story - at lower altitudes you'll trek through lush rainforests threaded with streams, encountering marshy bogs as you ascend.
The summit can be reached from Hunwick's Camp (3974m/13,038ft). The climb to the top is around 4.3 kilometres and the ascent takes four to six hours. It's steep, rocky, and ropes are necessary - especially as you negotiate several crevasses with sharp drops. In the wet season (April-May) and (September-October) this is considered a technical climb. Guides are essential year-round.
More info: Read "Lighthouses in the Empire": History of Ice and Place in the "Mountains of the Moon", Uganda
6. Mount Emin, Democratic Republic of Congo - 4798m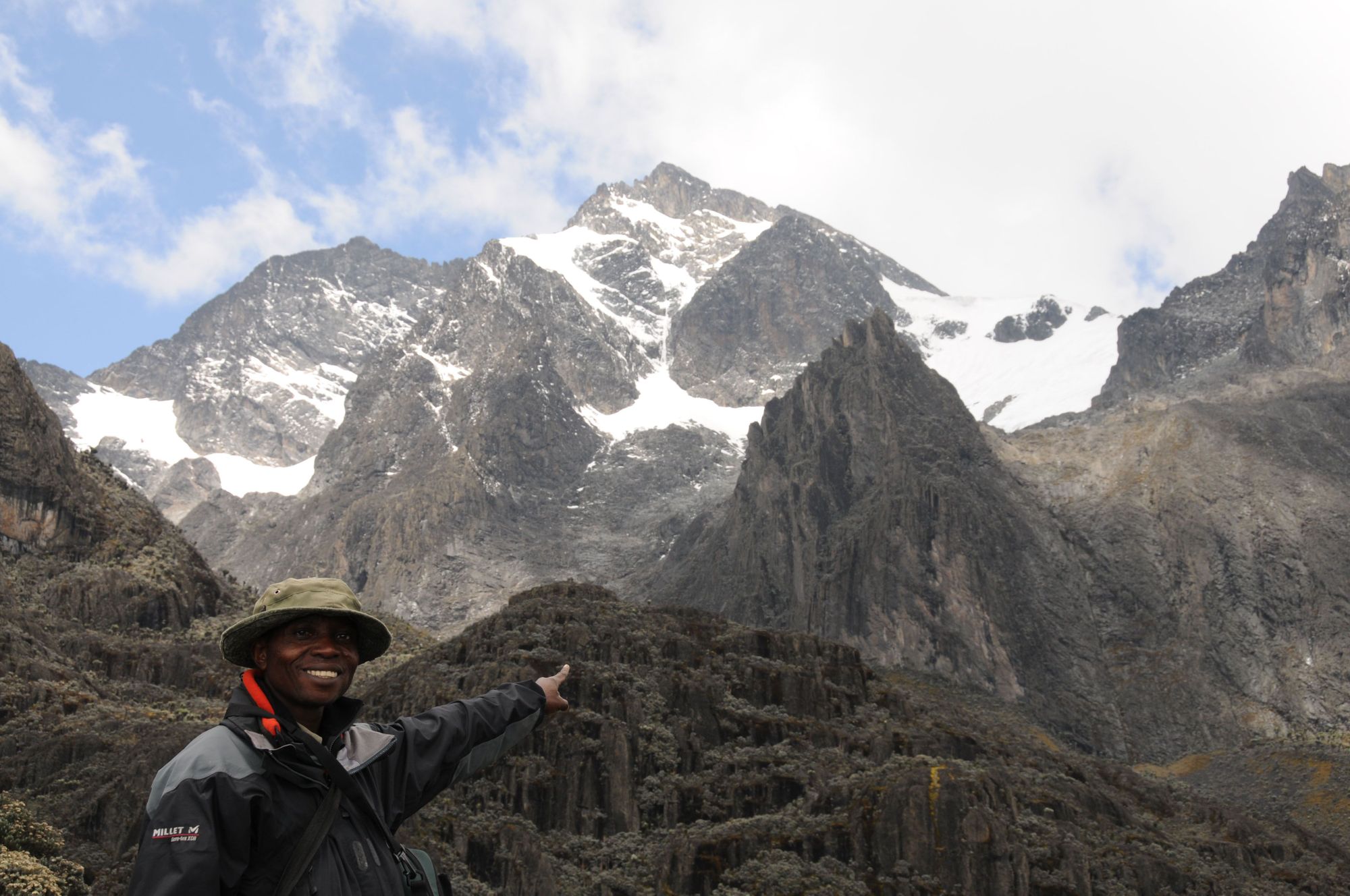 Highest Point: Umberto Peak, 4798m | 15,741ft
Mountain Range: Rwenzori Mountains
Ascent Difficulty: Technical climbing peak
This peak is situated on the Democratic Republic of Congo side of the border, and is composed of two summits, Umberto and Kraepelin (4791m/15,720 ft). The first documented ascent of Mount Emin was made by Italian explorer and mountaineer Prince Luigi Amedeo, the Duke of Abruzzi, in 1906. Plenty of people have summited successfully since then, but this definitely isn't one for novices - you need expert mountaineering skills.
To access the peak, you'll need to trek through the Mugusu Valley (on the Ugandan side) and along the southwest ridge to Umberto Peak. You'll need ropes, crampons and other protective gear to reach the summit.
More info: Read Mountains of the Moon: A Guide to Uganda's Rwenzori Mountains
7. Mount Gessi, Uganda - 4715m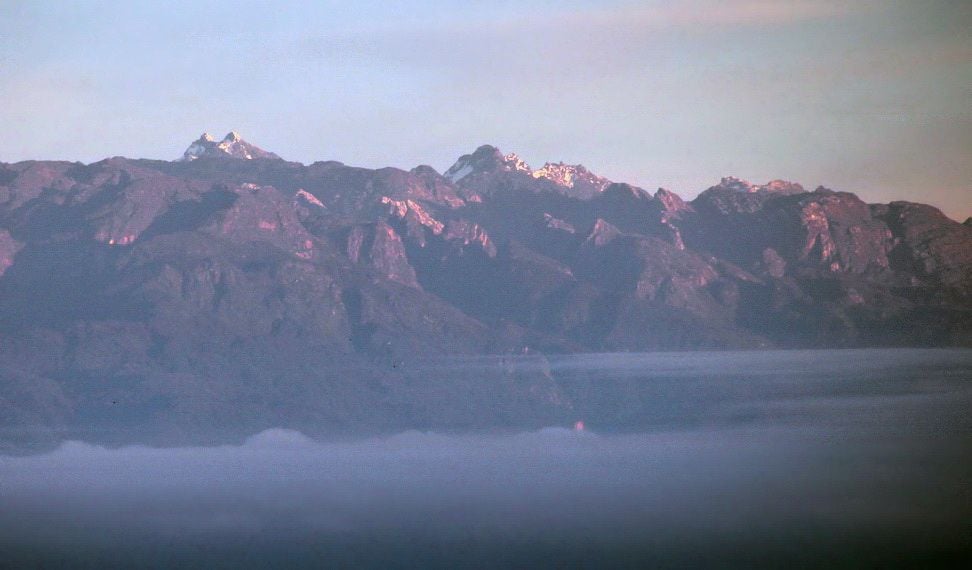 Highest Point: Lolanda, 4715m | 15,470ft
Mountain Range: Rwenzori Mountains
Ascent Difficulty: scramble
Separated from Mount Emin by a narrow valley, Mount Gessi is similarly craggy and forbidding in appearance, but a slightly less technical climb. The Duke of Abruzzi also made the first documented ascent of the mountain, but the glaciers that were there back then have melted, leaving a series of slippery stone slabs unsuitable for beginners.
Instead, most trekkers approach Mount Gessi via the Mugusu valley, ascending up through groundsel forests to Roccati Pass. From there, you trek south east through the brush, scrambling up steep slabs to reach the ridge between the peaks.
More info: Read this biographical entry on Romolo Gessi, whom the mountain was named after.
8. Mount Meru, Tanzania - 4566m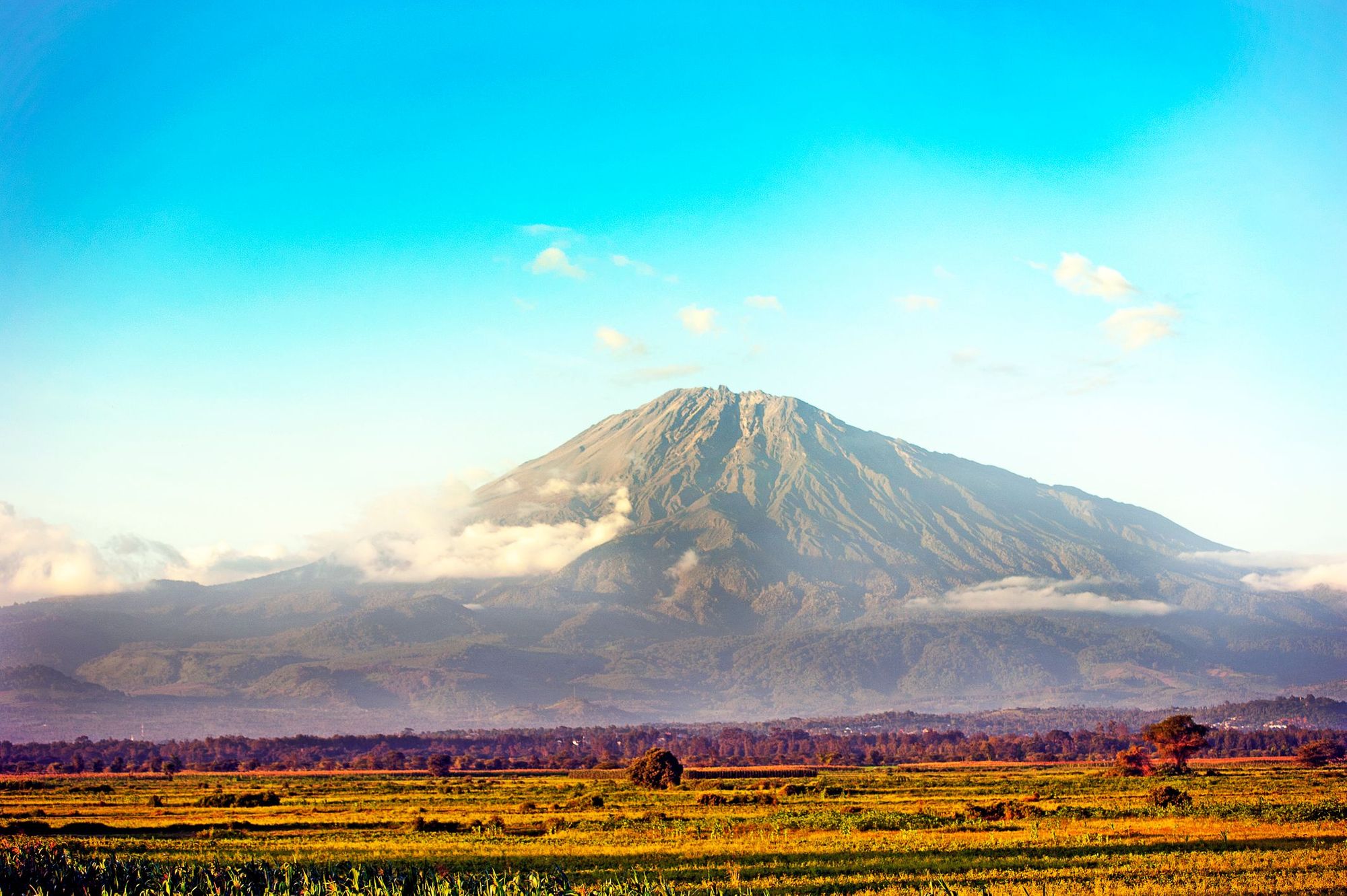 Highest Point: Socialist Peak, 4566m | 14,980 ft
Mountain Range: free-standing
Ascent Difficulty: Walk-up
A stratovolcano just 70 kilometres (43 miles) west of Kilimanjaro, Mount Meru is often referred to as 'Kilimanjaro's little brother.' Being over 1000 metres lower than Kili, it's often used for acclimatisation hikes. However, it shouldn't be underestimated. The trek itself is actually more difficult, as it requires a steeper ascent and a climb along an exposed, barren ridge. There's even a couple of via ferrata sections to challenge you!
As with Kilimanjaro, you'll ascend upwards through different climatic zones - grassland, forest and the high altitude desert zone. However, the trails are much less crowded than Kilimanjaro, giving you a better chance of spotting wildlife - like giraffes, antelopes and baboons - at the lower altitudes.
Extra info: Read the book Three Dreams on Mount Meru
9. Ras Dashen, Ethiopia - 4553m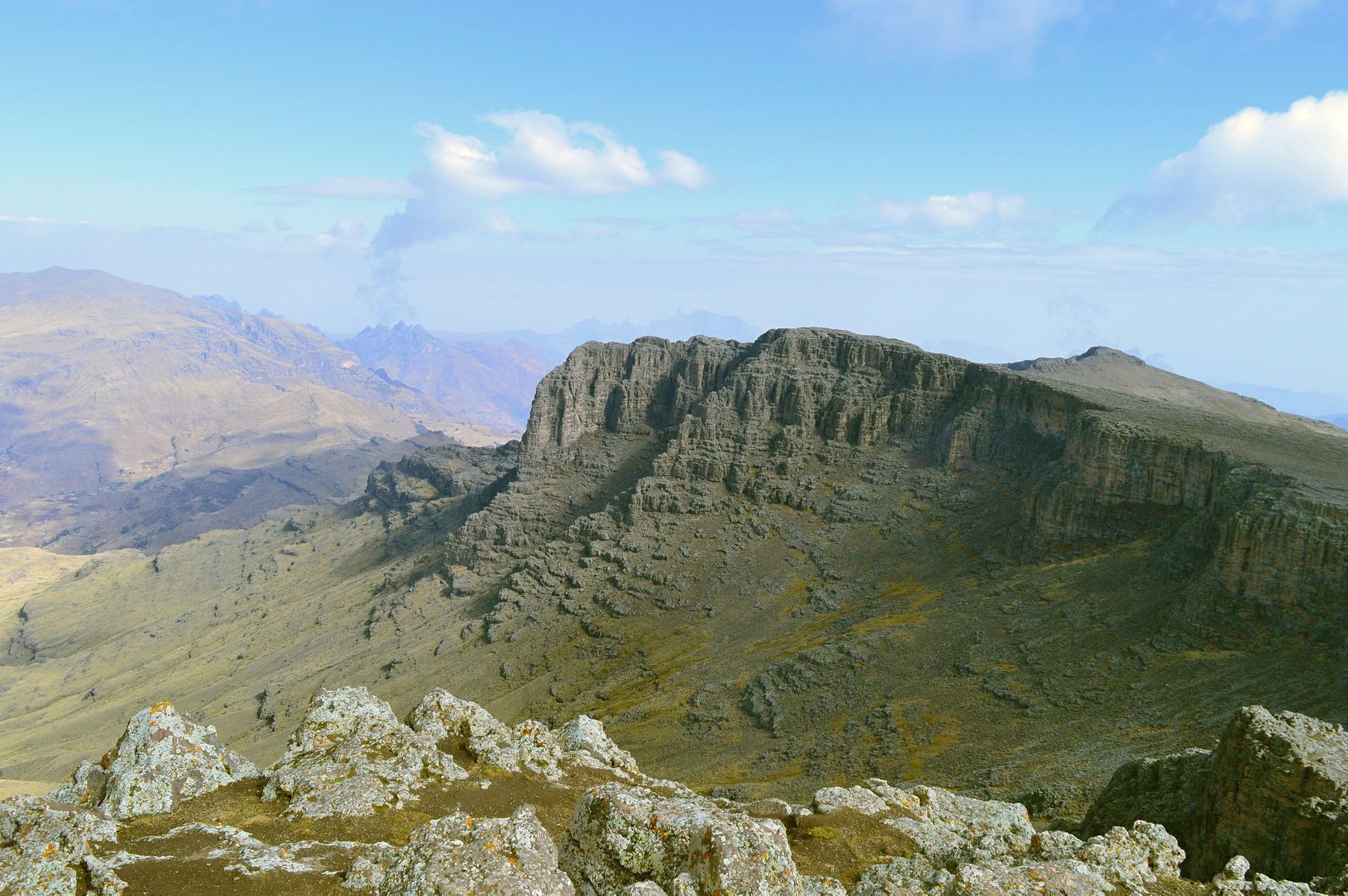 Highest Point: Ras Dashen Peak, 4533m | 14,872ft
Mountain Range: The Simien Mountains
Ascent Difficulty: walk up/moderate scramble
The Simien Mountains, in northern Ethiopia, are renowned for being one of the first places to be recognised as a UNESCO heritage site. "Massive erosion over the years on the Ethiopian plateau has created one of the most spectacular landscapes in the world, with jagged mountain peaks, deep valleys and sharp precipices dropping some 1,500m. The park is home to some extremely rare animals such as the Gelada baboon, the Simien fox and the Walia ibex, a goat found nowhere else in the world," its UNESCO listing reads.
Ras Dashen, also known as Ras Dejen, is the highest mountain in the Simien Mountains. It also has the honour of being the highest mountain in Ethiopia. To climb Ras Dashen, you'll need to begin your trek at Debark, the headquarters of the Simien Mountains. From there it's a four day trek through rugged mountains and highland foliage, passing waterfalls and ascending smaller summits to acclimatise. Ascent day begins at Ambiko Base Camp (3250m/10,663ft) and winds gently upwards. The majority of the route is relatively easy trekking, although there's a rocky scramble just before the summit.
Despite the beauty of the natural environment, trekkers have made complaints about park guides begging for money and equipment and not being adequately trained, so we would recommend that you do this trek with a responsible, fair-wage operator.
Extra info: read the study Human-wildlife conflict in and around the Simien Mountains National Park, Ethiopia
10. Mount Karisimbi, Democratic Republic of Congo and Rwanda - 4507m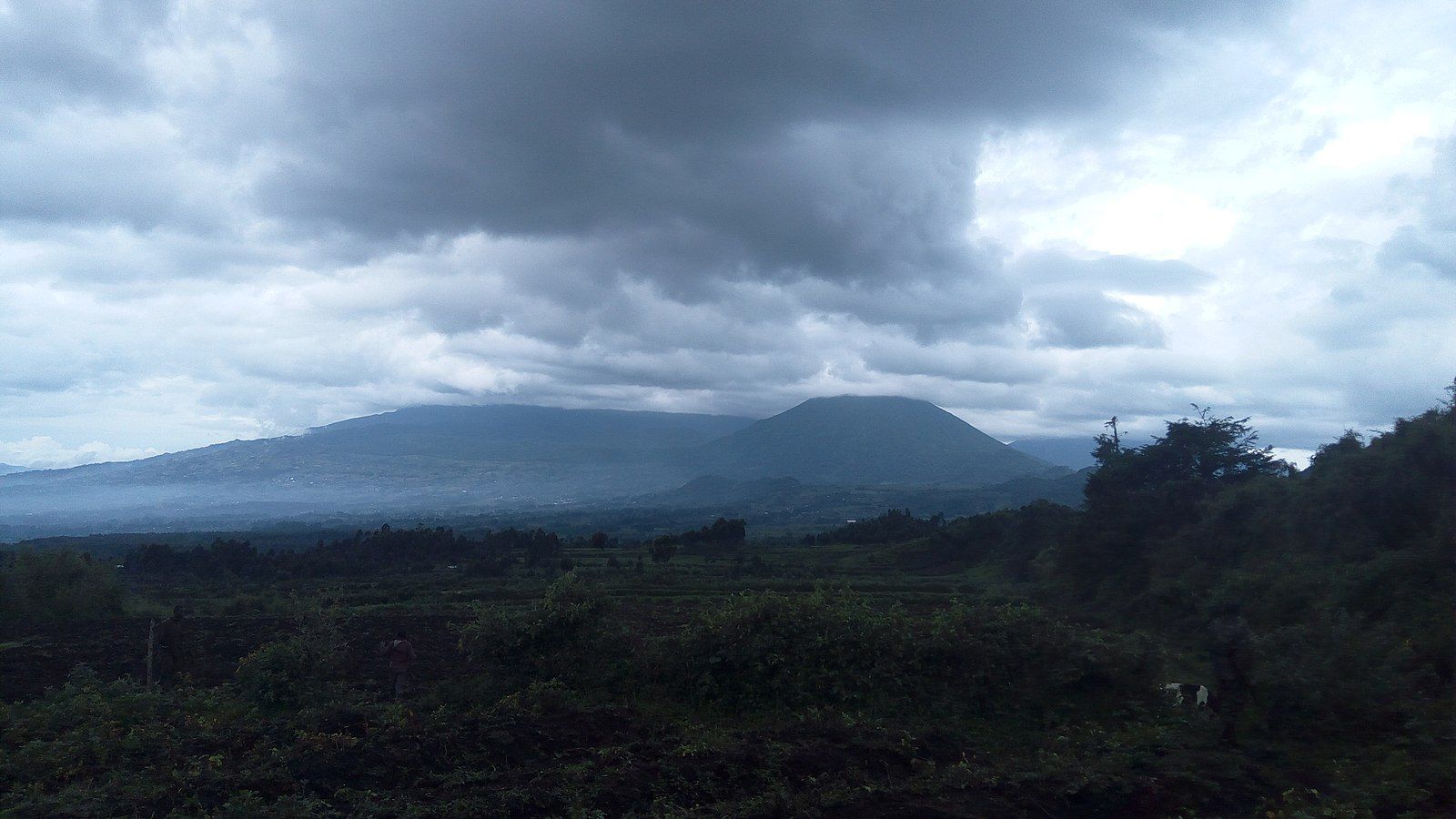 Highest Point: Karisimbi, 4507m | 14,787ft
Mountain Range: Virunga Mountains
Ascent Difficulty: Challenging trek
Mount Karisimbi is a dormant stratovolcano in the Virunga Mountains, straddling the border between Rwanda and Democratic Republic of Congo. It's most often reached from the Rwanda side, where the mountain is part of the spectacular Volcanoes National Park. The park forms part of the Virunga conservation area, set up to help conserve endangered mountain gorillas - the arrival of primatologist Dian Fossey in 1967 helped reduce poaching and create a successful gorilla conservation programme. Many people visiting the park like to combine trekking to spot gorillas with an ascent of Karimbi.
The trek to the summit of Karisimbi will take you through dense jungle and spectacular volcanic landscapes. After registering and being briefed at the park headquarters, trekkers can be driven to the trailhead at the foot of Mount Bisoke (3,711m/ 12,175ft). It's a seven hour climb to the summit but most groups break it into two days, as the last push is tough - fog and high winds make it more difficult. But the view from the top, of the surrounding volcanoes pushing up through the forest, is spectacular.
Extra info: Read Dian Fossey's memoir of thirteen years in the Virunga Mountains, Gorillas in the Mist.
Inspired? Then check out our trekking adventures in Africa, and our mountain climbing adventures.