I stumbled upon the Vjosa situation by chance. I'd been waxing lyrical to a journalist about how and why we believe adventure tourism can be a force for good. Indulging me, they mentioned a local rafting company in Albania that was fighting to block the construction of a dam on Europe's last wild river in the hope of turning the whole river into a national park and grow adventure tourism along its banks. The mission and the fact it was 'Europe's last wild river' immediately struck a chord. I went back to the office, shared the story with the team and by the time the day was up, wheels were in motion with to create our first adventure in Albania and on the Vjosa River; Raft, Kayak and Hike Albania.
In March, I flew out with a brilliant entourage of Adventure Testers, leading journalists and a videographer to try out the adventure and shoot a mini-documentary about the story of the river and the fight to keep it wild.
Here's what I've learnt about the situation and why we felt compelled to get involved.
The Vjosa runs for 270 kilometres, untamed and free-flowing. What makes this river internationally significant is that its tributaries are untouched too, creating a network of wild rivers unlike anywhere else in Europe. Along its path it boasts stunning canyons like the Osumi canyons that make for amazing rafting, bright blue shallow rivers that are perfect to kayak down, small islands to fish from and beautiful valleys that are built for hikers.
What's so special about it?
Environmentally, the Vjosa River is one of the last wild ecosystems in Europe and as such scientists refer to it as a "blank page"; Olsi Nika, an activist and biologist who represents the NGO EcoAlbania, says that 'we know less about this river than we do about the Amazon'. What makes it special from a scientific perspective is just how unknown it still is. There is vast concern amongst the scientific community that our knowledge about the river's species, hydrology and sediment movements are simply not concrete enough to start making changes that will put them at risk forever. You can never go back with a dam – once it's built, the damage is done.
Worryingly, according to River Watch, 'the environmental impacts (biodiversity, natural flood protection and river bed erosion, etc.) of the Kalivaç project, have not even been properly assessed' but are due to go ahead regardless.
Socially, the Vjosa River is special to everyone that lives along its winding banks.
It's so revered by Albanians that many name their daughters 'Vjosa' as it reflects values of innocence and beauty.
Economically, fishing, crop production and farming are the core agricultural outputs in the area and key to the economy.
The next growing industry is adventure tourism, with the valleys and rapids along the river providing fertile ground for fantastic rafting, canoeing and kayaking.
The potential for adventure tourism along the river has not gone unnoticed which has led to new restaurants, hotels and adventure tour companies launching in recent years.
With the introduction of dams, all of this would likely grind to a halt.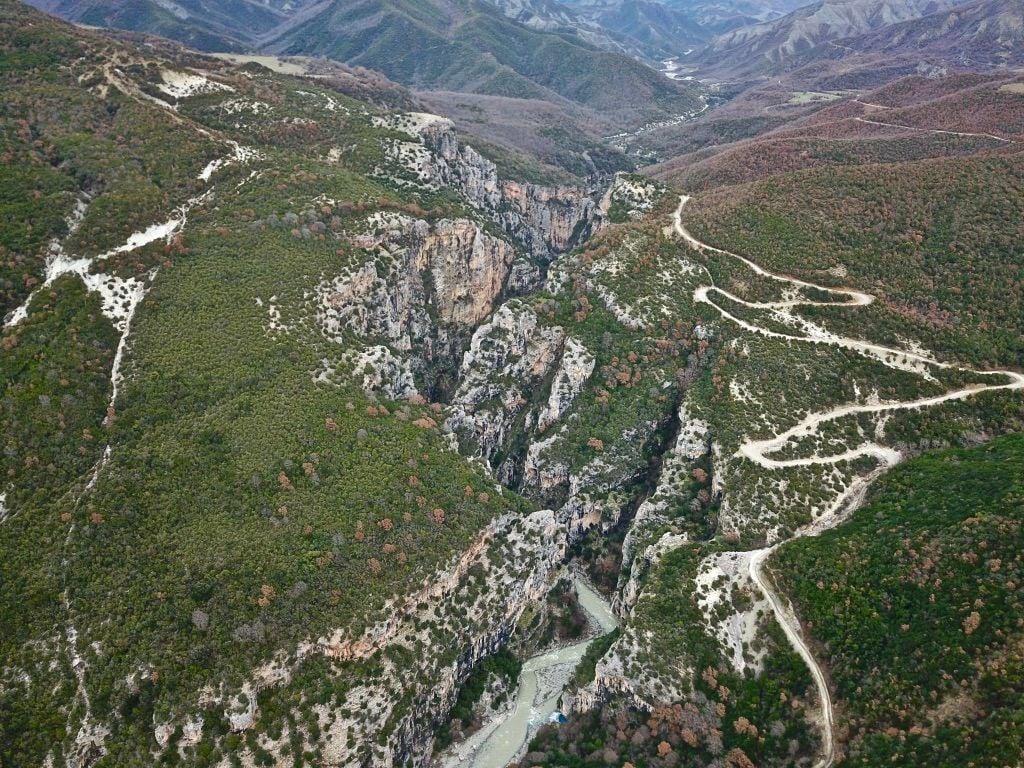 So, who is funding these dams in the Balkans anyway?
According to a new report released by Bankwatch on 16th of March 2018, the hydropower projects in the Balkan region enjoy financial support from multilateral development banks, and international commercial banks including the European Bank for Reconstruction and Development (EBRD), the European Investment Bank (EIB), and the World Bank Group. Each have extended loans and guarantees totalling €727 million to 82 hydropower plants.
Here's the scandalous part.
This includes 37 projects in protected areas like national parks and Natura 2000 sites, as well as internationally recognised areas of high biodiversity value such as Important Bird Areas.
The EBRD has supported a total of 61 plants with €126 million, 29 of them inside protected areas, or internationally recognised biodiversity hotspots.
Commercial banks have backed 158 plants, of which 55 are in protected areas or internationally recognised areas of high biodiversity value.
The most prolific commercial banks – as identified so far – are Austria's Erste & Steiermaerkische Bank and Italy's Unicredit Group, for which 28 loans each were found. The hydropower plant Medna in Bosnia-Herzegovina is being constructed by Austrian-German company Kelag on the river Sana – one of the six most important rivers for the endangered Huchen. Among others, Erste has financed a cluster of seven plants on the borders of Serbia's Kopaonik National Park. These, together with another eight plants in the area financed from other sources, have left large stretches of the local streams with little or no water for much of the year.
We can do so much better than dams.
Despite best efforts, it's hard to make dams sustainable. The total consequences of dams on otherwise wild environments are significant and many.
The dam wall itself blocks fish migrations along the Vjosa, which will see the loss of fish, plant and bird species forever. Often fish lifts are installed to get around this but as Olsi Nika says, "Whilst 'fish lifts' that are due to be installed to help migratory fish, really they are only installed so they can tick some of the boxes that global environmental standards require of dam construction, the truth is that only 5% of fish will make it through them. If you have 4 dams on a river, the migratory fish that then make it through all the dams will be 5% of 5% of 5% of 5%, at best."
Dams have directly contributed to the decline of freshwater wildlife by 81% since 1970.
The dams will also block the natural movement of sediment along the riverbed, a process which is critical for maintaining natural habitats downstream such as the deltas, barrier islands, fertile floodplains and coastal wetlands. These are crucial for farming, as well as tourism.
The Vjosa will also fall victim to temperature changes, chemical pollution, reduced oxygen levels, all of which will affect all the plants and animals that live along its banks. The subsequent reservoirs created and rivers with reduced water levels along the Vjosa will heat up in the sun, also killing off cold-water species.
On top of that, the reservoirs that will be created will attract new and invasive species that will prey on the river's current natural neighbourhood.
And then there's climate change.
Every year, large dams and their reservoirs emit 104 million metric tons of methane – that is 4% of the total warming impact of human activities.
Methane, which is at least 34 times more potent than another greenhouse gas, carbon dioxide, makes up 80% of the emissions from water storage reservoirs created by dams.
Dams are also a waste of what could otherwise be fresh drinking water. A United Nations report found that reservoirs worldwide evaporate more water than is used by humans, with global warming this will only increase.
What makes all this so crazy is the fact the Albania already relies 100% on hydropower.
Not only is this an imbalanced and risky energy strategy, but the country has over 300 days of sun every year and has not yet invested in solar energy.
Then there is the social impact.
Dams have displaced at least 40-80 million people globally in the past 60 years.
Along the Vjosa, many of the residents will be forced to leave. Not just because their houses have been flooded, but because the land off which they live will no longer be arable.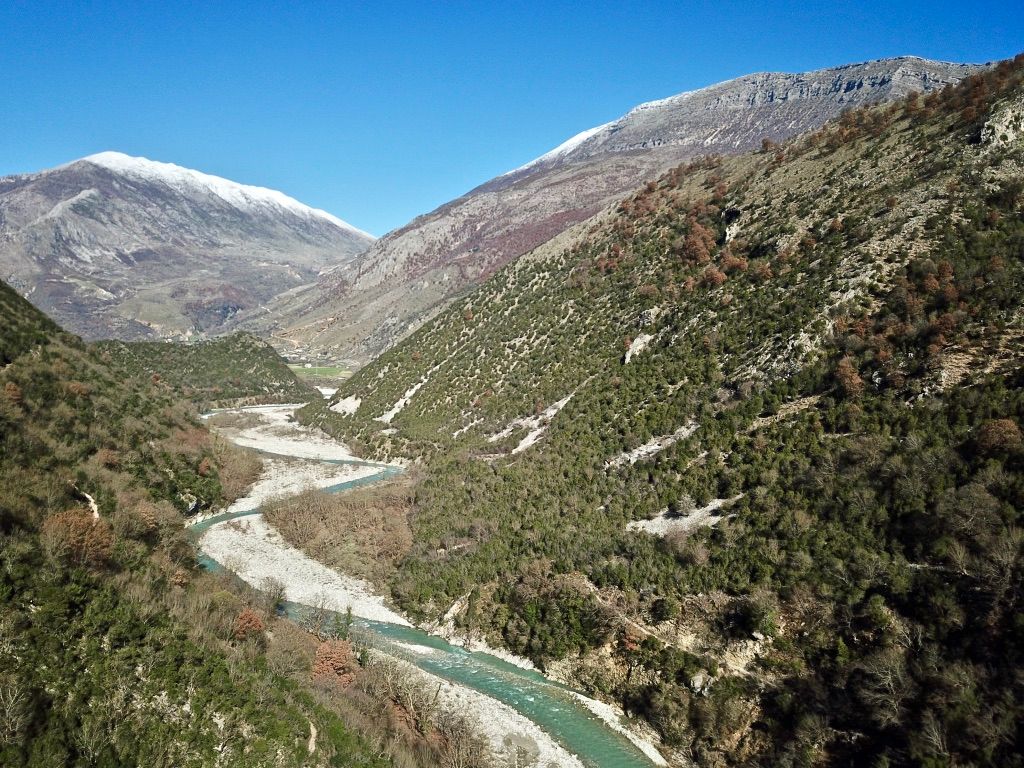 What are the alternatives?
If the river is freed from damming, industries such as tourism, non-intensive agriculture and alternative renewable energy like solar or wind production can provide effective long-term alternatives for sustainable economic development for the local communities along its banks.
Solar power production poses very few risks to the natural environment once they have manufactured and if connected to the national grid can provide an additional source of income for low-income communities.
Both solar and wind power have their challenges but the technological advancements to counter these far outweigh those in hydropower.
Thats what the locals, and now we, the international community who have heard their voices, are fighting for.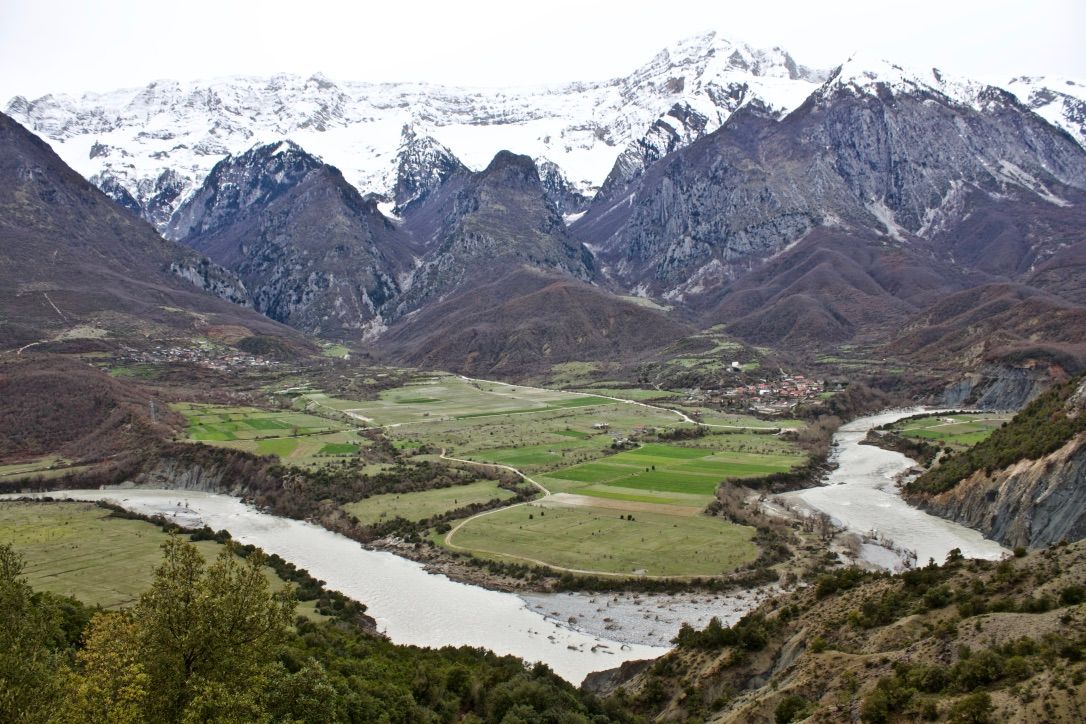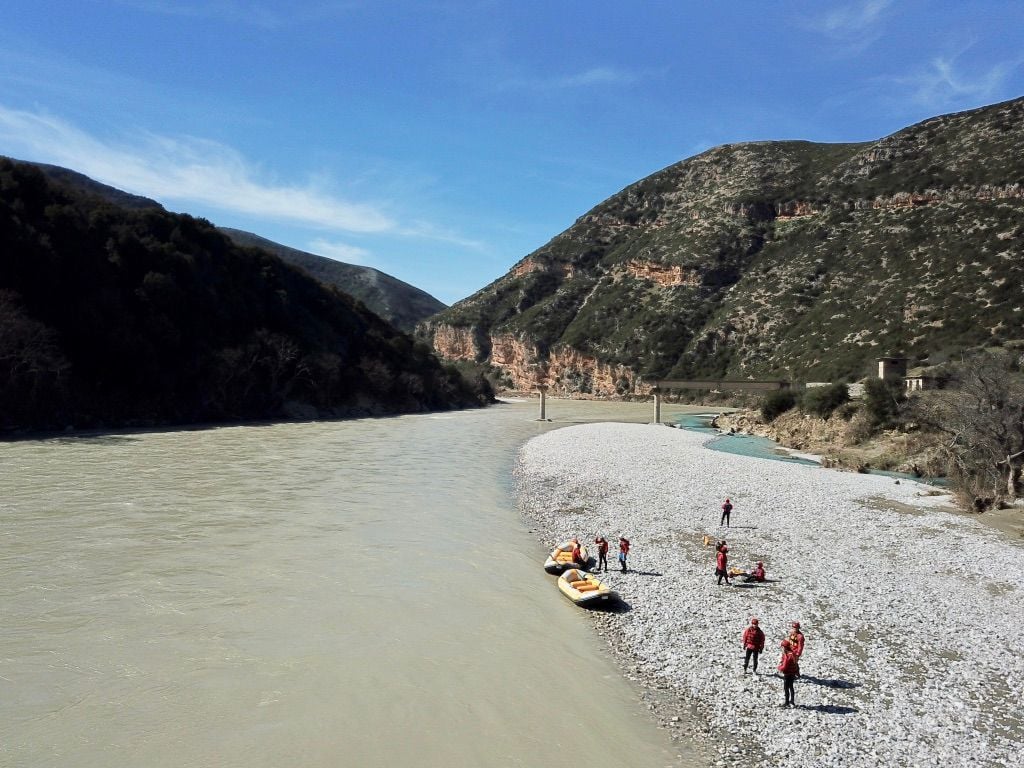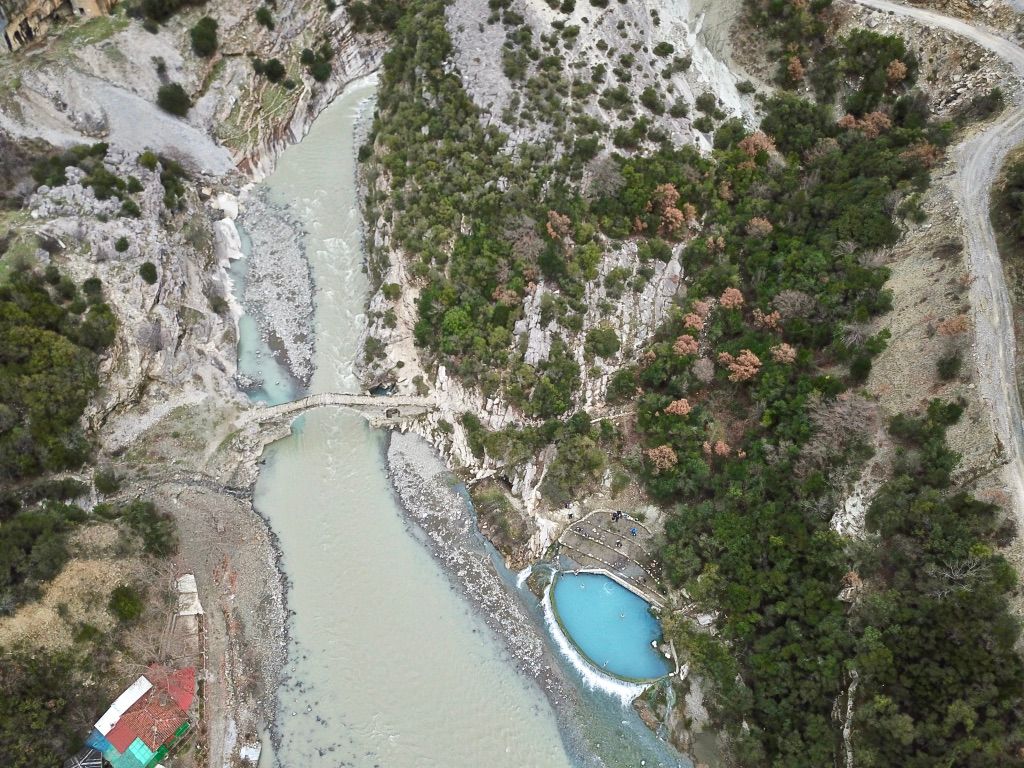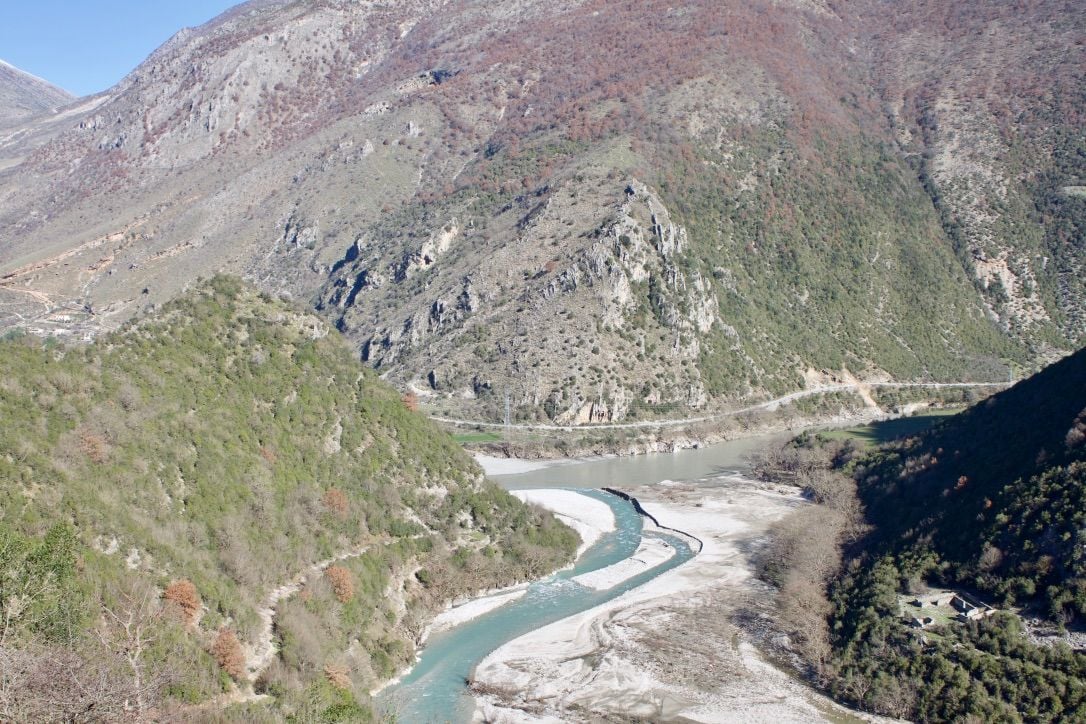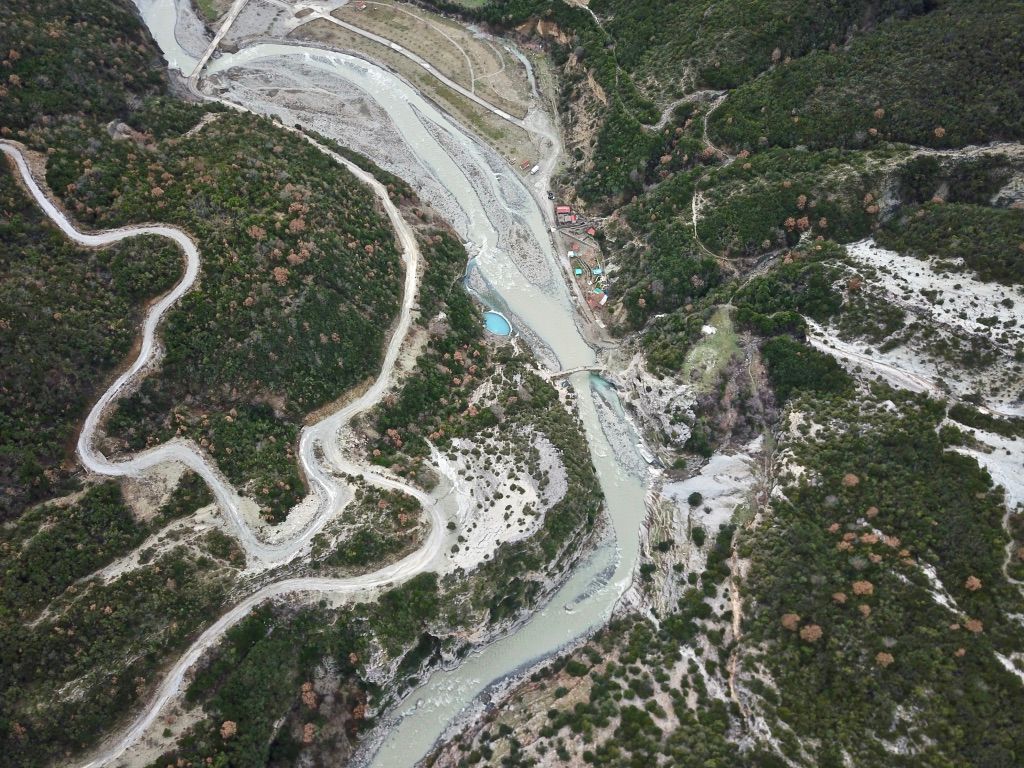 What can you do to help?
We need to show the government, the banks and the locals along the banks of the Vjosa that we care about protecting national parks and Europe's last wild river.
Here's how.
Join an adventure
Albania was listed as a Top Adventure Travel Destinations by the ATTA in 2017, and it's no wonder. Largely closed off to tourists until the early 90s, Albania's tourism industry contributed $3.2bn to the Albanian economy in 2016 (26.0% of GDP) and is forecast to rise to $6.1bn (33.0% of GDP) by 2027 (WTTC, 2017).
Support the growth of the adventure economy on the Vjosa by joining a trip with expert local guides and activists.
Check out our photo story from our trip and our drone footage for a birds eye view of the river and the surrounding mountains.
Support the activists
The team at Balkan Rivers have run a fantastic campaign and have successfully managed to stop some of the dams in their tracks.
You can make a donation to support their cause and if you're a social butterfly, use and follow the #SaveTheBlueHeartOfEurope hashtag to add your voice to the chorus online.
Sign the petition
A Bankwatch report released 16th March, 2018 verifies that an estimated 727 million Euros of loans has been provided by international banks towards the construction of the Balkan dams. 118 are to be built in national parks.
Our friends at Patagonia have started a petition to try and put an end to this funding.
Watch and share our film
We flew out to Albania with an entourage including filmmaker Jon Collins, journalists and members of our adventure community.
Here's our film, Adventures Not Dams.