At this point, you've probably settled into self-isolation and the quarantine lifestyle. Most of us can only dream about the beauty of the mountains right now, or of coastal winds and far-ranging views.
The "new normal" is taking one trip outdoors per day for exercise, the occasional trip to the supermarket and other than that… well; if you're still having a daily shower, we're impressed. If you're still getting dressed each day, you're doing more than we imagine a lot are. Cooking is a slightly bigger deal than it used to be. Flicking through the TV has become a national favourite. Zoom drinks and pub quizzes are really taking off. And, of course, sitting on the sofa and staring at the wall has become a future pastime for many. Oh, yes. A whole lot of time sitting on the sofa and staring at the wall.
Our wall hasn't changed one bit yet, and if it does (which would be concerning) we won't be there to see it happen, because we've come up with some more engaging ways to get our adventure fix from home, so that when this does all end, we're all set to get back outside and see the wonderful world.
Here are 11 recommendations for how to get your adventure fix while staying in your homes. If you have any other ideas, let us know on social media! Right now, it's all about community.
1. Explore the World Through a Travel Book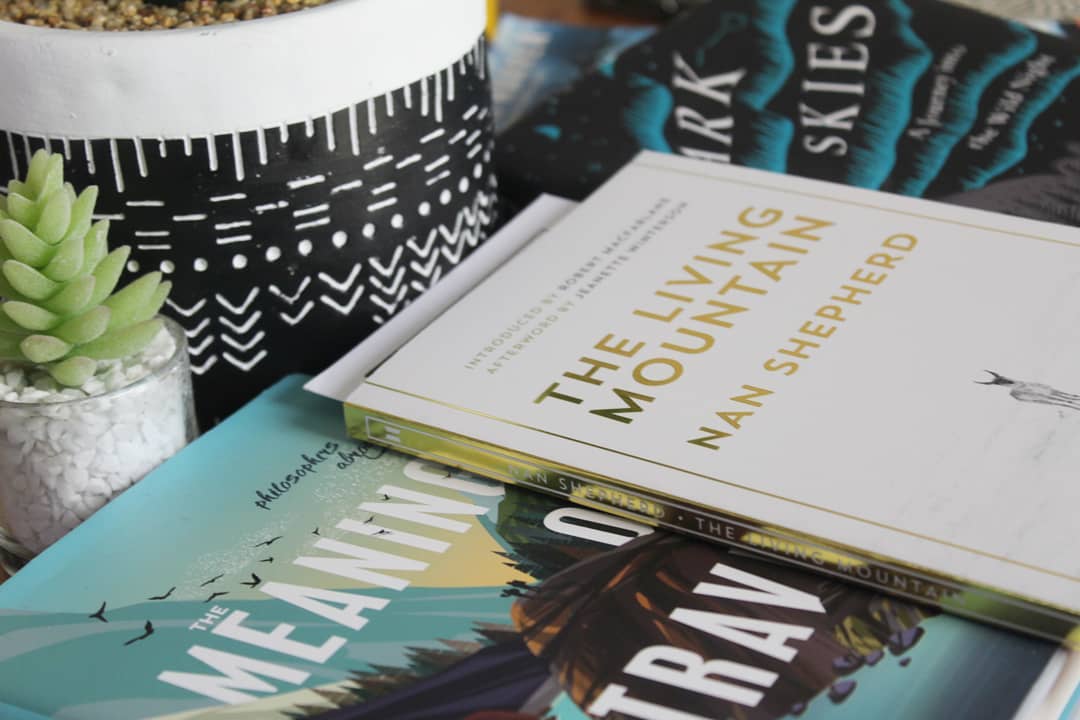 If you're looking to stoke your wanderlust, there are few better ways to do so than with a proper outdoor, adventure or travel read. We've put together a list of the best travel books to read in self-isolation which you can go to for our full list of recommendations – ranging from classics like Nan Shepherd's 'The Living Mountain' and 'In Ethiopia with a Mule' by Dervla Murphy, to newer works like 'The Meaning of Travel' by Emily Thomas and Paul Souders 'Arctic Solitaire'. The only feeling quite like picking out a new book is finishing an even better one.
2. Watch Some Free Online Adventure Films
You don't need a streaming service or any cash in hand these days to watch some amazing adventure films – whether those are short, 10-minute blasts like Alastair Humphrey's 'Mountain Bikes & Bothy Nights'; or longer, feature-length films like the stunning 'Artifishal' from Patagonia, exploring people, rivers and the fight for the future of wild fish and the environment that supports them. Click on through to our feature of 16 awesome outdoor and adventure films you can watch online for free right now, to see our full list of suggestions.
3. Transport into a Mountaineering Book
Different from travel books in that they are, umm, about mountaineering rather than travel (though many will also get your wanderlust tingling up the top of far flung mountains). There's nothing like a mountaineering book to get the blood pumping and the imagination working. That's why we gave them their own category outside of our travel and outdoors book section. Check out our list of 28 (!) of the best mountaineering books to transport you to the mountains.
4. Climb High in a Mountaineering Documentary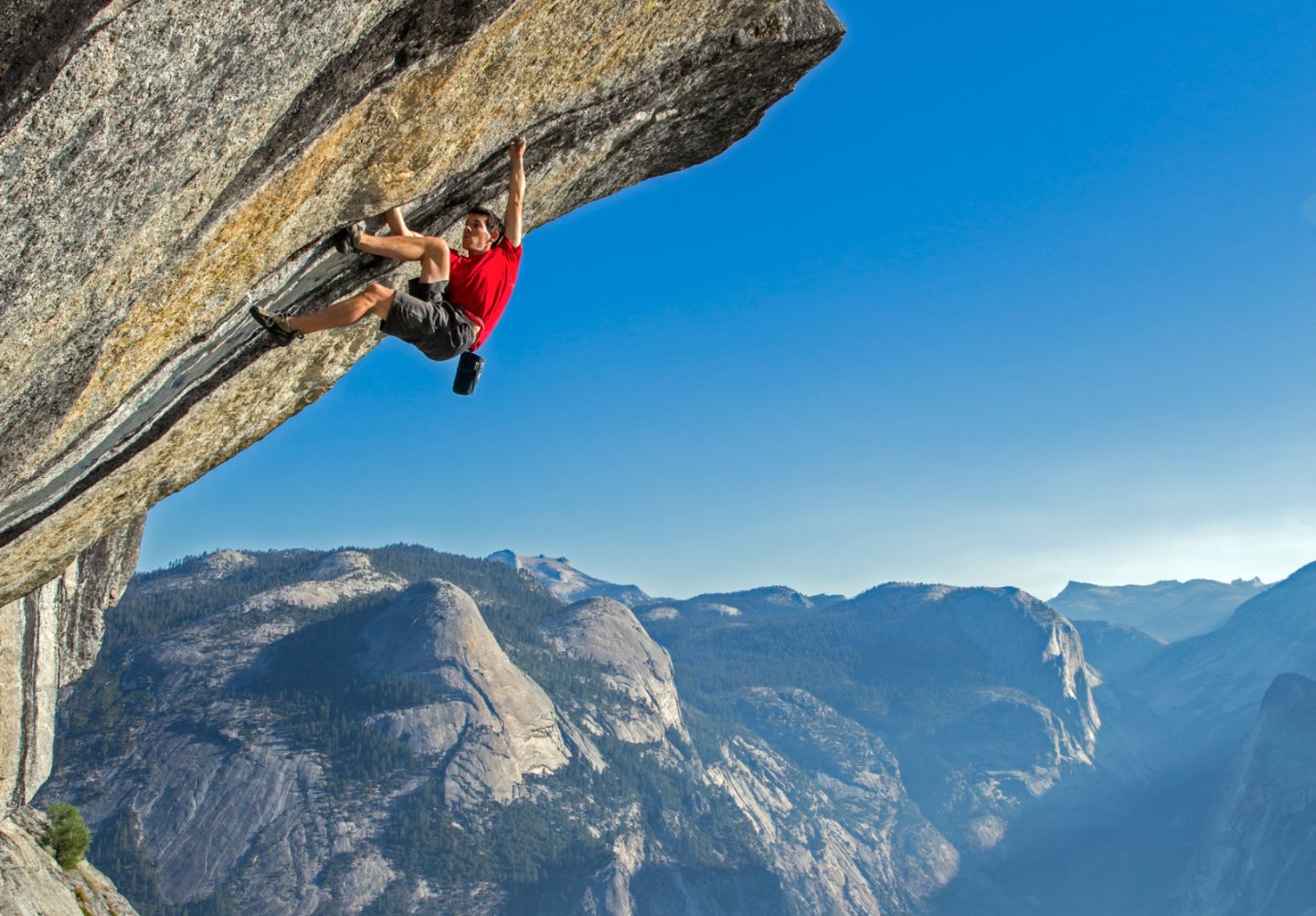 Bringing our movies-and-books heavy start to this list full circle is our mountaineering documentaries list. There can be no doubt that – for the same reason they make such great books; the danger, the mindset, the excitement and yet the beautiful calm that comes high in the mountains, on a wall or a ridge miles and miles away from civilisation – mountaineering lends itself particularly well to the documentary format. So, we've listed some of the best mountaineering documentaries to watch online right now, many of which you can check out on Netflix or equivalent, or stream for a couple of quid on YouTube.
5. Sign Up for an Online Yoga Class
If you've ever wanted to give yoga a shot, then now is the time. You've got a whole lot more time on your hands than usual and, let's face it, it's tricky to get motivated to exercise in your own home a lot of the time. You can tune into Joe Wicks, or you can look up your nearest yoga centre, and sign up to an online class, usually held on Zoom or a streaming equivalent. Most places are doing them now, and as well as getting exercise and helping your mental health, you're supporting a local business too. All you need is yourself (and ideally a mat, but even that isn't essential), and you're all set. Perfect for getting rid of the isolation anxiety.
6. Adventure Podcasts
There are myriad podcasts out there, which means that if you're interested in listening to some feature-length interviews, adventure tales or chats on hot topics in the world of travel, you will almost definitely be able to find a podcast to fit your needs. If you don't know where to start, check out our list of the best adventure podcasts out there right now. This is great for social interaction, because it feels like you're having a conversation with you, too! Just don't get too upset if the people on the podcast don't respond when you talk.
7. Plan a Future Adventure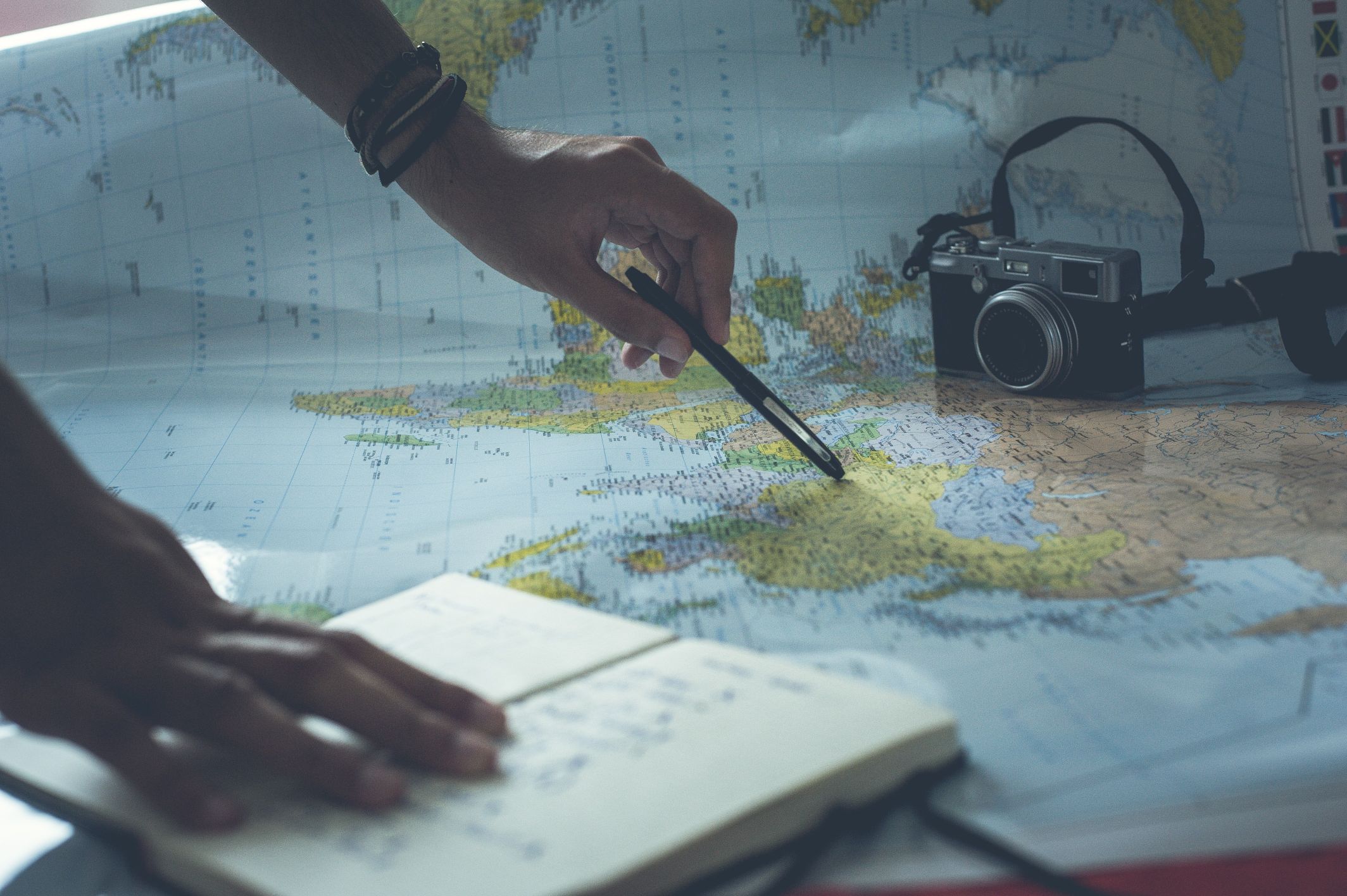 So, we can't adventure right now, but we can dream about adventure – and we can most certainly plan an adventure. Now is the perfect time to load up a Google map, scour the world and think about where you might want to go next, and how you might want to explore it. Have you always wanted to go cycle touring? Well, that could require a fair bit of mapping out and work on travel routes that you could do right now. Or maybe you've been dreaming of a train trip through Europe, or a long-distance hike in Kyrgyzstan? No matter what it is you want to do, now is the perfect time to think about it, and plans it into reality! We certainly know an adventure travel website you could use to spark some ideas, too (spoiler: it's us).
8. Get Your Gear Maintenance Done
If you're a regular outdoor adventurer, then you no doubt have that down jacket that's needed patching up for months, or those pair of hiking boots that need re-soling, or that jacket that needs re-waterproofing, or that mountain bike that needs a proper good clean. Outdoor adventure is fun. Doing maintenance on outdoor adventure kit is… not particularly fun. But, that said, when outdoor adventure isn't an option, like at the moment, doing your maintenance and getting your gear in order for when you next need it can actually be quite satisfying. It's a sort of tie to the mountains, however small.
9. Launch an Epic Adventure in Your Own Flat
If you are getting particularly desperate for adventure, you could always do what we've done, and get particularly obscure with your free-time activities. Recently we've been canoeing in our bath tub, camping in our living room and mountain biking in our corridor. And if that's not enough, you can always set out to climb the equivalent of Mount Everest on your staircase.
10. Stare Longingly Out the Window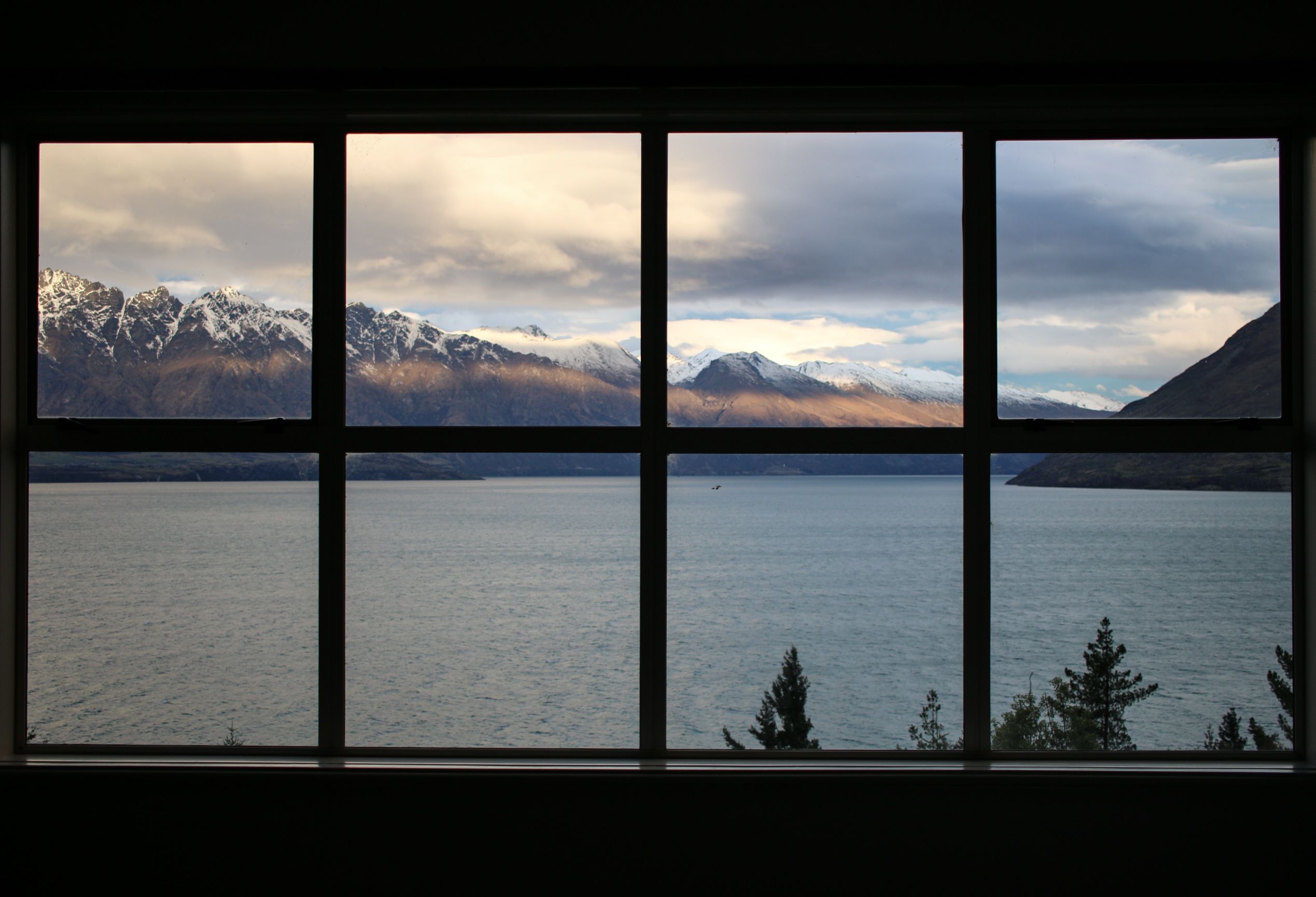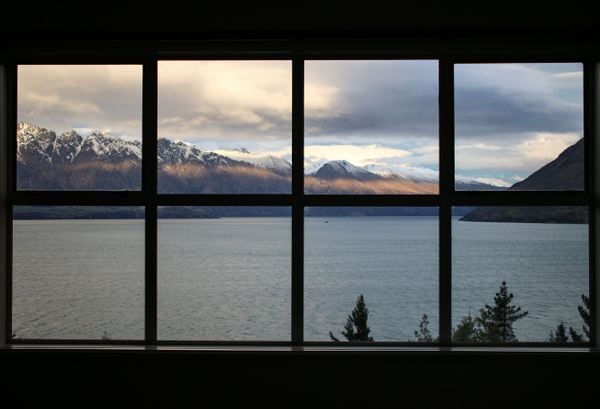 Perhaps we're just including this one to make the last one seem slightly less insane. I mean come on, putting a canoe in a bathtub is better than just staring out the window, right? The fact that we don't want to just stare out the window is exactly why we've got all these books and films and podcasts and actual legitimate ideas in this list. This point in garbage. Sack the writer. Do better things. Unless you have a window similar to the one pictured above. Then a) maybe just stare out of it and b) we're insanely jealous.
11. Repaint Your Entire Living Room So It Looks Like a National Park
If you've tried all of the above and it's still not working for you, then there's only one thing left to do. Physically redecorate your flat so it looks like a national park. Or like one of the highest mountains in the world. We're talking go all out. Build a mountain in your living room, or at the very least paint all of your walls so that they look like a beautiful landscape. Rip up the carpets and create a dirt path from your living room to every room in the flat. Lay down rolls of live grass everywhere you can, plant trees and install a river. Hell, nature is taking back the world so you'll probably notice a few dolphins and buffalo in your flat in a matter of weeks. Please be nice to them if so. Or maybe call someone who can help you with that.
Climbing the equivalent height of Mount Everest on your staircase doesn't sound so mad now, does it? If anyone does do any of this though, please, absolutely send us photos of it. And remember to get in touch with your ways of getting your adventure fix at home!
As far as travel planning goes, there's no better place to start than by browsing our selection of adventure holidays.