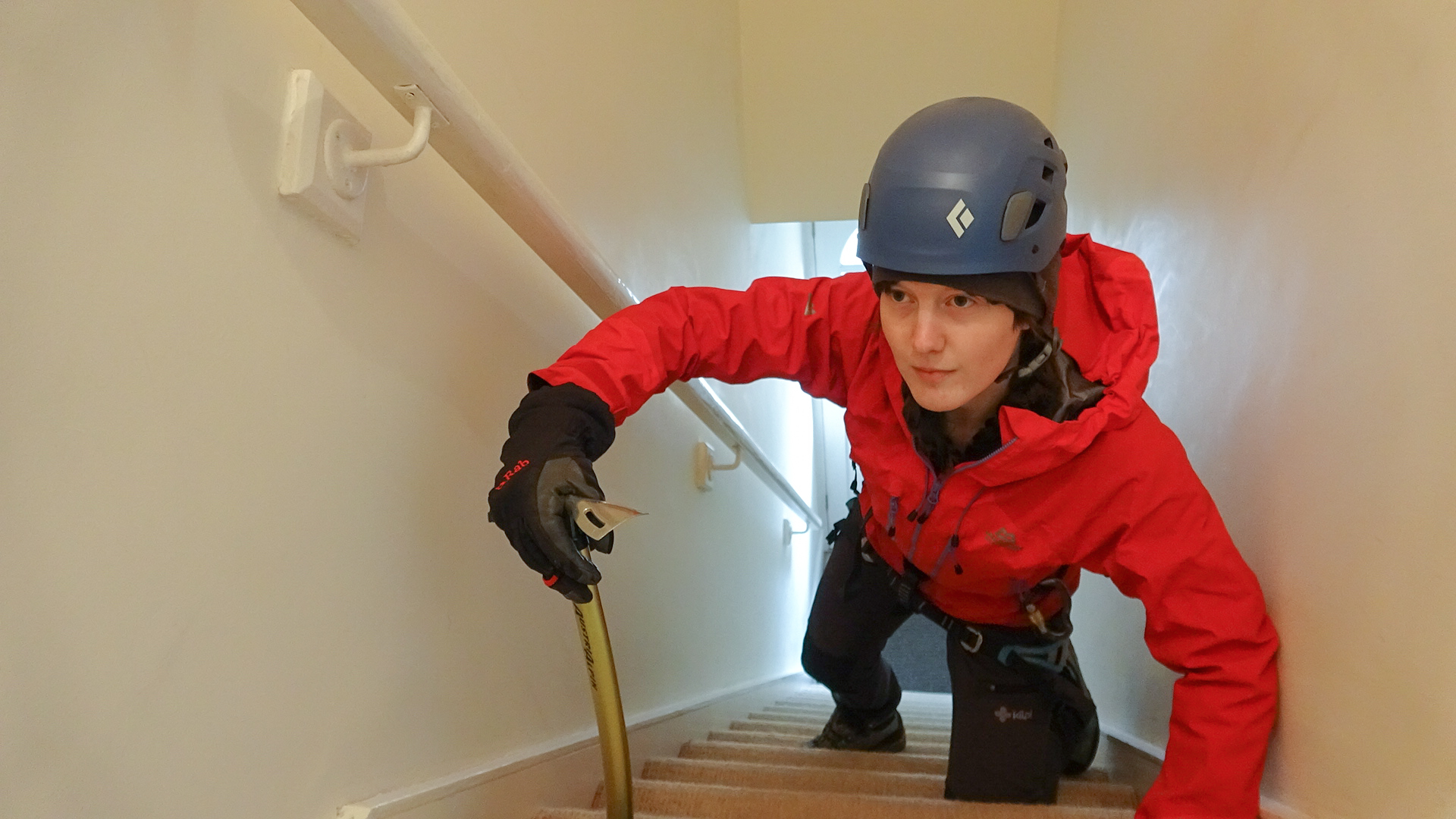 Sometimes, you can't get to the mountains. Sometimes you have to stay indoors and gaze longingly at pictures of mountains, dreaming of the day you'll reach their lofty summits. But what if you could bring the ascent of those peaks a little closer to home? With that in mind, let us introduce to you: stair-climbing mountain ascents. It's simple. You climb the height of your chosen mountain by taking steps up your staircase.
Yes, we know it sounds like some bonkers Guinness World Record attempt. In fact, the current record for vertical height ascended by stair climbing is 18,585m in 24 hours. We encourage you to Google it, to size up the competition. Although you may end up on a slippery slope and find yourself watching some guy climbing stairs on his head on YouTube instead – or indeed with another person balanced on his head. All things considered, climbing the height of a mountain on a staircase sounds decidedly normal by comparison.
How to Calculate your Own Indoor Ascent
We've done some calculations for you, to give you everything you need to set off on the ascent of Mount Staircase to the top of some popular summits. For those numbers (see below), we've assumed a 20cm stair height. That's a pretty reasonable average, based off measuring the stairs in our houses and having a diverting leap into the intricacies of stair-building regulations. Who knew?!
So, if your stairs happen to be 20cm high each – or you happen to not be a pedant – then you can scroll down to the next section. However, if you believe in doing things properly, you'd better get your tape measure out. To calculate how many of your own stairs need to be ascended, just get down close and personal with a step. Measure the vertical height of a single stair from its base to its top. Take the height of your chosen mountain and divide it by the height of your stair. That will give you the number of stairs you need to clamber up to reach the summit.
You could, if you were so inclined, also measure the depth of each step, work out the gradient of your ascent and compare it to that of your chosen mountain (and the minimum requirements for private, general access or utility staircase regulations). But that might be taking it a bit far.
Number of Steps to Climb Mountains
Right then, you're ready to climb Staircase Peak. We've picked out twelve peaks as possible targets for your ascent. Here's what we've done: we've assumed a step height of 20cm. As described above, you can adjust the step count based on the stairs you'll be climbing. We've done the heavy lifting for you in terms of heights and data. You have two options: either ascend from sea level, or recreate what the actual climb would feel like from the common start point. That is, if the climb was indoors, at room temperature, over one day and not at altitude…
Extra kudos if you do it in fancy dress – by which we mean appropriate mountain climbing gear. Although best not to crack out the crampons when you reach the snow line. You'll only make them blunt and your significant other may not be pleased about the state of the carpet afterwards.
1. Mount Kenya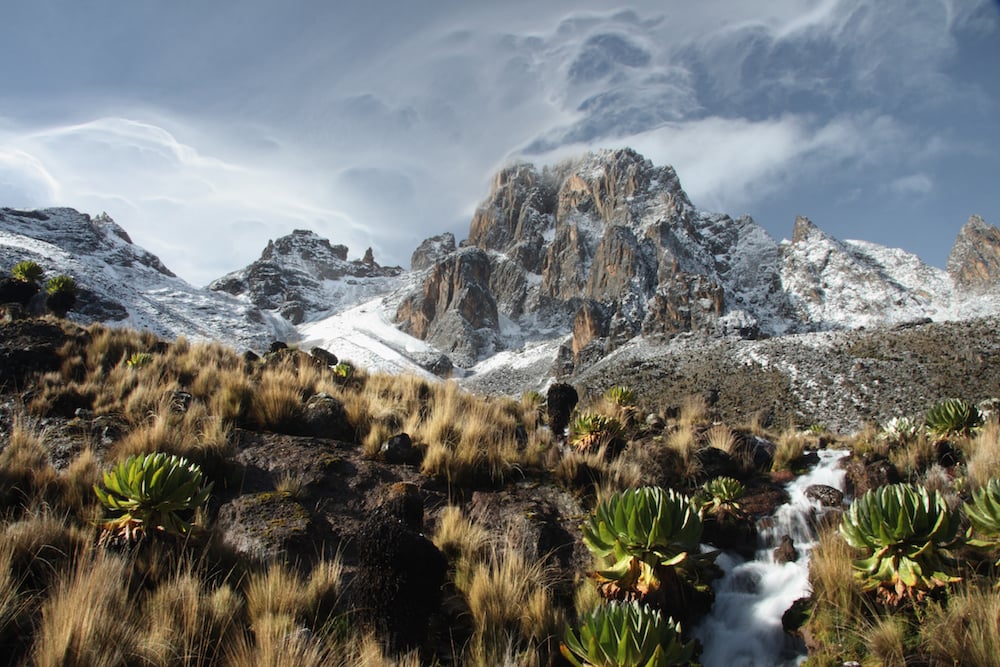 Height: 4985m
Ascent: 2377m
Stairs to the top: 11885
Stairs from sea level: 24925
Mount Kenya is the highest peak in… Kenya. Surprisingly. The mountain doesn't actually get its name from the country, though. It's an anglicisation of Mountain of Splendour (Kikuyu Kerenyaga, the second word pronounced Ke-enya-a by the tribe who assisted the first Western "discovery"). It took years for anyone to believe that there could be snow in Africa, even at height, and it was referred to cryptically as a "white substance" after the first explorers made fun of.
There are many routes up the mountain – and four separate summits. We've chosen Lenana, the only non-technical summit, so you don't have to take a rope up your staircase. There are several routes too, but we picked the Sirimon Route, which is about 22km one-way, spread over three days.
2. Elbrus (south route)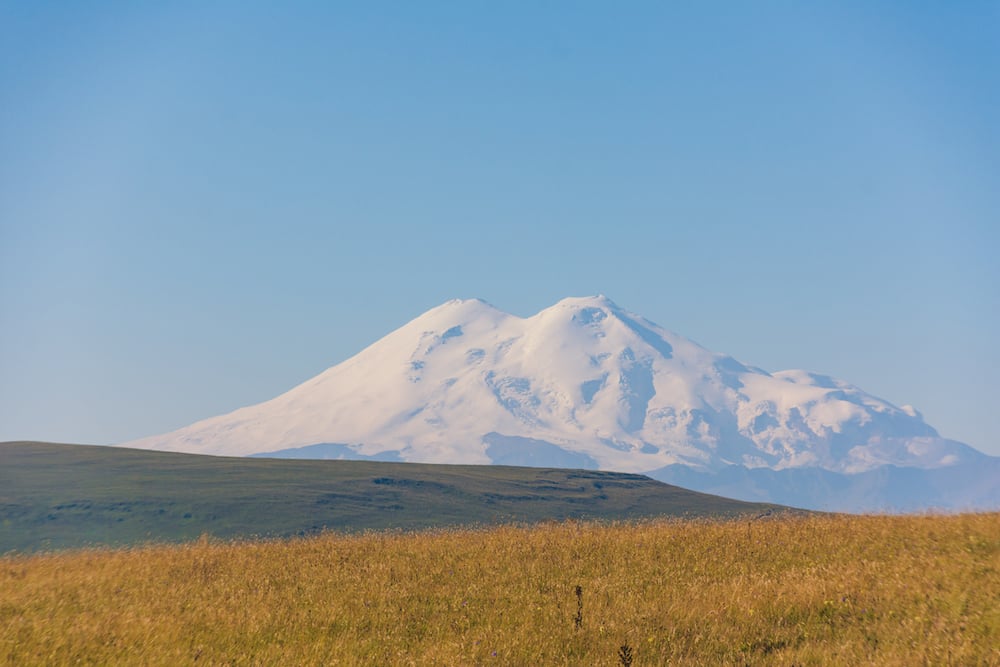 Height: 5642m
Ascent: 3208m
Stairs to the top: 16040
Stairs from sea level: 28210
The famous Russian monster: Elbrus one of the Seven Summits and therefore the highest peak in continental Europe. Yes, Europe. Get back in your box Mont Blanc. Elbrus is in the Caucasus Mountain Range and, somewhat excitingly, is a dormant volcano. As if it didn't have enough accolades, it's also the 10th most prominent peak in the world. That means it's head and shoulders above all the other peaks in the area. Which is cool until you realise it means you've got a lot of uphill to the summit.
3. Toubkal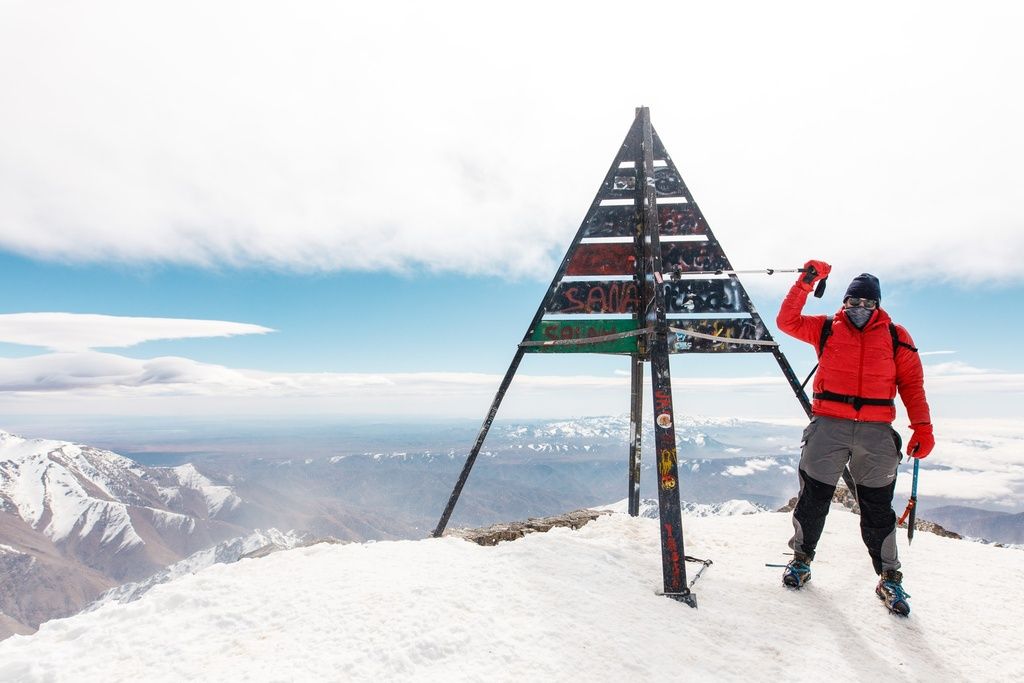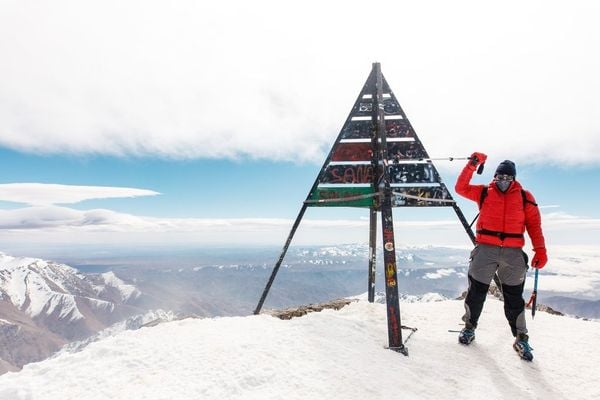 Height: 4167m
Ascent: 2392m
Stairs to the top: 11960
Stairs from sea level: 20835
Mount Toubkal is the highest peak in North Africa and is part of the Atlas Mountains, specifically the High Atlas. It can be climbed in both summer and winter – depending on whether you want to wear your duvet jacket indoors. There's also a refuge at 3200m, should you need to stop for a rest and bite to eat. Most people climbing the real mountain (not the stairs) overnight at this refuge, then make the last push up to the peak first thing in the morning.
4. Matterhorn (north east ridge)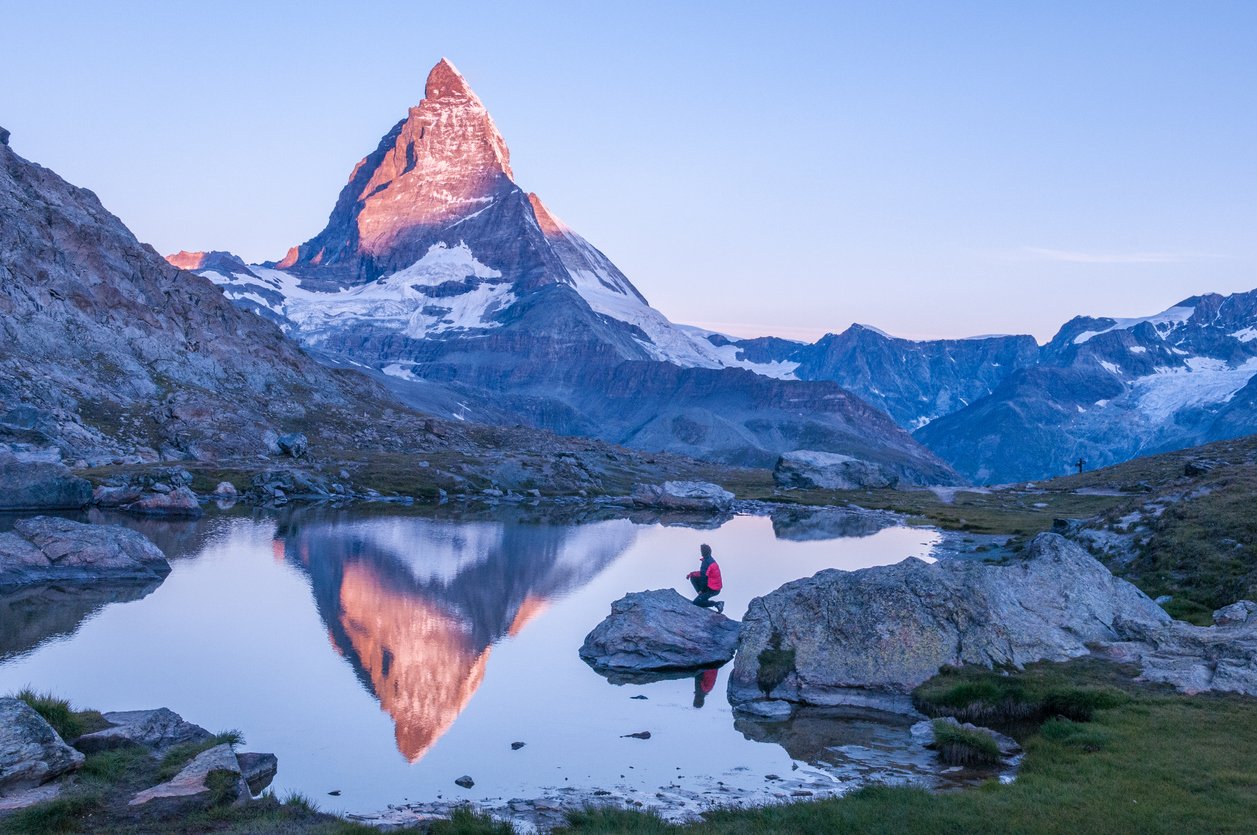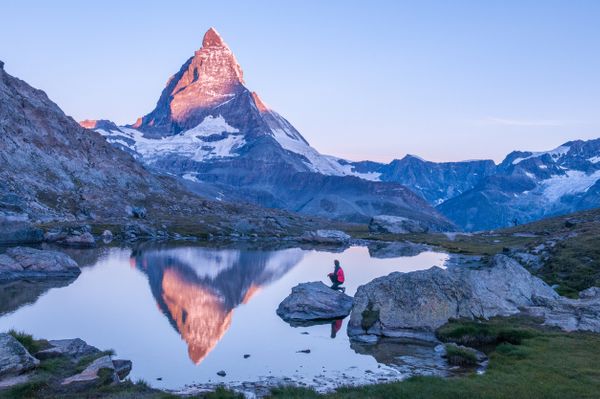 Height: 4478m
Ascent: 1791m
Stairs to the top: 8955
Stairs from sea level: 22390
The Matterhorn is a great big mountain in the Alps, straddling the border of Switzerland and Italy. It's not the tallest, but it certainly cuts a striking figure. Enough to make its taller relatives jealous. The Matterhorn's incredible notched-tooth outline is enough to make mountaineers sit, mouth open, dribbling into their strudel. It's asking to be climbed. That said, all the routes are pretty technical. You'll need climbing gear and ropes if you're taking your staircase ascent seriously.
5. Damavand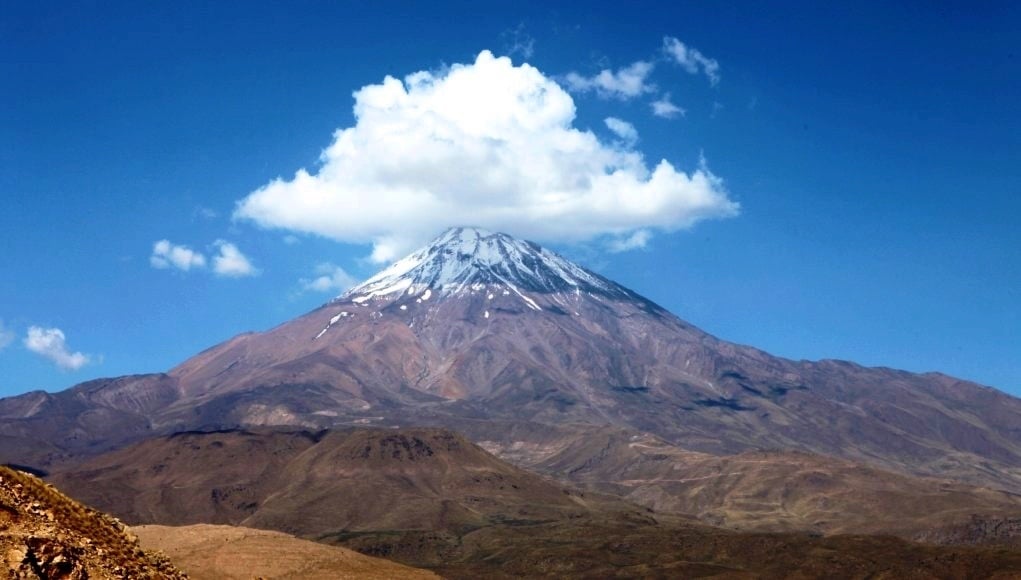 Height: 5671m
Ascent: 3482m
Stairs to the top: 17410
Stairs from sea level: 28355
Now here's an unusual mountain, for stair climbers wanting to get off the beaten track. Mount Damavand is the highest mountain in Iran and the highest volcano in Asia. Plus it's potentially active, just in case it wasn't enough of a challenge. Its status as volcano and highest, puts it in the Volcanic Seven Summits list – think the hip alternative for people who think the Seven Summits is too mainstream.
6. Triglav
Height: 2863m
Ascent: 2150m
Stairs to the top: 10750
Stairs from sea level: 14315
Mount Triglav is an excellent mountain for those trying to bridge the gap between hillwalking and mountaineering. The summit is only reachable by a via ferrata route, giving you a handrail to clip into, ready-bolted into the mountain. There is a small white structure at the top, which looks like a tiny turret from a fairytale castle. Beware of some the strange Slovenian traditions, if this is your first ascent. The mountain is the highest in Slovenia and is considered a right of passage for many of the locals.
7. Snowdon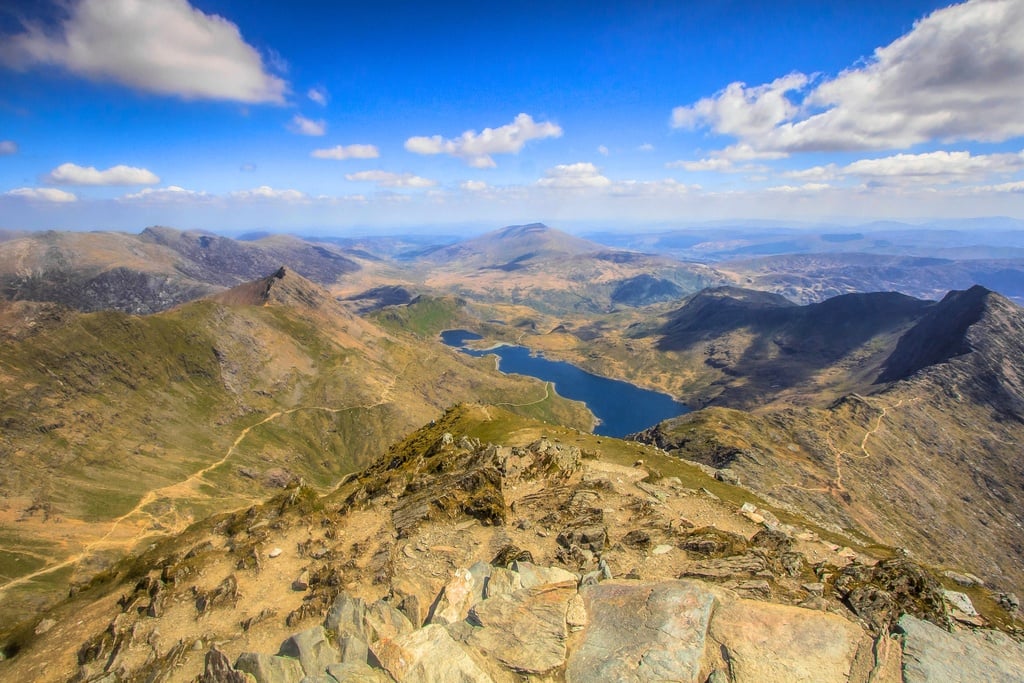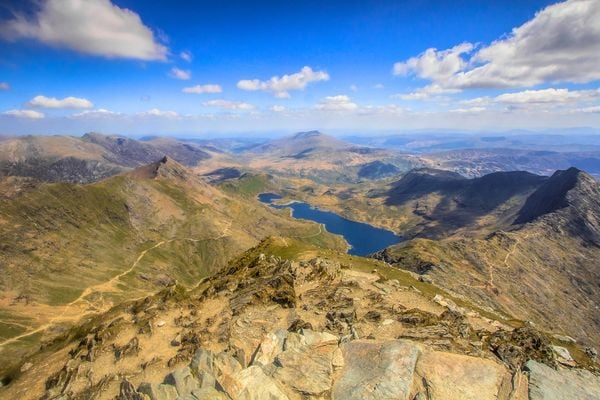 Height: 1085m
Ascent: 922m
Stairs to the top: 4610
Stairs from sea level: 5425
Enough of those lofty far-away peaks – how about stay local? Snowdon is the highest mountain in Wales and a popular summit for those visiting Snowdonia. There is something of a draw from the tallest peak in any area. It's also the second highest peak in the Three Peaks Challenge… which has just given us an excellent idea for another stair climbing challenge.
There are several ways to climb Snowdon, but we chose the Llanberis Path for our stair climbing calculations. Don't forget that there are loads of great mountains to climb in the area that barely anyone visits, simply because they're not Snowdon.
8. Ben Nevis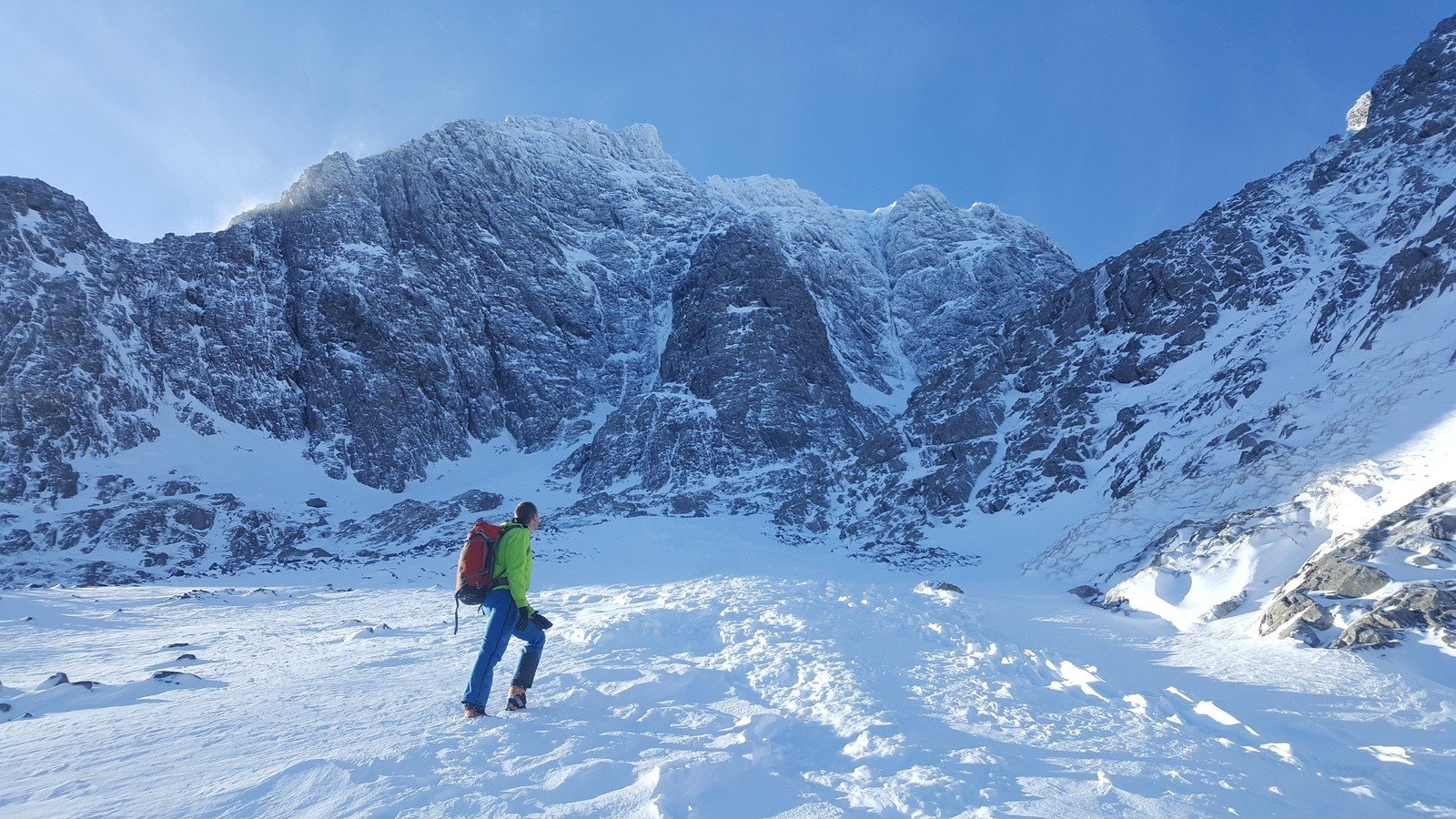 Height: 1345m
Ascent: 1310m
Stairs to the top: 6550
Stairs from sea level: 6725
Ben Nevis is the highest mountain in Scotland and the UK (are you sensing a theme here?). It, like Snowdon, is part of the Three Peaks Challenge and is usually tackled either first or last in the 24 hour challenge. Again, we've chosen the most direct and straightforward route up Ben Nevis for our stair calculations. After all, it gets a bit complicated when you're scrambling along a knife-edge arete. If that takes your fancy, you can read about all the routes up Ben Nevis instead.
9. Mont Blanc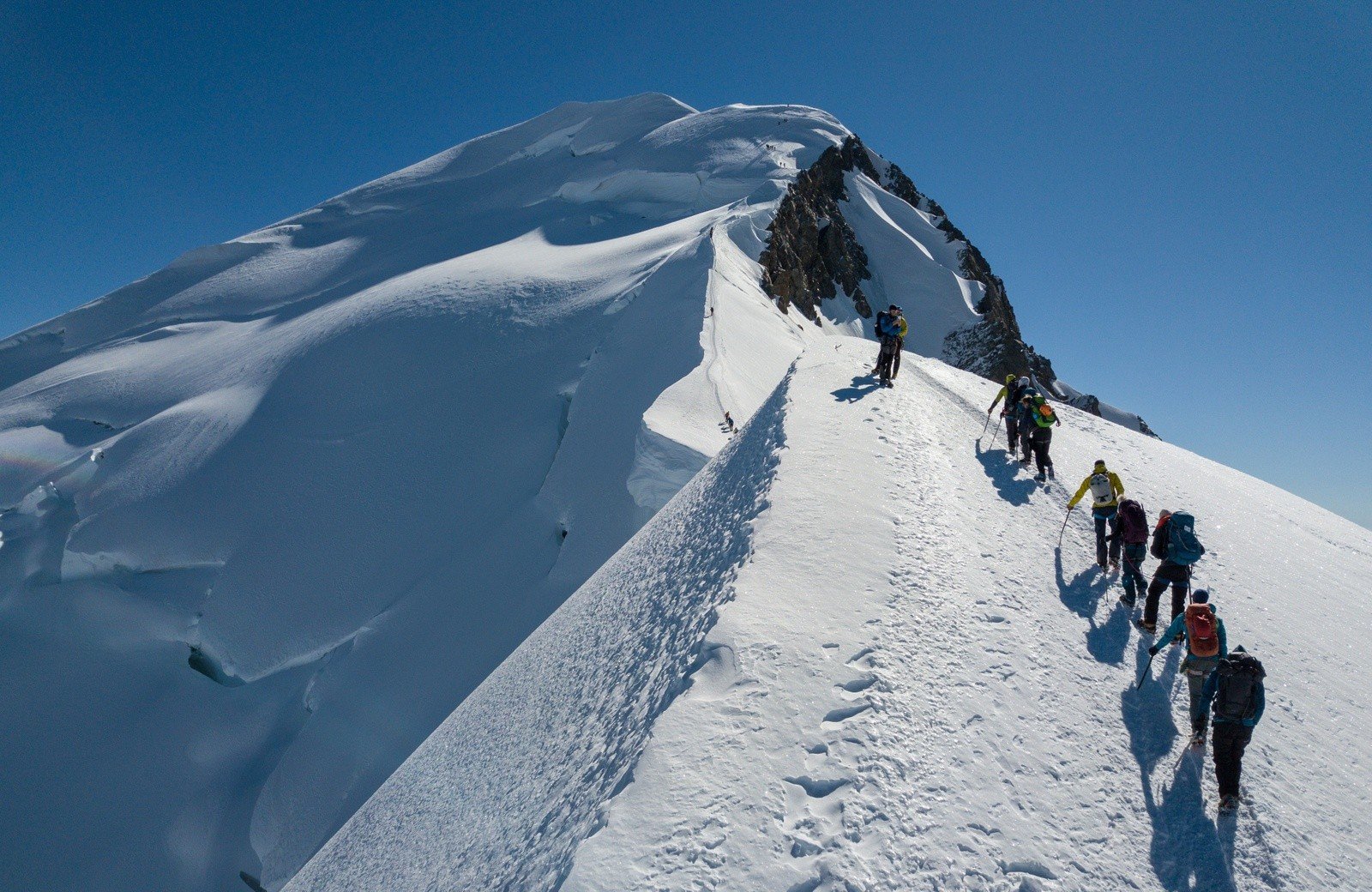 Height: 4810m
Ascent: 3840m
Stairs to the top: 19200
Stairs from sea level: 24050
We've been giving a bit of Mont Blanc banter, so it would be unfair to exclude it from the list. Mont Blanc is the highest peak in the Alps and climbing it is no small feat. It gets the consolation prize of being the highest mountain west of the Caucasus, the mountains that line the border between Russia and Georgia. The most common route up the mountain is less technical than, say, any of the Matterhorn routes. Many people use it as a "warm up" summit for something bigger – say in the Himalayas. You might choose to do the same, if you decide to take up stair mountaineering.
10. Everest (from base camp)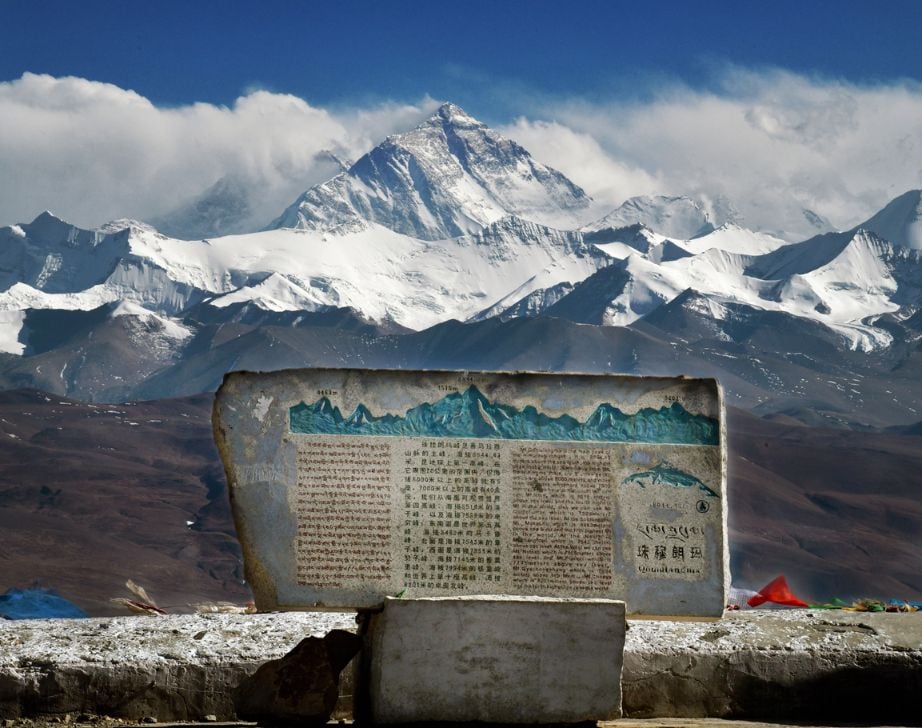 Height: 8448m
Ascent: 3495m
Stairs to the top: 17475
Stairs from sea level: 42240
Yep, okay, the big one. Given as "Everesting" is already a thing in the world of masochism (read: sport), we could hardly ignore the biggest mountain in the world. So here it is: you could climb the height of Mount Everest on your staircase, whilst imagining that you're on a multi-day siege of this great mountain. Most people don't realise that it takes expedition teams a good couple of months to reach the summit. You can do it in an afternoon. Who knows, if you go fast enough, you might need supplementary oxygen.
11. Cotopaxi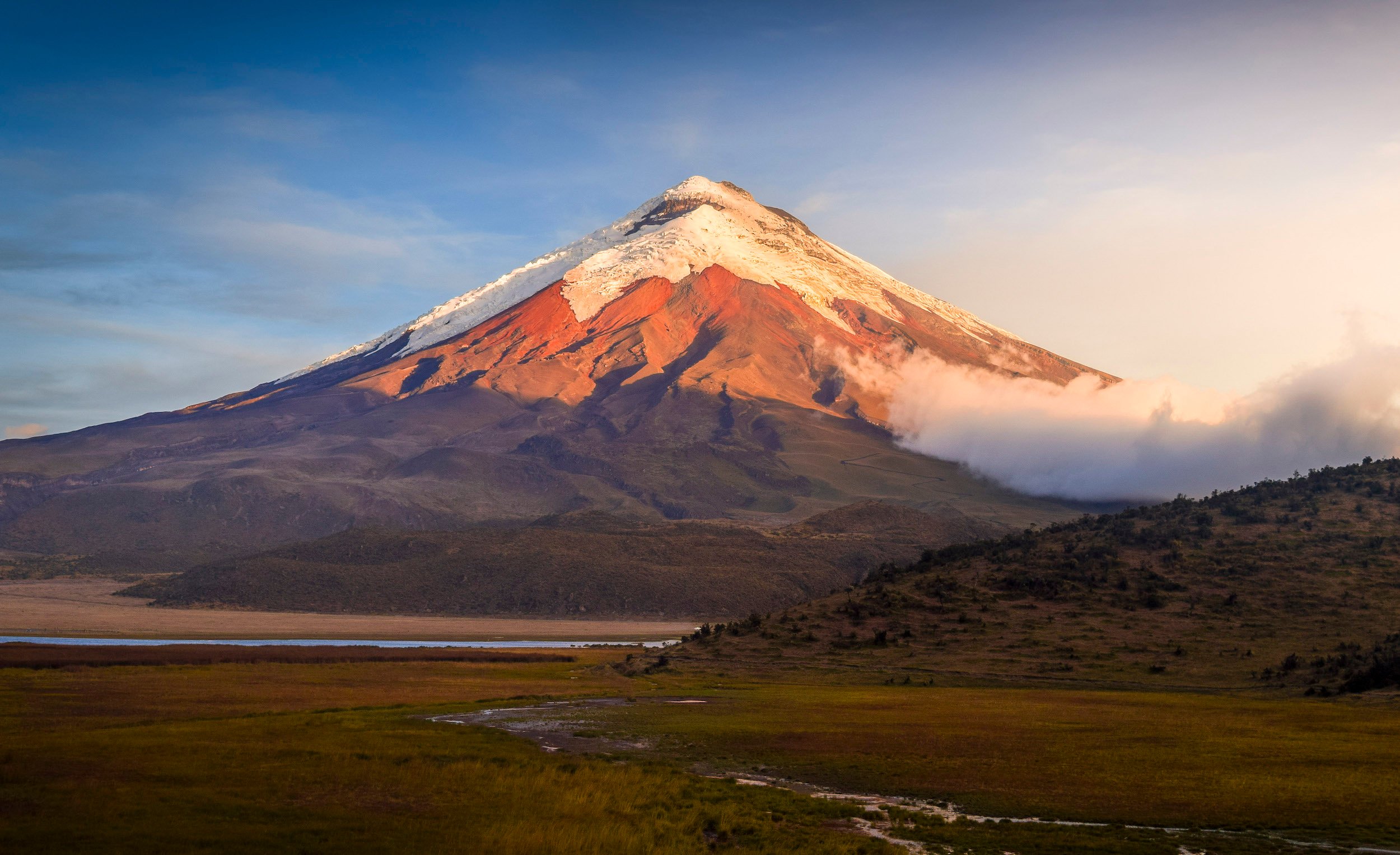 Height: 5897m
Ascent: 1491m
Stairs to the top: 7455
Stairs from sea level: 29485
Cotopaxi is an iconic mountain in the Andes of Ecuador. It's Ecuador's highest active stratovolcano and has a pleasingly conical shape to match. Luckily, the whole of the Andes is pretty darn high, so you don't need to trek up from anywhere near sea level. The route we've chosen is completed over several days, forming more of an expedition into the Andes than a quick jog up a summit. You can immerse yourself in Andean culture on the way. Remember that Cotopaxi is high enough for snow and glaciers – you'll need to watch out for crevasses before you reach the summit crater.
12. Kilimanjaro (Machame Route)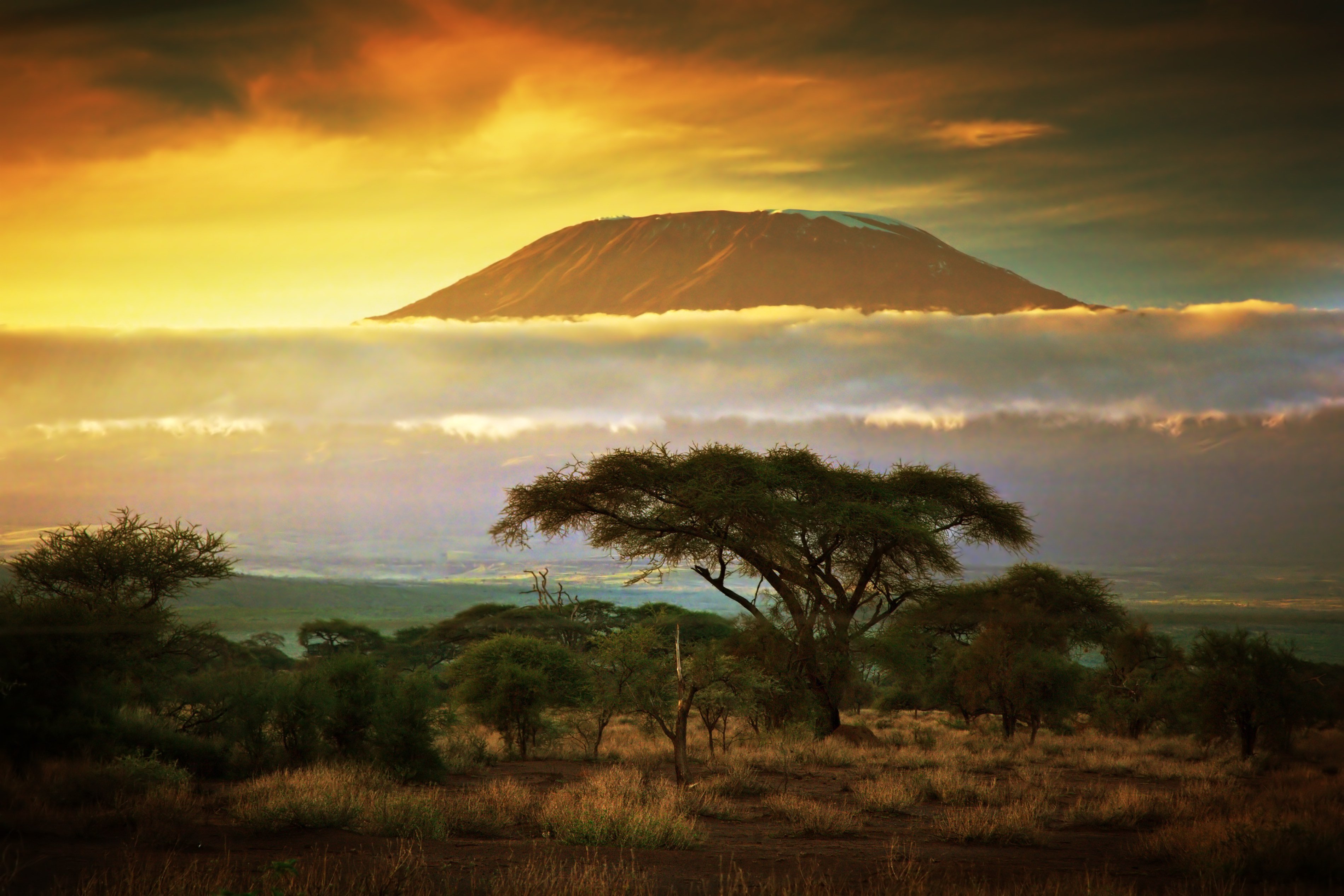 Height: 5895m
Ascent: 4983m
Stairs to the top: 24915
Stairs from sea level: 29275
Aaaand last but by no means least we present Kilimanjaro: the roof of Africa. If you needed to take a break from the monotony of being stuck indoors, then perhaps a trip to the African savannah would cheer you up? There are many routes up Kilimanjaro, tackled over several days of trekking. We chose the Machame Route for our stair climb because, in our opinion, it's the best route. You'll get to hike through rainforests, up towards glaciated peaks and take in the Shark's Tooth lava tower.
Which mountain did you choose? Share your ascent of your staircase with us on Facebook, Instagram or Twitter. Send pictures, give us a tag – extra kudos for appropriate mountain climbing gear!