Swimming outdoors is an immersive, multi-sensory experience. The skin-tingling shock of the cold as you plunge into a glacial lake. The sound of waves lapping against the shore, as you cool down after a clifftop hike. The feeling of weightlessness as you float on your back, looking up into a cloudless sky.
Kate Rew, founder of The Outdoor Swimming Society, loves how a dip can make you feel both relaxed and invigorated at the same time.
"When you're swimming you feel effervescent; as happy and free as you did when you were a child. It's really lovely to have that experience," she says.
If you're anything like us, you'll prefer your outdoor swimming spots to be quiet ones in beautiful natural surroundings. We'll take a secluded beach over a busy lido any day. And we also like our wild swimming with a side of adventure, be that coasteering, snorkelling or a natural pool accessible only by hiking. Our list of the 15 best places to swim in Europe reflect that.
Our wild swimming adventures will have you braving alpine lakes, exploring remote sea caves and soaking in Icelandic hot springs. Here are some of our favourite places to go swimming.
1. Falasarna, Crete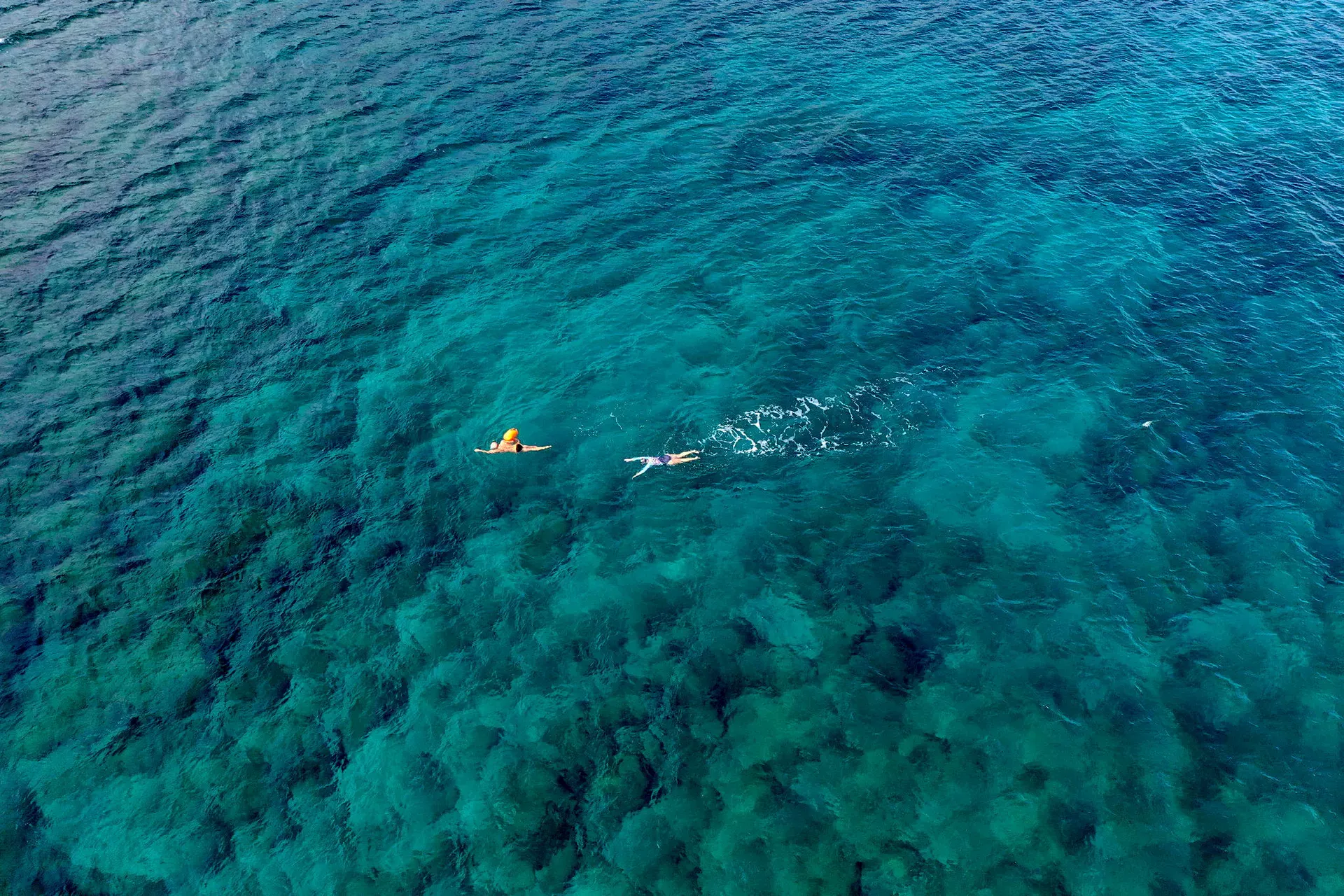 Best for: calm seas and open water swimming.
We love Crete's Falasarna Beach, a vast sweep of powdery white sand with glorious turquoise water. Such is its size that even during in the height of summer, you'll be able to find yourself a quiet spot. Surrounded by the calm Mediterranean Sea, Falasarna is also the perfect place to try out open water swimming.
Build up to completing the 'Falasarna Triangle', a 2.1 mile (3.7km) swim towards Limpet island, part of a submerged ridge enclosing the bay. You'll swim alongside the island to the tip of the bay, where you can see a WWII shipwreck, and will complete the triangle by swimming back along the coastline.
2. Spitsbergen, Norway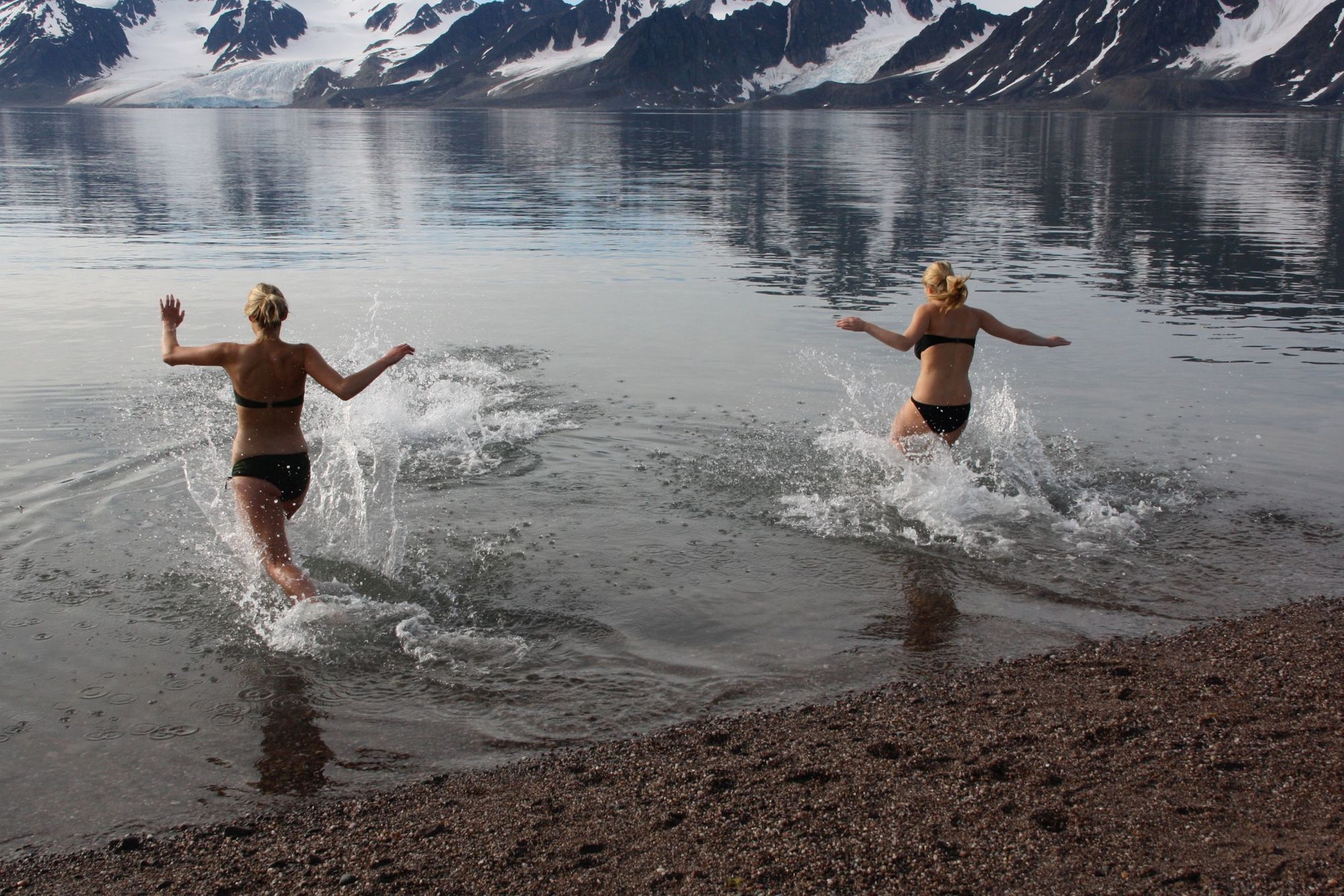 Best for: anyone wanting a 'polar plunge'.
Svalbard is a remote archipelago in the Arctic Circle - Spitsbergen is the only inhabited island. It's a vast, untrammelled landscape of deep fjords and high mountains; abandoned cabins and silent plains. Many people visit for hiking and dogsledding, but you can also brave the icy seas surrounding the archipelago for a (very quick) dip.
The average sea temperature in Svalbard across the year is 0.02° C, so you won't be in there for long - seconds, rather than minutes. We'd also recommend doing this in a guided group, for obvious reasons. Pick a sheltered bay - Ymerbukta is a good option - and make sure you have a fire lit to warm up by.
3. Mont Blanc, France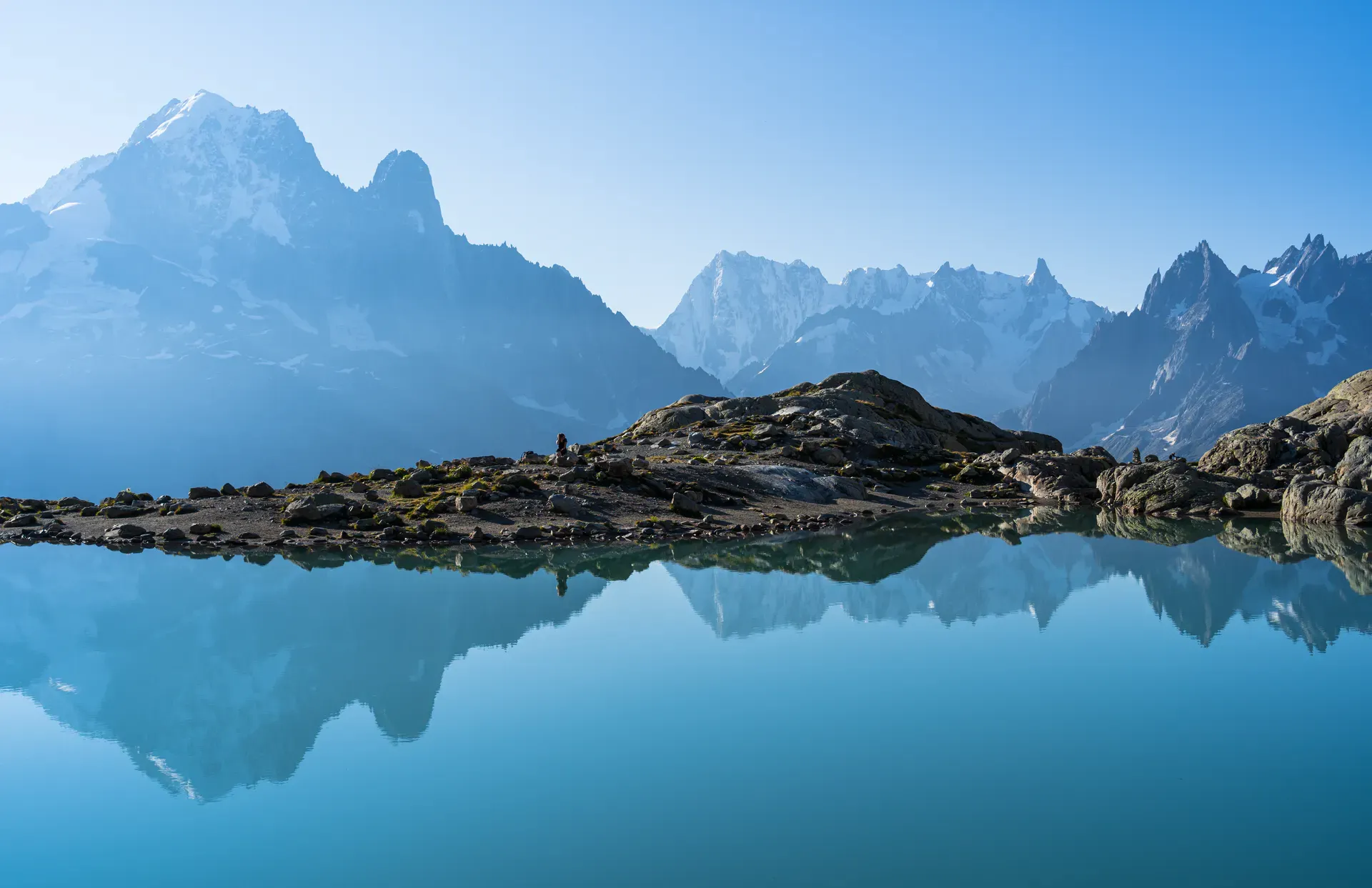 Best for: revitalising dips and mountain scenery.
People often visit this area to climb Mont Blanc or hike the Tour du Mont Blanc. But it's also an excellent spot for a wild swim, with its shimmering alpine lakes - although be warned, they are cold!
A series of hikes beneath the giant peaks of the Chamonix Aiguilles and the Mont Blanc massif will lead you to Lac Bleu, Lac Blanc and Lacs de Cheserys, where you can test your nerve in the chilly turquoise waters.
4. Meganisi, Greece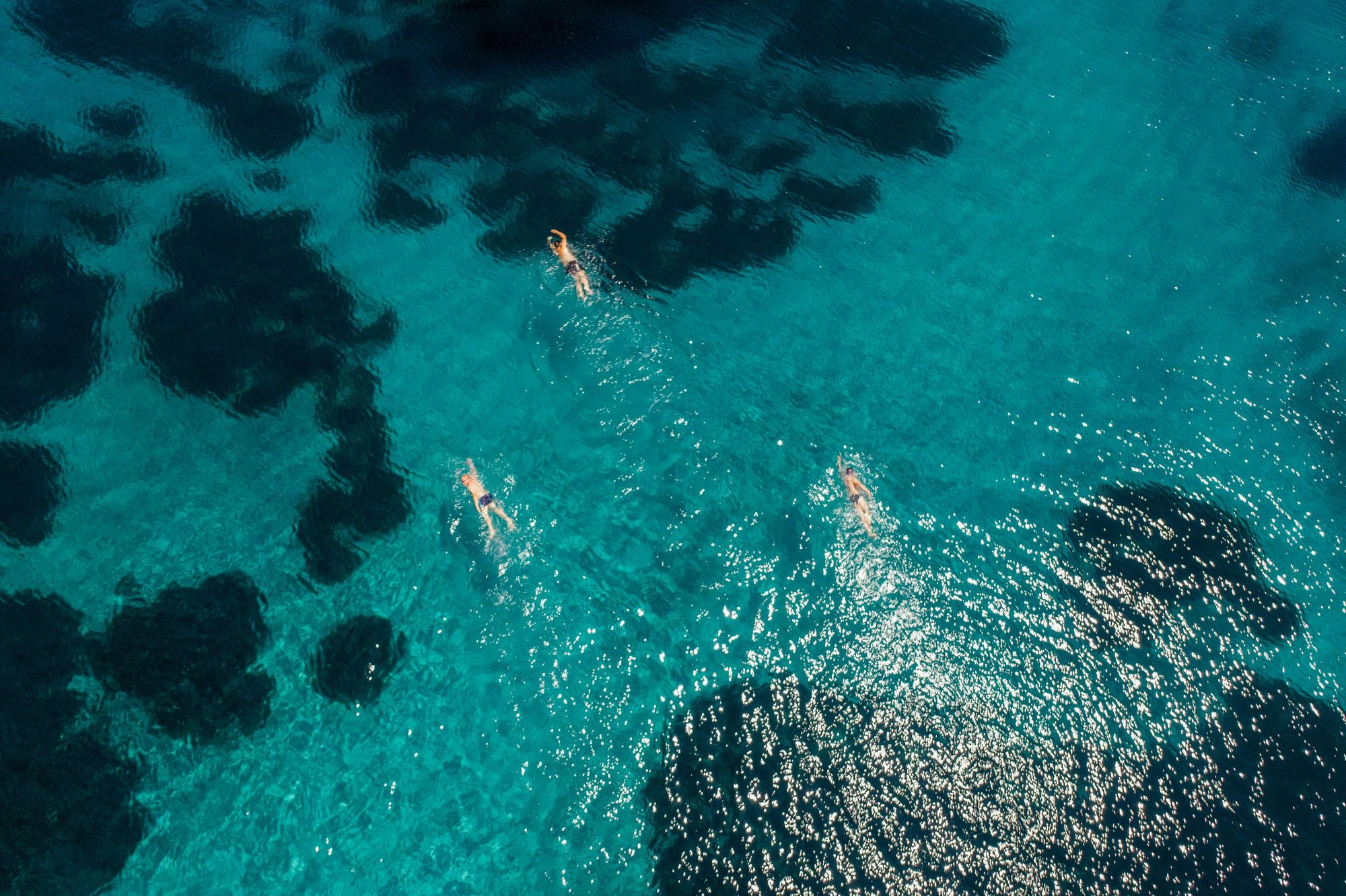 Best for: wild beach camping and sunset dips.
The Greek islands are a popular holiday destination, with their bougainvillea-drenched villas, delicious taverna food and idyllic beaches. This means that some swim spots can get busy. However, you'll be far away from the tourist crowds if you visit the Ionian Archipelago. There are some islands which can be accessed only by kayak - you'll share the water with fish, dolphins and sea turtles.
One of our favourite beaches on the Ionian Archipelago is Limonari Beach, a pebbly, forest-flanked bay on the small island of Meganisi. Mikros Gialos Bay, on the more populous island of Lefkada, is also gorgeous. Set up camp on the beach to really make the most of it, then you can enjoy a sunset dip as well.
5. Lake Bled, Slovenia
Best for: postcard-perfect lake crossings.
Lake Bled, in Slovenia, is located in the heart of the Slovenian Alps. The turquoise water is surrounded by mountains, with the town of Bled nestled into the shoreline. Swimming is encouraged, and there are plenty of beaches where you can access the water.
The lake is two kilometres (1.2 miles) wide, so swimming across it is an invigorating challenge for accomplished open water swimmers. You can also swim to Bled Island in the centre of the lake, which has a church and monastery to explore - a distance of around 300 metres. Remember to carry a dry bag full of spare clothes if you do this, as walking around uncovered is not permitted.
6. Elba, Italy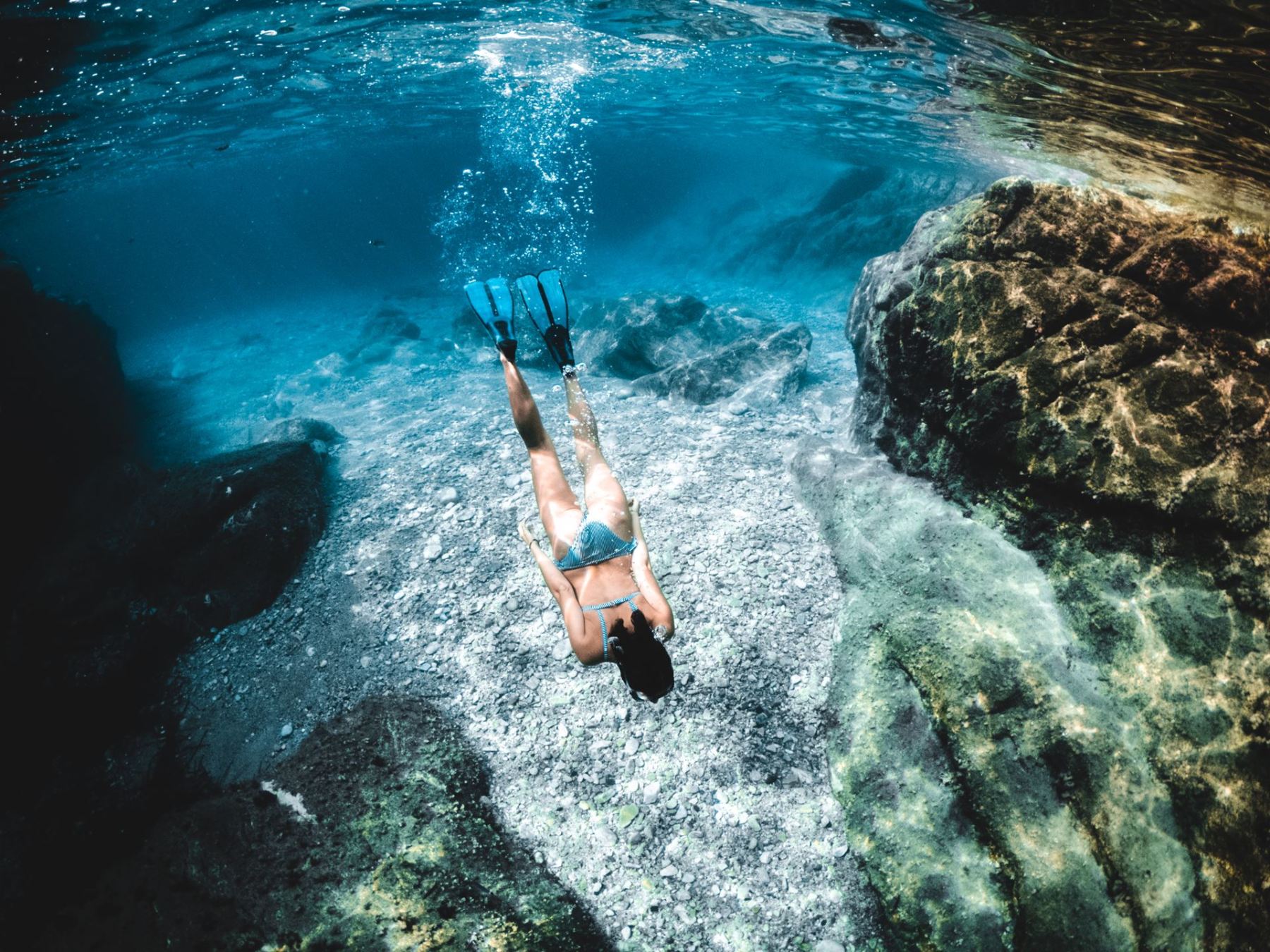 Best for: snorkelling and looking at marine life.
If you want to go wild swimming in Italy, there are plenty of options. One of our favourites is to explore the beautiful islands of the Tuscan Archipelago National Park, such as Elba and Pianosa. Despite being described as the 'Caribbean of Italy,' they're very much off the beaten track. The pristine protected waters are home to cuttlefish, lobsters, sea bream, snapper, moray eels and many other species - we'd highly recommend going snorkelling.
There are plenty of wonderful beaches on the island of Elba; pebbly coves tucked into the rugged cliffside. We like the rugged Enfola Peninsula in the north of the island, where there are some beaches only accessible by kayak. In the south we recommend Innamorata Beach, a sandy bay surrounded by forest.
6. Snowdonia, Wales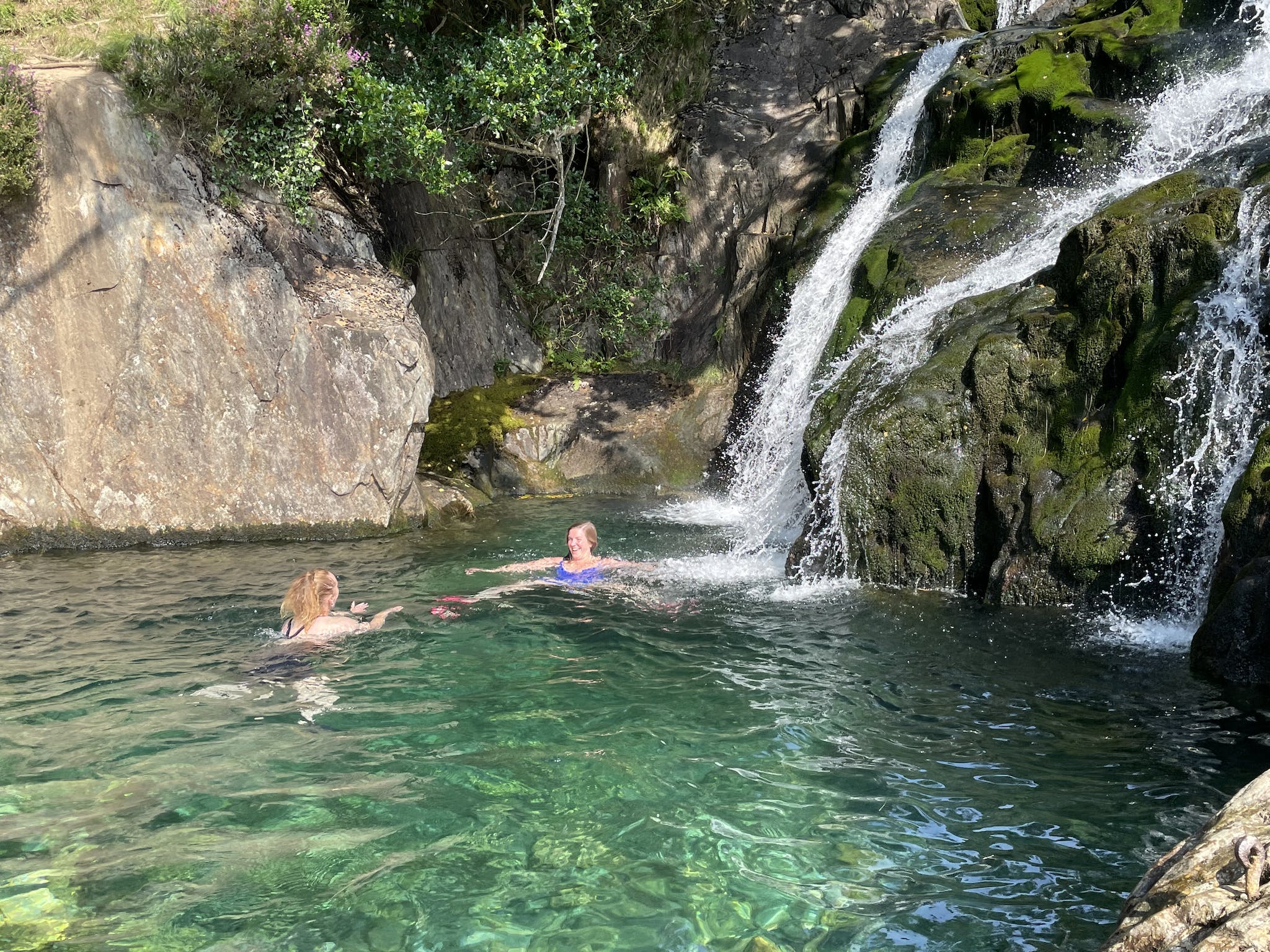 Best for: bracing dips and lake exploration.
There's some fantastic wild swim spots in Snowdonia, the Welsh National Park renowned for its hikes. After a long day on the trail, there's nothing better than a skin-tingling dip in a cool lake or river. There are even a couple of beaches within the national park boundaries, such as the three-mile-long Aberdyfi Beach.
We recommend taking a dip in one of Snowdonia's lakes. Llyn Dinas is a shallow lake with a gorgeous mountain backdrop. You can either swim across it (the lake's around 300 metres wide) or explore the inlets and small lagoons around its edges. There are also some secluded natural pools in the nearby woodlands, which you can reach along a quiet hiking trail.
7. Cornwall, England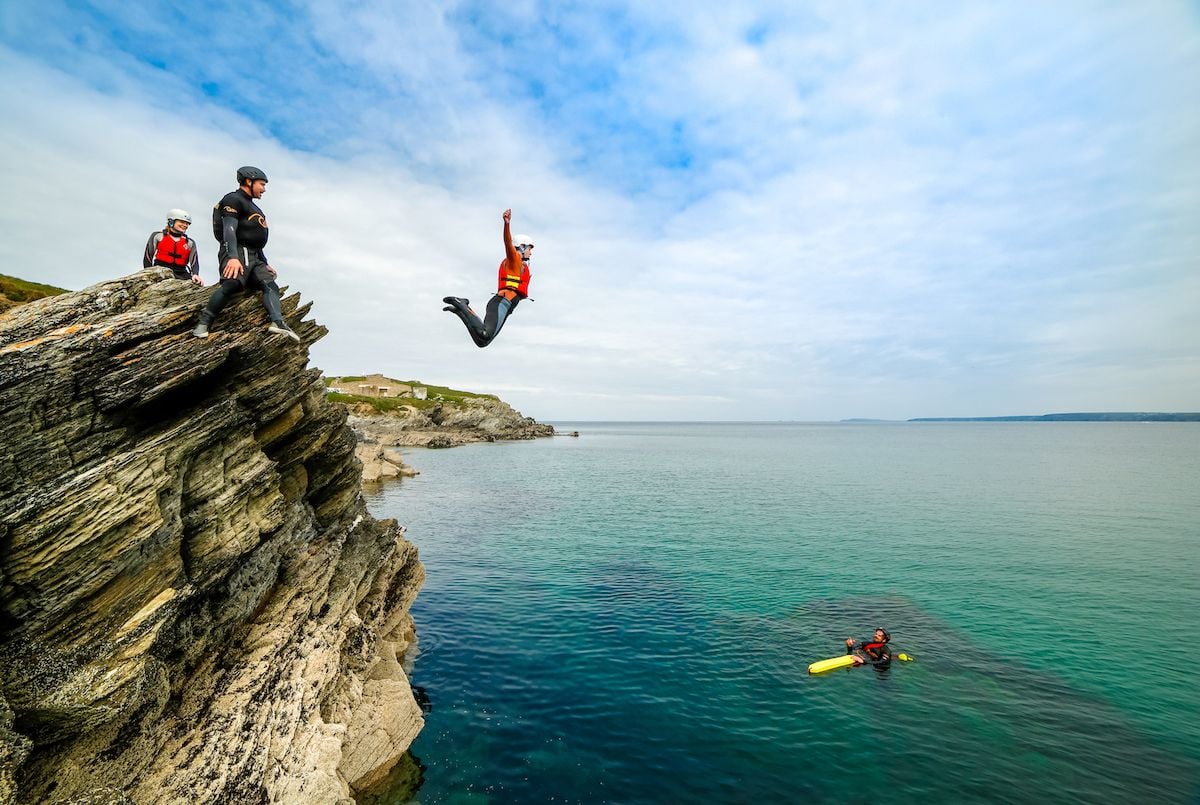 Best for: a UK-based swimming break.
Cornwall is one of the UK's most popular holiday destinations, with 250 miles (402.3km) of coastline. As regular visitors, it's our personal mission to find discover the county's best beaches. Our favourites include the vast, unspoilt Gwithian Beach on the north coast, and Priest Cove next to Cape Cornwall - a headland just south of Land's End. If you happen to watch the historical series Poldark, then check out Porthcurno (the filming location for Nampara Cove).
If you'd prefer something a little more adrenaline-fuelled than lying on a beach with the occasional dip, why not try coasteering? The aim is to traverse the 'impact zone' (where land meets water) however you can - it's a mixture of cliff jumping, rockpooling, abseiling and wild swimming all mixed into one. Towan Head is an ideal place to try it out, ending up at adjacent Fistral Beach for some down time afterwards.
8. The Peloponnese Peninsula, Greece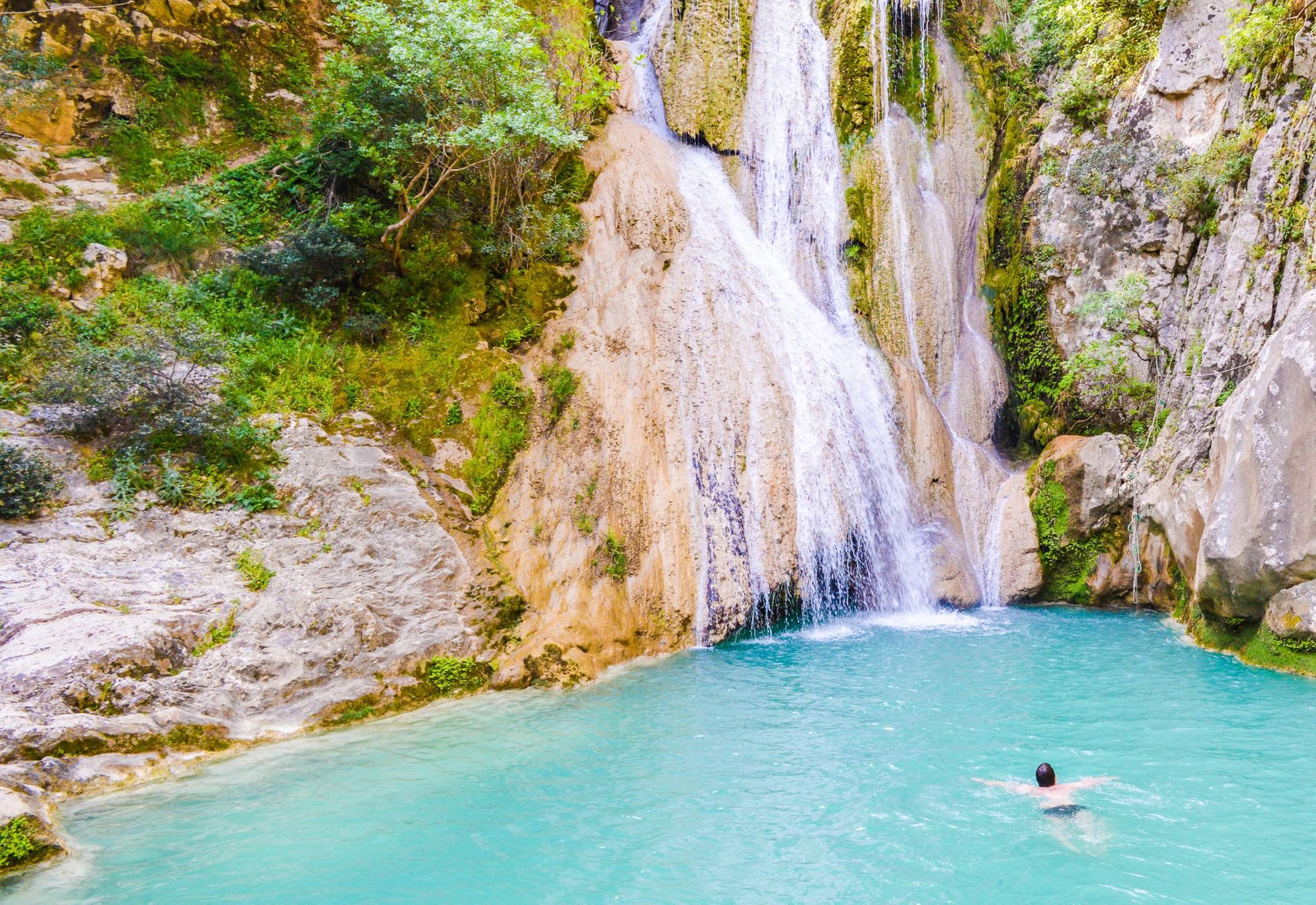 Best for: discovering Greece's unspoilt swim spots.
Many people flock to Greece's islands on holiday, but there are some wonderfully unspoilt spots on the mainland. This includes the Peloponnese Peninsula, a rugged region of mountains, plunging gorges and some of the least developed beaches in the country.
A particularly good option is Voidokila Beach, a turquoise bay said to be shaped like the Greek letter 'omega', which is home to migratory birds such as herons, flamingos, and ospreys. The sheltered coves near the fishing village of Kardamyli are also good swimming spots - hire an SUP or kayak to explore the coastline and find secret coves only accessible on water. If you tire of beaches, head inland to Polylimnio – which translates to 'many lakes' – a series of azure pools fed by waterfalls, and surrounded by forest.
9. Lochaber, Scotland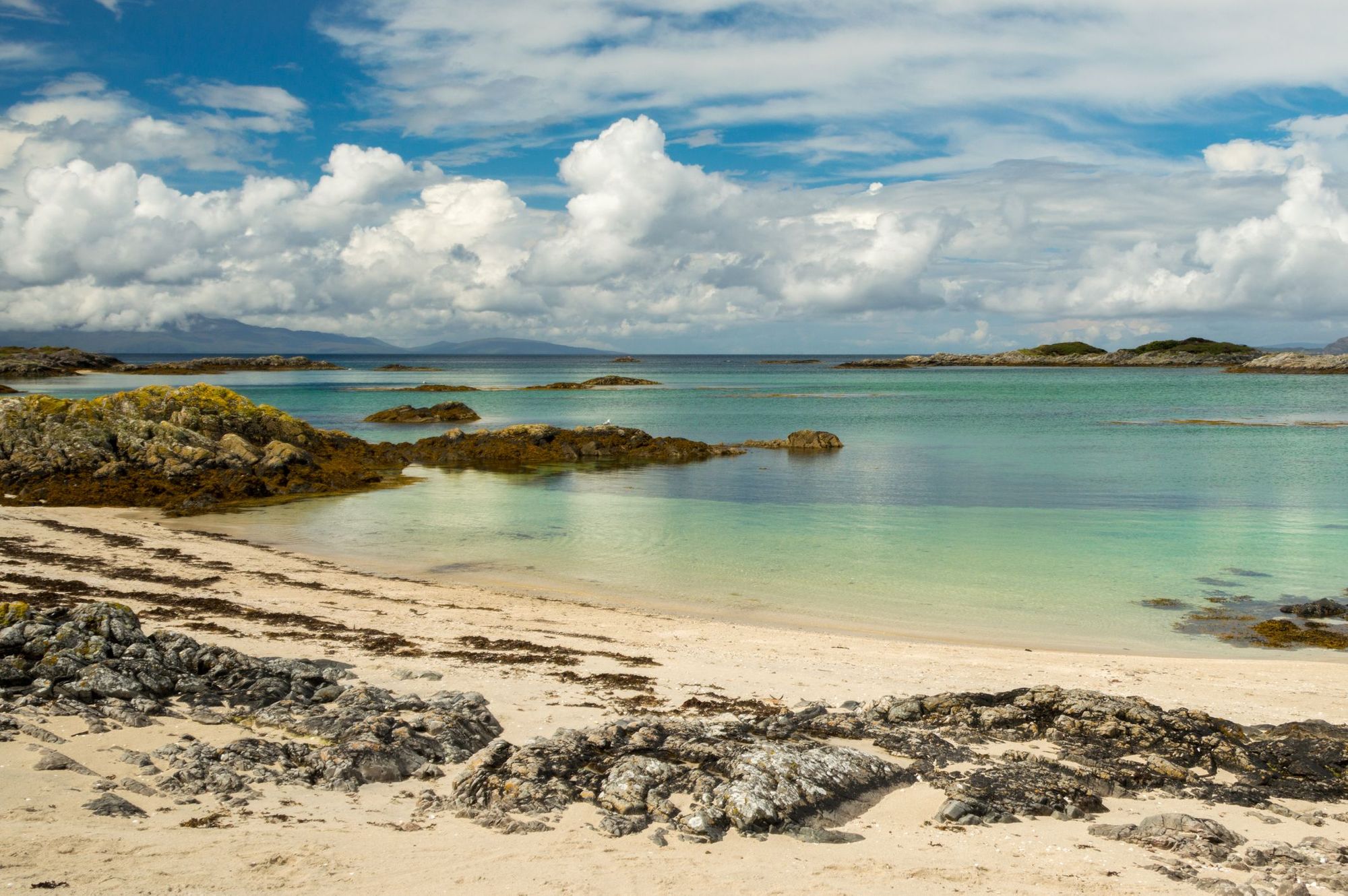 Best for: bracing dips and wild beaches.
Lochaber is a huge region which sits in Scotland's western Highlands and is known as the 'outdoor capital of the UK'. There are plenty of opportunities for hiking (including Ben Nevis) and biking in its mountainous landscape. It's also great for outdoor swimming, with miles of craggy coastline and an array of deep lochs.
Smirisary Beach is renowned for its powdery white sands, and because there's no road access it sees very few crowds. Reach it by kayak, or on a 2.9 mile (4.7km) out and back trail from the nearest village. We also like Peanmeanach Beach, on the shores of Loch Ailort. Cambusdarach beach, between Arisaig and Mallaig, is another beauty, looking out to the islands of Rum and Eigg off the west coast.
10. Lustica Peninsula, Montenegro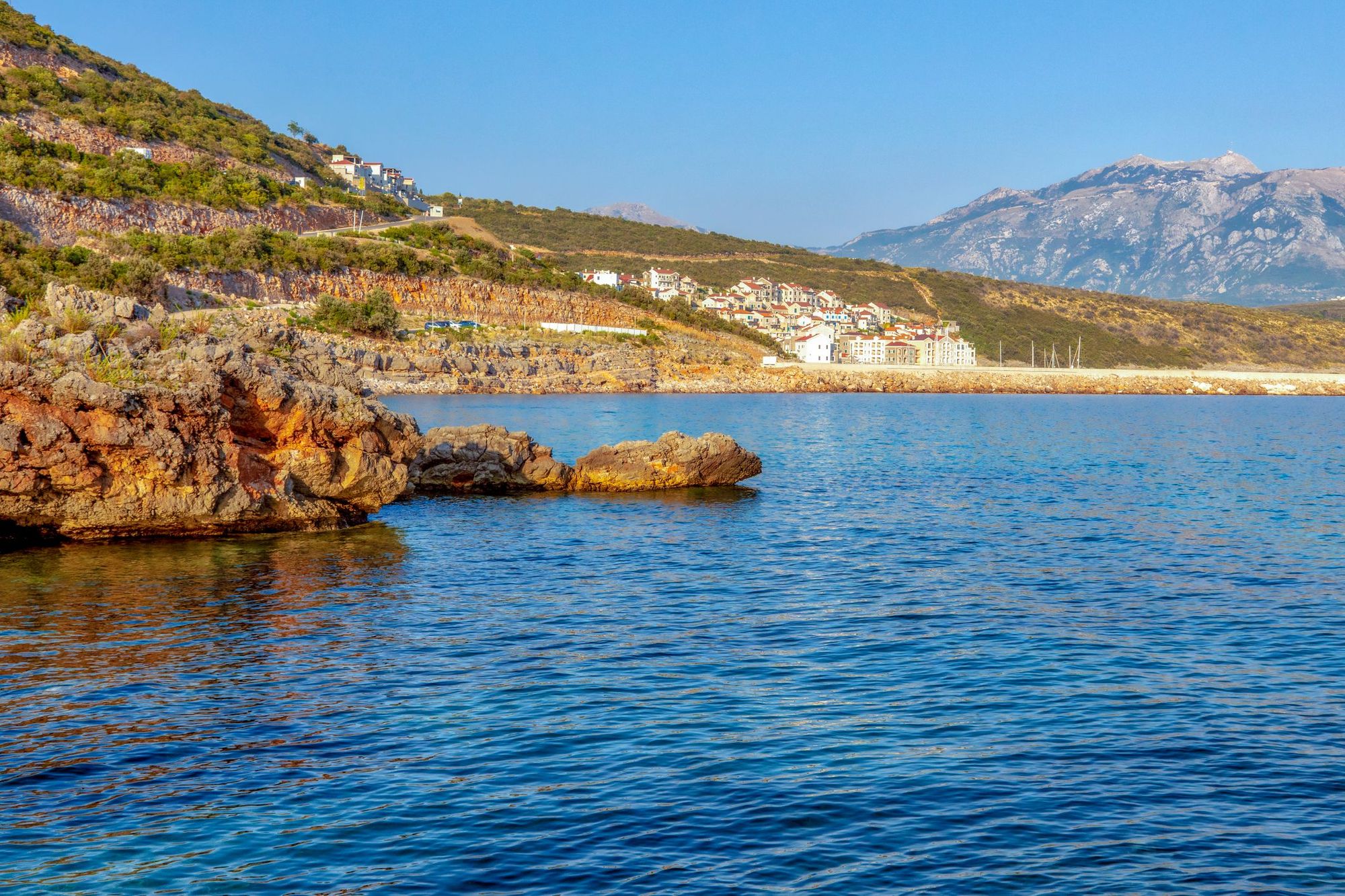 Best for: secluded swimming in the Adriatic.
The Luštica Peninsula, in the north of Montenegro, acts as a natural barrier between the Adriatic Sea and the Bay of Kotor. Numerous beaches and sea caves are nestled into its rocky coastline, and the warm Mediterranean climate means the sea never get too cold.
Plaža Arza is renowned for its clear, calm waters, and rarely gets crowded. Another popular place for swimming is the peninsula's Blue Cave; a sea cave where turquoise light from the water reflects across the stony walls. It's only accessible via water - you can take a boat trip there or kayak to it independently.
11. Landmannalaugar, Iceland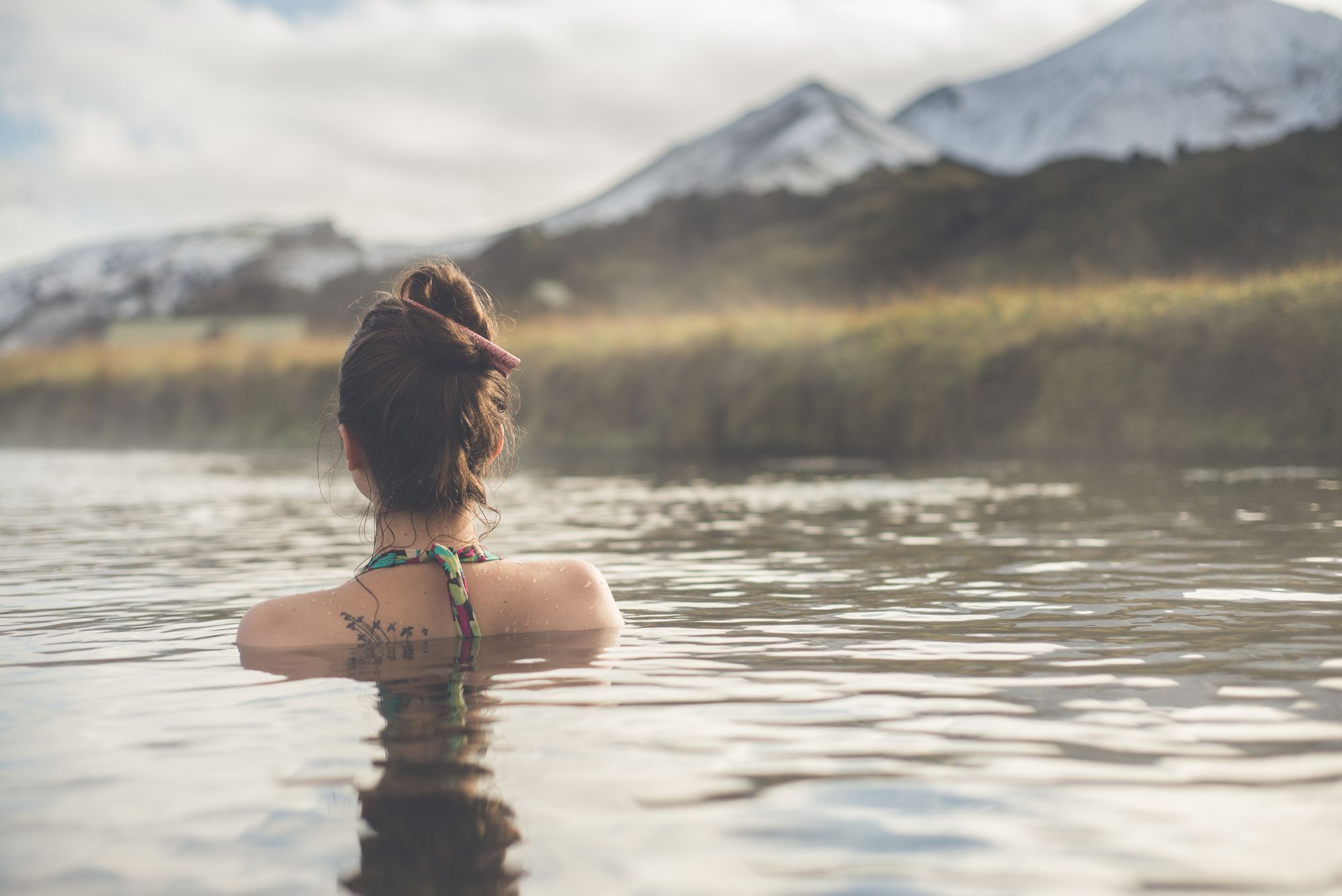 Best for: thermal pools in otherworldly surroundings.
Landmannalaugar is known for being the start of the Laugavegur Trail, one of the most scenic treks in Iceland. But it also boasts a thermal river and some hot springs where you can warm up after a bracing walk.
The hotsprings are located a short distance from the Landmannalaugar campsite. Spend a day or two hiking through the colourful rhyolite hills and lava fields of the area, and treat yourself to a dip afterwards. The water temperature is around 40°C, so they can be enjoyed in all sorts of weather.
12. Menorca, The Baleriac Islands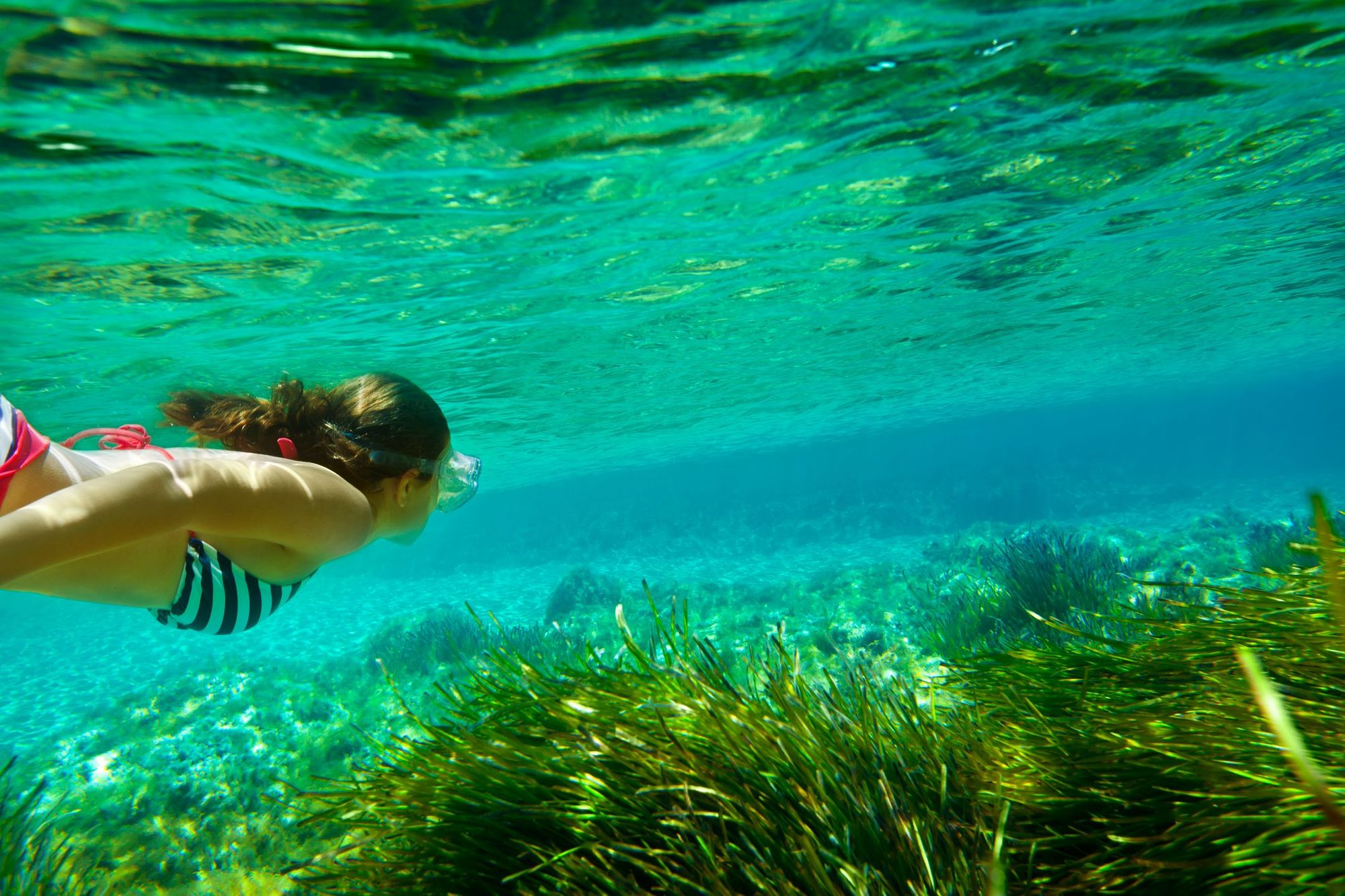 Best for: warm seas and picturesque beaches.
Menorca, a Baleriac Island in the Mediterranean, is much more low-key than its neighbours Mallorca and Ibiza. It's the perfect wild swimming destination for anyone who enjoys sun-drenched holidays and calm, clear seas.
We have a long list of favourite swimming beaches. Cala Biniparratx is one of them; a sheltered cove surrounded by forested cliffs. Cala Pregonda, a golden sand beach accessible by footpath, is equally scenic. While you're swimming, you may catch sight of large beds of seagrass under the water - they're endemic to the region and help keep the ocean clean.
13. Sardinia, Italy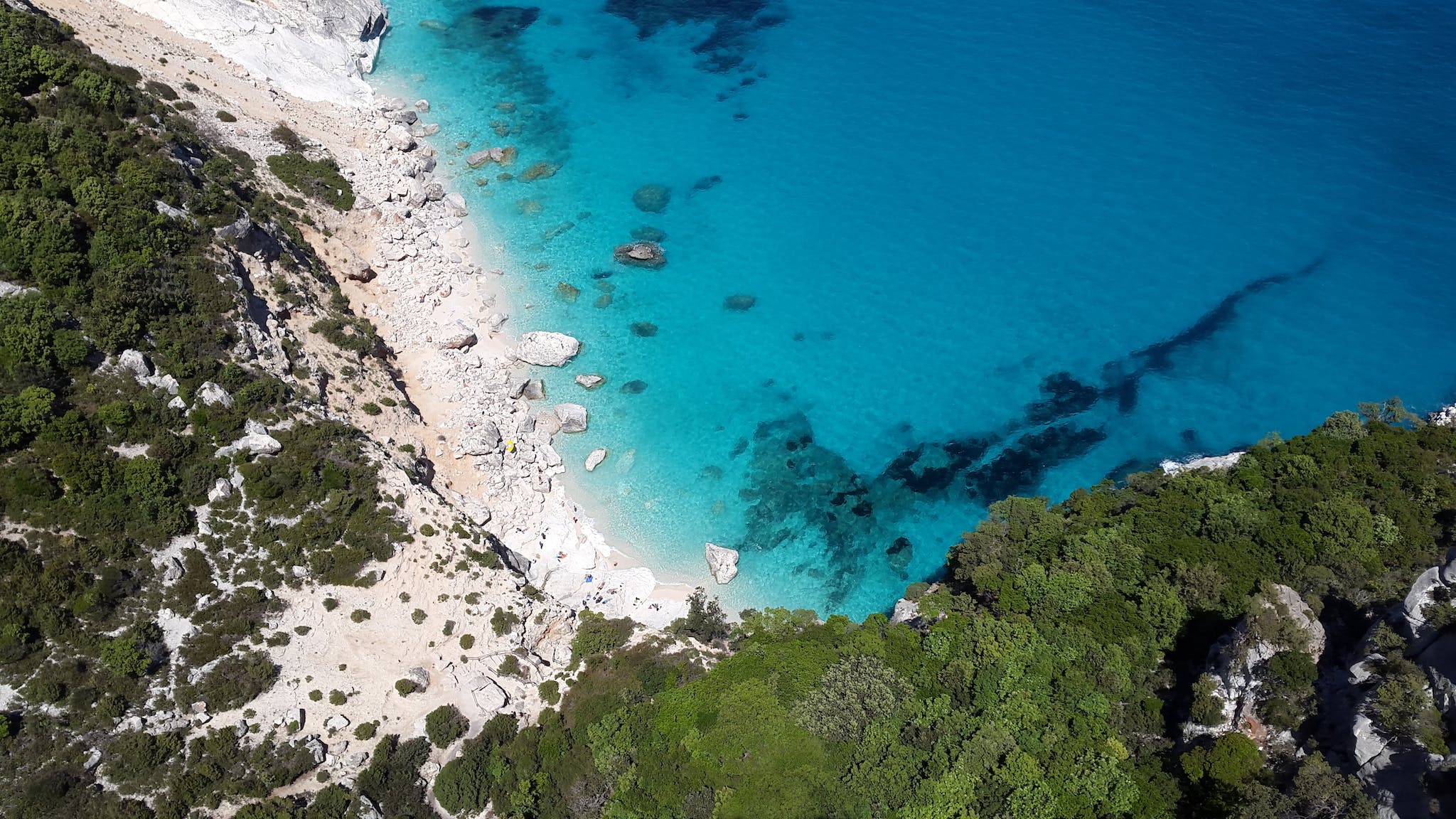 Best for: exploring hidden coves.
Sardinia is the ultimate beach holiday for foodies - spend your days exploring hidden coves and your evenings indulging in fresh seafood and pasta specialities. We'd recommend exploring the coastline via sea kayak, so you can find the island's most off-the-beaten track spots.
Head to Sardinia's western coast to explore the inlets and grottoes of Porto Conte Regional Park, a protected area occupying a small headland - Cala Barca is particularly idyllic. Coscia di Donna, in the north of the island, is ideal for snorkelling.
14. The Lofoten Islands, Norway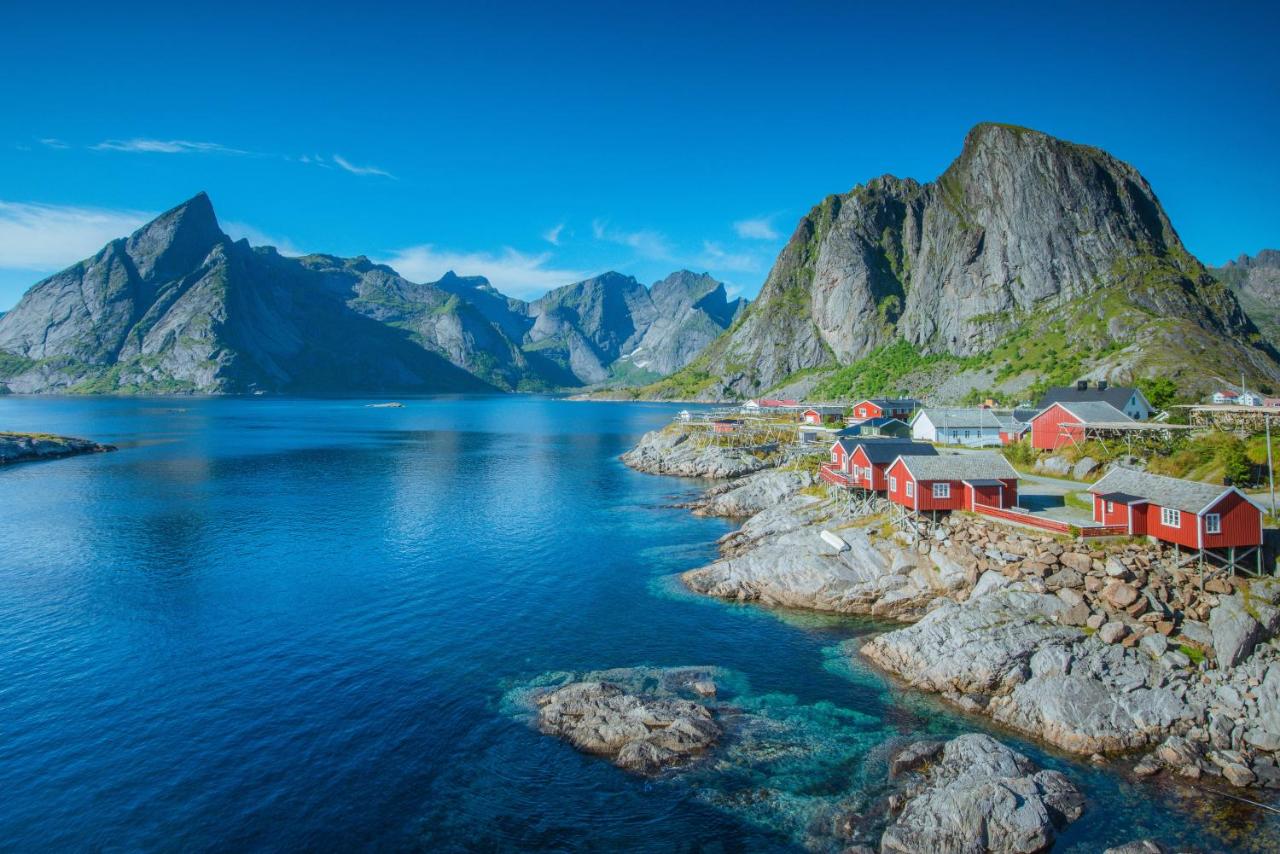 Best for: icy dips and hot saunas.
Not all wild swimming adventures need to take place on Mediterranean beaches. If you'd prefer something a little more bracing, how about visiting the Lofoten Islands, an archipelago in the Norwegian Arctic? These craggy volcanic islands loom up from icy seas, and distinctive red fishing cottages nestle into the rocky shorelines.
Due to the temperature of the water (from 3 to 6°C in April, rising to 11 to 15°C in August), swimmers tend to opt for a quick plunge rather than extended swim. The white sand beaches of Skrova Island are popular spots to test your mettle. Another popular option is to combine an icy sea swim with a sauna - there are plenty of options available all around the islands.
15.  Madeira, Portugal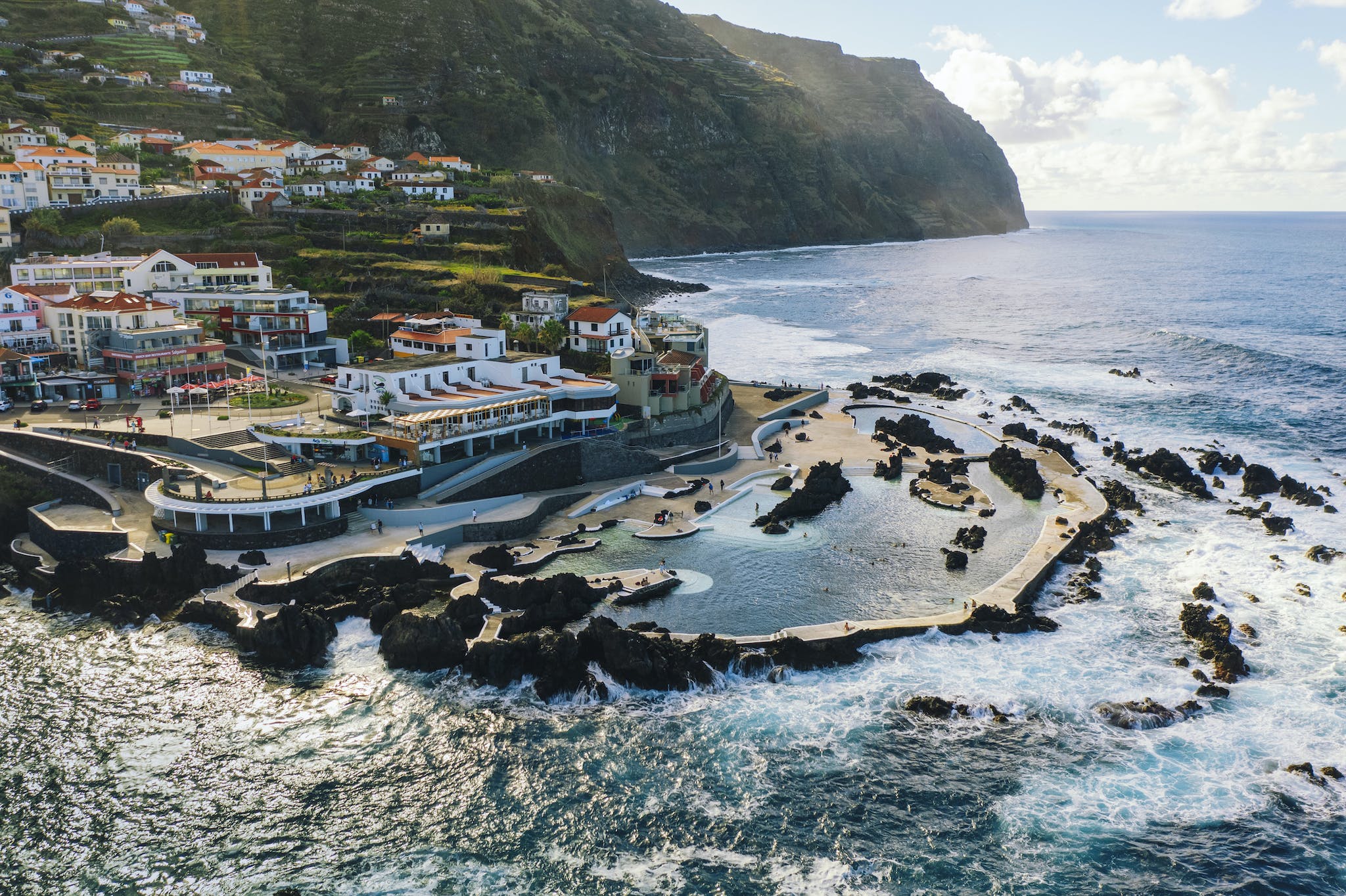 Best for: lava pools.
Once (somewhat unfairly) dismissed as a sleepy retirement destination, Madeira's hiking opportunities and natural biodiversity now attract adventure seekers. There are also plenty of spots for a wild swim, from natural lagoons hidden within laurisilva forests, to natural swimming pools created by the volcanic landscape.
The most well-known lava pools can be found at Porto Moniz, which provide a natural shelter from the tides, and a serene ocean backdrop. Head inland and take the Rabaçal Levada walk (PR6) to reach the lagoon of 25 springs - aquamarine pools fed by waterfalls.
Inspired? Check out our wild swimming and snorkelling adventures in Europe and beyond.