Hike from teahouse to teahouse, through remote Nepalese villages and past Hindu pagodas as you traverse the infamous and iconic Himalayan mountain range.
Second in popularity to the Everest routes are the well-established yet astonishing treks out of Pokhara through the 9 peaks of the Annapurna Himal region. The regions of Langtang, Helambu and Gosainkund lack the 8000m peaks found elsewhere, however, less busy and equally sublime ascents combined and its proximity to Kathmandu attracts 10% of Nepal's trekkers. This leaves the remote eastern and far western regions of Nepal relatively unexplored.
Choose between the clearer skies and balmy temperatures of the peak seasons of autumn or spring, or the cooler but dramatically less busy monsoon and winter periods. Sample famous Nepalese hospitality as you trek from tea house to tea house and catch a glimpse of the country's powerful spiritual tradition as you pass Hindu pagodas and the fluttering Buddhist prayer flags.
A Quick Overview of Trekking in Nepal
Nepal is a mountain lover's paradise. There are so many areas to go trekking in Nepal we can only give you a basic overview here. Luckily, we've got lots of specific articles in our magazine if you need the detail. But we're getting ahead of ourselves!
We've split the trekking areas of Nepal into seven rough regions. These will correspond with most of the other trekking literature out there.
Everest and Goyko Region
Annapurna Region
Mustang Region
Latang Region
Manaslu Region
Western Nepal and Dolpo Region
Eastern Nepal and Kanchenjunga Region
This pretty much covers the whole of Nepal. There is some overlap, but we'll talk all about that in just a minute.
When to go Trekking in Nepal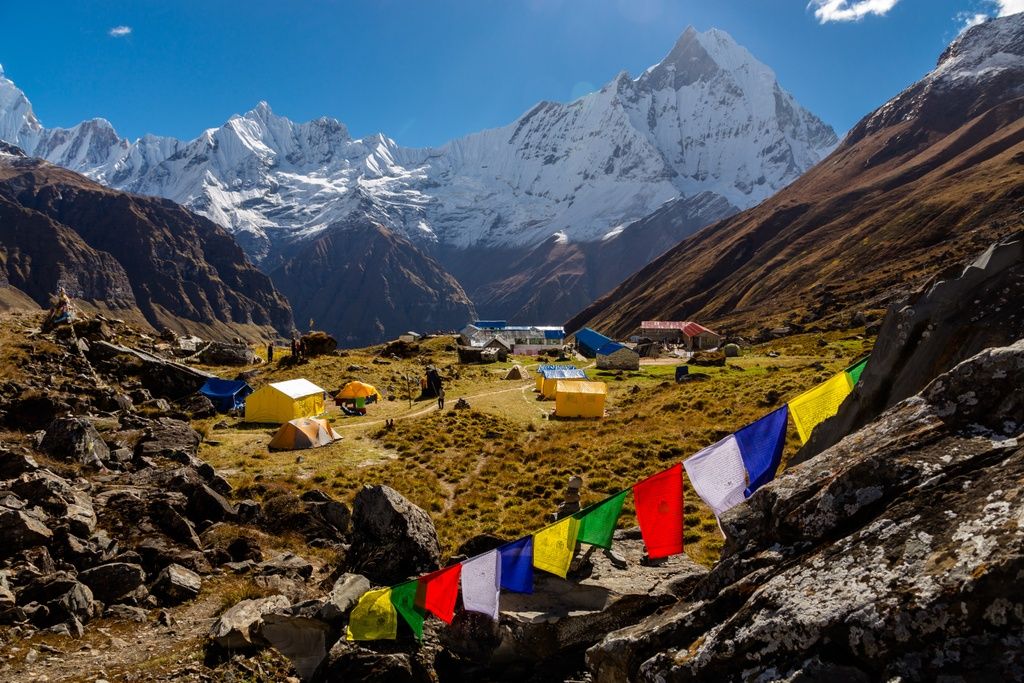 Generally speaking there are four main seasons in Nepal:
Autumn (September to November): Weather is warm but not too hot. Skies are generally clear after the monsoon.
Winter (December to February): Temperatures are cold in the mountains with lots of snow. Skies are generally very clear except in sudden harsh storms.
Spring (March to May): Temperatures are warm but skies are hazy. There can be a lot of dust and wind.
Summer/Monsoon (June to August): Rain almost every day, with low visibility and chance of landslide. Exceptions: Mustang and Dolpo.
The high seasons for trekking in Nepal are Autumn and Spring. Yes they may be a little busier, but there's a reason why they're the high seasons. Temperatures will be good for trekking and you'll have clearer skies - with more chance of mountain views.
Winter and monsoon are the low seasons and not many people go trekking in Nepal during these months. Heavy rain or lots of snow… you can kind of guess why it's less popular. And as if you needed any more dissuasion from monsoon season, apparently it brings the leeches out. Yummy.
Most of Nepal experiences the heavy monsoon rains, but there are a few places that are in the rain-shadow of the Himalayas, missing the brunt of the deluge. Mustang and Dolpo, in particular, do not experience the monsoon. June to August are excellent times to trek in these regions.
Where can I go? Your Options
Trekkers are spoilt for choice in Nepal. Even if you have no desire to climb an 8000m peak, having these lofty, white spires on the horizon is magnificent.
Everest and Goyko Region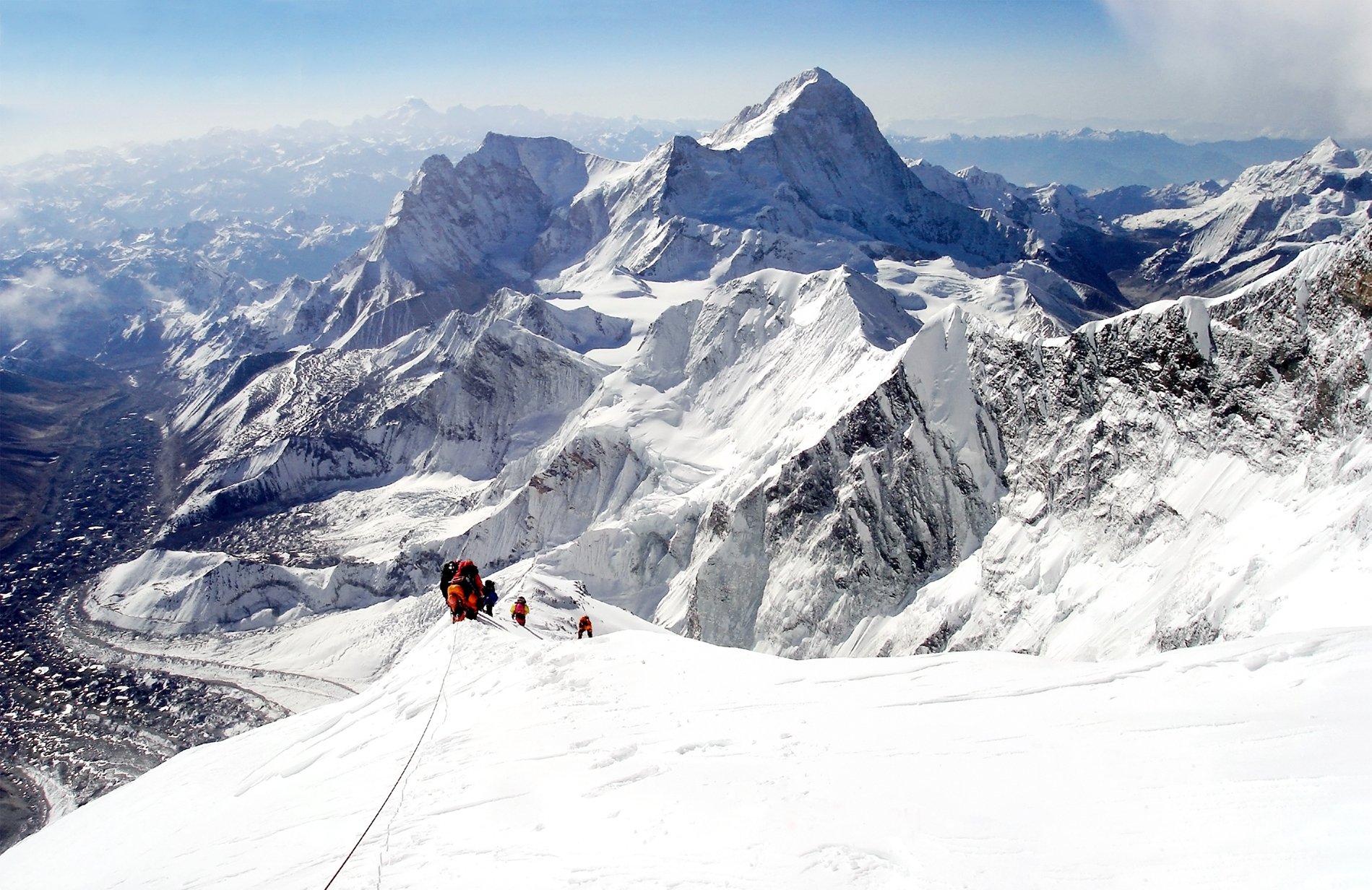 Everest. We can hardly talk about Nepal without mentioning this monster of a mountain. It is, after all, the biggest on the planet. Now we know that trekking in Nepal can hardly include climbing Everest. No one is going to claim that's a trek. But you can certainly do a lot of trekking in the Everest area, even visit the famous Everest Base Camp, where mountaineers start their summit attempt.
Everest Base Camp will give you an unrivalled close-up of the world's tallest mountain - except of course, the view from the top. There's no actual climbing and therefore no need for ice axes or crampons. The paths are of a gentle gradient with a few steeper sections. The route is not as challenging as most people might imagine and is suitable if you can manage 5 hours of hiking a day with a light day-pack. Smitten? Then you should check out Everything You Need to Know About Trekking to Everest Base Camp. Clue's in the name really.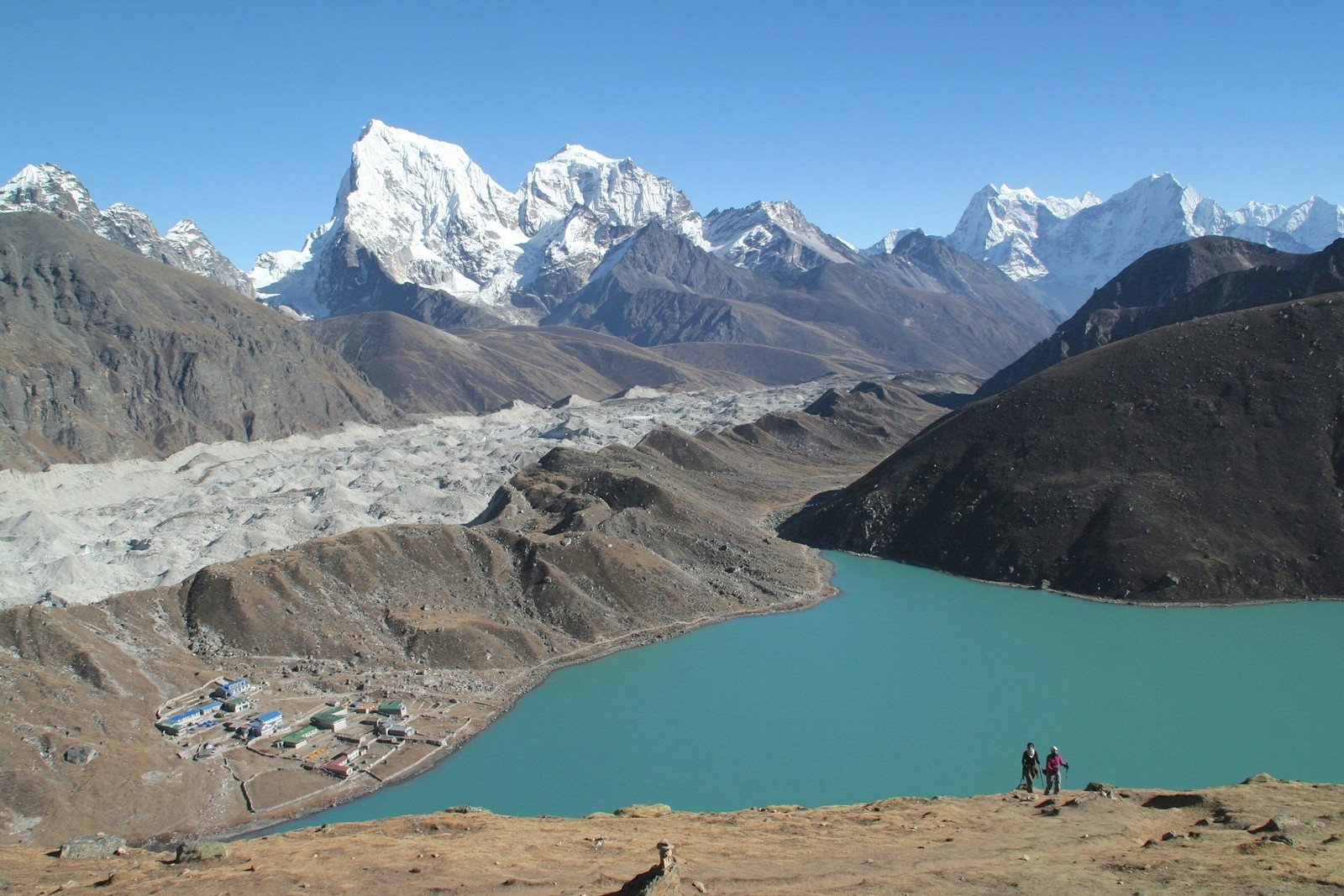 Plus have a gander at Hiking the Everest Base Camp & Gokyo Lakes Route | A Photo Story. Much Better Adventurer Tom Millar shares the story of his experience trekking in Nepal with photos that will make you want to drop everything and run for the mountains. Somewhat less famous than Everest, the Gokyo Valley and its lakes are in the Sagarmatha National Park. If you like rivers as much as mountains, it's well worth taking this area in while you're trekking.
Plus for even more ideas about trekking in Nepal in this region, read our guide to trekking the Everest Region of Nepal.
Annapurna Region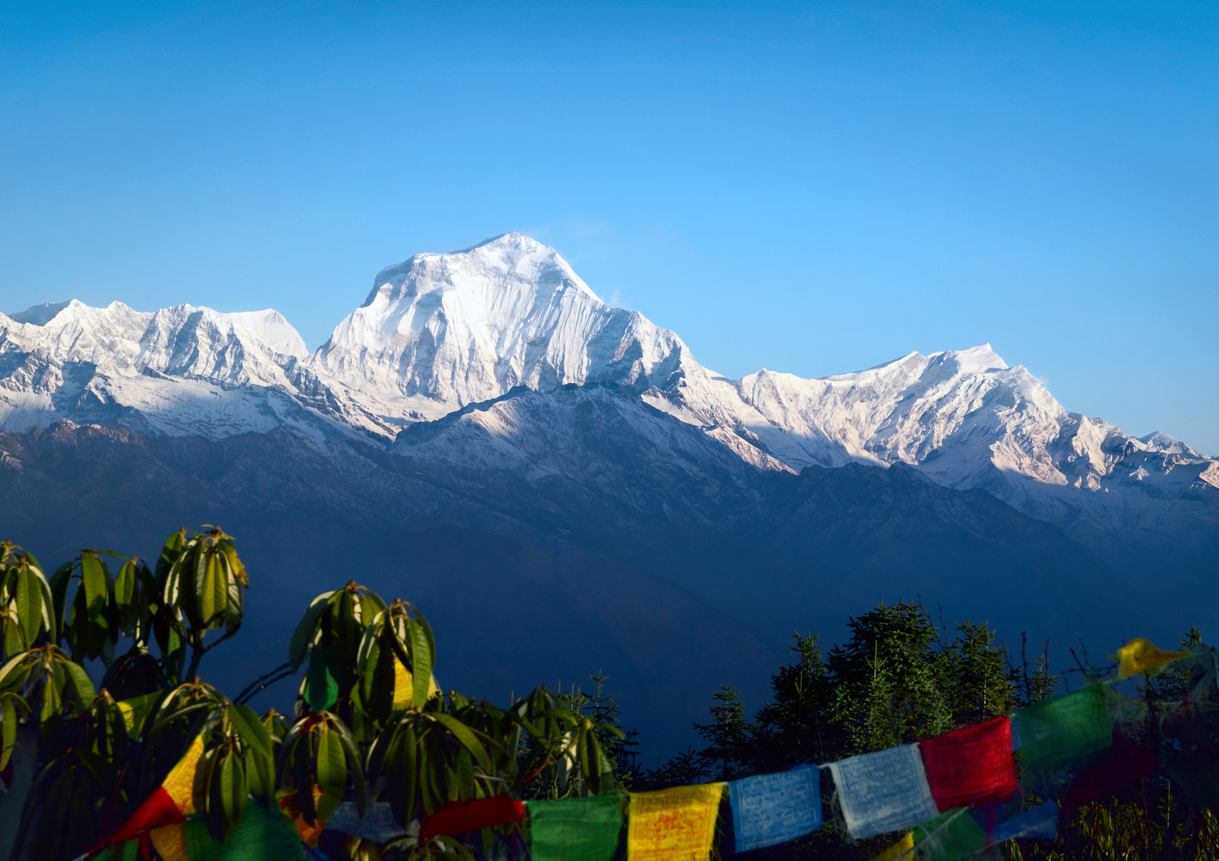 The Annapurna region takes its name from the goddess of food and nourishment who was the daughter of the king of the mountains. The highest peak in the area is the originally named Annapurna I, clocking in at an impressive 8,091m. Close, but no Everest.
Unsurprisingly, most people trekking in Nepal do not climb Annapurna I. That is a very serious undertaking. But you can definitely still trekk in its still-pretty-high foothills and see the mountain from its best angle. In fact you can see it from all the angles on the Annapurna Circuit. We've got a really comprehensive guide to Everything You need to Know about Trekking Annapurna.
Another popular route in the area is the Annapurna Sanctuary route. This is not a route where all the Annapurnas go hang out in safety from those pesky tourists - although you will see plenty of mountains in the Annapurna Massif. It's believed by local people that the Annapurna Sanctuary is the home to several gods from Hinduism, Buddhism and ancient religions. You will also get to hike to Annapurna Base Camp at 4130m.
If you're trying to choose between the Annapurna Circuit and the Annapurna Sanctuary routes, here's a really helpful comparison to aid your decision. You're welcome.
Mustang Region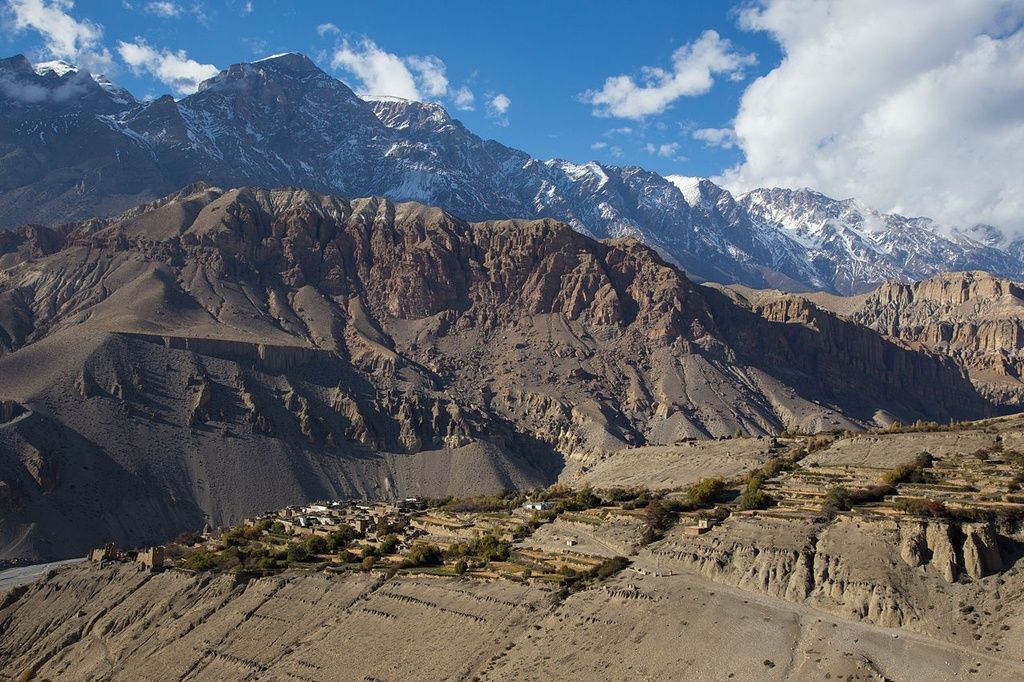 The Mustang region of Nepal has - would you believe it - nothing to do with the popular American car. But if it means you go trekking in Nepal singing, "All you wanna do is ride around, Sally…" then so be it. Your friend Sally is going to hate you by the end of the week.
The Mustang region has got a lot going for it in terms of trekking. It sits in the rainshadow of the Himalayas, meaning it's nice and dry whilst everyone else is getting soaked during monsoon season. Plus it's accessibly north of Pokhara, on the border of Tibet - expect Buddhist monasteries and prayer flags.
For more information about this region and suggested routes, check out Trekking in the Mustang District of Nepal.
Langtang Region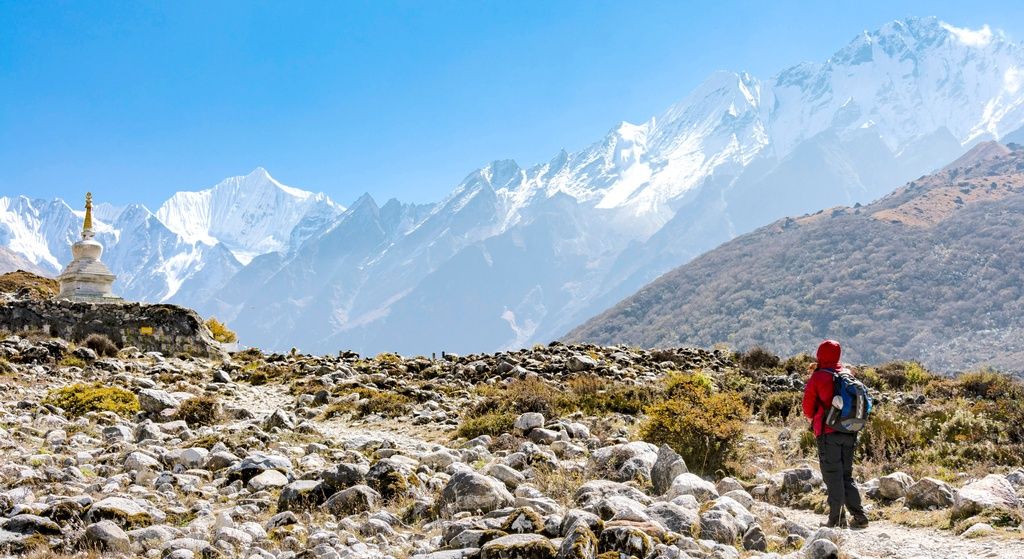 Langtang Valley is in north-central Himalaya and is often overlooked by trekkers. With the draw of Everest on one side and Annapurna on the other, visitors often miss the jewel in the middle of the sweet shop. Trekking in the Langtang region is less well developed that other areas for trekking in Nepal. You might be expected to camp some nights and the paths will not necessarily be well waymarked.
For suggestions of treks to do in the area, have a read of 6 Treks Around the Langtang National Park.
Manaslu Region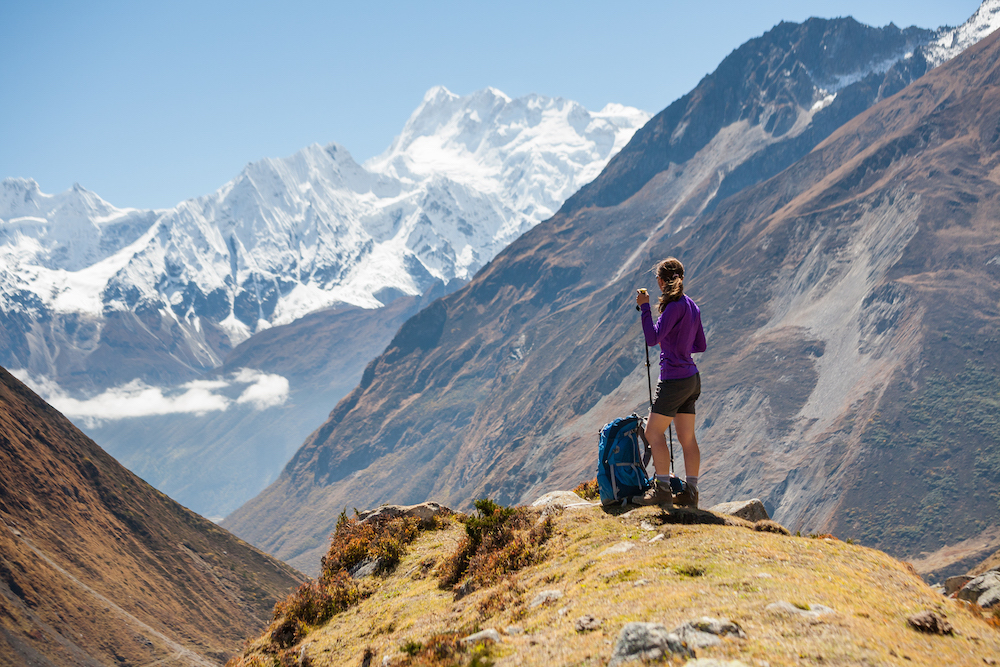 Now we're getting down to very off the beaten track. The Manaslu Region or Gorkha District is very large and central in Nepal. It stretches all the way to the Tibetan border in the north and the Trisuli river in the south - making for a variety of trekking landscapes.
The Manaslu Circuit is the highlight trek, although it is far behind the development of areas like the Everest and Annapurna regions. Not that that should put you off if you don't mind sleeping in a tent whilst trekking. We certainly don't! It is a lovely insight into the culture and landscape of Nepal, away from popular routes. You'll get mountain views, villages, farmland, suspension bridges and a high pass to tackle.
Far Western Nepal and Dolpo Region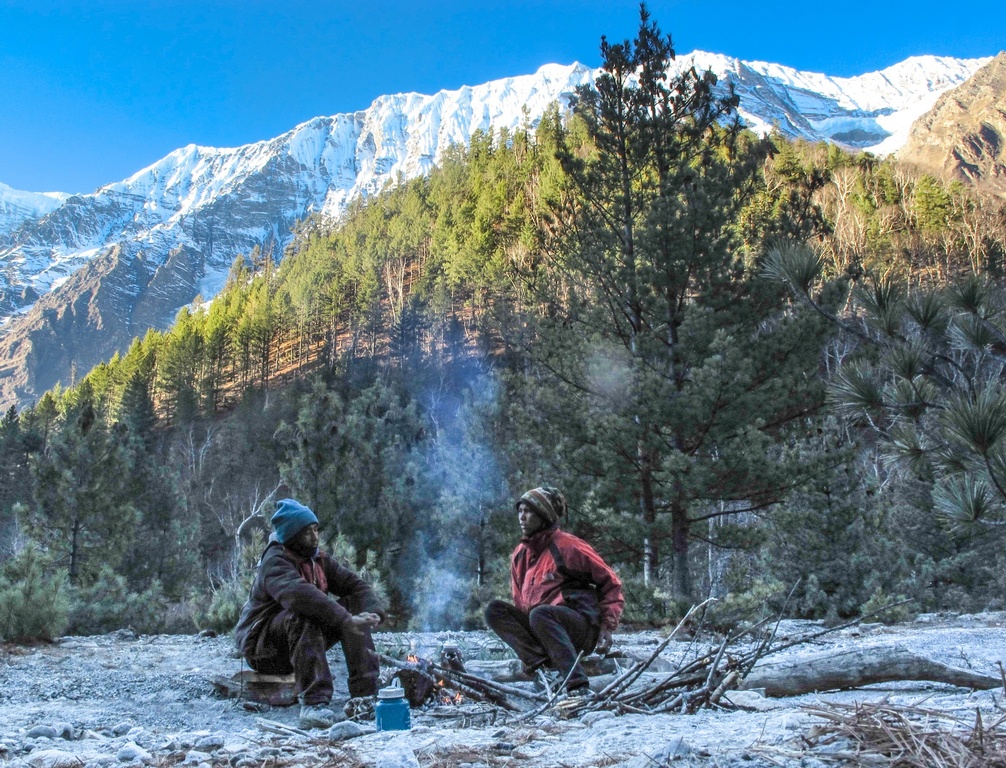 Western Nepal is a bit of a misnomer. Anything west of Kathmandu - which, if you look on a map, is already on the right hand side of the country - is called Western Nepal. Anything west of Pokhara - which appears more central on the map - is called the Far West. It sounds rather like the Wild West, here be dragons, that sort of thing.
This means two things: firstly it's a bit harder to go trekking in these areas of Nepal. Transport links aren't straightforward and you might have to take your food supplies with you. Secondly, it means that you're going to pretty much have the place to yourself.
For serious and independent trekkers, wanting to feel like they're alone for days of trekking, here are some suggestions: 5 Remote Trekking Routes in Nepal's Far West.
Eastern Nepal and Kanchenjunga Region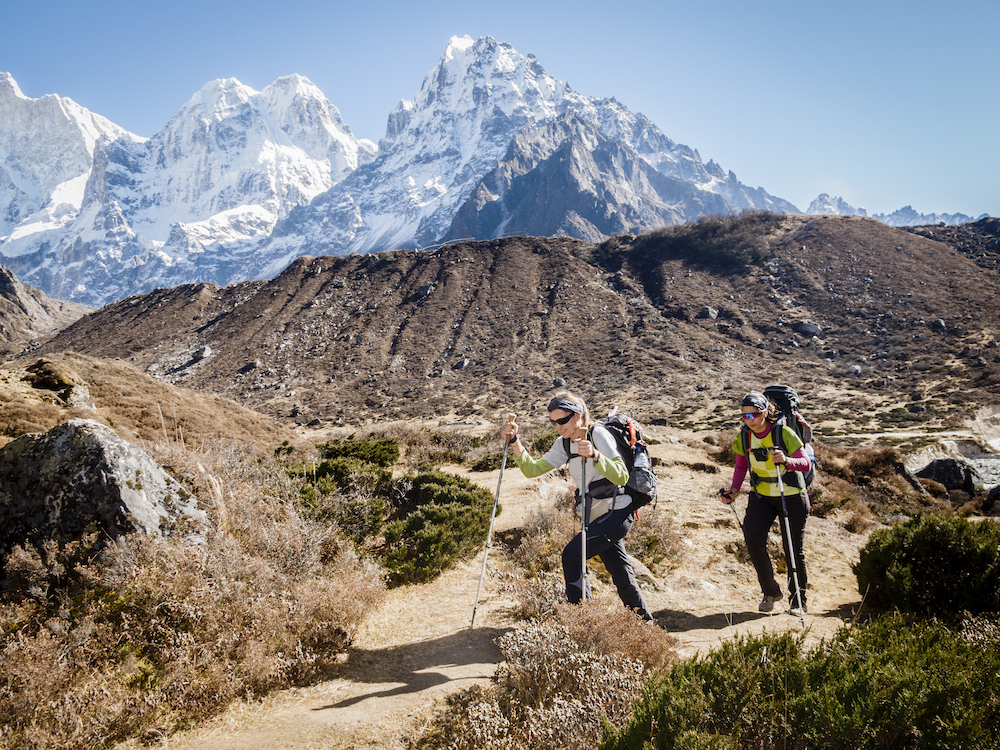 Again, here is an area of Nepal that many trekkers don't visit because of the draw of nearby Everest Region (are you sensing a theme here?). The area is home to the _third highest mountain in the world _and no one even notices it. Come on people, at least Mount Kanchenjunga made it to the podium.
With high peaks at one extreme and gently rolling tea fields at the other, this is a lovely area for trekking in Nepal. The infrastructure can be a challenge, but it's always improving. For ideas of where to trek, see 5 Epic Treks in Eastern Nepal.
What do I need to Know about Trekking in Nepal?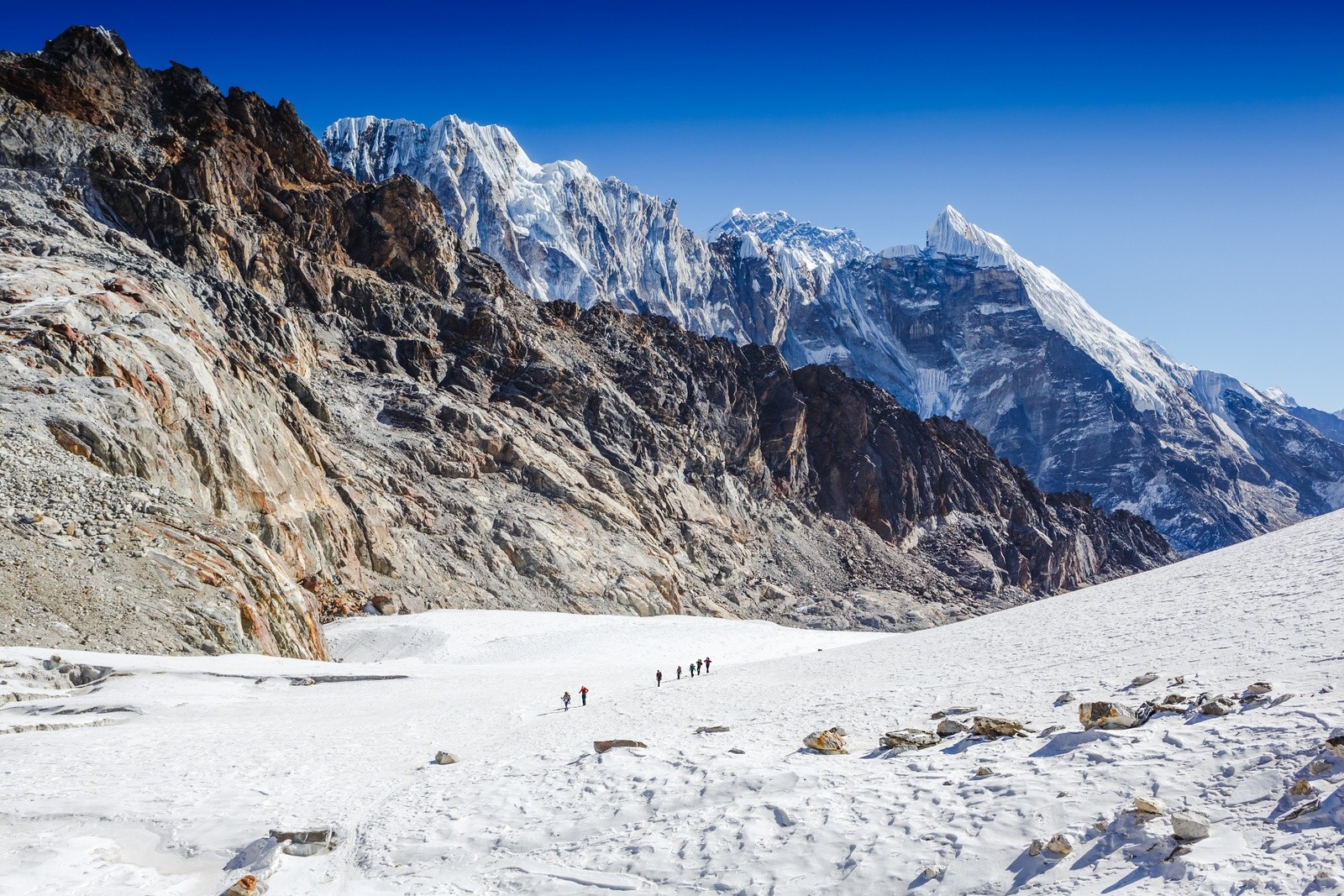 We'll dive into some common questions or concerns about trekking in Nepal. For some more general reading, there's 7 Tips for Travelling Around Nepal and 7 Things to Know Before Travelling to Nepal . For trekking specific, take a look at 8 Things to Know Before Going Trekking in Nepal. Sevens and eights are magic numbers, right?
Altitude
Nepal is pretty high. Some two thirds of the country is above 2000m and - as we all know - heights soar up to 8000m and beyond. Although no one is expecting you to take a quick jog up Everest, you're likely to be trekking at altitude for most of your time in Nepal.
What counts as "at altitude"? Well, technically anything above 3000m is considered high altitude. This means that there can be a risk of altitude sickness if you don't acclimatise properly. Basically your body isn't used to exerting itself in places where the air is much thinner than your home. Luckily there are some good measures you can take to avoid altitude sickness. Dr Jane Wilson-Howath gives the lowdown in What is Altitude Sickness?
Accommodation
In Nepal, instead of mountain huts, they have "teahouses". These are, to all intents and purposes, the same as you'd expect from inhabited mountain huts across the globe. They have overnight accommodation in twin rooms, cook meals and provide all manner of drinks - most importantly: tea.
Teahouses are regularly spaced along some of the more popular trekking routes in Nepal, such as Everest Base Camp and the Annapurna Circuit. You can expect to come across several teahouses a day, rather like huts in the Alps - if not closer together. It's because of this that trekking in Nepal is sometimes known as teahouse trekking. Sounds rather civilised, doesn't it?
Sherpas, Porters and Guides
Here's a quick snippet of the dictionary for you. Sherpa is an ethnic group native to the most mountainous regions of Nepal. On the other hand, sherpa (without the capital letter) is a general worker in the mountains. Some sherpas will be climbing Everest, others will be working on low level treks.
A porter is someone who carries the equipment and belongings of the trekking group. Basically they carry your heavy kit so that you don't have to! Some will be going ahead to make camp ready in time for you to arrive. Talk about service.
A guide is usually someone who walks with the group explaining what you're seeing and giving insight. They'll also probably be responsible for navigating and directing the group. Some trekking areas of Nepal are very restricted and require you to hire a guide and porter to enter. To hear about working in the mountains of Nepal first hand, check out our interview with Jagan, a local guide.
Travel
There are two international airports in Nepal: Kathmandu and Pokhara. Kathmandu is the hub for trekking in the eastern half of Nepal and Pokhara for the west. There is a good network of internal flights for getting quickly to your trailhead. Buses are very well used and are a more scenic, cheaper option. There are currently no trains in Nepal.
If you're arriving in Kathmandu or Pokhara and looking for some local treks, maybe as a warm up for the big one, we've got you covered. Here's 5 Accessible Treks from Pokhara and 5 Ideas for Trekking around Kathmandu.
Food and Water
Teahouses will usually sell snacks that you can take trekking with you. They also sell a variety of cooked food like chapattis, soups, pancakes, pasta dishes, pizza, rice dishes and curry. You'll be surprised how much familiar food there is on the menu.
You can of course buy drinks - including tea - at teahouses. To minimise on single-use plastic bottles, it is well worth bringing your own water bottle (or three!) and some method of sterilising the water readily available in the mountains.
Weather and Avalanches
Avalanches generally occur when the angle of snow slope is between 30 and 50 degrees. There are many ways to make an avalanche, but they usually occur when one layer of snow separates from the layer below and a whole block slides down the slope. These can happen naturally, but people can set them off too.
Nepal's 2015 earthquake set off an avalanche on Everest that wiped out basecamp and killed 22 people. Are avalanches common? In the high mountains, yes, but you're unlikely to come across them - or indeed snow - on treks in recommended trekking seasons (Spring, Autumn). Another reason to avoid winter if this is starting to sound very scary.
Money
The currency is the Nepalese Rupee. When trekking in Nepal, it's likely that you'll be a long way away from the nearest cash machine and teahouses don't accept cards! You will need to bring cash and enough of it to budget for the unexpected. If you're on a guided trek, chances are your food and accommodation will be all included - but it's worth checking. It's also polite custom to tip your local guides and porters.
Permits
Various permits are required to trek in Nepal. Some areas require the TIMS card, others have a special local pass like the Khumbu Pass for Everest Region. If you book with a guided group trek, all these permits will be sorted out for you.