Kayaking holidays aren't meant to be dry
Travel the river less paddled - that's the saying isn't it?
Did you know that 71% of the Earth's surface is covered in water? Numbers like this get us all excited. They remind us that the world is basically just one big playground for paddling about in, and that inspires us to open the taps on a load of epic kayak adventures. Whether you're after a sea kayak adventure, a whitewater kayaker, you've been honing your Captain Jack Sparrow impression on inflatable kayaks down the local canal or you've never paddled before at all, we've got a kayaking adventure that will suit you.
Think beautiful coastline or ferocious white water, whichever takes your fancy, add on a spot of wild camping once you're out and dry, with dinner round the campfire and a morning wake up call courtesy of the local birdcall. Take your kayaks fishing first if you want. We'll bring the kayak, the kayak paddle, the buoyancy aids and the tents. You just bring yourself. We'll find the adventure together.
Browse our range of kayaking holidays, and let's find the kayaking tour or canoeing trip that you'll remember forever. There's nothing dry - and never should be - about a kayak adventure.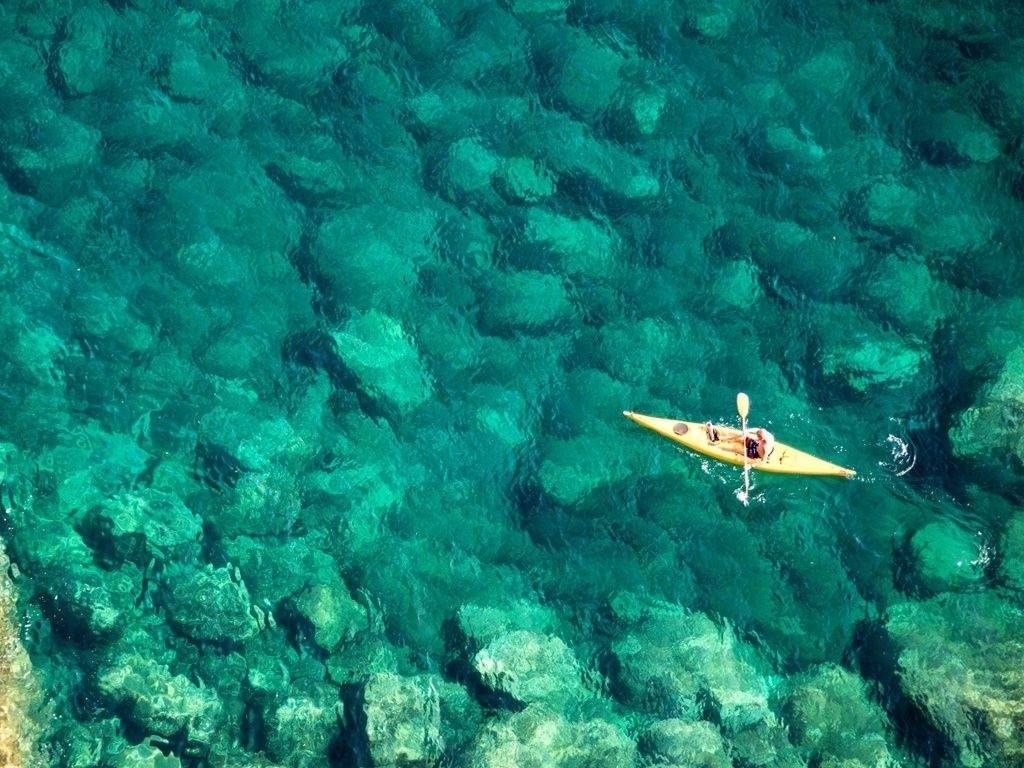 Where are your kayaking holidays?
Where is there water? On 71% of the world's surface? Oh yeah, we did say that, didn't we. Well, we don't run kayaking holidays to all of that 71%, but we have chosen some of our favourite parts of the planet to run them on. Fancy a kayak trip with wild camping elements? Get yourself on one of our highly popular trips exploring Norway's Geirangerfjord and Nærøyfjord. Always dreamed of a sea kayaking in the shadow of Italy's coastal cliffs? Sign up to our four-day journey on the beautiful coastline of Sardinia. Prefer a coast to coast canoeing trip? Take on an 100km canoe expedition in Scotland. If whisky, fish and haggis in the Highlands aren't your thing, then check out our kayaking trips in Southern Greece, or Croatia or Estonia. If you're into white water then why not go all out and head to the dense jungles of Colombia? Want to take your kayaks fishing? Catch your dinner in Pembrokeshire or in the Swedish forests. You get the idea. There are a whole lot of places to go on a kayaking trip or canoe adventure. And you could keep reading this sentence, or you could scroll back up and find your dream trip. We've got you covered for the wet stuff like a sliding roof at Wimbledon. Maybe leave the strawberries and cream at home though.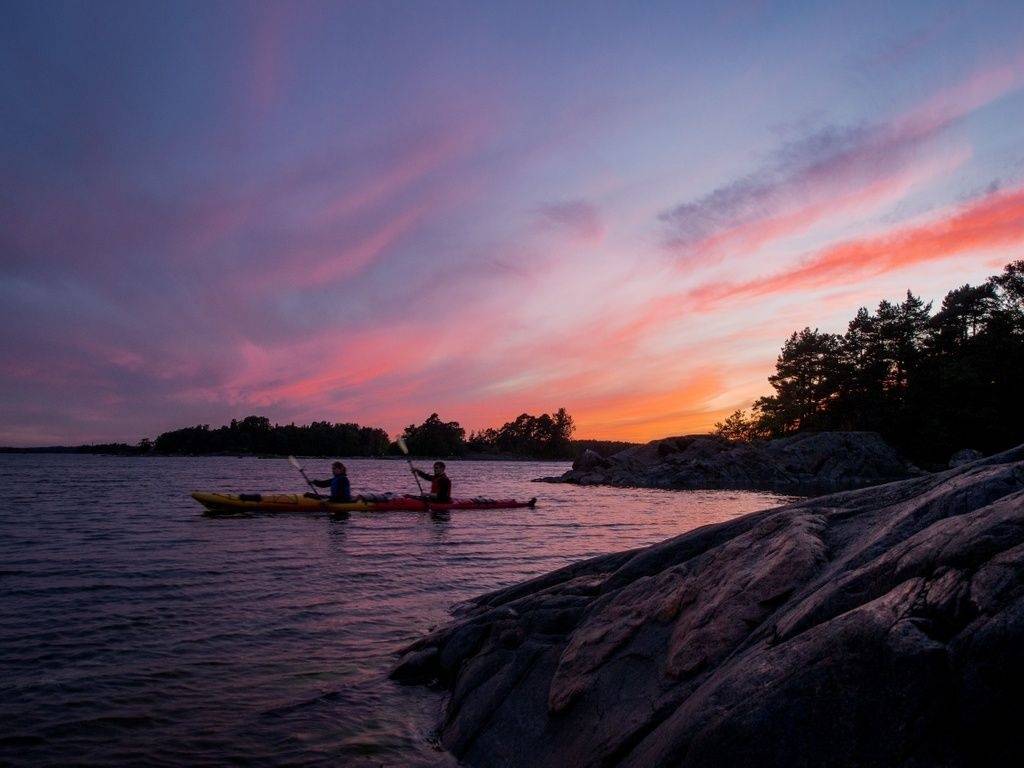 What else can you tell me?
Water. Obviously. Lots and lots of water. And kayaks, of course. Because a kayaking trip without a kayak is, well, it's just swimming isn't it? Sit in kayaks. Sit on top kayaks. Kayaks for beginners and for experienced kayakers. We've touched upon the Fjords and the secluded coastlines already, but it would be remiss of us to not also give a shoutout for hidden coves, fishing, foraging, coast-to-coasts and packrafting. Did we mention we've got a packrafting and wild camping trip in Finland? Say that out loud: packrafting in Finland. It sounds nice in the mouth doesn't it? And it feels even better when you're there. Did we mention the wild camping and campfire cooking? What about the fact that a lot of the remote places we go can only be accessed by kayak? What do our kayak trips include then? Answer. All the good stuff. It's worth remembering that kayaking isn't a solely summer activity either. There's a real diversity within kayaking adventures. Check out our kayaking expedition in Greenland if you want to kayak past some icebergs. It'll look quite different to our island hopping, sun-soaked kayaking trip in Indonesia. Both very different. Both incredibly fun.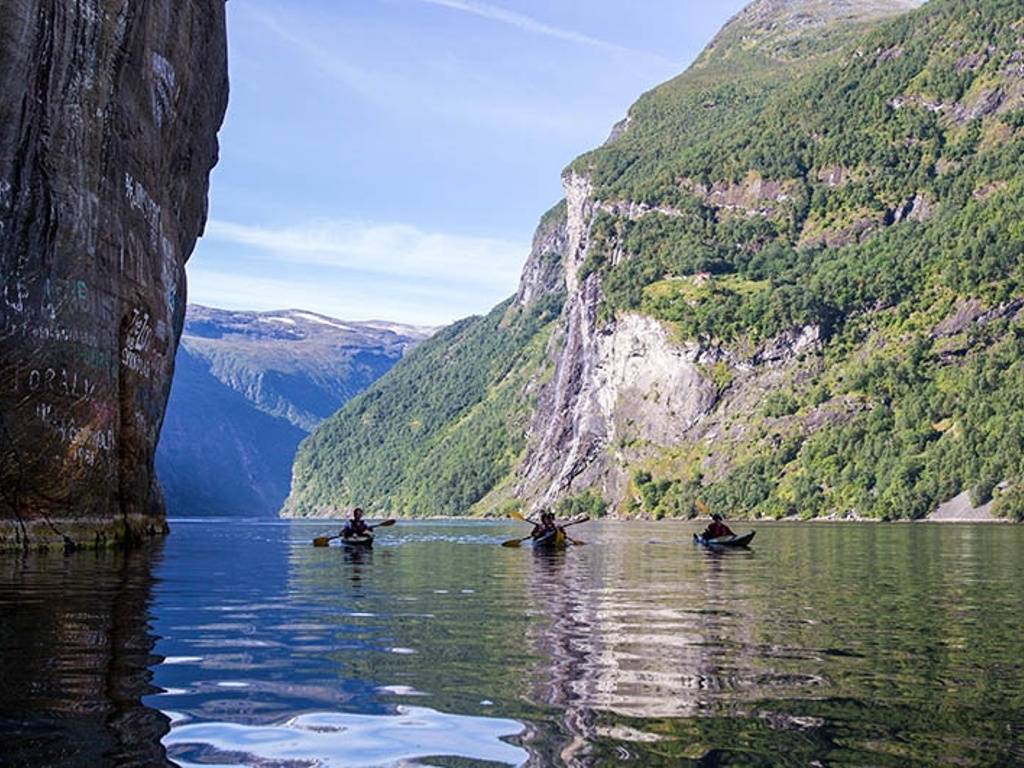 Why go kayaking with us?
If you're sat at home, thinking to yourself "I wish I had a magic button that could transport me out of the nine-to-five rat race to somewhere far more inspiring" - well, you're in luck because, friends, we are that magic button. Making adventures happen, and guaranteeing happiness - it's what we do.
We care about the world we live in. We work with 100% local businesses and our business model funnels a whopping 80% of your spend into the local economy, thus boosting the places we visit and making a positive impact on them. 5% of our revenues (not profits) go in to conservation and re-wilding projects. We also go the extra mile by directly investing revenue into supporting critical conservation projects around the world. Not all heroes wear capes. I mean, we do... but only on a Wednesday… when we've got the place to ourselves. On a serious note though, kayaking adventures are awesome, but they do - crucially - rely on the beauty of nature, and nature being there for us. Nature has provided us with most of the best moments in our lives. It's only fair that we treat it as well as we possibly can in return. Travel with us, and paddle eco-conscious.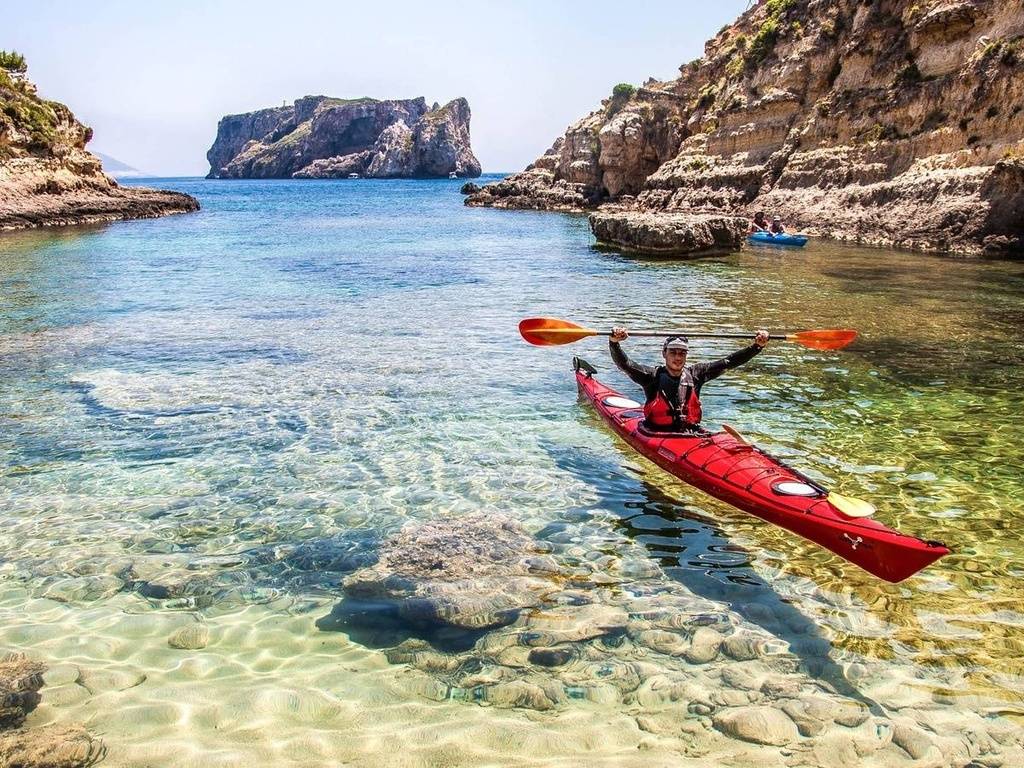 Kayaking vs. Canoeing: What's the difference?
Maybe we should have run over this earlier? But really, it's not actually that important. Both kayaks and canoes float and can be paddled, meaning you can adventure on either. But it can be good to know what to expect when you turn up for a kayaking adventure or canoe expedition. So, let's break it down for you. First things first, kayaking and canoeing are different because of the number of blades on the paddle. Kayakers use a double-bladed paddle. Canoers, a single-bladed paddle. Kayakers are usually lower down with their legs stretched out in front, inside a cockpit with a spray deck cover. Canoers, on the other hand, usually, either sit on a raised seat or kneel.
Sea kayaking occurs on the open water you find at lakes, bays, and in the ocean/sea. Packrafting involves small, inflatable, boats, designed for use in all bodies of water. And the differences between a sit-on kayak and sit-in kayak are pretty self-explanatory - the sit-in kayak has a cockpit you have to climb into, the sit-on doesn't. Now go forth from here, and impress your mates with all this newfound boat knowledge.
Oh, and water is the the transparent, liquid that you find in the sea. It's the good stuff. If you fall in it, you'll get wet, but you'll also have a lot of fun.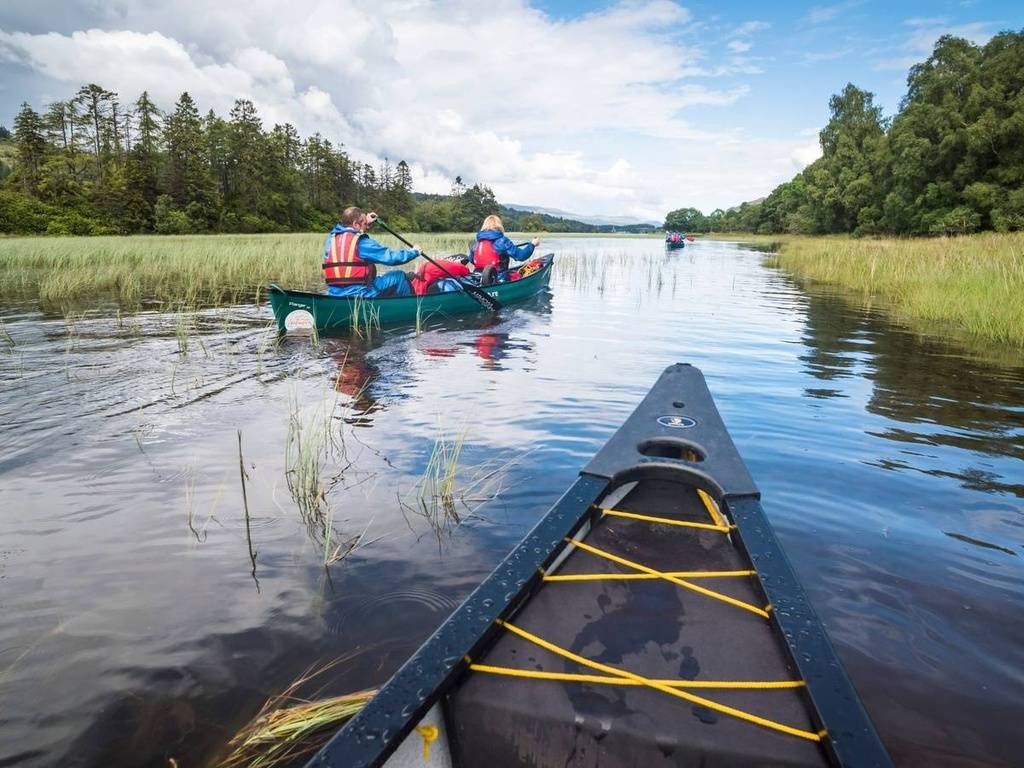 How fit do you need to be to kayak?
If you're fit, able, and up for an adventure… you're in. If you're slightly less fit, slightly less able, but still up for an adventure… you're also in but should probably consider a few things before signing up. Kayaking works the whole body, not just the arms. This is also something to think about if you're a super hench gym bunny who's always skipping leg day. Core muscles will help you generate stroke power, and also prove crucial in your balance. Your shoulder and arm muscles will be in action almost constantly. Cardio will certainly come into place the longer you paddle your kayak. And a top tip. Be sure to stretch properly before undertaking any day in a kayak. Our trip durations vary in length from full-on five day expeditions to more casual one/two-dayers, so if you're a bit unsure about your stamina there's no shame in taking the easier option.
Now, look at us using terms like "core" and "cardio" and "leg day". We'll go put our backwards cap on for a bit, stare out a window and ask the nearest person "hey, you ever just, like, think about the meaning of life?" now. Got to offset all that gym chat with some spirituality somehow.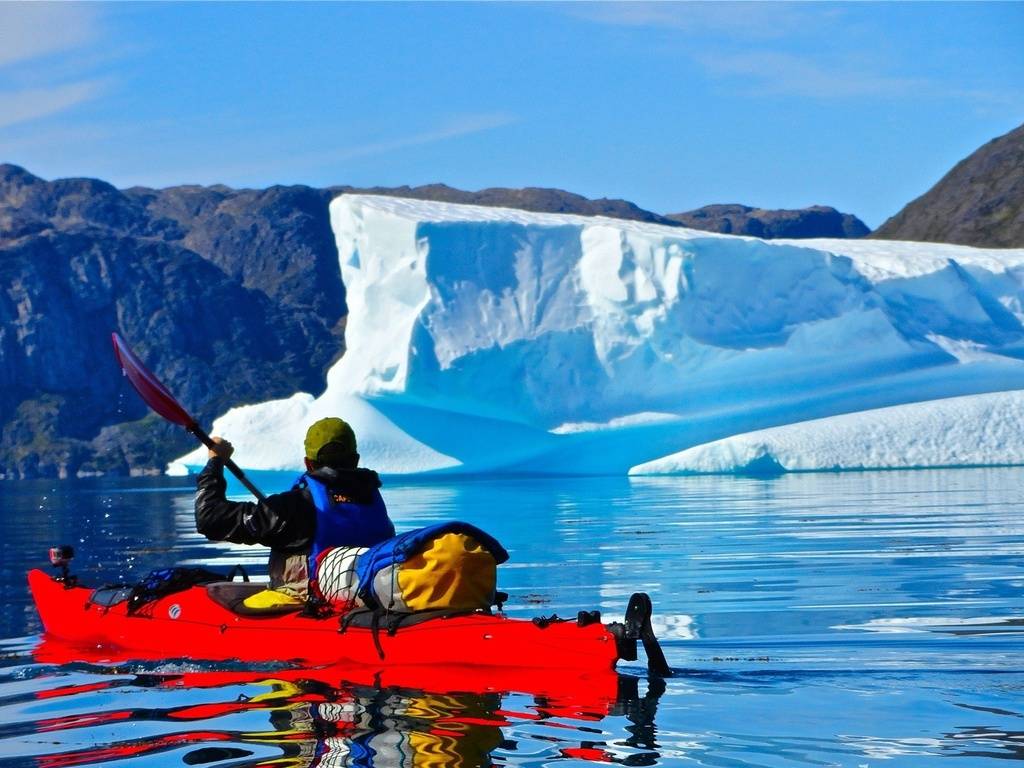 White Water Kayaking or Coastal Adventure?
The type of kayaking or canoeing trip that you go on is entirely down to you. Most of our trips which stray into white water are actually rafting based - the likes of rafting in Montenegro or a full on rafting expedition in Nepal. This is because white water kayaking requires a lot more experience. So if you're after a white water adventure, but don't have that experience, it's not a bad idea to have a look through our white water holidays section.
That still doesn't mean you're limited whatsoever in what sorts of kayaking or canoeing adventures you can do with us, though. The variety really is huge. When you're starting to decided which kayaking or canoeing adventure to choose from, a good place is probably to think about what kind of terrain you want. Do you want warm and relaxed or ice cold, with rugged icebergs? Do you want to go for a couple of nights, or take on a longer expedition that might have you paddling for a week-straight? Do you want your kayak journey to be the focal point of the trip, journeying from A to B, or would you rather have a base, do a bit of paddling each day, explore some islands perhaps, and then get round the campfire for some culinary goodness? Decide all that, and you'll decide your holiday.
Everyone wants something different from an adventure, so the best place to start planning a trip is to think of what's most important to you.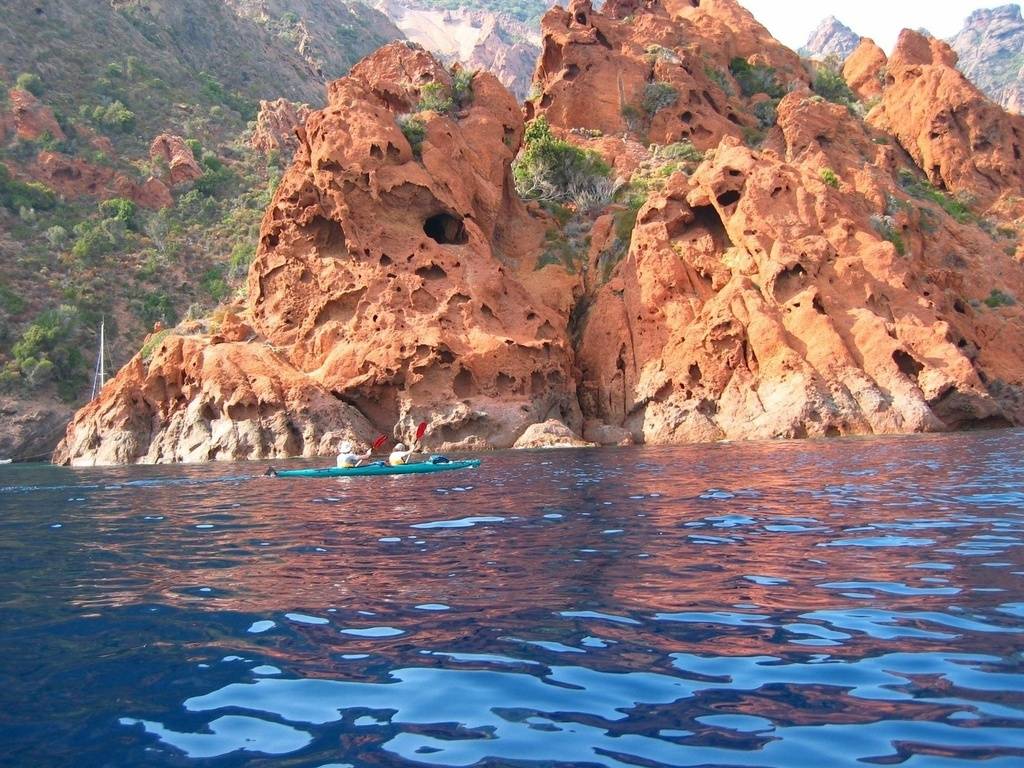 What to pack for kayaking?
No. You won't need to buy your own kayak and try to sneak it on the plane as hand luggage. The goods news is that the most complex and hefty stuff - the kayak, the paddle, the buoyancy aid and the tent (if required), we'll always supply. So you know that you're not going to have to pitch up with 30kg or so of gear. Yes, you will need to take a waterproof jacket, a hat, a swimsuit, a towel, some sunscreen, and practical shoes that can get wet. Sunglasses? Sure, bring them along. £5,000-worth of professional filming equipment? Maybe not. Essentially though, there's no need to panic. All the gear you'll need to bring with you is pretty basic, and we'll send you a handy little checklist after you've booked the trip.