Hiking Holidays in the UK
TThe United Kingdom is made up of four countries: England, Wales, Scotland and Northern Ireland. You're never more than 75 miles from the coast in the UK, which gives you a wide choice of hiking terrain within a small area. The mountains are broadly on the western side of England and across Wales, Scotland and Northern Ireland. The eastern side of England is generally flatter (and drier!). Similarly, mountains get generally higher as you travel from south to north, with Ben Nevis in Scotland the highest peak in the UK.
There is a culture of walking in the UK - whether that's a Sunday afternoon ramble or guided walking holidays in one of 15 National Parks. Trekking is not a word usually used in the UK. But there are many long distance hiking routes and national trails to be completed over several days. Some follow historical routes, like the Hadrian's Wall Path or Offa's Dyke. Others cross landscapes, like the Coast to Coast or the West Highland Way.
In England, Wales and Northern Ireland, there is an extensive footpath network and public rights of way. Although these ways can vary from metalled road to walking in the mud around the edge of a turnip field. In Scotland, the Right to Roam laws mean that people have free access to most land and inland water for recreational purposes. Under the condition, of course, that they respect others and the environment.
In a similar way, wild camping is mostly only permitted in Scotland - although it is often tolerated in other areas if Leave No Trace principles are followed. But there are a huge number of other places to stay wherever UK hiking holidays take place. Everything from hotels to glamping pods to a farmer's field opened for summer as a campsite.
The weather in the UK is temperate enough for hiking to be a year-round activity, although that's not to say it's predictable. You can often expect four seasons in a day, even in summer months. However generally June to August are the driest. You can expect snow in the higher mountains, from Wales and further north as early as October and as late as March, depending on the year.
Of course, it's not all about mountains. There is over 30,000 kilometres of coastline with coastal footpaths alongside over 5,000 kilometres of it. You might start with the South West Coast Path, or the recently completed Wales Coast path including a section through Pembrokeshire National Park.
Scale Summits and Scramble Edges in Snowdonia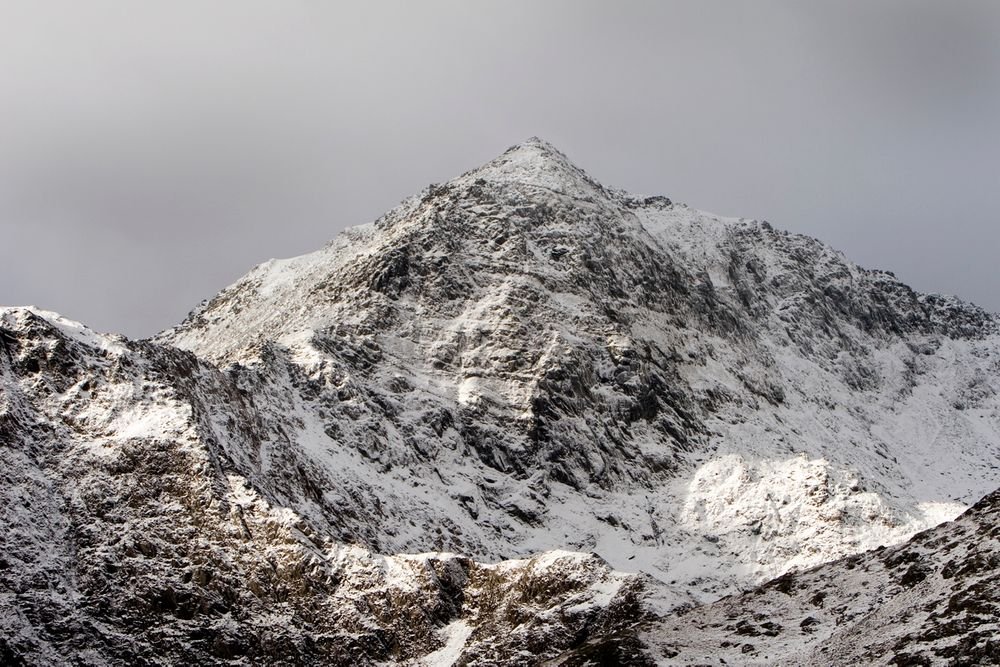 Snowdonia National Park sits in the top corner of North Wales. It is characterised by dark, rocky peaks and the heritage left by the slate mining industry. Expect long ridgelines and jagged edges.
The highest peak in Wales, Mount Snowdon, poses a test of endurance and is a bucket list climb for many, usually as part of the Three Peaks Challenge. There are several routes up Snowdon from gentle but prolonged ascent to knife-edge scramble. At the top, there's a summit café where a cup of tea comes with an impressive view. Another classic challenge is the Welsh 3000s, climbing all mountains over 3000ft.
Explore Tarns, Fells and Woodland in the Lake District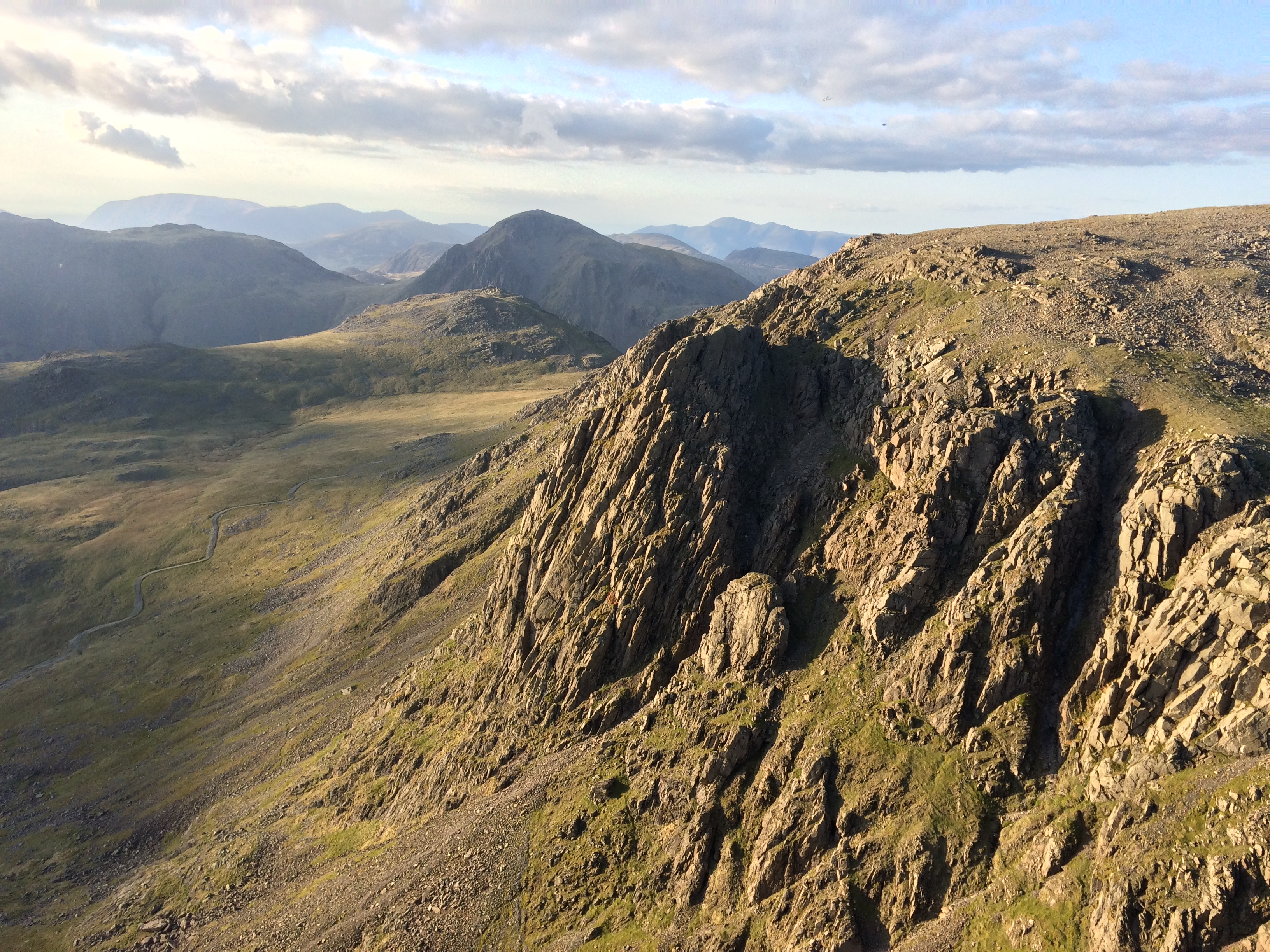 The Lake District has a pleasant mix of grassy summits and sheer crags. Its quaint landscape of fells, hill farming and wooded valleys has been recognised by UNESCO with World Heritage status. The Lake District has a charm of its own, whether through Alfred Wainwright's famous guidebooks or the friendly, fluffy faces of Herdwick sheep. It's also one of the few places you can go walking in England and still find red squirrels. And of course, let's not forget the lakes - although out of sixteen bodies of water, only one is technically a lake.
The area is home to many famous 'rounds' taken by trail runners and hikers alike. The Bob Graham Round and the Abraham Tea Round are a couple of well known routes - or perhaps something like the Lakes Classic Rock Round for any speedy rock climbers. The highest peak in England, Scafell Pike features on both the Wainwrights list and some of the rounds. Although it is only a day hike from the nearest car park, there is a choice of three main ways to climb Scafell Pike.
Summit views and Winter Climbs in the Scottish Highlands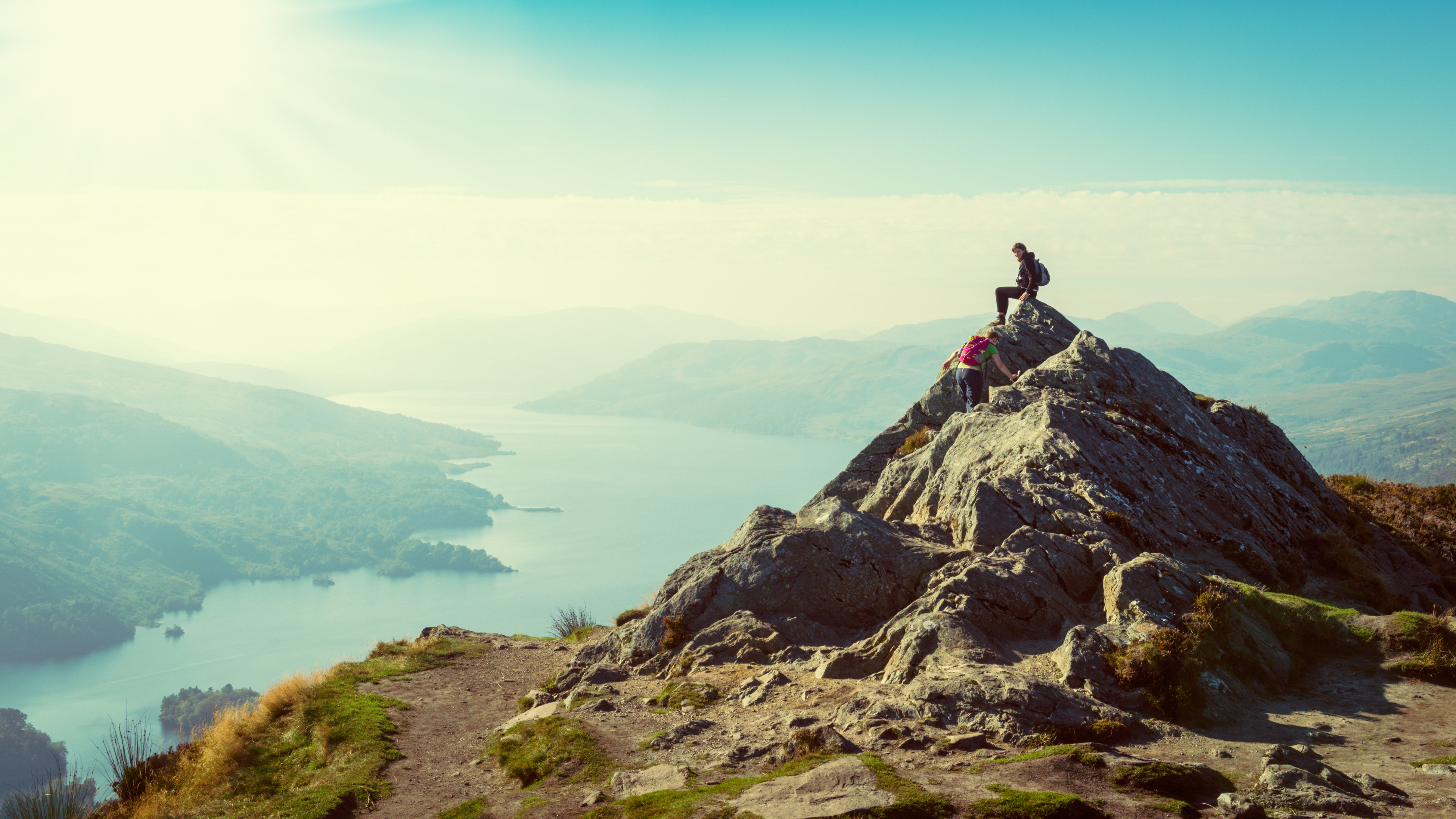 The Scottish Highlands form a vast area of Scotland and is where the highest peaks in the UK are found. These formidable ridgelines are divided by deep valleys, called glens, and lochs - long, narrow lakes sometimes connected to the sea. On a clear day from the summits, you can see row after row of mountains all the way to the coast.
In summer, grab your hiking boots and make the most of Scotland's extended daylight hours. You could be based in Fort William, with easy access to Glen Coe and Glen Nevis. This is where you'll find Ben Nevis, the highest mountain in the UK. Your choice of Ben Nevis routes are between hike, scramble and vertical rock climb. Or hike the mountains above Loch Lomond steeped with local history and legend.
In winter, the highlands are transformed into a mountaineering playground. You'll need crampons, ice axes and a good knowledge of the forecast and avalanches to stay safe in the winter mountains. Or you could take the opportunity to get an Introduction to Winter Mountain Skills from an experienced local guide.
Traverse Mountainous Islands of the coast of Scotland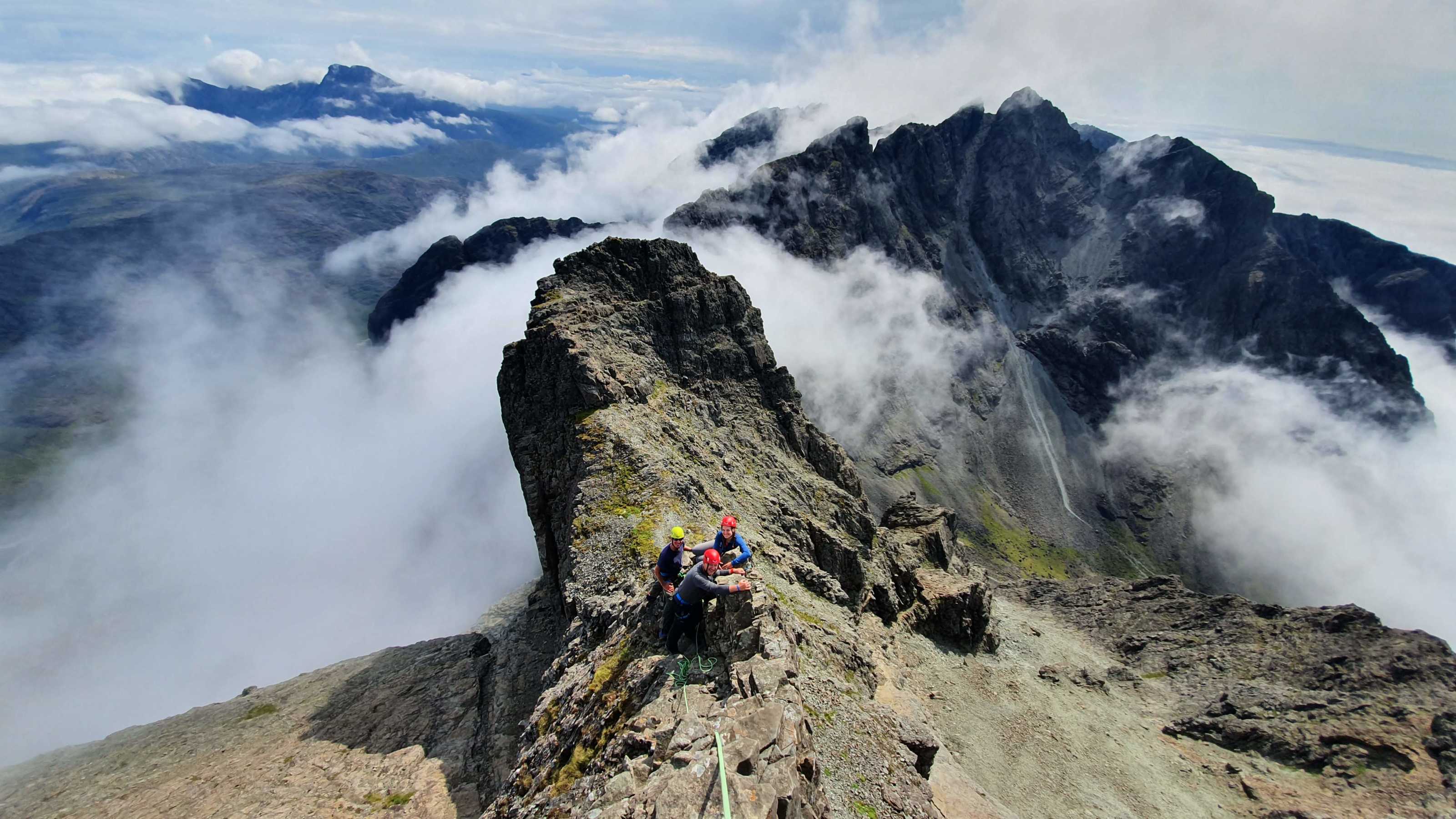 The islands off the north and west coast of Scotland are a whole world of hiking on their own. There are over 900 of them and many uninhabited, although accessible by boat or ferry. They are broadly split into Shetland, Orkney, the Inner Hebrides and the Outer Hebrides.
There is plenty of potential for a hiking holiday, UK but entirely unlike the mainland. You could be hiking on the Isle of Skye, storming along the Cuillin Ridge to the Inaccessible Pinnacle. Or you could have a unique walking break, traversing the island of Rùm with sea views on all sides.